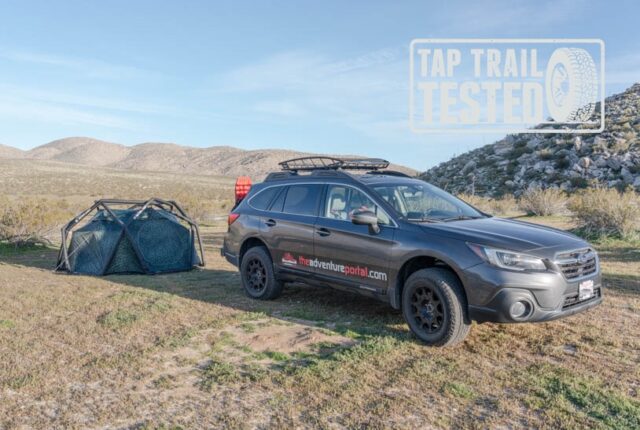 When German brand, HeimPlanet reached out to see if TAP would like to test their inflatable ground tent, I jumped at the chance to try something different. HeimPlanet first launched their inflatable tent design back in 2011 and the company's goal is to offer exceptional adventure travel equipment for any destination and style of adventure. Our test was carried out in classic Southern Californian winter desert conditions. In other words, windy!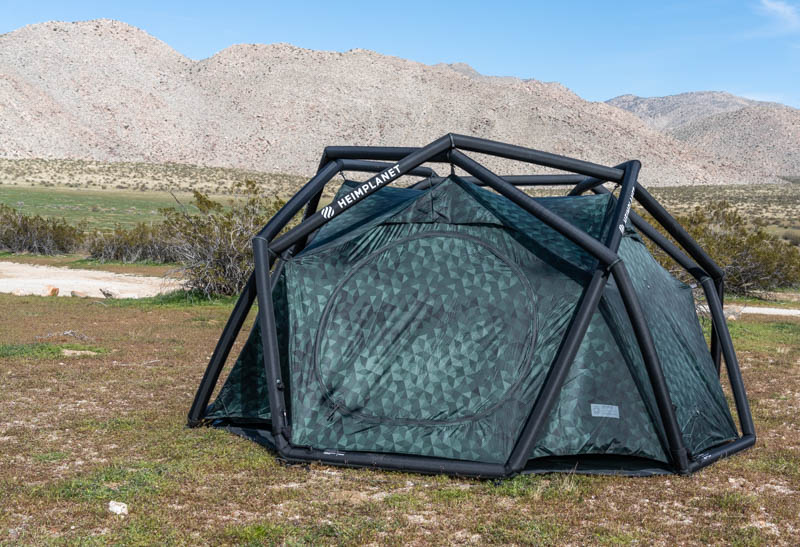 The futuristic geodesic dome design of the HeimPlanet Cave XL, is certainly for the style conscious adventurer. This tent will turn heads and if you enjoy spending time talking to other Overlanders about your tent, this is the tent for you. It reminds me of the early days of Roof Top Tents, when everyone wanted to know about them.
The Cave XL has a footprint of 58 sq/ft and is marketed as a 3 person, 3 season tent. Yes, 3 people could sleep in it, but I feel it's more comfortably suited to two people + gear. The weight is quoted as 11.9lbs (without pump) and frankly, that puts this tent into the car camping category. We comfortably fit the tent and high capacity pump in a 65L Duffel.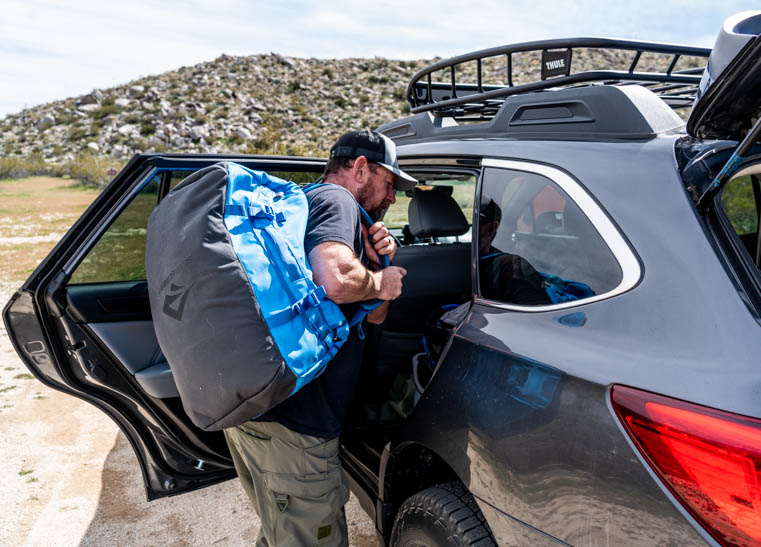 The Cave XL tent is constructed of 40D High Tenacity Polyester with Double Ripstop throughout. According to HeimPlanet, this fabric has a higher tensile/tear strength than regular polyester yarns, is lighter, falls better, rustles less and is softer to the touch. I tested the tent in fairly windy conditions and would agree that noise levels were low.
The outer inflatable Airframe is made from High Tenacity Polyester and has a multi-chamber safety system that prevents deflation of the entire tent if a tube rupture occurs. Attaching the pump to the valves can be initially awkward, but I soon got the hang of it. After full inflation, the geodesic structure is certainly stable.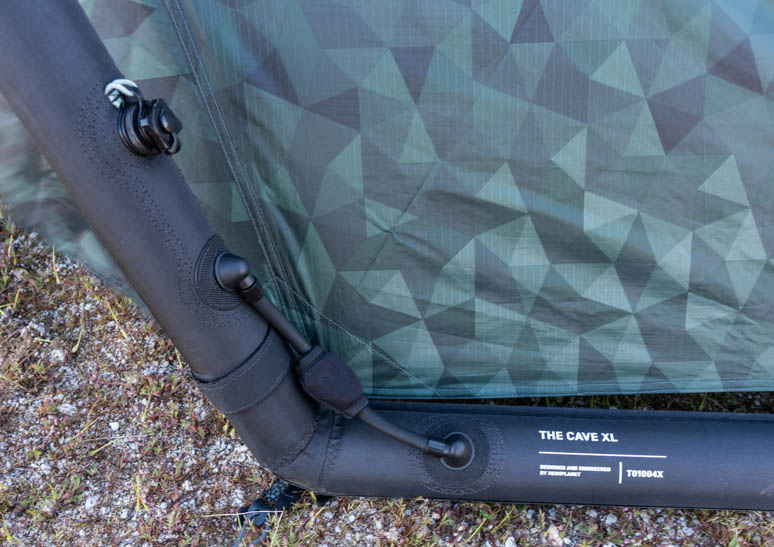 Setting it up:
The tent ships to the consumer with the inflatable tube framework, flysheet and inner tent separate from each other. That said, don't make the same mistake I did, which was to assemble it for the first time in windy conditions in-field. This made clipping everything together a chore. My advice is to assemble the tent before heading out. Note that once it's assembled, it never needs to be assembled again. You'll find that it packs up easily and will be ready to go once you reach your destination.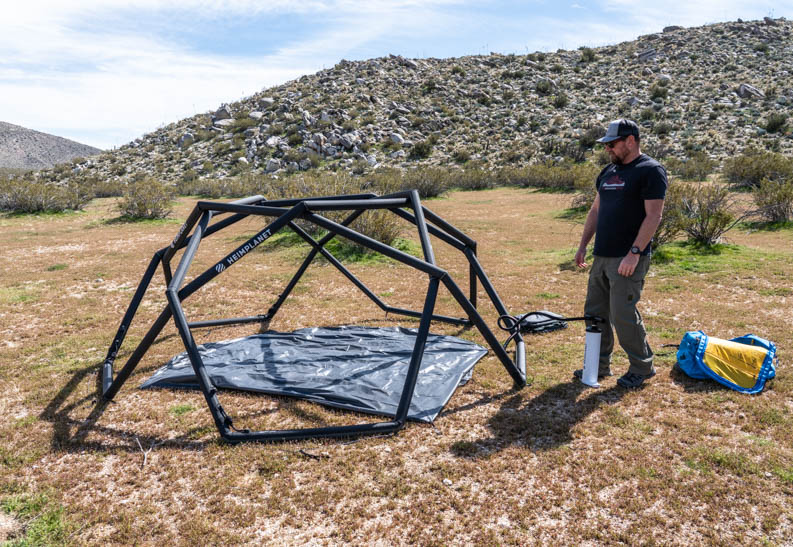 HeimPlanet quotes that the tent can be set up in less than a minute and that's fairly accurate. Raising the tent is as simple as staking out the ground sheet, closing the tube valves and attaching the pump to an open valve. The high velocity pump is extremely efficient. Note: It is important to pump as much air into the chambers as possible, to ensure the structure is firm and ready to withstand the elements.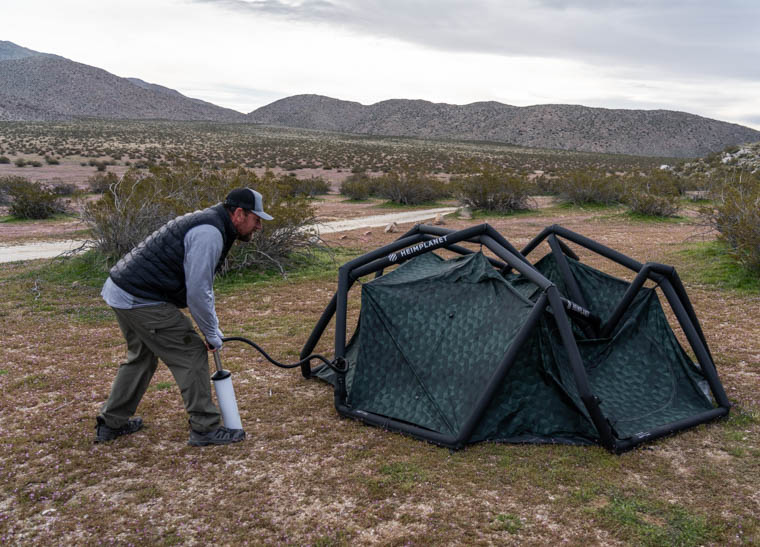 Our Verdict:
The HeimPlanet Cave XL is a premium, high quality product that is exceptionally easy to use. When I initially heard it was inflatable, I doubted its stability in bad weather. Those thoughts quickly evaporated once I started using it. The geodesic design aesthetic is not simply pleasing, it is extremely functional and the tent felt stable and protective in the desert winds. I think the ease of set up would be very appealing after a long, exhausting day on the trail.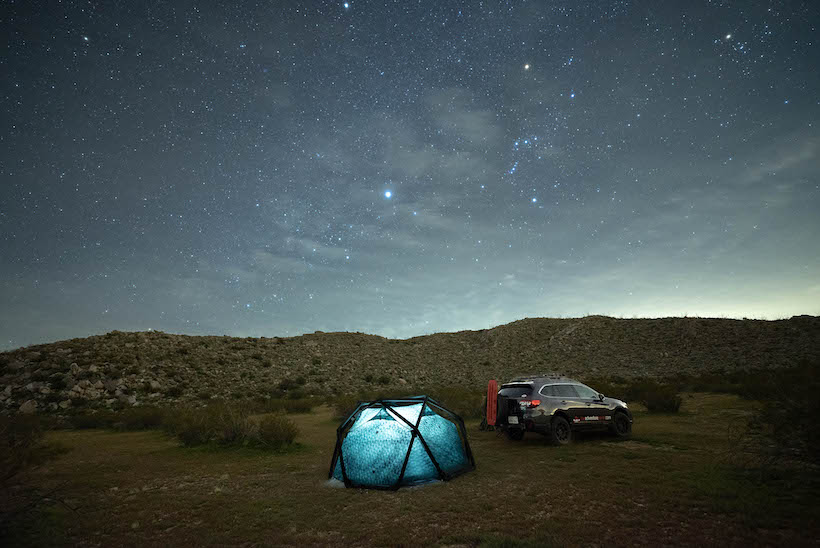 Pros:
Futuristic geodesic design
Simplicity and speed of set up
Stable and rigid in high winds
High quality construction
Relatively small and low weight carrying size
Cons:
Price!
Relatively small with a fairly low ceiling
Too heavy for serious backpacking
So would we recommend this tent? The answer is yes, but with some caveats. If you're looking for an alternative to a RTT and your rig has limited space and weight capacity, this could be just what you're looking for. Also, on multi-day trips such as BDR's, this tent would be ideal, simply because of the ease of set up. The price is steep, but the quality and design is premium and yes, you'll spend hours talking about it to fellow adventurers!
If you're interested in the HeimPlanet tent range CHECK HERE
Now you need a great Sleep system to go with your tent, so Check Out Born Outdoor