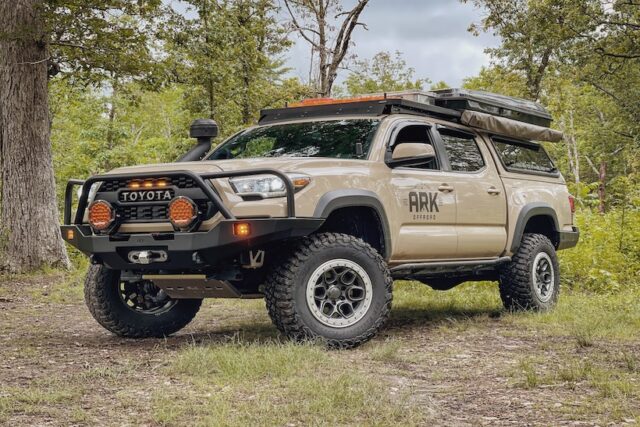 The Tacoma: So what is the Ultimate Overland Vehicle? Well, that depends on who you ask and I think we'll all agree that it tends to be the one we're driving, or at least we want everyone to think that! That being said, we reached out to a few of our friends from the overland industry and asked them to give an honest opinion on what they're driving, why they chose it and what they'd do differently if they could? This is a multi part series, where we take a look at several popular overlanding platforms.
2017 TRD Offroad Toyota Tacoma – Short Bed
Owner: Grant Willbanks, Marketing Manager of Backwoods Adventure Mods and creator of Youtube channel ARK Offroad.
Why did you choose your rig platform and how long have you had it?
I've had my Tacoma for exactly 1 year now and have several reasons why I chose it specifically. My last vehicle was a 2000 Jeep TJ, which had a short wheel base, solid front axle, limited storage/seating, and was very analogue and basic. No lockers, no power locks or windows, and even no A/C from the factory. That vehicle was a beast offroad after regearing and running 35's, and was small and nimble enough to fit anywhere, but it suffered with long distance travel, had zero creature comforts, and had quite a bit of reliability issues. After learning from the weaknesses of my previous vehicle (which I believe everyone should experience for themselves and not just buy something because someone recommends it), I discovered I wanted something that was more suited for long distance travel, something that had large aftermarket support, something that had some decent tech, something that had a good offroad package, and something that had great reliability. I landed on the 4Runner and Tacoma platforms as my main contenders, but was still unsure of which generation to go with. I liked the idea of a 4Runner because you could keep all of your gear contained inside and out of the weather, but you wouldn't have the benefit of leaf springs, towing, and hauling things like you do with a truck and bed platform. After much consideration, I landed on the 3rd gen Tacoma because I wanted as much versatility and amount of different configurations as possible. The track record of the 2nd gen Tacomas is really what sealed the deal for me. I almost went with a 2nd gen, but wanted more tech and comfort. The Tacoma is my platform of choice because a truck bed again, gives you so much versatility – you can add a bed rack/tent, camper shell, Go Fast Camper style setup, etc. The double cab also allowed me more passenger space and made for a better family daily driver, something I didn't have with the TJ. What I eventually did was more or less convert my Tacoma into a 4Runner by adding the camper shell. So far, I'm still very happy with the Tacoma. It seems to be the transformer of overland vehicles.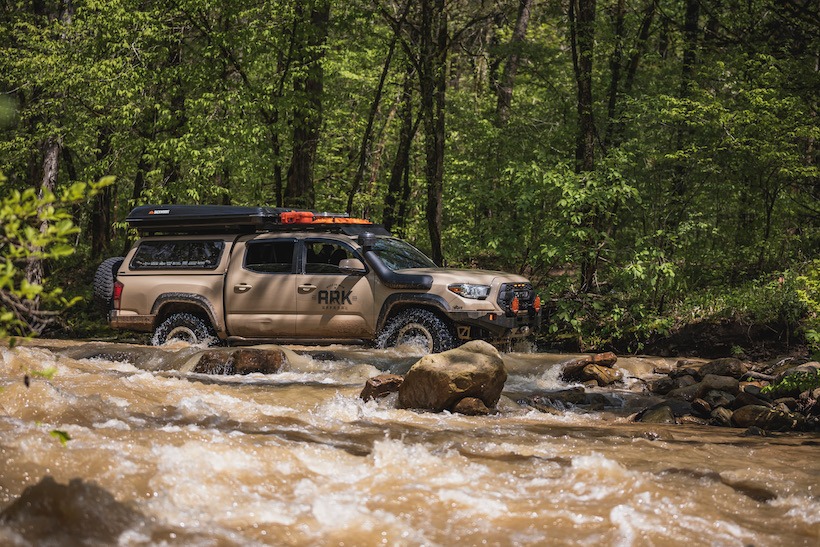 What mods have you done to it and why?
I bought the truck used with 39k miles and it already had a lot of work done to it. I somehow lucked out and got a screaming good deal on it. It already had King 2.5's suspension all around, 4.88 Nitro gears, some decent wheels and tires, camper shell, and a few other odds and ends. Since then I've added all Backwoods Adventure Mods armor (aluminum Hi-Lite front bumper with bull bar, aluminum/steel rear high clearance dual swing out bumper), locally made sliders, Warn synthetic 12k winch & Factor 55 fairlead and Flatlink, RCI full aluminum skid plates, AEV Crestone wheels and 34″ BFG KM3 tires, Pathfinder lighting, Safari Snorkel with Syklone pre-cleaner, low pro Front Runner roof rack and camper shell roof rack, All Pro aluminum dual jerry can holder, Decked drawer system, Alu-Cab tilting fridge slide, Dometic CFX45 fridge, Maxtrax, Zarges storage box, Viair 400p hardwired air compressor, Clazzio leather seat covers, and a prototype Backwoods Adventure Mods popup roof top tent. I'm going to be honest, all of the mods are spectacular, and I love each of them, but you don't need every single thing. The biggest thing with mods in general in my opinion is not to buy one single thing without realizing that you need it first. Go out and learn what exactly you need first.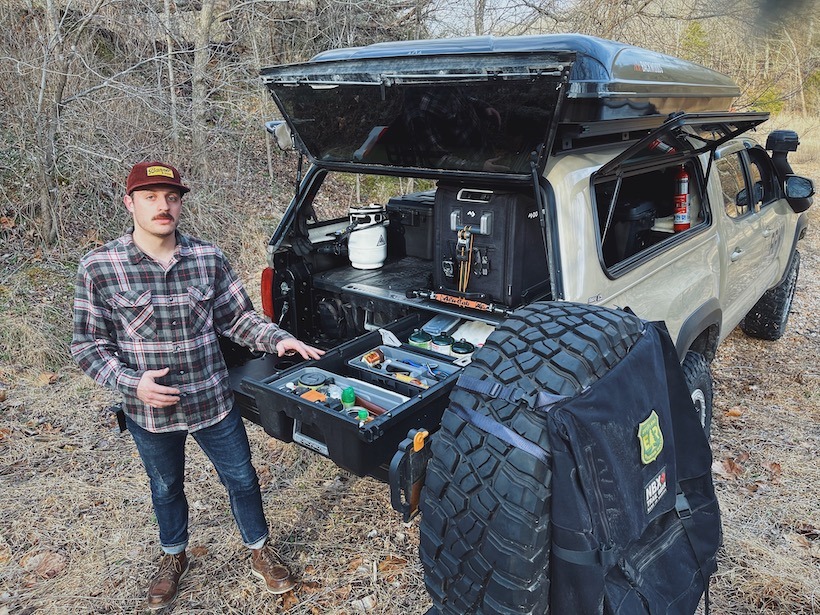 What would you do differently if you could start from scratch?
Part of me wishes I bought the truck new, but considering how much I paid for it with all of the suspension and gearing done, it was a no brainer. I'm still finding little things here and there that the previous owner did to the truck. There's a certain sense of security knowing every single detail that's ever been done to your rig, but at the same time it would be hard for me to buy a brand new truck and wheel it through the woods. From a modifications perspective, I wouldn't change much. The only thing I would change would be the gearing from 4.88's to 5.29's.
What's makes your rig awesome for you?
One of the most unique things about the rig is the camper shell/rear storage setup. I have a whole philosophy on truck bed setups and gear organization which you can see on my YouTube channel, Arkansas Offroad, but the idea of a camper shell (with side window access) on a truck keeps things so accessible, protected from thieves, its super clean and organized, and it opens up so many configurations for gear placement. I have a Decked drawer system and a fridge slide mounted on top of that. On top of my camper shell, I have a hard shell roof top tent. That combo in my opinion is money. Besides the camping gear setup in the truck, the other thing that works super well for my setup is running as much aluminum as possible. These trucks can get super heavy when we add all of our gear, armor, and camping equipment. I knew this truck was never going to be a rock crawler and didn't need full steel armor. I built this truck to be a very capable daily driver, so I went with aluminum everything. It helps significantly with weight, but also is super easy to drill into or modify, and it doesn't rust.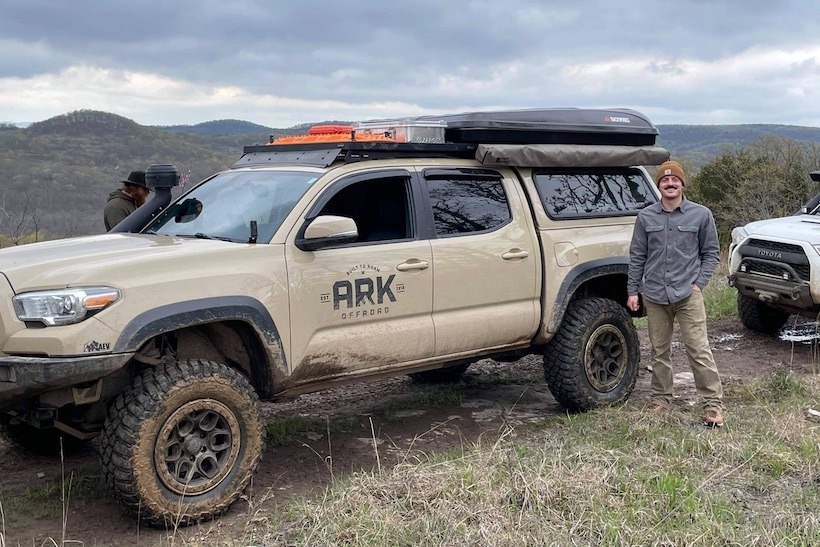 What's not so great? What characteristics or components would you change if you could?
The number one thing I don't like about the 3rd gen Tacoma is the transmission. That extra overdrive gear (6th gear) is super annoying on the highway. Even with 4.88's, sometimes it battles between 5th and 6th gear. On a fully built Tacoma with stock gears, it's a nightmare on the highway going uphill. I've been in a couple buddies rigs. The transmission constantly hunts for the right gear. I know you can get a tune, but it would be nice to simply regear and be done. The other thing I can't stand is cruise control. I legit get angry and don't even touch it anymore. If you set it at 70mph on the highway and you even barely start to go up a hill, the truck will downshift from 6th to 4th and scream until it gets back to 70mph, even if you only drop to 69mph, it freaks out and goes full throttle to get back to whatever speed you set. So actually, maybe that's a transmission issue too. I'm no expert in that, but that's been my experience and several of my friends as well.
Final thoughts and words of wisdom when choosing an overlanding adventure rig?
Biggest thing when choosing an overland rig to me personally is to evaluate what type of trails and terrain the vehicle will be in most of the time. There's a massive difference in someone choosing an overland rig who lives in California compared to someone who lives in Virginia. If you live and wheel somewhere where trail width isn't an issue, then a full sized rig might be a great option. If you live and wheel somewhere where the trail is super tight and technical, then maybe a vehicle with a smaller wheel-base or midsized platform is better. I live in Arkansas where we have super tight trails and my Jeep TJ was a champion getting through them. My Tacoma is a little harder, but definitely doable. Out of all of my friends that wheel with me locally, I don't know anyone with a full sized rig. So be sure to factor the overall size of the vehicle first and how it will work in your environment. From there, I would think about your gear storage and what you plan to carry in your vehicle. I'm guessing most people will be using their overland vehicle as their daily driver as well, so to me, comfort is a huge factor too. Biggest thing I'm trying to stress is think how you will use the vehicle. Period. You might think you need lockers, etc. but are you ever going to put your vehicle on trails where they're really needed? Lastly, don't get caught in the Instagram world and think you need everything. Nobody needs 500 lights on their rig, etc. I would add modifications as you see a need for them by personal experience. There's nothing more I love seeing than a barely modified vehicle make it through an obstacle where a fully built, over the top, vehicle gets stuck. As far as modification order, I would think of your vehicle build in stages. Stage one: Think about overall weight first and dial in your suspension, UCA's, wheels/tires, leaf springs, recovery, etc. You need a good base to start with and don't ever want to have to come back to something to fix it because you'll end up doing something twice. Then move to stage two: armor – sliders, bumpers, roof rack, etc. Then stage three: camping accessories – drawers, fridges, tents, luxuries. Overall point, get out there and LEARN WHAT YOU NEED BEFORE slapping the whole catalog of parts on your rig! And lastly, Keep in mind that there is not one vehicle or platform out there that is perfect in every way. There's never going to be a perfect vehicle. That's the beauty of modifications – you build and customize it to exactly your needs and circumstances.
_________________________________________________________________
For more overland and off-road capable rigs, CHECK HERE