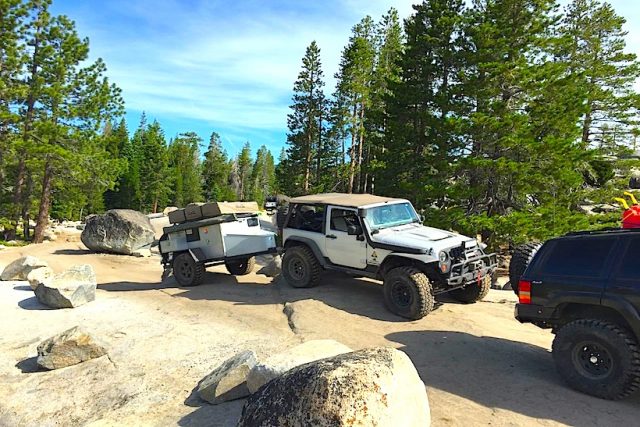 Along the Rubicon Trail: Fellow overland adventurer and friend of The Adventure Portal, John Rainey took his rig, a 2010 Jeep Wrangler towing a Turtleback trailer with a buddy and traversed the Rubicon Trail. Here is what he reported.
"The Rubicon Trail is everything you have ever read about, and more. There is something for everybody, smooth granite, off-road dirt trails, potential water crossings, beautiful views and rocks, lots and lots of rocks. Two Jeeps, a 2010 Wrangler with Turtleback trailer (yes, I pulled my Turtleback all the way up the trail!) and a 1998 Grand Cherokee, departed Phoenix, AZ on a Friday morning and decided to take the scenic route, I-10 to CA 395 toward Lake Tahoe. We took 2 days to get there with a stop up an old dirt road for some overland camping Friday night outside Bishop, CA."
"We opted to run the Rubicon Trail from Georgetown to Lake Tahoe. This is considered the more 'traditional' direction. It can be run in the opposite direction, but you will be against 'traffic' on some of the bigger hills (Cadillac, Big Sluice) and they are narrow, so keep an eye out down the trail and plan ahead for spots to let people pass. In Georgetown we picked up ice and fuel and headed off for an overnight stop and adult beverage at Uncle Tom's Cabin. This is a must-see location and a great place to camp before you hit the trail first thing in the morning. They allow camping at no charge on their property and even have places for two rigs if you contact them ahead of time."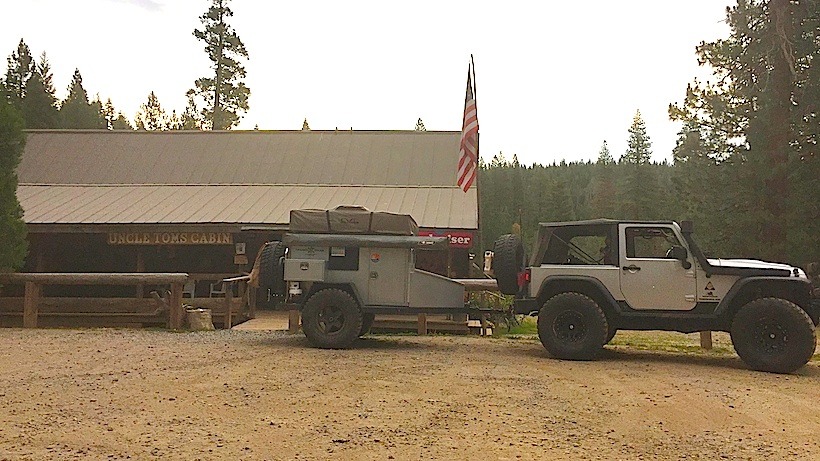 "On Sunday morning, we headed out the trail head. We decided to intersect with the 'official' Rubicon Trail via Wentworth Road. This added about 2 to 3 miles to the trail length, but we were in no hurry."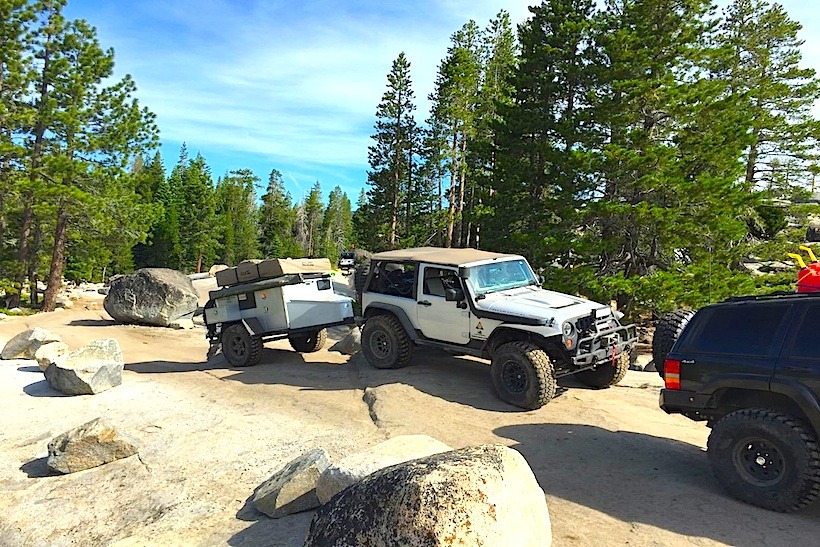 NOTE: "Make sure you download some good trail/road maps. I used an app on my iPhone called Gaia GPS and downloaded a few different tracks and topo maps. The roads and trails, including the Rubicon Trail, can be very poorly marked. There are yellow reflectors on parts of the trails, but they are spaced at times and can be hard to see. We had a light rain shower and the black tire tracks we were following completely disappeared."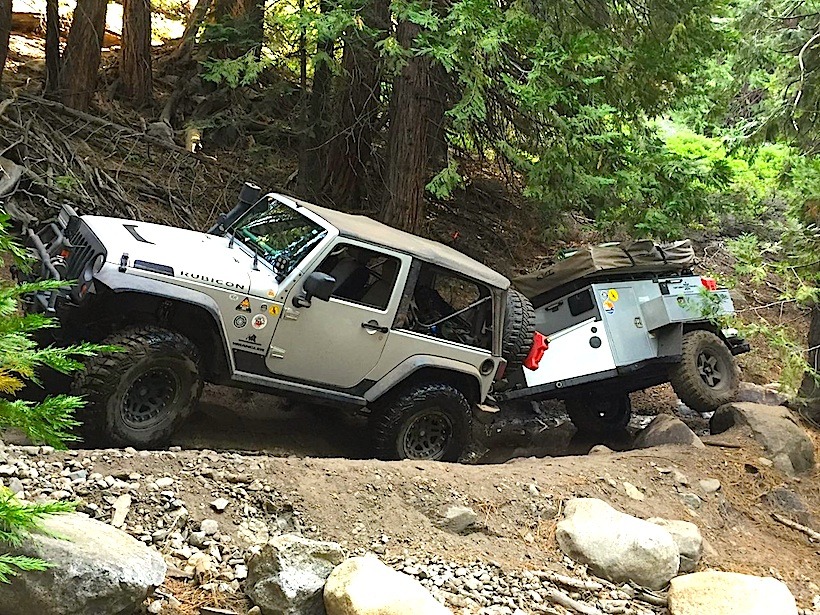 "Just short of Buck Island Lake we had our only major issue on the trail. The Grand Cherokee had a flexible brake line come loose, catch on the lugs of the tire and rip off the hard line. We were able to cap the line using some epoxy, but with only half the front brakes working, the Jeep was not safe to drive. Early Monday morning the other Jeep headed back up the trail and was able to find a replacement in Auburn and be back at our impromptu camp by 3 pm. By 4 pm, we had the line installed and the system bled and we were ready to roll.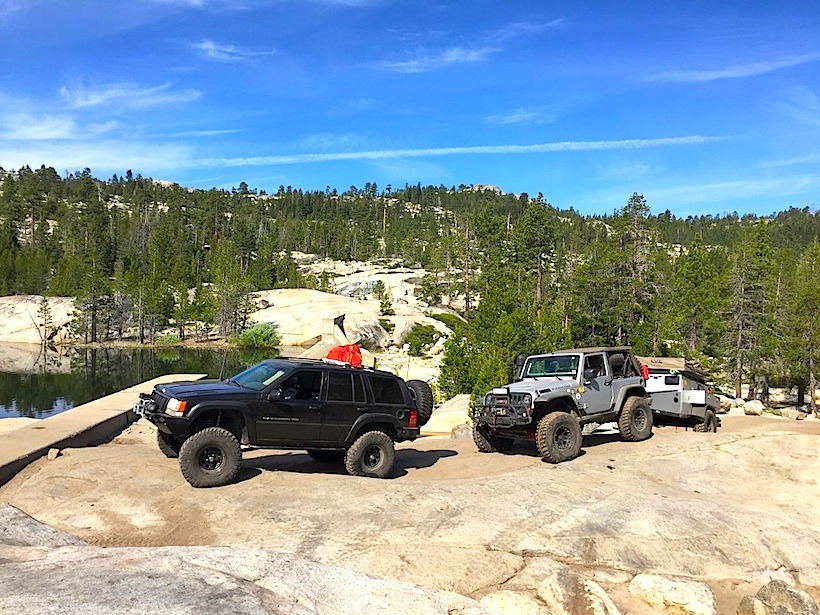 "Tuesday morning we were back on the trail and made it to Rubicon Springs, found a wonderful camp spot next to the creek and set up camp. We spent Wednesday doing some exploring and resting. Thursday morning we made the trek up Cadillac Hill and out to the real world."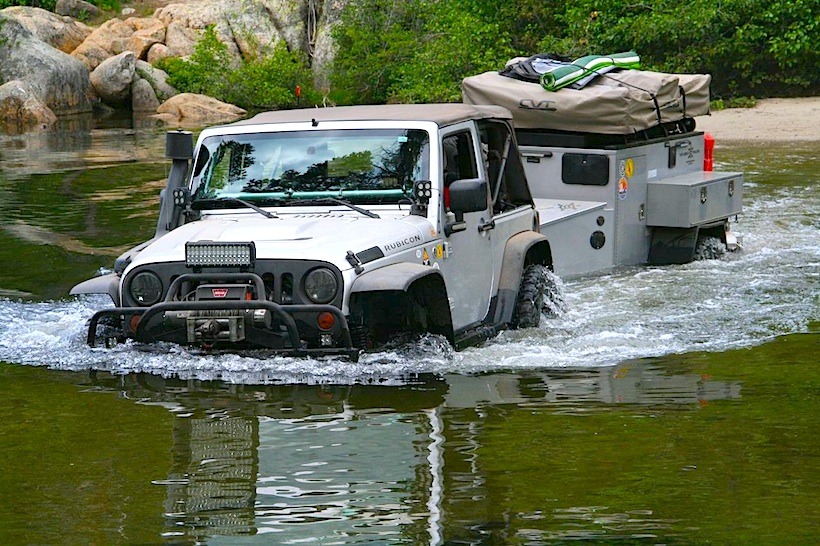 General Observations/Opinions about the Rubicon Trail
"I have read on more than one location that this trail can be run on 33-inch tires open/open (front and rear open differentials). I am going to strongly disagree with this. The Jamborees do a good job of stacking the obstacles and putting spotters on all the major hard spots, but even then my opinion is that you need at a minimum 35s, preferably 37- inch tires, upgraded skid plates and one locker to do it (not to mention armor, winch and recovery gear)."
"Water is plentiful but needs to be filtered for drinking."
The Friends of the Rubicon, have done an outstanding job of putting outhouses all along the trail and all over Rubicon Springs. I still carried Wag Bags, but never had to use them.
You WILL damage/dent something on this trail at some point. Make sure your rig is in good shape and that you have tools and spare parts available if/when needed.
HAVE YOU DRIVEN THE RUBICON TRAIL? TELL US ABOUT YOUR LATEST ADVENTURE IN OUR COMMENTS SECTION BELOW.
Many thanks to John Rainey for the write-up and photos.
For more Overland and Off-Road Vehicle Supported Adventures, CLICK HERE