The Sprocket makes the great outdoors even more accessible. As an off-road trailer that is modular in its design, you can start small and work your way up by adding more creature comforts & accessories to your rig.
The all-new Sprocket by Off Grid Trailers is a lighter-weight, more affordable overland camping trailer built on their popular Expedition chassis. This all-metal off-road capable camping trailer is built to last with the same quality craftsmanship and engineering you would find in their other models. With fewer standard features than their other models, they have designed the trailer with modularity in mind, to make way for the after-market and passionate D.I.Y enthusiasts at an affordable entry price.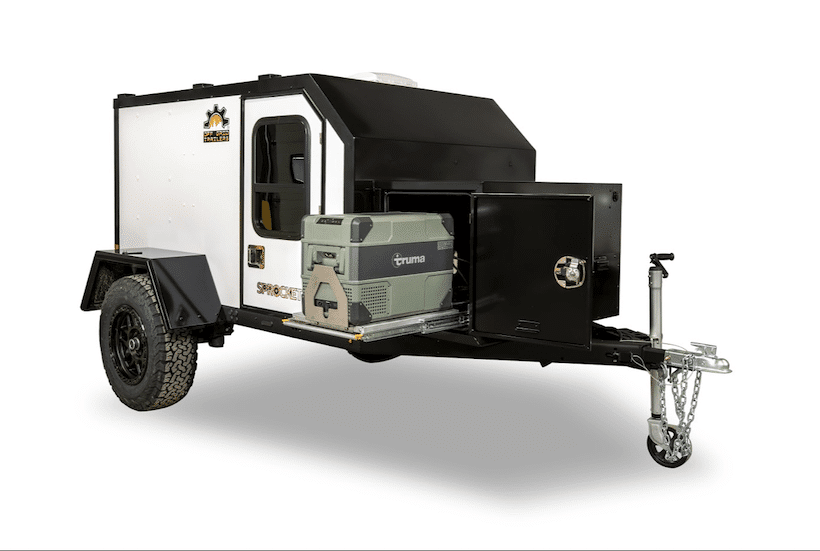 This lightweight sleep-in camping trailer is R10 insulated and has a queen-size polycarbonate honeycomb sleeping area and pass-through rear storage. The base model will come standard with no kitchen or onboard water, but they offer options for outfitting the trailer to your needs. The 2 optional roof racks have a static load rating of 1000 pounds. The standard Timbren 3500 HD Axle-less suspension is quite capable, but you can also upgrade to the OGT Evolution Series Suspension for 8 inches of wheel travel and an additional 4 inches of ground clearance.
As the adventures change and develop, you can purchase new accessories for the trailer at your own pace. When the kids require their own sleeping space, you can add a full-length roof rack to support a rooftop tent. When you decide to opt for more storage, you can install additional side boxes. If you choose to tackle tougher terrain, you can upgrade to the OGT Evolution Series Suspension.
Learn more HERE
_________________________________________________________________