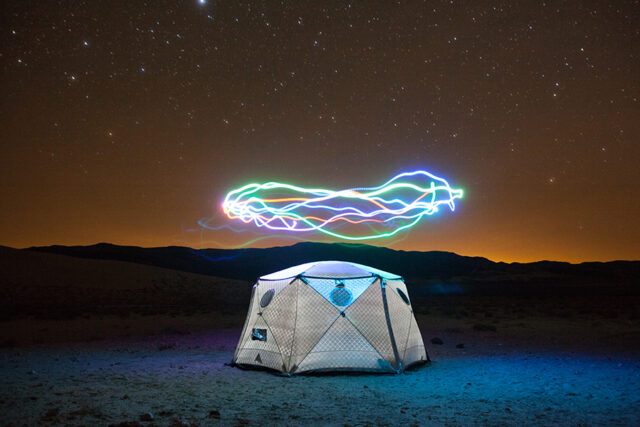 When most people think of Overlanding, they think of RTT's. That said, not everyone wants to sleep on their rig's roof and a Ground Tent makes perfect sense. There's plenty of great styles, brands and price points out there and here's a selection that are waiting for that next Overland adventure. The tents we've personally tested are marked as such and are linked to our TAP Trail Tested review.
__________________________________________________________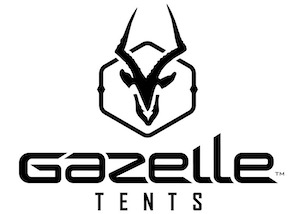 You will love how easy it is to transport your Gazelle Portable Gazebo or Camping Hub Ground Tent. We offer a variety of sizes to ensure that you can transport your shelter with your vehicle whether in your trunk, back seat, or roof rack. Each Gazelle product comes in an oversized, durable, and convenient duffle bag making pack up a breeze. Our Portable Gazebos and Camping Hub Tents come pre-assembled. They feature a durable and lightweight fiberglass pole and all-metal hub framework that easily pops into place and folds back down. Simply pop out each side and roof hub and you're all set. Gone are the days of looking at diagrams, managing several loose parts, and trying to figure out which pole goes where.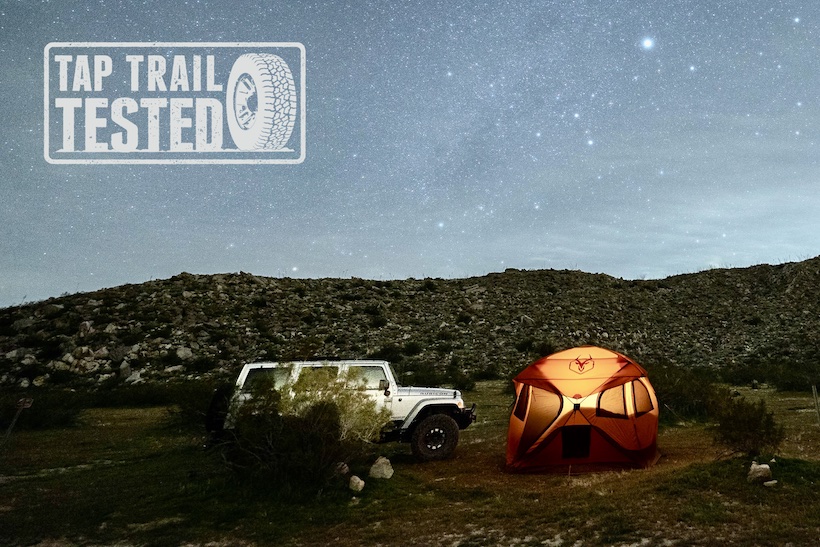 Check out the TAP Trail Test Review HERE
_______________________________________________________

The multi-award winning, Australian-designed OZTENT RV-5 can be easily setup by one person in less than 30-seconds. Made from high quality, waterproof, 8oz Ripstop polycotton canvas and a heavy-duty, heat-sealed PVC floor. Every OZTENT ground tent is made with guaranteed waterproof material and are covered by a full 2 yrs warranty. It comes with side and rear windows and zippered power inlet. All necessary awning poles, pegs and ropes are included. Comes complete in a heavy-duty carry bag.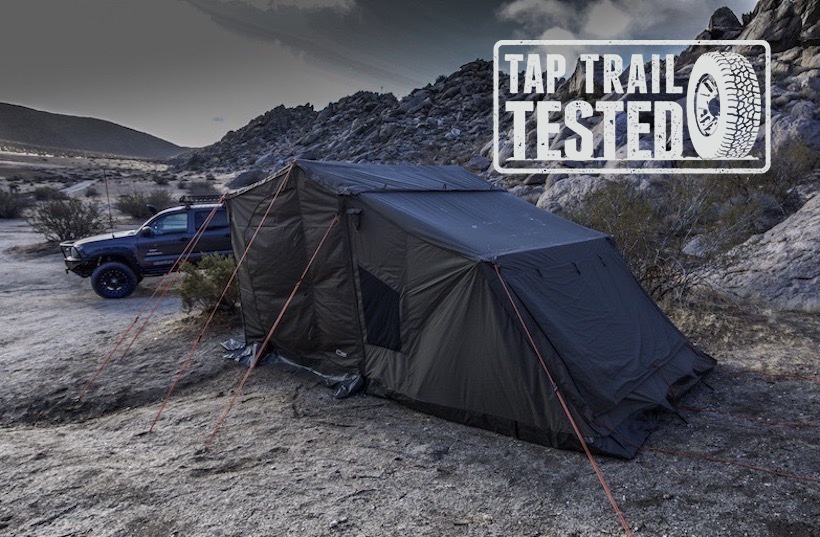 Check out the TAP Trail Test Review HERE
______________________________________________________________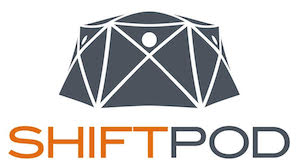 The SHIFTPOD is not like any other ground tent. It is the ultimate shelter solution for fire fighters, emergency responders, outdoor enthusiasts, festival-goers, and preppers alike. The SHIFTPOD's unique design is not only visually stunning, but it also boasts an impressive set of features that make it the "best tent on "this" planet".
First and foremost, the SHIFTPOD's setup is incredibly easy and fast, taking only 15 seconds to stand up. The tent's patented frame system eliminates the need for cumbersome tent poles, allowing for a hassle-free (fast) setup experience. Additionally, the SHIFTPOD's streamlined design ensures it remains quiet inside, without any buffeting or flapping in the wind. But that's not all – the SHIFTPOD's reflective properties set it apart from the competition. Its silver-coated fabric reflects UVA and UVB light, effectively shedding heat and preventing the tent from becoming a hotbox during the day. Meanwhile, the same reflective material also works to reflect your body heat at night, keeping you warmer in even the coldest conditions. The SHIFTPOD is made from high-quality, durable materials that are built to withstand even the harshest outdoor conditions. Its weather resistant 12-layer composite, fire-resistant fabric ensures that you and your gear stay dry and safe in any weather, while its sturdy construction ensures the shelter will remain standing even in high winds. In short, the SHIFTPOD is the best shelter on this planet because it combines ease of use, durability, and unique reflective properties to create the ultimate outdoor shelter. Whether you're camping, attending a festival, or prepping for an emergency, the SHIFTPOD is the perfect choice for anyone who wants the best of the best.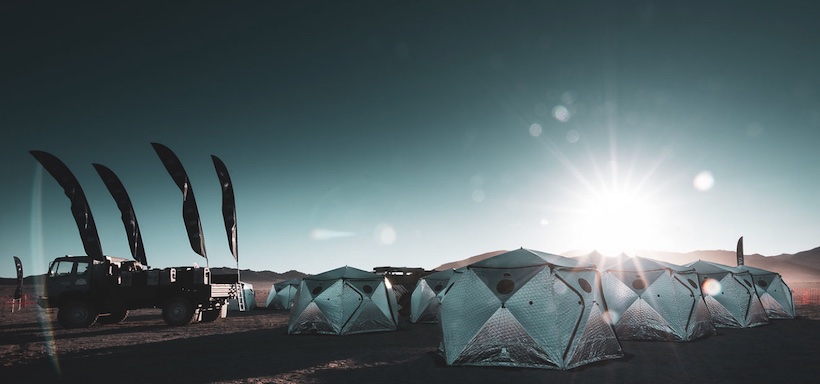 __________________________________________________________

Founded in 2011, HEIMPLANET is committed to creating innovative, sustainable, and user-friendly products that make outdoor adventures more comfortable and accessible for everyone. In 2003, when the idea for a new design for tents was formed during a surfing trip in Portugal, the basis of Heimplanet was created. In 2011 THE CAVE, the first inflatable ground tent by HEIMPLANET, was launched. Since then HEIMPLANET has designed and manufactured a wide range of new hiking and outdoor products using highly advanced technology. HEIMPLANET offers bags for every type of trip along with camping gear for various environments. HEIMPLANET's goal is to offer the best possible travel equipment for any destination. Using inflatable technology and geodesic design, tents by HEIMPLANET are set up easily using a pump and have special wind stability, so can be set up in any type of weather. HEIMPLANET aims for functionality of outdoor products with innovative design for outdoor living.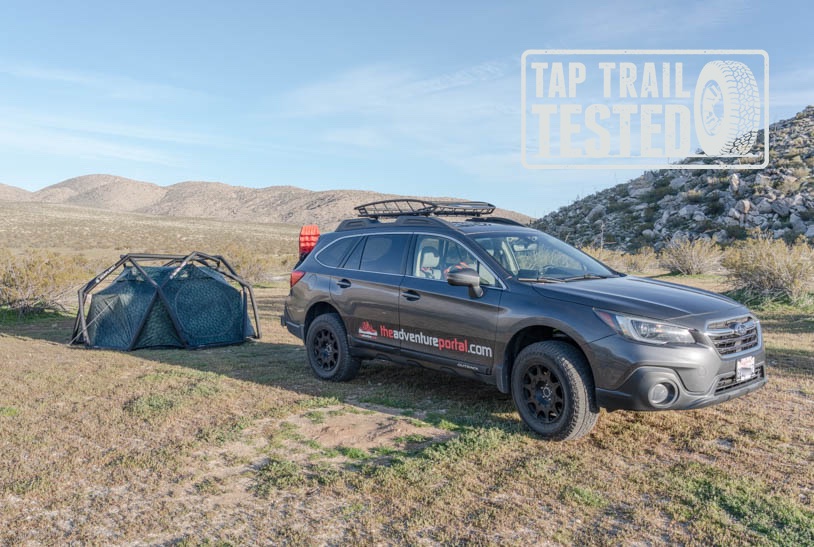 Check out the TAP Trail Test Review HERE
_________________________________________________________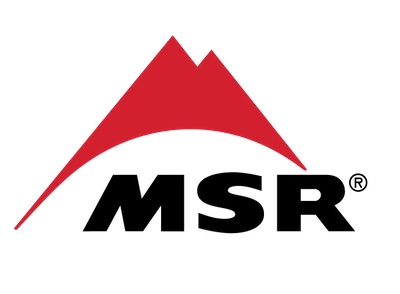 The Habiscape 4: For adventurous families and groups looking for a perfect ground tent basecamp, the Habiscape 4 offers everything you need and want. Made for three-season adventures that don't stray far from the car or boat, it's the ideal mix of comfortable performance and thoughtful features. Designed to make tent life comfortable and organized, the Habiscape offers plenty of space, standing height and pockets for everyone. Light up the interior with ceiling loops, perfect for lanterns or string lights. And a balance of mesh and solid fabric provides both privacy and airflow.
The tent features a unique bugproof pocket that's accessible from both inside and outside – perfect for essentials and items you need quickly, like car keys, sunscreen and headlamps. It also features two doors making choosing a setup spot easier and streamlines in-and-out for the whole group. The symmetrical design makes pole placement and setup intuitive and easy, even for one person and the 62.5 square feet of floor space and 73 inches of headroom, is spacious enough that even taller adults have room to stand.
You'll be amazed at how easy it is to set up this large tent, even by yourself. Get large mattresses or cots inside easily through the two large doors. And the large front rainfly door can be set up three different ways depending on how you want to use the vestibule space. For home-away-from-home comfort and space, the Habiscape 4 is the perfect basecamp tent basecamp for any adventure.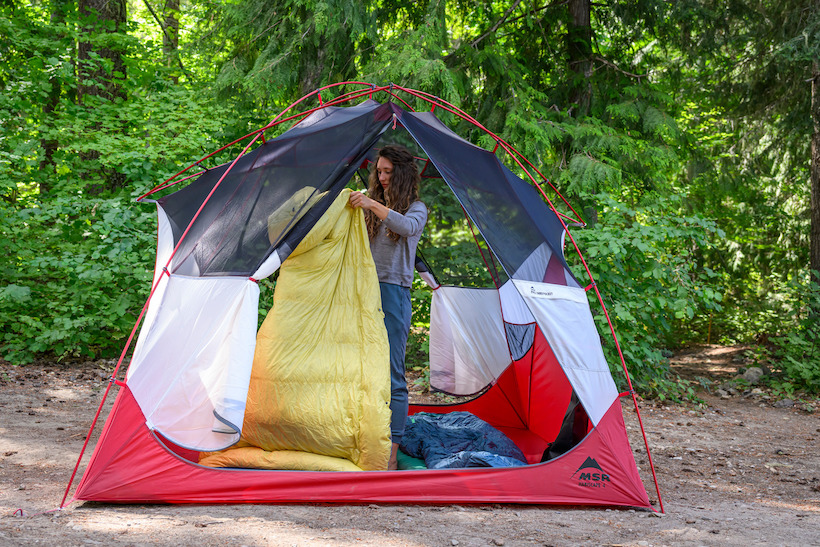 MSRP: $499.95 BUY HERE (Coming Soon! – Sign up for notification of when in stock)
_______________________________________________________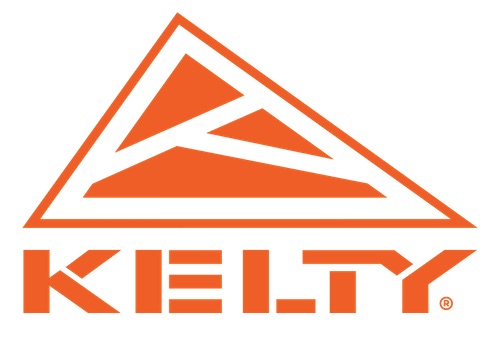 The CABOOSE 4: THE ULTIMATE TAILGATE TENT
We've all been there: it's 28 degrees at 3:15 a.m. Your boots are by the fire pit…your pants are…somewhere…and your toastiest extra layer is in the car. That's exactly why we cooked-up the Caboose: the brilliant hybrid shelter that invites your vehicle (and all of its tempting contents) to the party. Just attach the extended awning to your open hatch, and you've got a free-standing tent with an extra rumpus room on wheels! Kelty Quick-Corners make setup a breeze, and a Shark-Mouth duffle lets you hit the road in record time. And did we mention, the extended awning turns into a massive vestibule when not connected to your car. Not too shabby.
Features include:
Quick Corners for lightning-fast and easy setup
Semi-universal vehicle attachment
More wind, sun and rain protection than traditional automotive awnings
Heavy duty stakes and guy lines included
Shark Mouth duffel for easy pack-up and cross-body transport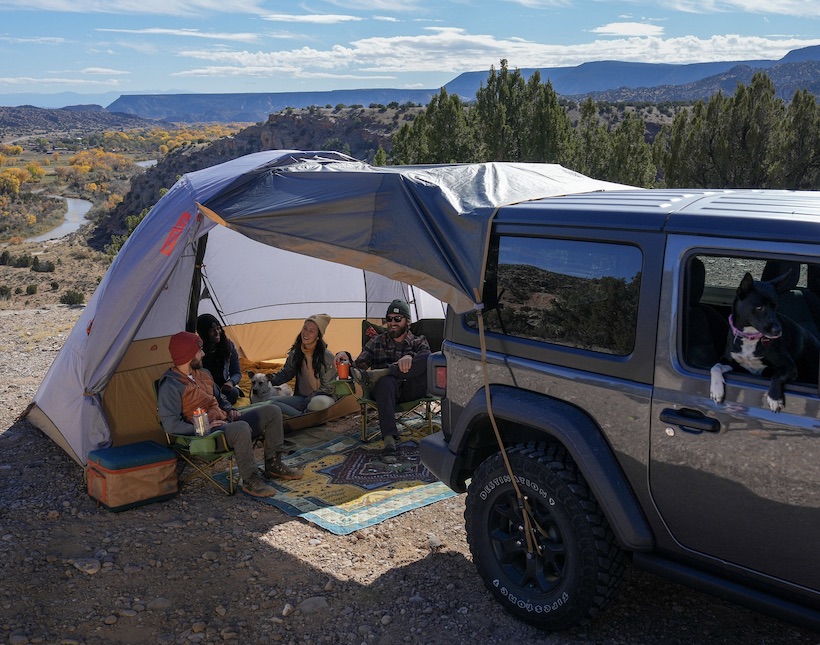 _______________________________________________________

Ikos TR Tent: Building on the design advances made in the award-winning ultralight Telos Tension Ridge ground tent range, Sea to Summit introduces the Ikos TR 2 and TR 3 Tent, which offers the same great livability and versatile setup options for everyday backpacking and vehicle-supported camping. The Ikos features typical Sea to Summit material quality and attention to detail. Tension Ridge places a wide vent at the highest point of the tent, helping minimize condensation build-up. Unlike most vent designs, the Apex Vent doesn't require a mesh panel to maintain tension across the fly—allowing up to 70% better airflow, unrestricted by mesh. Four inner pockets and two gear lofts provide plenty of storage space, while machined-aluminum pole feet/rainfly C-clips make pitching easy. A DAC MX poleset supports a 68D polyester ripstop rainfly that is flame retardant-free and treated with a C0 non-PFC DWR. This tent comes in two sizes: a two person and a three person – both with a rectangular floor (large enough for – 2 or 3 – regular rectangular sleeping mats). The floor is a 68D polyester with a 4,000mm hydrostatic head; a footprint which extends to the tips of the vestibules is available. Multiple configuration options mean the tent adapts to the weather or your activity. Campers can enjoy Fly Only Mode, Inner Only Mode, Dry Set-Up, Partial Fly Mode, and Classic Mode. Spread out in this amazingly spacious home away from home.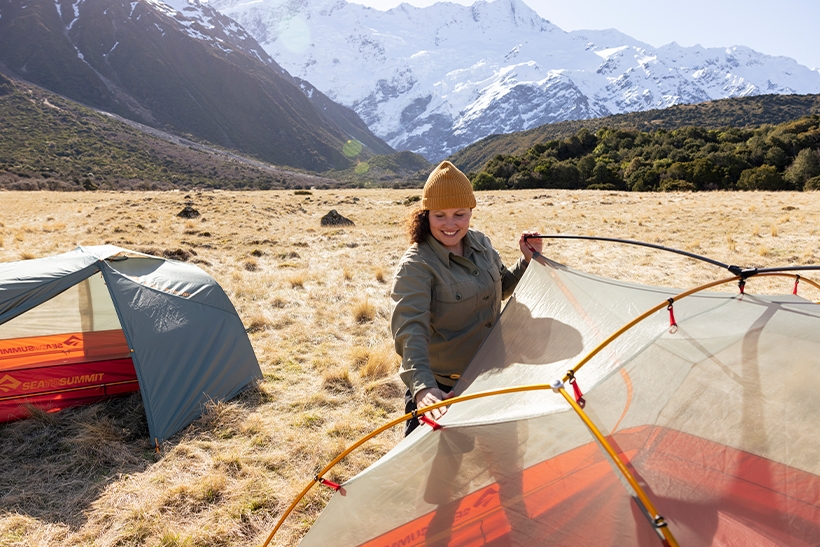 MSRP: Ikos TR 2, $429.00 | Ikos TR 3, $529 BUY HERE
_______________________________________________________

The Kamaboko: DOD Outdoors' multi-functional super ground tent, the Kamaboko, is the center piece of the perfect base camp. Comfort in camp requires more than just a place to sleep. You also need a place to get out of the sun, out of the rain, away from the bugs, or just get some privacy. The Kamaboko offers all that.
A base camp tent needs space and the Kamaboko has it. The Kamaboko medium has a covered area of 200+sqft before you extend the awnings and an inner height of six and a half feet.
The structure serves as a general shelter during the day. All walls zip open giving you the option of a closed shelter, a mesh shelter, or a completely open shelter. There's no floor so you can move in and out without removing boots and you you can use any camp furniture under cover of the tent. When it's time to really relax, throwdown the waterproof floor, pile up some blankets and pillows to longue. When it's time for bed, clip in the sleeping chambers, or pitch small dome tents inside the Kamaboko, or just setup cots on the ground.
The Kamaboko packs up small, the medium is just 2.6 cubic feet. One person can set up the tent in about 15 minutes; two people can get it up in 10 minutes. A range of accessories sold separately let you customize the tent to exactly meet your needs.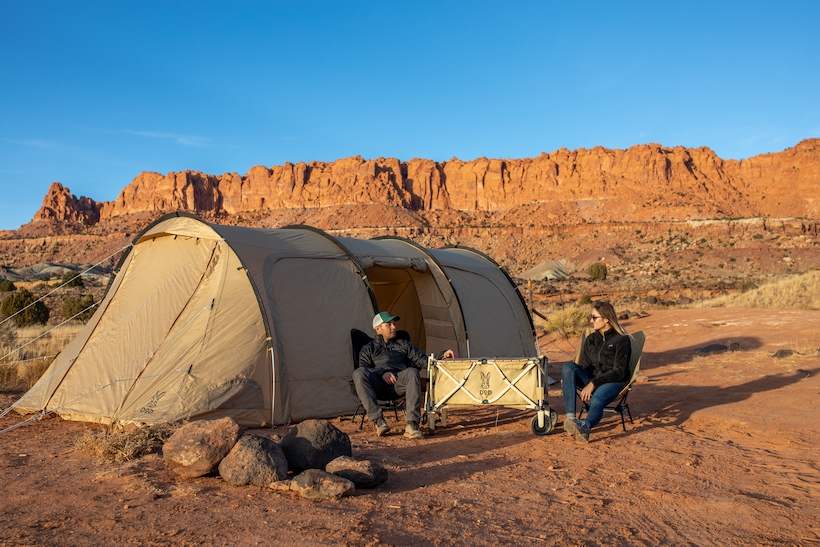 _______________________________________________________
Now you need a great Sleep System to go with your tent, so Check Out Born Outdoor
****Featured Pic – Todd Rogers – Four Points Adventures****