Super Pacific USA has been on our radar since their launch in mid 2020, so we were stoked to sit down and chat with the owners and get the skinny on their background, their design ideas and what makes their Switchback X1 Lightweight overland worthy Camper so special. Made in the USA!
How and why did you start Super Pacific?
Peter:
I was looking for a similar product (a lightweight camper) because I had a 3 year old kid and getting outside was a big priority in our family, and suddenly it had gotten a lot harder with having a family, and a dog, and a busy career. I started looking at the over land camper options out there, but the lead times we're really long. My good friend Spencer and I started talking it over and with our combined skillset we decided we should just make one ourselves as a fun summer project.
So then over beers in the backyard, Spencer and I started brainstorming ideas about how we would build it and we really dug into how other people were doing it. After educating ourselves on the design we sort of stumbled into the realization that there was a lot of demand for these kinds of campers and it looked like the market was undersupplied. At that point we shifted gears and began thinking about how we could design it as a product for manufacturing and actually build a company around it.
Spencer
And I think it came down to the fact that when we started researching what was available, we just couldn't find a product that was exactly what we wanted to put on our own vehicles. As designers we were excited to try to build something better, something that we could get excited about making for ourselves.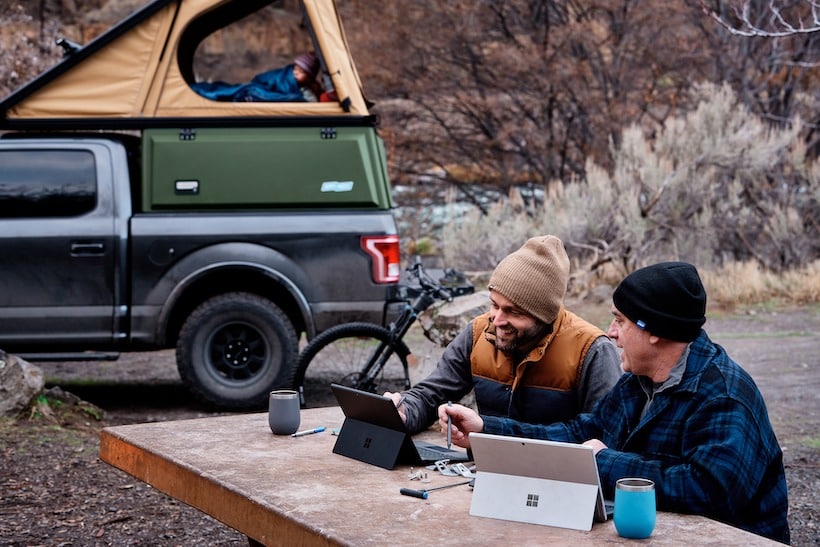 What's your background?
Spencer:
I've been involved in manufacturing and design pretty much my entire career. It started back when I was 20, as a welder on the shop floor and then I progressed into being a machinist. I went to school for Industrial Design. Then I started my own machine shop and Ducati motorcycle parts company called Speedy Moto. Later I went into management at an aerospace manufacturing firm. Overall, I've just always been a curious guy who likes to build stuff.
Peter:
I had a first career as a carpenter, which is where I learned that I was interested in making things. I gravitated towards high end residential remodels, where the problems were a more complex and I really enjoyed that level of work. From there I decided I wanted to work my way into product design, and I started to work for a company called Mystery Ranch, that trained me to cut and sew on their production floor.
I used that experience to find opportunities to design and sew bags for some smaller local Portland brands. I built a little bit of a resume and then got a job at an industrial design studio (Terrazign) in Portland, which is where Spencer and I met. From there I got hired into the Space Kitchen at Nike where I worked on Product Innovation for almost 5 years, working on some pretty cool projects. It was while I was working at Nike that Spencer and I started to conceive of some of the ideas that would later become Super Pacific.
Our passion for trucks and the outdoors.
Spencer:
I've always had an interest in motor sports my entire life. From as long as I can remember, it's always been about driving trucks, cars, motorcycles, four wheeling. I grew up on a farm in Upstate New York doing lots of stupid sh*t with trucks, and tractors, and cars, and I've got a healthy dose of good ol' boy that still lives very close to my heart. But I've always loved the outdoors as well. I remember in 7th grade you were supposed to pick out what your future job would be someday and go do some research on this really rudimentary computer in the library. My research lead me into wanting to become a Forest Ranger. And at the time that's what I wanted my career to be. Then when I was 19, I wanted to figure out how I could just ski for the rest of my life, so now I look at Super Pacific as a combination of all these things are close to my heart. I just love motor sports and I love the outdoors and starting this company is a dream mashup of the two for me.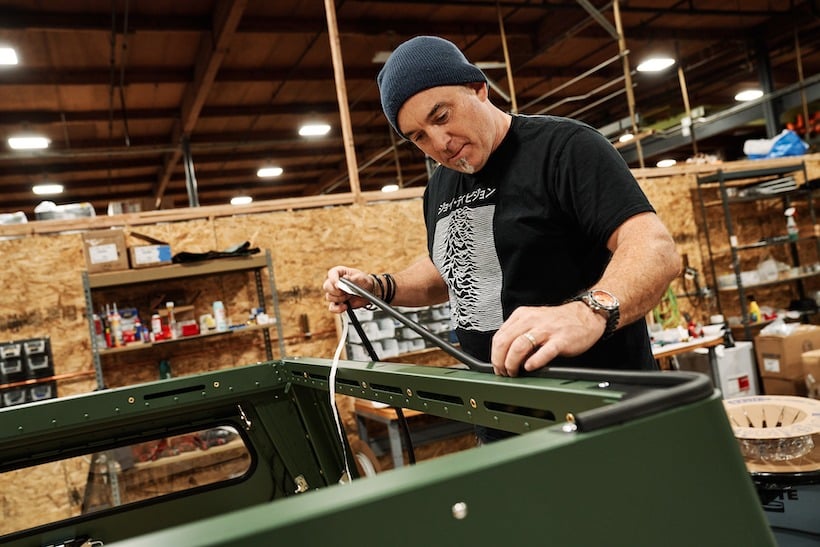 Peter:
I grew up in North Carolina where we definitely liked putting big tires on your truck and driving in the mud was part of what we did in high school. I've never really gravitated towards motorsports, but there's always been a part of me that loved getting my vehicle setup all dialed in so I could get up in the mountains and go backcountry skiing or climbing or whatever it is that was taking me outside.
I grew up on the ocean and my family lived on a sailboat for several years, so I really came to love tight, efficient spaces. In my late teens and through my 20s I had really built my entire life around outdoor recreation, working seasonally as a raft guide and ski instructor and just spent a ton of time outside. As I got on into my 30's I got more career focused, but now that I have a kid, making sure that he grows up with a strong relationship to the outdoors is really important to me.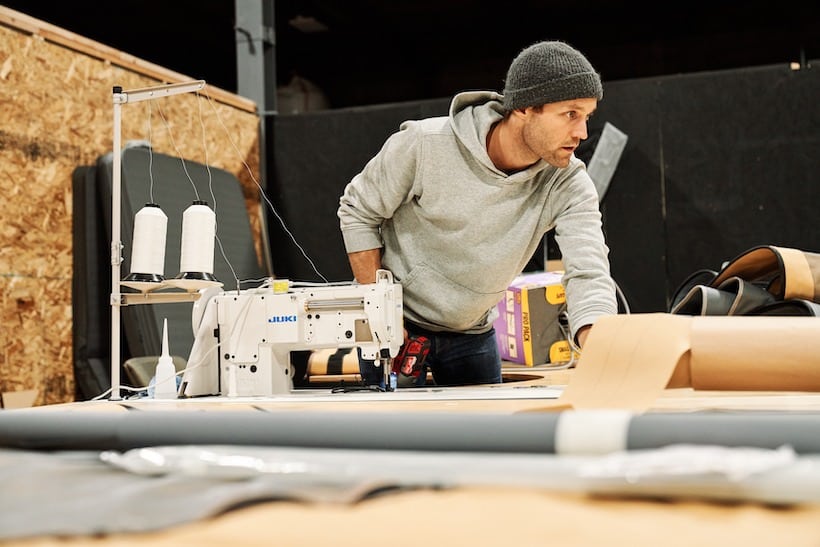 What have been some of the challenges to starting Super Pacific ?
Since we launched Super Pacific last summer, the response has surpassed anything we could have hoped for, so things have moved very quickly to try to scale up our production capacity must faster than we ever anticipated. In just a few months we went from treating this as a cool little side business to having 10 people on staff and trying to really ramp up our operation, all the while trying to get the our manufacturing processes dialed in. Not to mention just the normal challenges of running a business like keeping up with inventory and getting employees set up with healthcare insurance. It's been a bit like building the airplane as we're hurtling down the runway, which has been exciting but also completely nerve wracking. Every day we get a little better, get a little bit faster, a little more efficient, making improvements both to the product and just to how Super Pacific runs.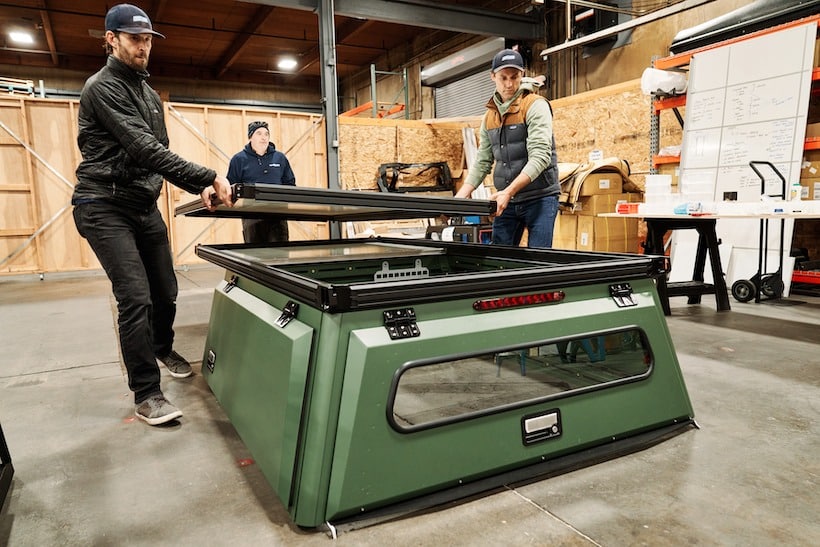 Tell us about the Lightweight Camper.
The Switchback X1 is our flagship product: a lightweight, wedge style camper for trucks. It combines a 4-season rooftop tent, a commercial-grade riveted aluminum canopy & a gear mounting system that's designed to integrate with any camping setup. Every element of the Switchback X1 has been designed with the experience of the end user in mind. We've packed it full of functional features while keeping it as light as possible.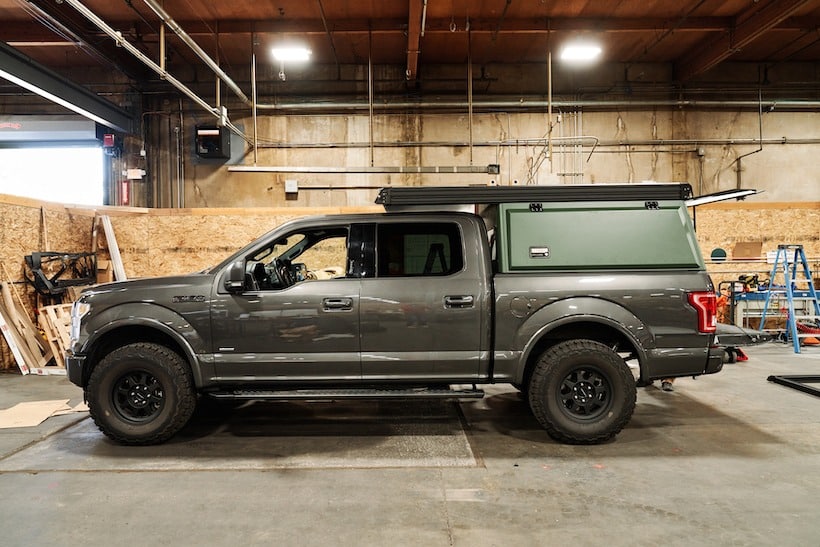 Features / What makes us different
In the design process we tried to be really thoughtful about which features would add functionality across the widest variety of use cases. Everyone has a different gear setup that's suited to their unique objectives, so we designed it in a way that would make it easy for folks to dial their set ups in to their liking. We focused on building a really quality core product so that the end user can build off of our foundation.
The Canopy:

Drawing on Spencer's background in aerospace manufacturing the Switchback X1's fuselage is made of laser-cut and formed sheet aluminum and joined with solid aircraft rivets. It's built like an airplane. A very lightweight, yet extremely strong & durable foundation for our canopy.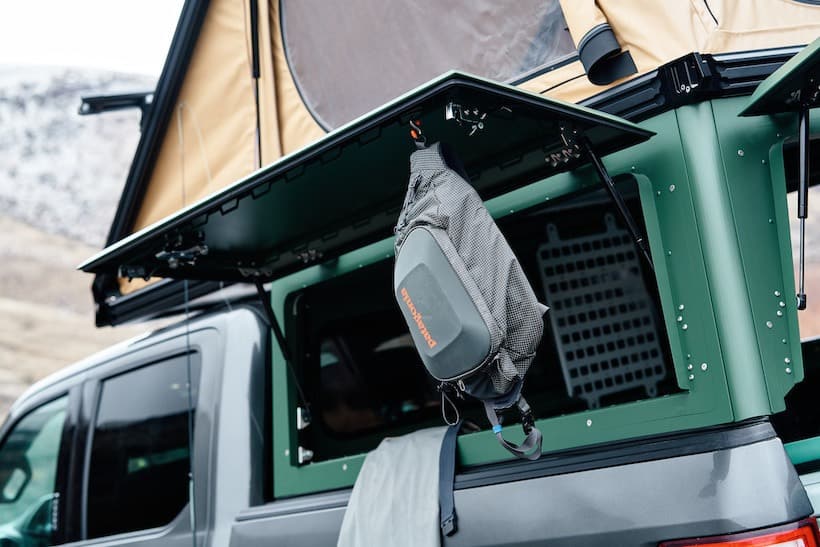 The gear mounting system:
The interior of the canopy is lined with M6 threaded bosses that we spaced evenly throughout the interior of the frame for attaching accessories: molle plates, tools, racks, storage nets, you name it. The possibilities are really endless.
The fuselage frame also features hollow wire chases so you can easily route electrical, air, or water lines, with removeable mounting faceplates in each corner pillar, to quickly mount switches, gauges, or power outlets.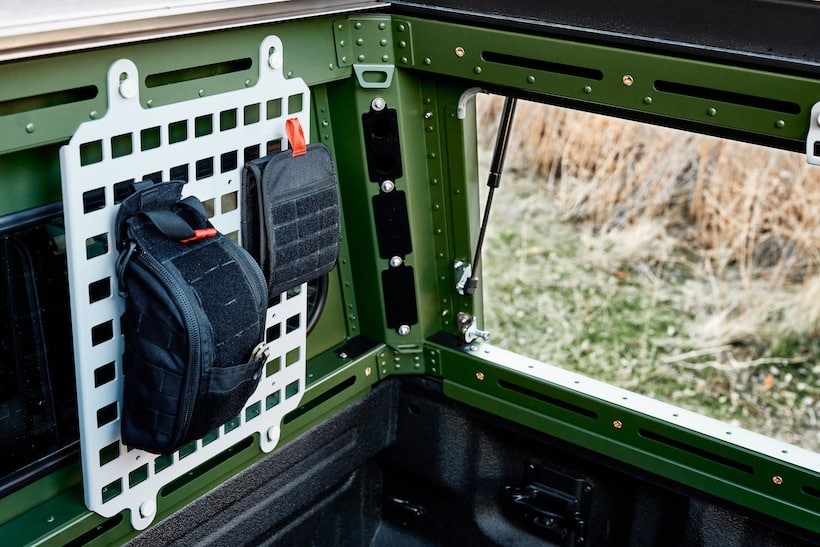 We loaded our extrusion with t-slots to set you up for nearly any scenario. Tracks on the roof easily catch a variety of roof racks, the exterior perimeter has 3 tracks for mounting awnings or lightbars (2 on the base, and 1 on the lid), and the interior of the tent is framed by a track as well. We use universal t-nut dimensions, so no proprietary mounting hardware is needed.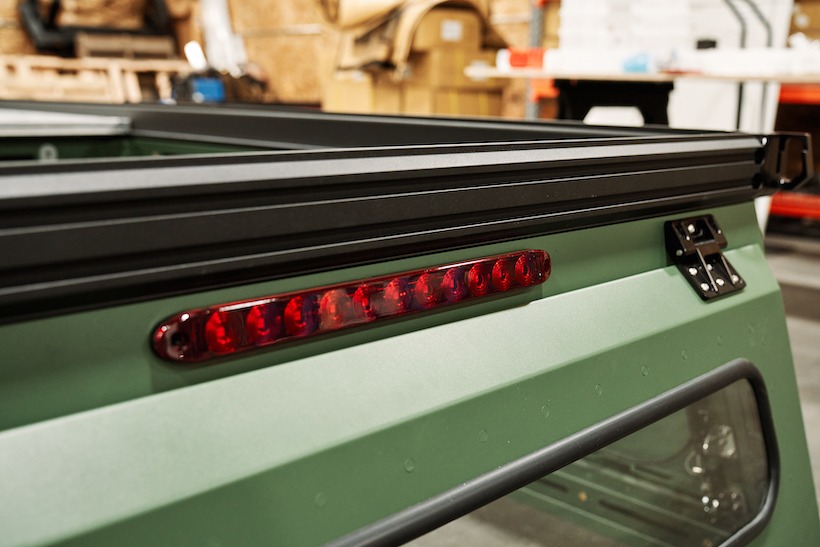 The Canopy Doors:
We didn't want to lose access to our truck bed on a daily basis, so we made full-width canopy door openings for easy access to the truck bed through the side doors, with no cross beams to get in the way. The canopy doors are bomber by design and seal tight to the camper. They offer two separate layers of weather protection, with a valence that routes water away when the doors are open. Each door uses a single locking handle, that opens from inside as well as outside. The door hinges are custom-made and dead simple.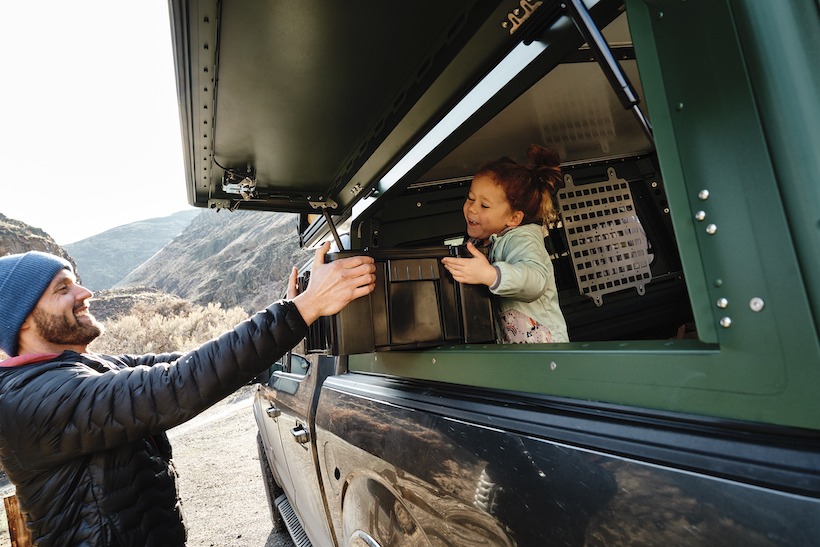 The Tent:
We designed our 4-season tent using a 450 denier polyester textile that is treated with an acrylic coating for resilience against the elements. Our tent has a unique adjustable venting system that makes it easy to control the interior air flow. You can completely open the vents to keep things cool and reduce condensation, or you can seal them to trap heat in cold weather. The tent has 3 large screened doors that allow access from the exterior via a ladder (not included). Alternatively, you can remove one or both of the small modular floor panels so you can easily climb from inside the truck bed to the tent without disrupting your sleep set up.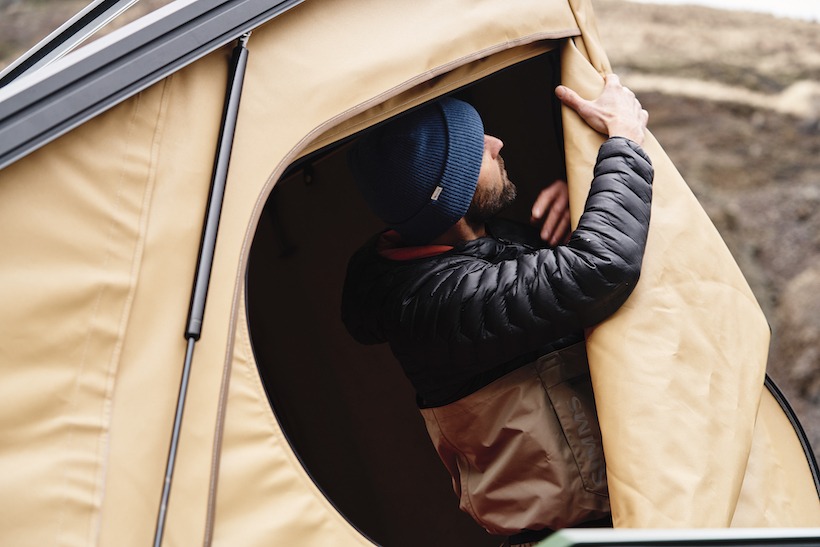 The Sleeping Platform:
We built our tent around the Exped Megamat Duo because it is extremely comfortable, lightweight, and can be compressed to make room for bedding. We extended the sleeping platform 20" beyond the end of the mattress, which means more space to stretch out and stash your stuff while you sleep. You can remove the two end floor panels to create a clear pass through to your truck bed (without disturbing the bed) or remove all the panels to create full standing height in your truck bed.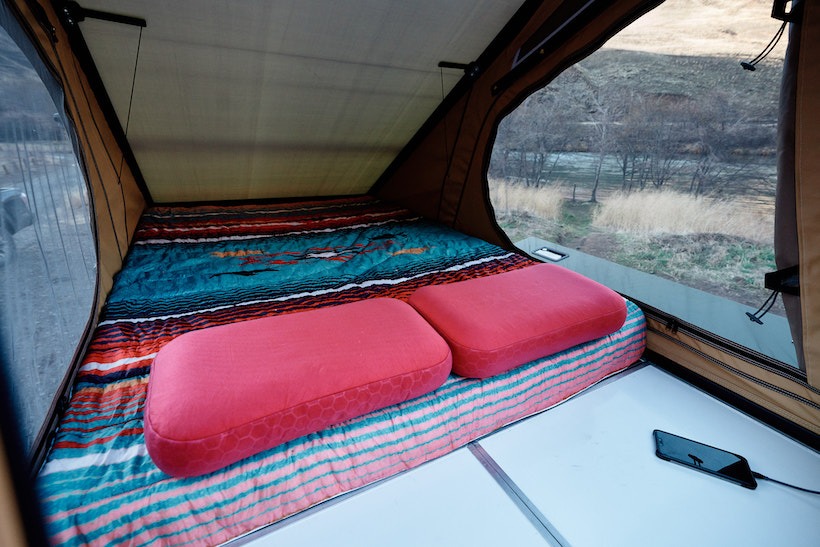 All our hardware is custom designed: anodized billet aluminum hinges and latches for the hard shell lid. The hard shell roof is made of a polypropylene honeycomb panel, super strong yet very lightweight.
Build Quality: Our build quality is second to none in the industry, and that seems to be backed up by how frequently people decide to buy our product after they've seen it in person. Our fuselage is built using riveted & formed aluminum sheet, a tried & true technique from the aerospace industries. Our tent is made of marine-grade polyester canvas, designed for maritime use. All our hardware is designed in house and sourced regionally. The camper is manufactured and assembled entirely in the USA.
As a consumer, how do I buy from you? How can I see a Super Pacific product?
For a product overview, tech specs, FAQ and the most current lead times visit: SuperPacificUSA.com
For a regular dose of pictures and updates, follow us on Instagram: @superpacific_usa
You can also email us directly at [email protected] to get questions answered or to place an order.
For folks in the Portland, Oregon area we offer in-person viewings by appointment.

What's your customer care and warranty?
We're constantly making improvements to the product, testing out new methods and relentlessly refining them to make them as adventure-proof as they can possibly be. It's not in our DNA to cut corners on materials or processes because we want people to have the right kind of adventure: out chasing your passions, spending time with your friends & family, not stressing out about broken gear. If something does go wrong, we stand behind our products with a 2-year warranty on all our campers. All our products are proudly manufactured here in the USA, by an awesome team of talented people.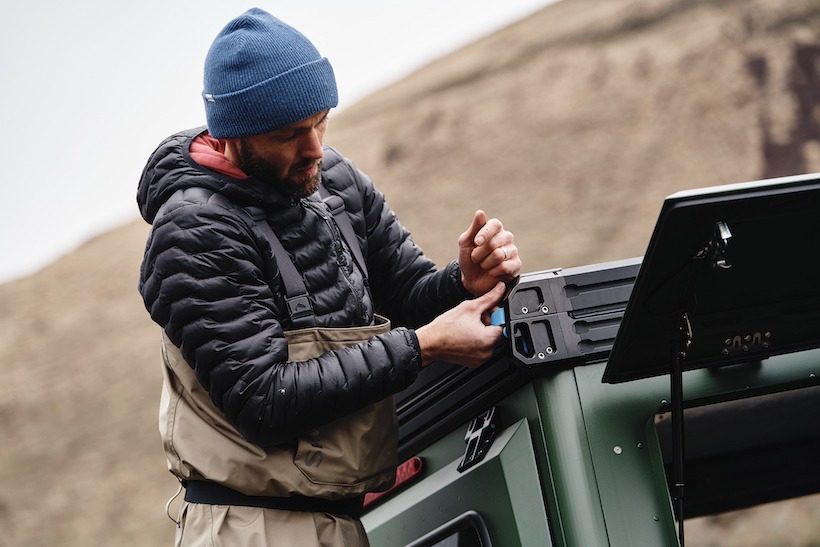 Any specific plans for 2021?
2021 looks to be a big year for us. By the end of the year we'll have fitments for most truck models, which will be really cool. We've got our sights set on developing a line of accessories that tap into the customizable nature of the camper and are designed to help people to get the most out of their experience. We're excited to really figure out solutions for the different challenges that people run into in the outdoors: camping with your kids, camping with your dog, camping in bad weather. Coming up with novel solutions to incorporate all your gear for biking, climbing, surfing, skiing, fishing – for wherever your sense of adventure takes you.
Photo credit:
Justin Myers: myersphoto.com
Instagram: @jmyerz
_____________________________________________________________________