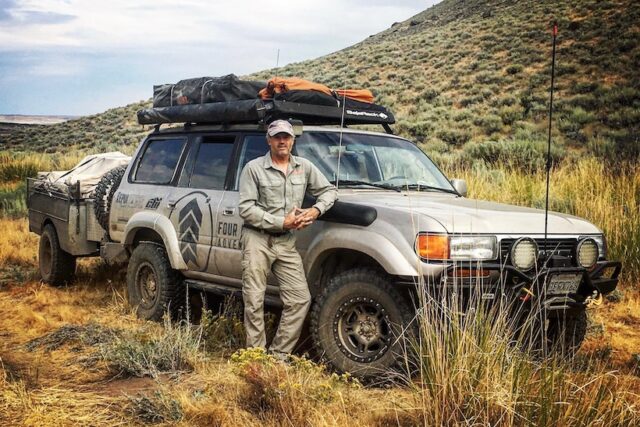 1993 LandCruiser 80-Series:
Todd Rogers, Owner and Lead Guide/Instructor of Four Points Adventures
Why did you choose your rig platform and how long have you had it?
I've owned toyota trucks and cars since I was 20, and every one of them has been a solid vehicle. In 2016 when I needed an ultimate overland vehicle I looked to the Landcruiser "80 Series" because of its robust and capable history. I've owned this 1993 Toyota Landcruiser for 6 yrs.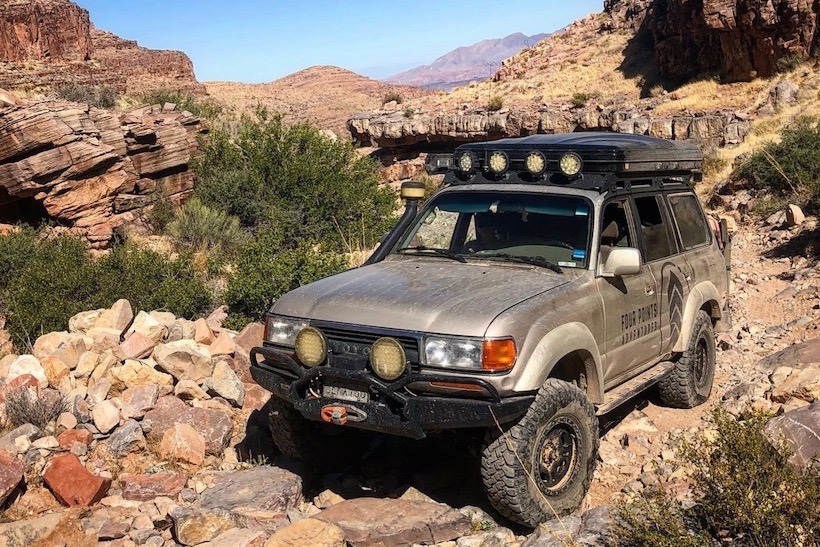 What mods have you done to the Landcruiser and why?
Where to start, well I guess the ground up is best;)
Falken Mud Terrain 33" tires, small enough to keep me from having to re-gear the axles but large enough to tackle the Rubicon and keep my axles off of most of the bumps.
This Landcrusier came with factory "lockers" center, front and rear.
2.5" OME lift with heavy duty springs for all the extra weight I carry.
Slee "Shortbus" front bumper and rock sliders.
Dobinsons rear bumper with dual swing outs which I have now welded a box onto so that I can carry either 10 gallons of extra fuel or a porta potty (depending on the trip).
The front bumper carries a Mean Mother winch with synthetic line and is finished with a Factor 55 "closed system" flatline (which has found a few rocks to give it some character).
For those tough nighttime trails I have installed "rock lights" built from one of the Hardkorr DIY systems which has worked very well for the trails, but also for some nice ambient "mood" lighting at camp.
Engine bay is still fairly stock except for a Dobinsons Dual Battery system and snorkel with a pre cleaner (or what I call the "salad spinner") attached on top.
Along with the dual battery system, is a solar power management system, so that I can charge batteries and keep the fridge running, while parked, using a 100 watt panel.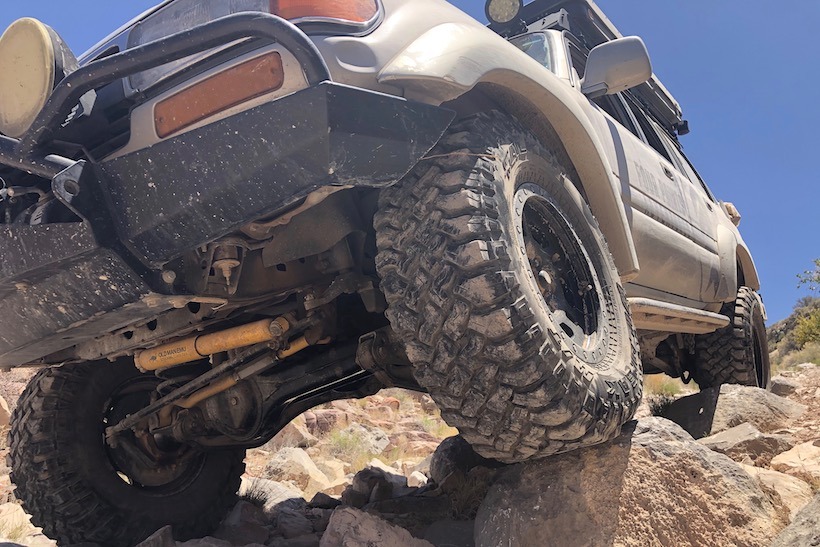 Inside the Landcrusier there are a few more mods:
A large dual-bin Snomaster Fridge for keeping meats, cheeses, beer and ice cream cold (even out in Death Valley, YES Ice cream!)
A home_built 2 drawer storage bin for things that live in the truck all the time like extra parts, tools, stove, and cookware.
A DIY "loft" (made from a metal mesh display rack) hanging just below the headliner carries lightweight things like tarps, clothing, and my 100watt solar panel.
For camp/kitchen lighting I have a HardKorr dual color (white/amber) LED system with adjustable output mounted to the rear hatch.
For comms I use all Midland brand radios and antennas for GMRS and HAM.
On top of the Landcruiser is a Prinsu roof rack that carries a Tepui tent, antennas, and my HardKorr lights.
What would you do differently if you could start from scratch?
I would have purchased an aluminum roof rack instead of steel, both to keep weight down and not have to bother with a rusty rack when it gets scratched. Not that I mind scratches (as you can see) but rust is a killer to a classic and anything I can do to keep this old girl from rusting I do.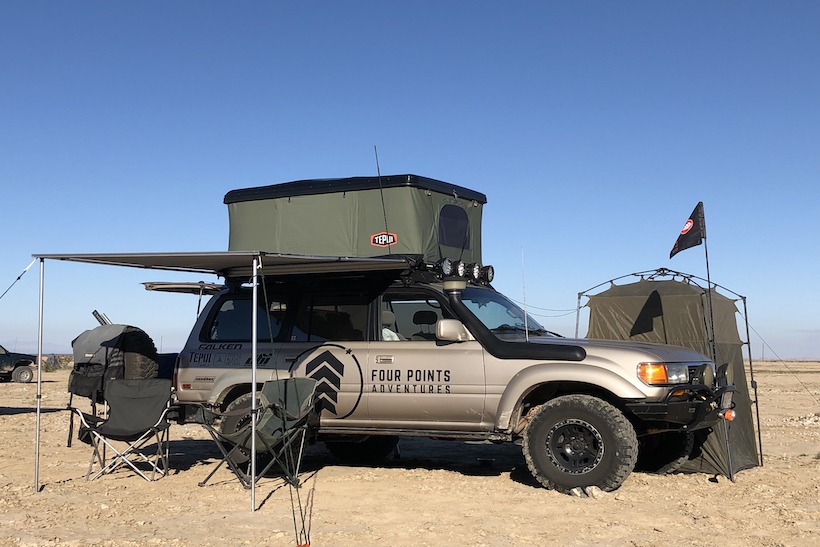 What's the one (or two) thing(s) that make your Landcruiser awesome for you?
When I go out on a trip this vehicle gives me a feeling of invincibility, now that is not without of course proper back up options (spare parts, extensive tool kit, Delorme Explorer+, full medical kit including an AED, and 10+yrs of Mountain Rescue background) because I don't care what vehicle you own or how new it is there is always a potential for a breakdown but at least with this truck I feel like if something breaks either I can fix it or can keep moving with whatever is broken.
What's not so great? What characteristics or components would you change if you could?
Oh my gosh! The gas mileage is killing me, though granted, with 250k+ miles on the odometer it could probably use some freshening up in the engine bay.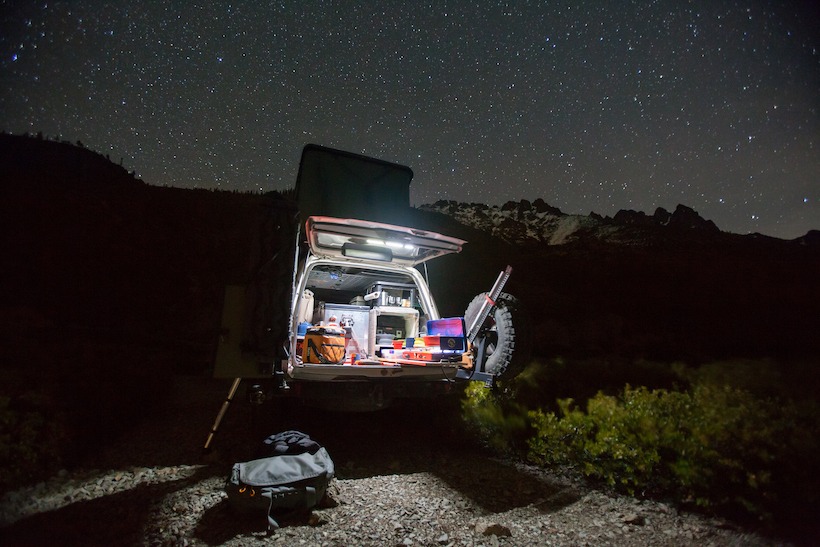 Final thoughts and words of wisdom when choosing an overlanding adventure rig?
Though I love my Land Cruiser its probably not necessarily the right vehicle for everyone. When choosing your vehicle, really try to imagine yourself, and maybe family, getting "out" and try to picture the reality of what that looks like. Maybe a Subaru or similar with some good tires and roof rack are all you need. Soon there will be electrics that may "fit the bill" too.
In any case, I've seen anything from little 2-wheel drive pickups to hummer H1's out and about and it doesn't so matter much what you drive but that you know how to drive it.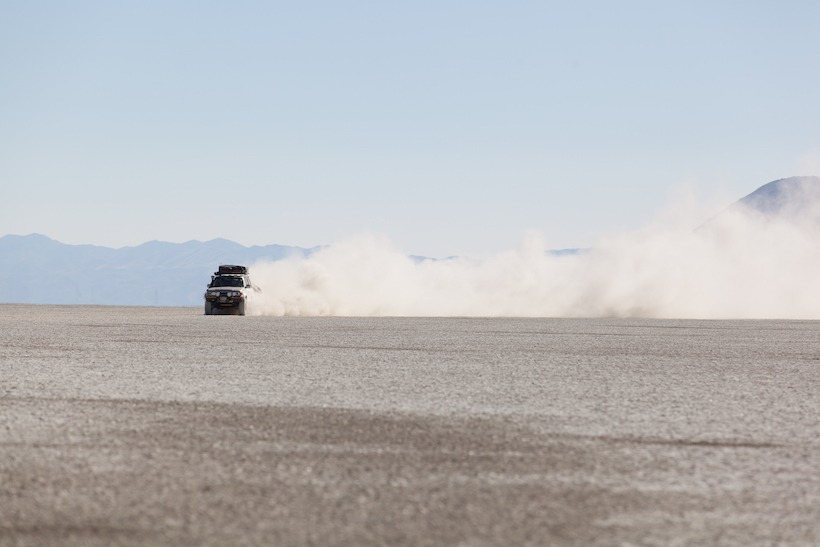 For more information on FOUR POINTS ADVENTURES click HERE
For more Ultimate Overland Rigs check HERE
_____________________________________________________