2018 Winnebago Revel – The Gnar Wagon
David Somach and Kelly Laustsen, Owner's of "The Gnar Wagon".
Why did you choose your rig platform and how long have you had it?
We chose the Winnebago Revel because we were planning a 1+ year sabbatical of full-time travel, and wanted all the creature comforts that a van can provide. We also considered building out our own van, but realized we didn't have the time (or skills!) and wanted to be able to start traveling as soon as we got our van. We had a few non-negotiables, including 4×4, a toilet and shower, seating for four, and ability to fit into a standard parking space. The Revel met these requirements and then some! We've owned our van for a little over three years now.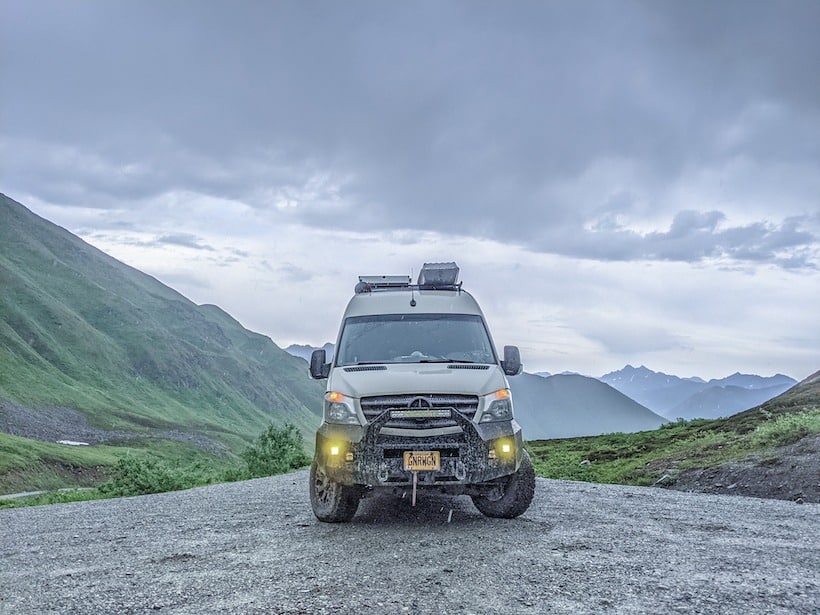 What mods have you done to it and why?
Where do I start! The most significant modifications were to add Backwoods Adventure Mods gear all around, to upgrade the battery system to lithium through RoamRig, and to add extra solar panels on the roof. Most of our modifications are either to enable us to get further into the wilderness, or to extend the amount of time we can go before having to return to civilization. Our Revel was nearly where we wanted it from the factory, but we wanted a little extra toughness from the Backwoods bumpers, as well as an easy way to mount a winch and lighting. We installed an onboard air setup to be able to reinflate the tires after airing down on rough roads, and found that the front and rear bumpers were great locations to mount air hookups. After heavy use, our stock AGM batteries were showing their age so we went with a lithium upgrade that was a total game-changer in how we can use the van's appliances. The extra solar is a nice boost especially in the summer, and allows the batteries to quickly recharge while we're playing outside.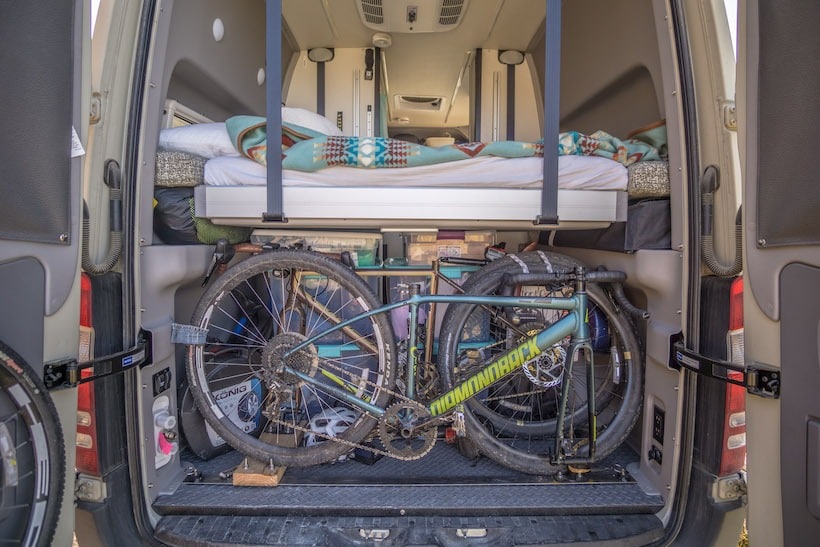 What would you do differently if you could start from scratch?
Honestly, not much. We most likely wouldn't have ended up with an off-road van if we were selecting a rig for weekends and shorter trips, but now that we have the van, we've gotten a bit soft! It's so nice to be able to access the living area during a long drive without having to go outside, especially if the weather is foul. Now that we're in Alaska for the summer, having a hard-side camp setup is great for peace of mind when we're deep in grizzly country. We originally were planning on building out our own 4×4 Sprinter, but after ending up with a Revel, I'm not sure if we'd make any changes to the floor plan if we were to build out our own in the future. While we'd love to have a bigger bed or refrigerator, it would be tough to find the extra room needed for that in a short-wheelbase Sprinter and would require a switch to a 170 (long wheelbase). We think that the parking and maneuverability benefits of the short wheelbase van far outweigh the space constraints! We do wish we'd done a few upgrades before traveling full time in the van, including the switch to Lithium batteries (which we did before our trip to Alaska) and a suspension upgrade, which we still haven't done. While our van does a great job on tough forest roads and airing down the tires helps a lot, we have spent a lot of time slowly creeping along on washboard roads!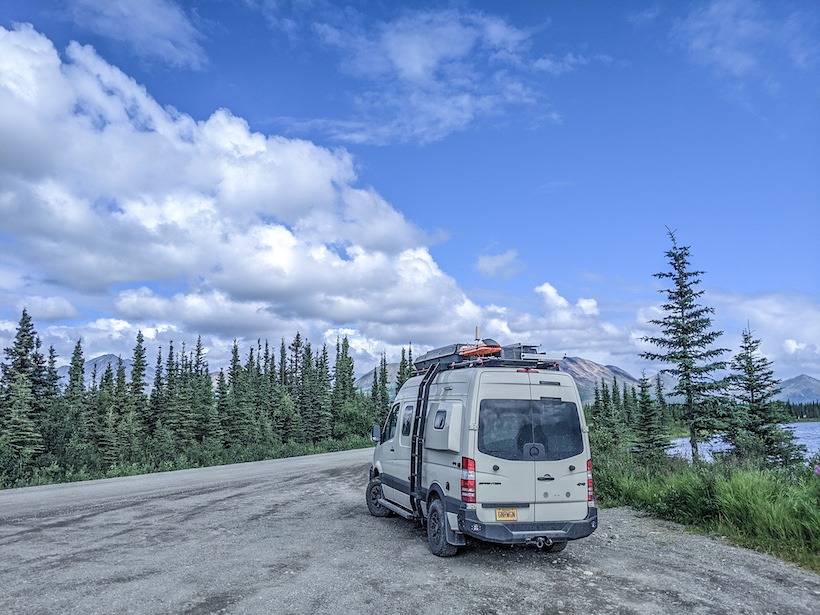 What's the one (or two) thing(s) that make your rig awesome for you?
I never fail to smile when I'm creeping up a tough section of forest road and notice the down comforter on the bed and my wife's artwork on the cabinets in the rearview mirror. The 4×4 van is pretty unique since it's capable enough to get you to some pretty rugged places, but has the ability to carry all of your luxuries from home inside!
What's not so great? What characteristics or components would you change if you could?
No matter how good of tires you upgrade to or what you do to upgrade your suspension, you can't beat physics and a 9000 pound van just isn't as capable as any of the other rigs in this Ultimate Overland Vehicle Series. It is pretty incredible where we've been able to go, but you need to accept that you will see some sections of road that would be no issue for a kitted out Jeep, but will cause you to have to turn around.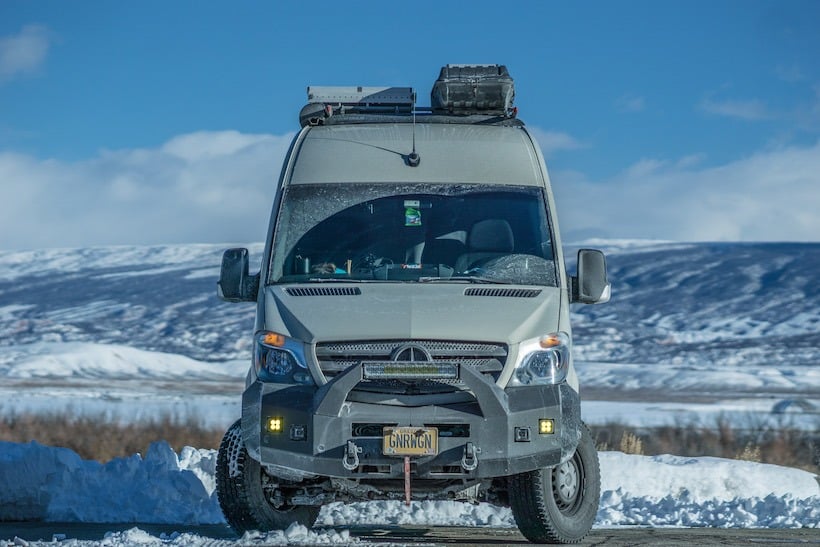 Final thoughts and words of wisdom when choosing an overlanding adventure rig?
Like any purchase, I think the first thing to do is to identify the use case. The rigs in this Series are just overland and off-road capable tools, and there are good tools and bad tools for the job. Are you a weekend warrior who just wants to get away from the crowds and have an upgrade from a tent? Maybe you just need a truck and a topper with a platform inside. Do you want a no-compromises off-roader and will only go when the weather is ideal so you don't need to account for cold or foul weather? A kitted out Jeep with a no-frills camping setup might be what you want. We wanted a shower, a comfortable bed, and an indoor cooking area since we have stints of full-time travel, so a van was the best option for us. Once you determine your need, it's a great idea to rent a rig or two to get a better idea of what it's like to drive and live in, as no amount of research can replace experience. Finally, make sure to get out and use your setup before doing any major upgrades! Different people have different needs, and the best way to identify what upgrades you want is to use your rig and see where it comes up short from your expectations.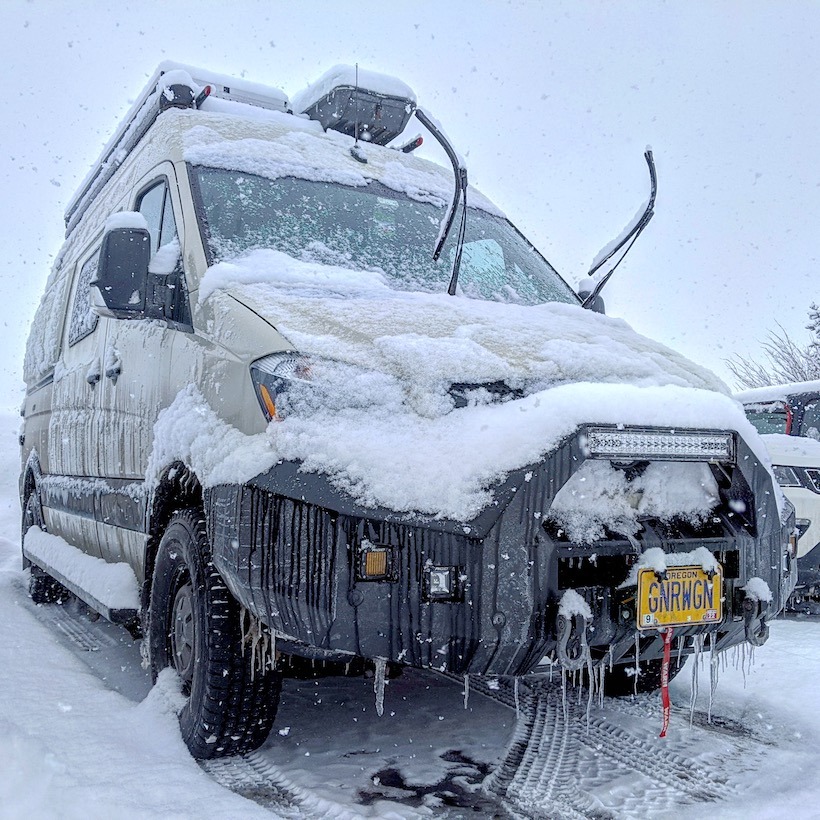 Check out The Gnar Wagon Youtube Channel HERE
Check out The Gnar Wagon Instagram Page HERE
__________________________________________________________________
Check Out The Ultimate Overland Vehicle Series HERE