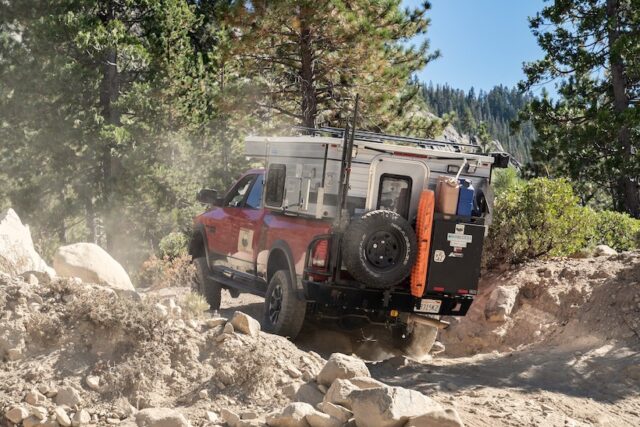 2018 Power Wagon & Four Wheel Camper – Hawk Model
Bob Wohlers, Owner/Instructor Off-Road Safety Academy and Author of Off-Road & Overland Adventure Infobooks
Why did you choose your rig platform and how long have you had it?
I purchased both my Ram Power Wagon and Four Wheel Camper (FWC) in early 2018 brand new (I don't buy used vehicles anymore). The primary reason I selected this vehicle and camper combo would be a surprise to most, and my reason is not common among those that purchase such a setup. I bought this vehicle combo because I personally did not own a 4WD vehicle in this category – long wheelbase 3/4 ton 4WD truck with an enclosed and comfortable habitation camper. I know what you are thinking, "Say what?"
My vehicles are a huge part of my business. I already own two other 4WD vehicles, a 2004 Jeep TJ Rubicon and 2013 Jeep JKU Rubicon. The TJ is set up strictly for rock crawling and day-long scenic backcountry touring and the JKU is primarily set up for international overlanding excursions. Additionally, my JKU overlander was a pain to sleep in and eat out of at the many crowded overland and off-road shows I attend. The roof top tent on the JKU is not very "private" at large shows and cooking outside of the vehicle is a pain with lots of folks around. The JKU is great for camping when alone in the backcountry, but not with close neighbors around. So, enter the Power Wagon with the very comfortable FWC. With all three vehicles in my stable, the purchase of the Power Wagon didn't mean I had to give up, for example, my annual Rubicon Trail rock crawling trek.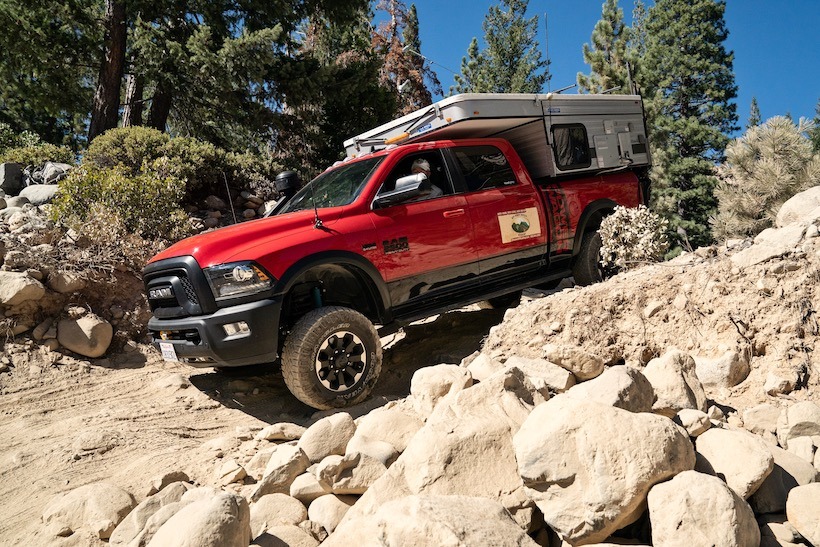 So, why the Power Wagon and not some other brand of ¾ ton truck? The answer for me was easy. Off the showroom floor, and with almost no need for modification, the Power Wagon had all the trail worthy features I desired (modern gas engine, solid axles, a lift capable of handling 35" tires, lockers front and rear, front swaybar disconnect from the dash, a winch, and can tow my Jeep TJ on a flatbed trailer). Since I already loved the trail worthy features in a Jeep Rubicon, the Power Wagon just made since for me because the Power Wagon is essentially a truck version of a Jeep Rubicon. With the Power Wagon I love driving easy graded roads in the backcountry, but it has the capability of tackling difficult terrain.
Why the FWC? This was an easy selection for me personally. I'd had my eye on off-road campers for some time and when it came time for a purchase, I knew the choices. I even went to several of the factories that made off-road specific campers. At the time, there was one clear first place camper choice for me personally. FWC had all the features I wanted: 1) built specifically for off-road, 2) tough aluminum frame, 3) had a low profile for tree and rock overhangs, 4) would be very comfortable when the weather was bad, 5) full indoor kitchen, furnace, refrigerator, dinette, etc., 6) as a company, Four Wheel Camper is NOT going out of business anytime soon (this is huge), and 7) the camper was reasonably priced.
What mods have you done to it and why?
Since no vehicle is perfect for how you wish to use it, modifications are sometimes necessary. As purchased from the showroom floor, all I added was an AEV snorkel, rock sliders, and larger tires. Those are the only trail worthy modifications I made to the truck that have nothing to do with the addition of my FWC. I wanted larger tires to give the truck better traction and to increase overall clearance – axle and body. To run larger tires, I also added new rims from American Expedition Vehicles with the correct backspacing. Since I knew that I'd occasionally be in the rocks, I added the rock sliders for door panel and underbody rocker protection. I added a snorkel and pre-cleaner to allow the engine to suck in cool clean air when crawling across dusty terrain for hours. Okay, it helps with stream crossings also.
To handle the addition of my camper, I added aftermarket rear axle airbags and a larger-diameter sway bar. I purchased both items from Hellwig as I knew from experience, they made tough equipment. I also mounted my airbags on Daystar Airbag Cradles to allow for extended rear axle articulation when on uneven terrain.
On the Power Wagon, I swapped out both the front and rear bumpers. These were very personal utility modifications that many may not need to make – especially the front bumper. For my rear bumper, I added the Aluminess swing out tire carrier and storage box. When I need to change a spare tire, I don't want to struggle to get the spare from the underside of the truck bed. Sometimes you can't even get to the spare under the truck when in deep mud and snow. I also needed additional storage for my recovery equipment, hence the Aluminess swing out box.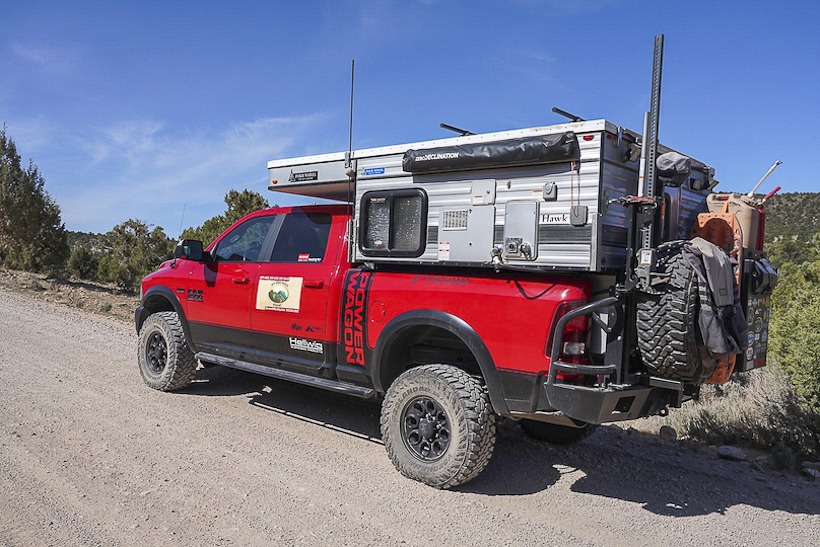 It's great that the Power Wagon comes stock with a winch (the only truck in North America that does). However, the winch is mounted in such a way that it is totally hidden from view. You can't see the winch's drum and winch line unless you lay on the ground and look up. Horrible. So, because I teach winching and winch a lot, I needed a better bumper that allows me to see the entire winch for proper winch line management when respooling. American Expedition Vehicles makes great Ram front bumpers that are winch-ready. If you only winch occasionally, you will be fine with the stock bumper and WARN winch.
One last modification that was right for me, since our kids are all grown, was removing the rear crew cab seats. This allowed me to lose some 200 plus pounds of unneeded weight. Next, I added the wonderful Goose Gear Rear Seat Deletes. This modification really helped with adding needed off-road equipment and securing it with straps. Because of the Crew Cab storage capability, we never have to remove boxes from the back of the camper to work, relax, or sleep in the camper. Just pop the top and relax.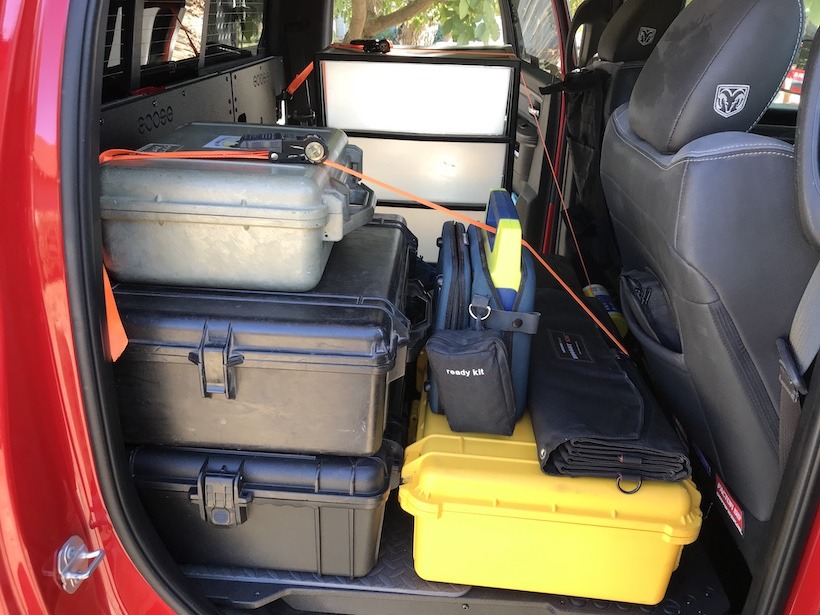 What would you do differently if you could start from scratch?
I can only answer this question if I had more cash when making both of my purchases – truck and camper. If I had more money, I might have gotten an American Expedition Vehicle Prospector XL on a 3500 platform. I've found that I could really use the extra payload and towing capability. Regarding the camper, I would have gotten a flatbed Four Wheel Camper, rather than a slide in version.
Also, if I had more cash, I might have bought a new Ford E-Series Sportsmobile (now called Field Van). Vans have several huge advantages over any type of camper placed on a truck. First, once you are finished driving, you don't have to get out to work in the living space. This is great for security in sketchy areas and when the weather is bad. Second, you have lots more living space as the passenger chair (and sometimes the driver seat) can rotate and point to the rear of the van. This adds comfortable seating and floor space in the living area. My next overlanding vehicle in this larger vehicle category may be a Field Van – their Classic E-Series.
What's the one thing that make your rig awesome for you?
After years of camping in ground and roof top tents, I LOVE my FWC. To me it feels like a palace when it's snowing outside and I'm quite literally in the middle of absolutely nowhere. Further, I love the deep growl of my Ram 6.4L Power Wagon engine when I pass at 70 mph other overloaded overlanding vehicles (you know who you are) struggling up a long hill on Highway 50 in the Humboldt-Toiyabe National Forest. Did I mention the truck and camper combo rides better on the pavement than my wife's Lexus IS300?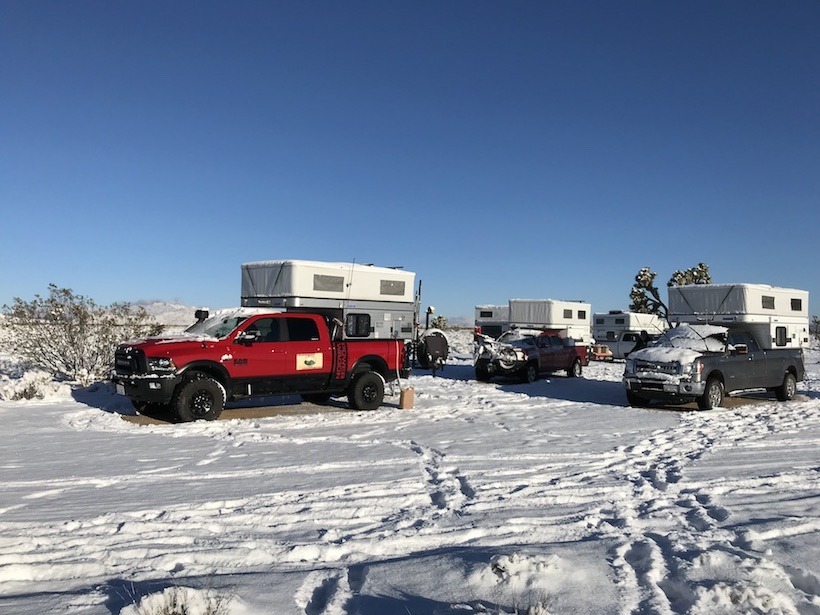 What's not so great? What characteristics or components would you change if you could?
As I said previously, the Power Wagon front bumper is horrible if you need to winch repetitively. Secondly, the Power Wagon is purchased with a red sheet of paper in the glove compartment. On that sheet in white text, it reads: "It is not recommended that the owner place a slide-in camper in the truck bed." The paltry maximum payload of the Power Wagon is 1466 pounds. This low payload for a 3/4 ton truck is due to the very soft coil springs used on all Power Wagons to allow for robust axle articulation on uneven terrain. I screwed up the off-road specific design of the Power Wagon by putting a heavy camper on the rear with a tight rear sway bar and airbags. I do have a set of stock RAM 3500 coil springs in my shop waiting to be put on the Power Wagon – just to experiment. I also wish this vehicle had more overlanding range. Off-road I can get about 230 miles on a full tank of fuel, when in 4WD high. That range is okay, but not wonderful. I typically carry two five gallon jerry cans of gas on long excursions.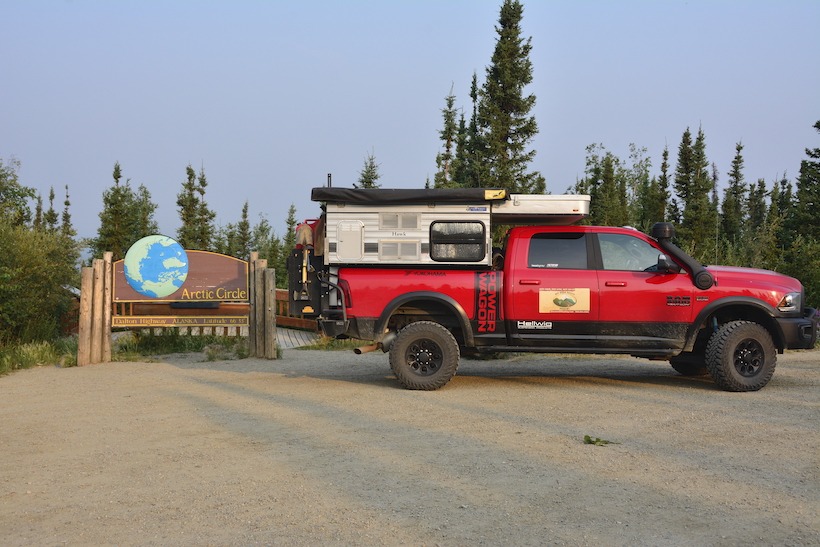 Final thoughts and words of wisdom when choosing an overlanding adventure rig?
Regarding this question, I feel compelled to say that there is no such thing as the perfect 4WD vehicle. You decide on the perfect off-road vehicle for the terrain you wish to tackle, where you want to go, and how comfortable you want to be when driving and camping.
That being said, I'd like to cite Scott Brady's "Ten Commandments of Modifying an Overland Vehicle." As most know, Scott is the Publisher and Chairman of Overland Journal. I agree with all of his ten points. My Power Wagon violates a couple of these commandments, but my overlanding Jeep JKU does not. For example, my JKU is the vehicle I would ship to Cape Town, South Africa for international travel, not my Power Wagon.
Even though Scott's list primarily speaks to how you modify a vehicle for overland travel, it also speaks to choosing an overland adventure vehicle.
Complexity is the enemy
Weight is the enemy of performance
Suspension performance
Keep engine stock
Isolate and minimize all electrical modifications
Use high quality tires in an appropriate tread
Avoid heavy roof loads
Be able to self-recover (take professional training)
Always secure your load in the cab
Quality and design over quantity of "stuff"
Simplicity and reliability are the keys to vehicle preparation for long-distance adventure travel.
____________________________________________________________________
Need help building that rig, then check out TAP's Ultimate Resource Guide to Overlanding HERE
For more Pop Up Camper articles, CHECK HERE