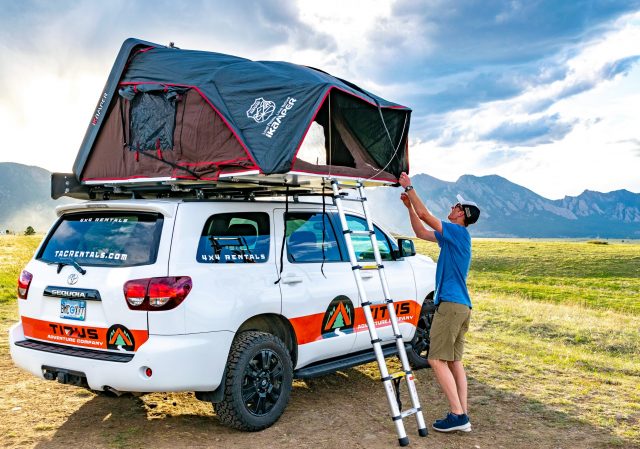 Everywhere you look these days, you see articles about Vehicle Supported Adventure, "Looks pretty cool" you say to yourself, but where do I start? Alternatively, maybe you simply want to experience a different states adventure opportunity without wasting days driving 1000's of miles to simply get there? Titus Adventure Company (TAC) answers these questions for you and a couple weeks ago we sat down with them and asked them about their rapidly growing business.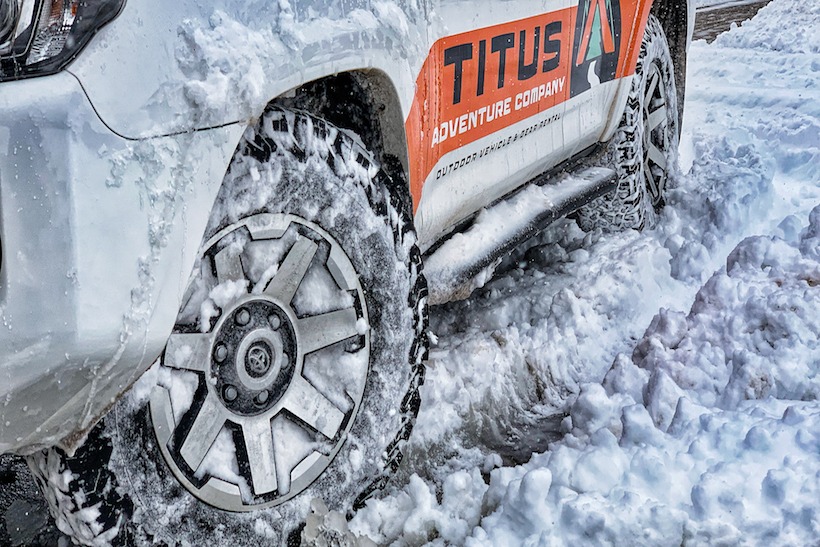 What is TAC and how and why did you start it?
Titus Adventure Company (TAC) is an adventure vehicle rental outfitter based in Denver Colorado and we see ourselves at the "Uber of Overlanding." Our mission is to help provide access to the outdoors while being good stewards for the environment and community. I started TAC mainly out of a personal need: how to live the outdoor Colorado lifestyle while reducing my family's carbon footprint. As a young family of 4 (with a dog) we need a big SUV for weekend adventures in the mountains, but we don't need it to run to the grocery store. Why not rent the times we need an adventure rig and have a much more fuel efficient car for the other 90% of our driving? We have since purchased an EV for our daily driver and offer 20% off to all other EV owners. The other major motivation for starting the company was that I believe life is better outdoors and as a Colorado native I have spent a lifetime getting outside, but not everyone is so lucky. How can we help get people outside? We do that by removing barriers. Don't have the right vehicle? We bring ours to you. Don't have time to pack/ unpack and then clean? We provide the gear and clean it for you. Don't know where to go? We help plan your experience. Don't have $60k to put into an overland rig? Rent only when you want to go out. To solve these problems I quit my mechanical engineering day job and jumped all-in on this business with no idea really how to start a business, how to market it, how to get insurance, or how to make financial projections. What I did know was that this was something I was incredibly passionate about and I felt confident the timing was right for this type of business.
Titus Adventure Company (TAC) Rigs and their builds
The Titus Adventure Company's fleet is Toyota 4x4s that are perfect for the Colorado market. We have a 2019 4Runner TRD Off-Road Premium, a 2019 Tacoma TRD Off-Road Premium, and 2019 Sequoia TRD Sport. These were selected to offer a range of vehicle types to suit different needs but all under the same family. We also wanted to start with a variety and test out assumptions about which vehicles would be most popular. One of the most important factors in the vehicle selection process was reliability. We can't have rigs breaking down on guests in the backcountry. Another factor was we felt it was important to have the vehicles the locals drive. This makes our rentals appealing to the folks who just moved to Colorado and want to get into the lifestyle and also critical to our mission of changing the type of cars locals drive. If we are asking people to give up their 4Runner as their daily driver, they darn sure want to be able to rent one on the weekends. Lastly, we wanted vehicles that are very capable but also very easy to drive and don't feel overwhelming. It is one thing to trick out a vehicle you drive everyday and know well, it is another to have a stranger drive it.As such, we have left the vehicle fairly stock but have done the following mods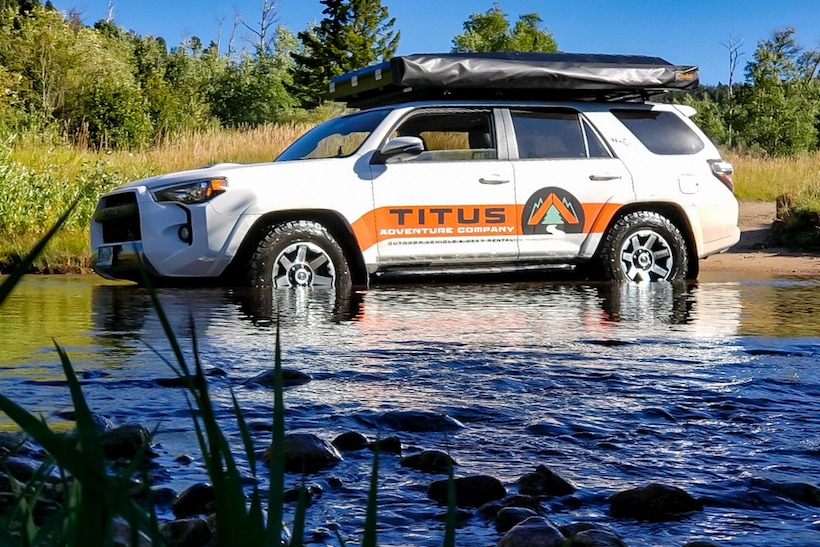 RCI skid plates and rock sliders
BF Goodrich AT KO2 tires (stock size)
K9 roof rails and load bars
Toytec 2.5" lift with Boss 2.0 Aluma series shocks and coils
Alu-Cab RTT
Alu-Cab Shadow Awning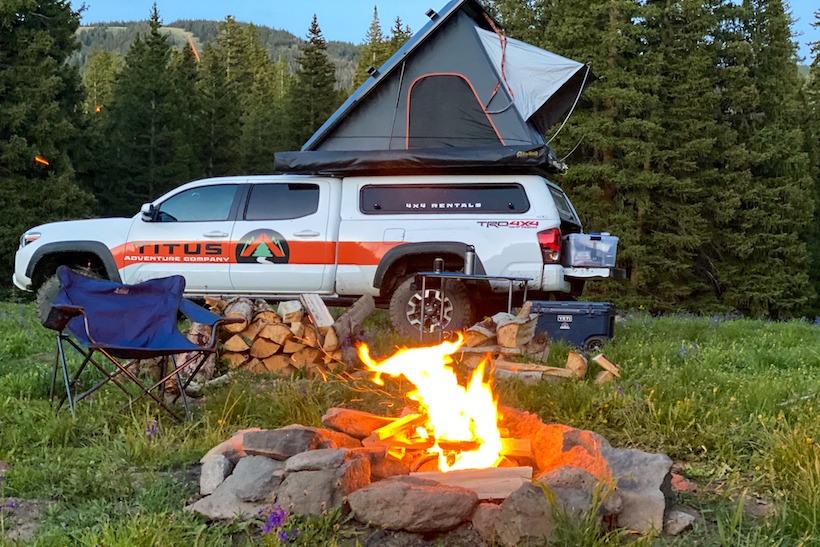 RCI skid plates and rock sliders
BF Goodrich AT KO2 tires (stock size)
Toytec 2.5" lift with Boss 2.0 Aluma series shocks and coils
Toytec HD rear leaf springs
ARE HD Topper (aluminum frame inside to handle the roof weight)
Front Runner Platform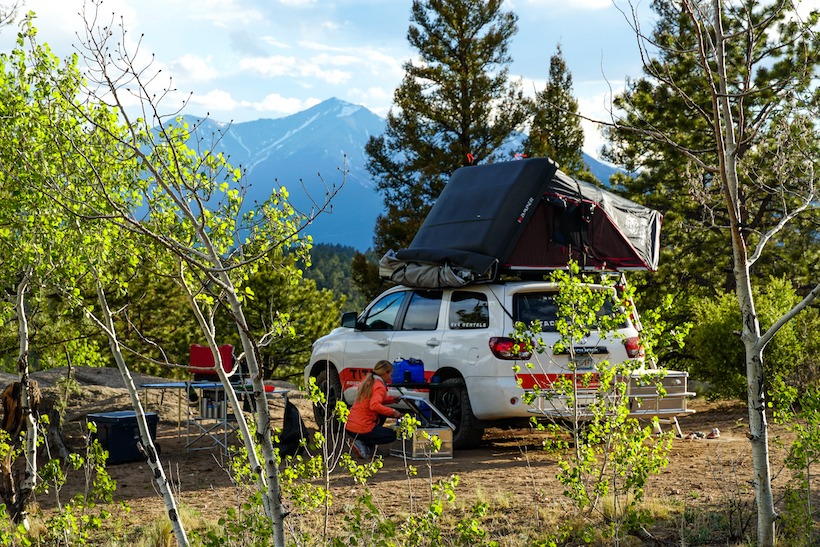 RCI skid plates
BF Goodrich AT KO2 tires (stock size)
K9 roof rails and load bars
iKamper SkyCamp RTT
RLD 360 degree awning
What extra gear is provided when renting?
Titus Adventure Company offers a ton of gear in addition to the vehicles to help outfit your adventure. Included with the vehicle rental, guests get a standard camping package which includes things like stove, fuel, chairs/tables, cook kit, Yeti cooler, water jug, and camp lighting. We also offer a deluxe camping package that has the items above plus things like Yeti coolers, Maven binoculars, portable toilet seat, supplies for S'mores, and firewood. We have gear for watersports (inflatable SUPs and packrafts), bike racks, ski racks, a PakMule hitch carrier, rod vault, portable shower, kid sleeping bags, and Goal Zero power banks. The list goes on!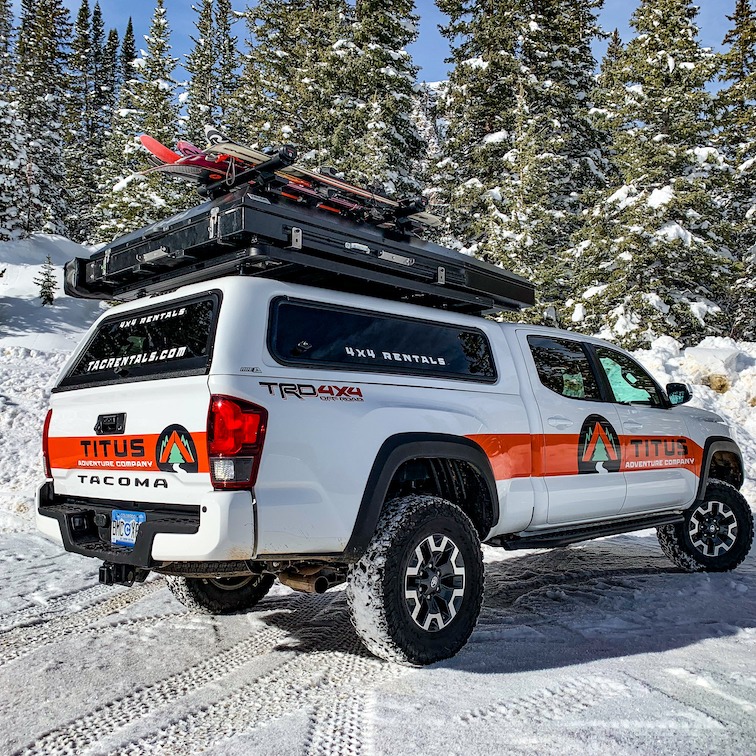 Are your audience local or from all over the US and International?
We are seeing a mix of local and out of state. In the winter most of our guests are from out of state coming to ski and want a guaranteed vehicle with snow tires and 4WD. The summer season is more of a mix. One of our goals is to be a resource for locals who want to explore the mountains on the weekends in a rigged vehicle and use a smaller efficient city driver the rest of the time. We are marketing heavily to urban dwellers and suburban families who are in Colorado because they want to explore the outdoors, but for them having a lifted vehicle with RTT and tons of outdoor gear just isn't practical.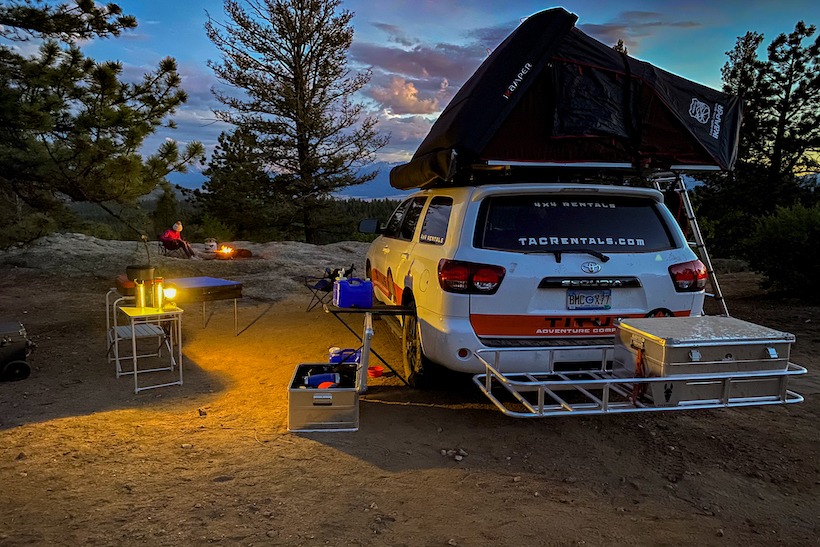 Does TAC curate areas, trails, POI's for the renter?
Yes, Titus Adventure Company hears from a lot of guests that they are excited to try an overlanding trip but don't know where to go. It is awesome to be able to camp for free in the national forests but can be overwhelming too. We are developing some recommended routes in various parts of the state and then also offer more personalized trips. We also ask about their off-road driving experience, other activities they want to do and recommend routes accordingly.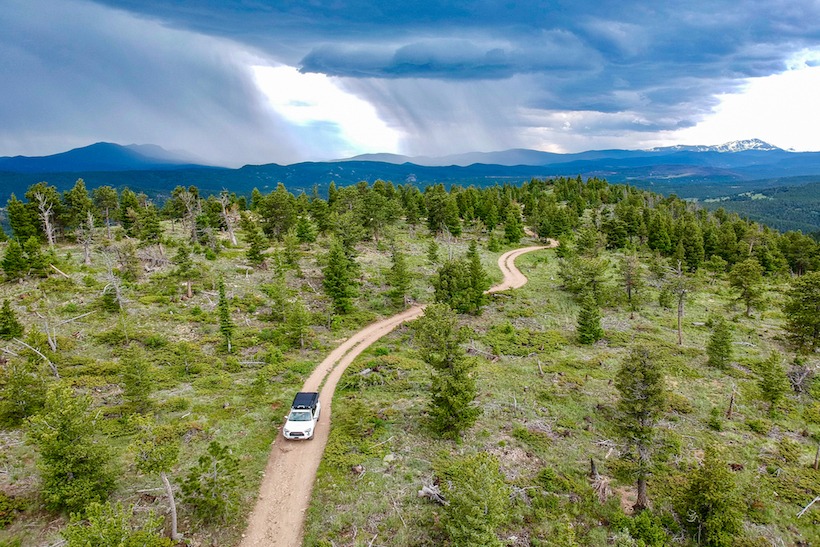 Define the process of renting with you?
Bookings can be made online or by giving us a call. The website shows the vehicle availability and also allows the guest to add on any extra gear for their trip. Once they book we reach out with confirmation email and pre-trip survey to help us learn about their needs/wants. If the guests are looking for a more pre-planned trip we will put together a Google Earth presentation that shows them potential campsites and then create a trip route guide. A few days before the trip we will reach back out to confirm the pickup details and answer any last minute questions. After the trip we do a quick vehicle walk around, guests get their personal items out of the vehicle and they are all done!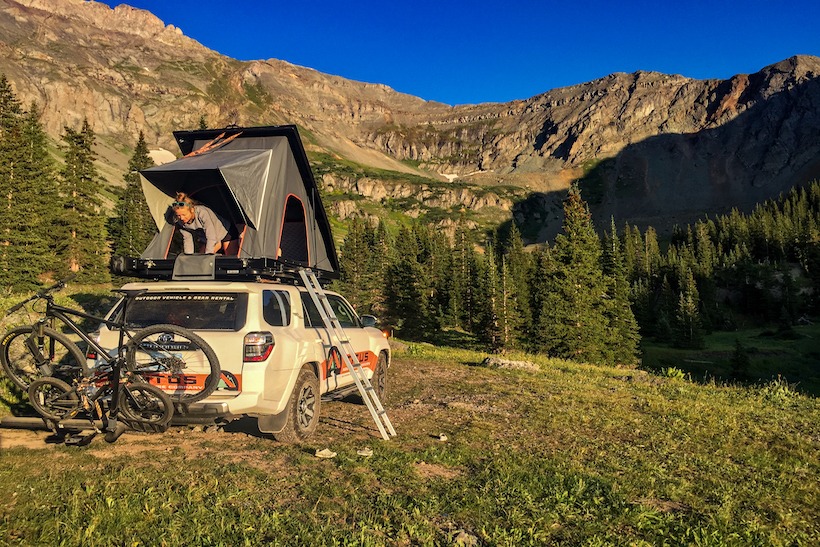 What have been the challenges (apart from Covid of course)?
Getting commercial insurance for a small, new business that lets renters go off paved roads has not been easy to say the least. It took over a year to find a policy we were comfortable with. The other main challenge has been brand awareness. While overlanding is a rapidly growing trend, it is far from mainstream and even less known is that you can rent one of these vehicles. Most people know you can rent a Jeep for a day and most people know you can rent an RV and we are trying to bring awareness to the big gap in the middle. It is far from common knowledge that you can rent an adventure-ready mountain vehicle loaded with gear.
Any funny rental stories?
A guest came back from the Sand Dunes (Medano Creek) missing the front license plate and the bumper valance. He really had no idea how it came off or when and it seemed hard to believe something would rip it off driving forward and not damage the car anywhere else. Was he backing up and caught something? Later I learned that during water crossing at just the right depth and vehicle speed, the water can swirl up at the front bumper and that is what peeled the licence plate off. I also learned that replacing a specialty plate is not cheap…While cleaning a vehicle after being returned, we found some very nice Italian cheese in the car, vacuumed-sealed and uneaten. We got a hold of the guest and it turned out they had bought it in Europe on a trip just before their rental with us and were saving it to bring to their mother-in-law. The guest lived in Vermont and we happened to have family in town from Vermont who were more than happy to fly the cheese home with them and reunite it with the guest. We also have a guy planning to propose to his girlfriend on a trip in a few weeks!
Check out Titus Adventure Company (TAC) today!