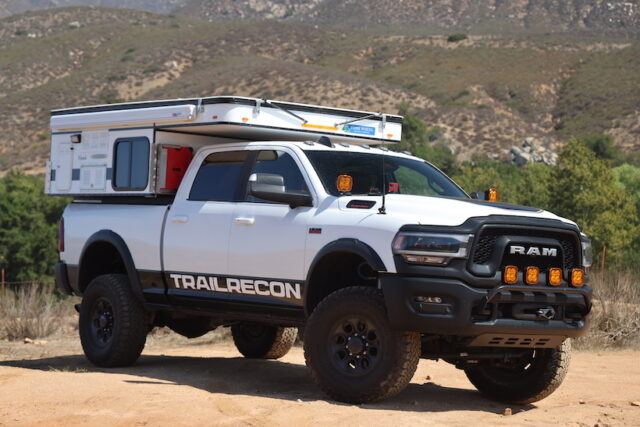 By Brad Kowitz – Trail Recon
When I started overlanding (prior to the launch of Trail Recon)—or camping out of my Jeep as I called it then— my needs and my gear were simple. I was good with a sleeping bag, a ground tent, a cooler, and a basic camp stove.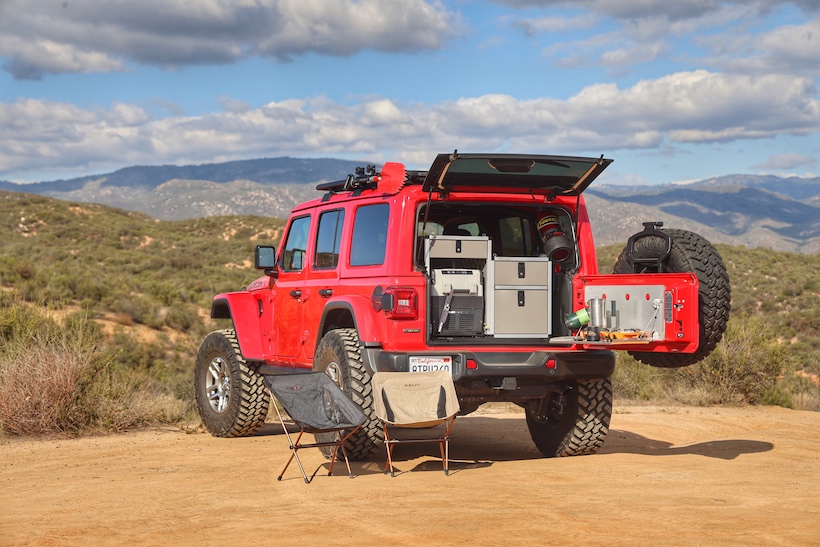 Given that it was usually just me and my boys or a few friends, and we didn't travel off-road too far from Southern California, that setup worked just fine. But over the years, as I've grown to love overlanding more and I retired from the Navy, I've found both the inclination and the time to venture farther and farther from my home base, and my needs have changed.
Traveling farther afield requires bringing more gear. You have to make sure you have enough food and supplies to last for the duration of a week's long trip. I've also realized that as I get less young, I have less tolerance for multiple nights sleeping on the ground and drinking bad coffee.
But the biggest impact of my longer overland journeys was spending more and more time away from my home and family. More accurately, I was away more often from my wife, Regena, because my boys are now adults and have their own lives and commitments. After 26 years in the Navy and many deployments, she and I have already spent quite a lot of time apart. While I was in the Navy, we really didn't have a choice but now, I do.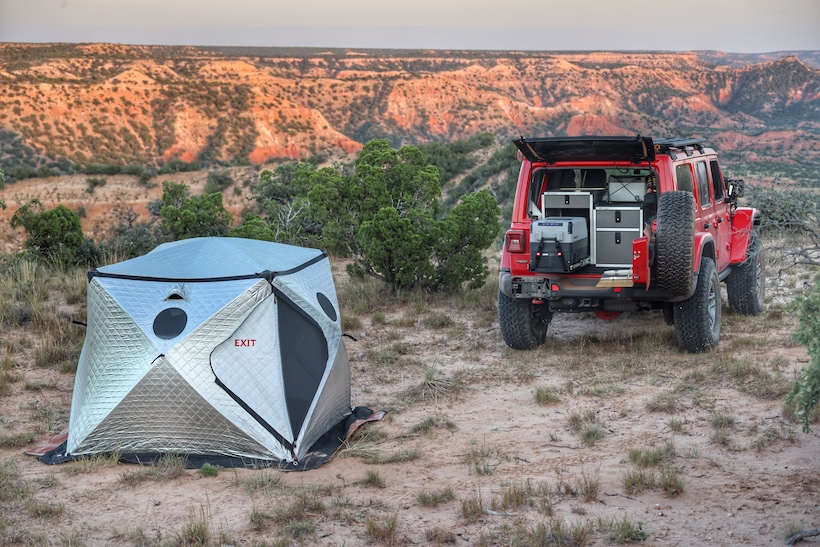 I didn't see any reason Regena couldn't join me on Trail Recon adventures. At least, I didn't until she pointed out that having been in the Navy herself, which included time spent with the Marines, she'd done her fair share of roughing it and it was going to take more than some rehydrated meals, a tent, and a shovel to dig a hole in the woods to convince her to come along.
So, I began my quest to find the perfect overland setup that would allow us not only to get off the beaten path, but also provide some of the creature comforts that I knew would entice Regena to hit the trails with me. To be honest, I was interested in enjoying some enhanced, less spartan accommodations. It's a modern world and innovations in camping gear mean there's no reason you have to sacrifice comfort and convenience to hit the trail for remote locations where you can enjoy the great, unspoiled outdoors.
The first part of the equation for the perfect overland setup was finding the right rig. I wanted something that was not only off-road capable but would also be comfortable for long trips. After considering several full-sized trucks, I decided on the Ram Power Wagon. The interior was spacious and offered a bit of luxury, it had sufficient payload to carry plenty of gear on long adventures, and it came very well equipped straight from the factory to handle off-road trails with its solid axles, front and rear lockers, sway bar disconnect, and a Warn winch.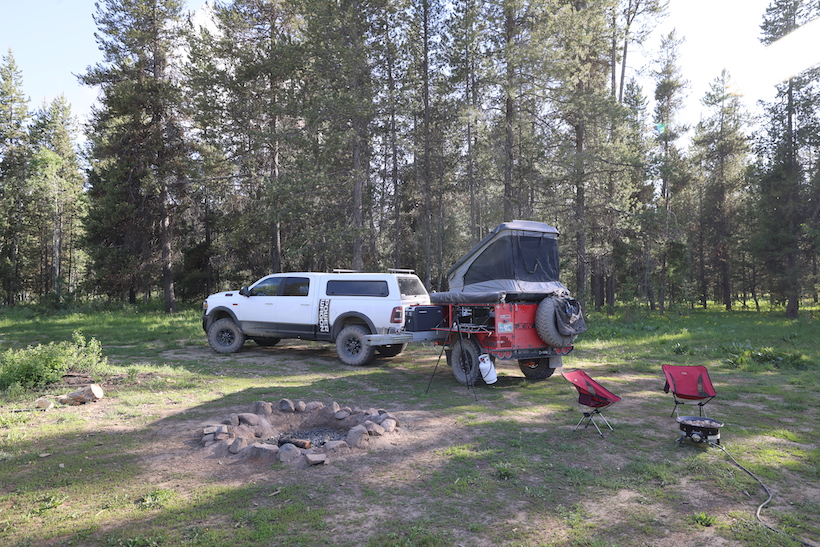 Of course, I've never met a vehicle I couldn't modify, and I made a few enhancements to improve the Power Wagon's already impressive off-road capabilities. I installed a Carly lift kit, added 37-inch BF Goodrich All-Terrain tires, a General Mobile Radio Service (GMRS) radio, and KC HiLites Flex Era 4 off-road lights. But the highlight of this build was the addition of the Four Wheel Pop-Up Campers Hawk.
Our maiden voyage happened a month after I'd finished the build when Regena and I headed out on a two-week adventure in Washington state. Along with a few friends, we traveled from Ocean Shores on the Pacific Coast, through the Olympic Peninsula and the Hoh Rain Forest, across the Puget Sound and through Seattle, before heading to the eastern side of the Cascade Mountains and tackling a section of the Backcountry Discovery Route.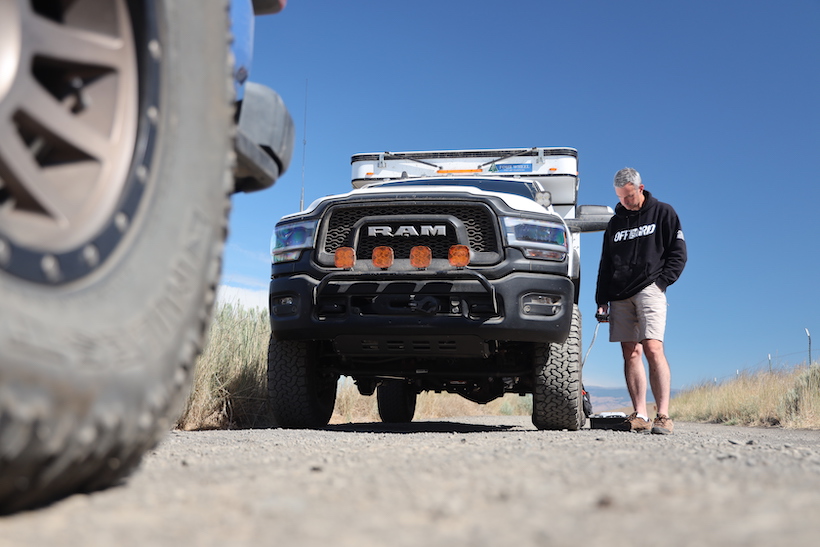 Everything about this trip was a resounding success from soaking in the majestic sights of the Pacific Northwest, to sharing this adventure with Regena and great friends, to the performance of both the Power Wagon and the Hawk.
I absolutely love the 6.4 liter Hemi because it never wants for power. While the Power Wagon wasn't built to do rock crawling or tight technical trails, it did an amazing job conquering Washington's backroads and trails, and when we encountered an obstacle along the way, we had no problems navigating our way through it. Of course, the tradeoff for that power is the fuel economy, which is poor to say the least. Thankfully, the truck has a 31 gallon tank, but at 9-11 MPG, I have to wonder whether I should have opted for a Ram 2500 diesel.
When we stopped for camp each evening, setting up the camper was a breeze, usually taking me under a minute to pop it open and unload our gear so Regena could head inside, away from the swarms of bloodthirsty mosquitos, and prep dinner on the nights she was cooking. Even though most of the cooking was done outside so we could all hang out together, having hot water for washing up dishes after the meal, which was my job since Regena cooked, was an incredible luxury.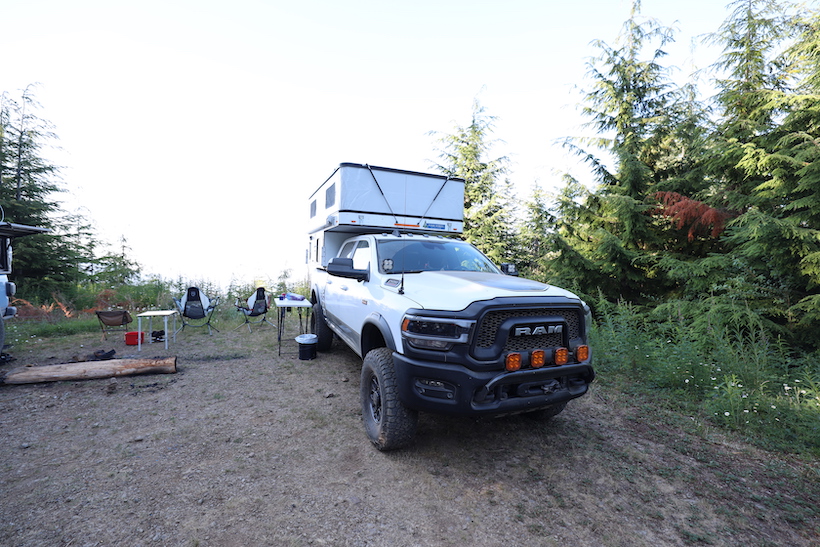 Inside the camper, there's plenty of headroom, which is great because Regena and I are both tall (I'm over six feet), and even though it can require a bit of maneuvering around each other when we're both inside, there's still plenty of room to relax when we want to get out of the elements.
The mountains in Washington, even in July, can get chilly at night and having a heater and thermostat is probably one of our top three favorite things about the camper because I am not a fan of being cold, let alone being cold while I sleep.
Also on our list of favorites is the queen-sized bed, to which we added a memory foam topper. Being able to get a good night's sleep on the trail—or anywhere for that matter—is vital to your well-being. Waking up refreshed and ready to go sets the tone for the entire day and definitely contributed to our enjoyment of the entire trip.
The cassette toilet is the final item on our top three list (and I'm pretty sure it's at the top of Regena's list). Having some privacy and not having to brave the elements when nature calls is, in Regena's words, "life-changing."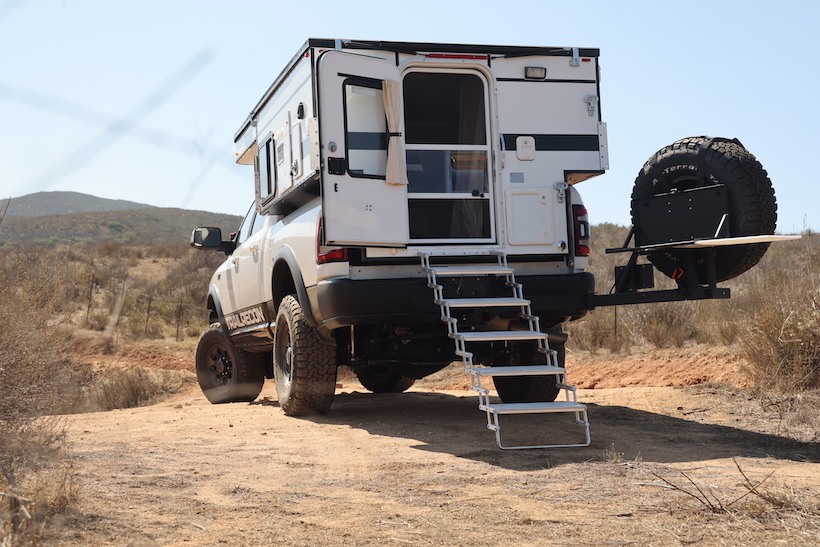 The only thing we would change about the Hawk would be the refrigerator, because the current one doesn't seem to regulate temperature very well. Despite adjusting the settings multiple times, we ended up losing food, especially produce, after we've found that it had been frozen. In the grand scheme, that's a minor irritation.
Overall, the Four Wheels Camper and the Power Wagon have been everything I'd hoped for in an overlanding setup and more. Call it "glamping" if you want, but I'll take it. Not only can I go off the grid and off the road to enjoy some spectacular locations while being completely self-sustained, but my wife is more than happy now to hit the road and go adventuring with me.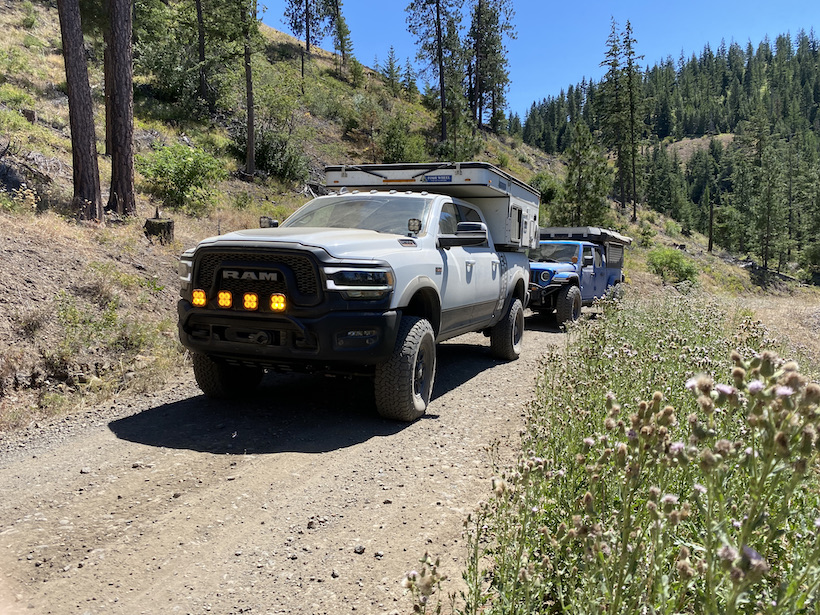 To learn more about Pop Up Life, check HERE