The Truma Cooler C69DZ Dual Zone Portable Fridge/Freezer is tough enough for any adventure and ready to go wherever your travels may take you.
Robust, reinforced corners and stainless steel hinges allow the Truma Cooler to withstand the bumps on even the roughest terrain. A reversible lid, 12VDC connections on both ends, and durable handles that fold flush to the sides add to this cooler's versatility.
Inside, this 69-liter (18-gallon) cooler has two separate temperature control zones, making it twice as functional as other mobile fridges on the market. The Truma Cooler features a reliable and durable proprietary compressor, which can cool both zones to temperatures from -8°F to 50°F (-22°C to 10°C) no matter how hot it is outside. Whether you choose to set both zones to the same temperature or use one section as a refrigerator or the other as a freezer, you will be able to keep all of your food safe for the entire length of your journey. Then this dual-zone fridge/freezer is perfect for your longer adventures in an off-road vehicle or as an additional fridge or freezer in your camper. At 29″ L x 18″ W x 22″ H, the C69DZ gives you ample storage for drinks, food, ice, and anything else you want to keep cool or cold.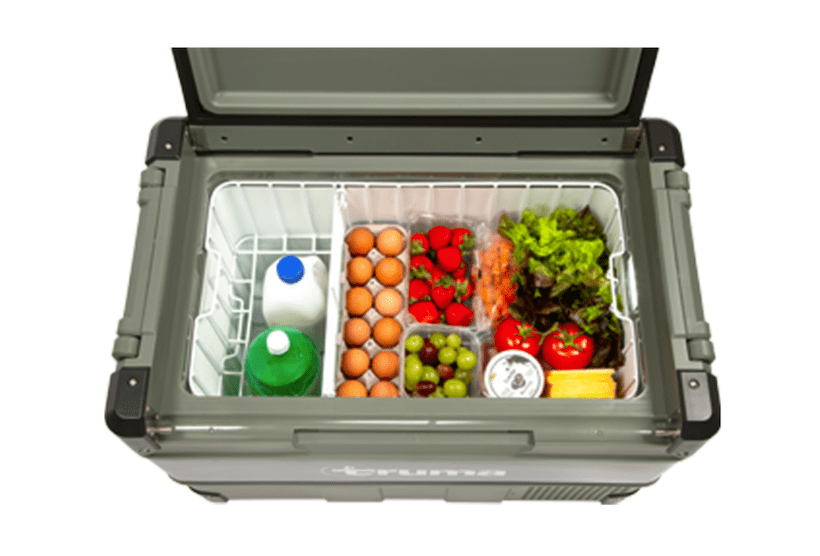 The Truma Cooler is rated Class A++ for energy efficiency. The average hourly amp draw of just 0.8 allows you to stay in the wilderness longer without draining precious battery power. This fridge/freezer is even efficient enough for rigs with solar power. The cooler also has a multi-voltage system — allowing for 110 volt AC power or 12 volt DC power — and three-stage discharge protection for the vehicle battery.
In addition to giving you two cold storage zones, the Truma Cooler C69DZ also gives you two ways to control your cooler. The intuitive digital display on the cooler itself allows you to set and see at a glance the set-point and the actual temperature of the interior and also features a "Turbo" button for even faster cooling. The Truma Cooler app, available as a free download on the App Store and Google Play, can also control the unit via Bluetooth. The Truma Cooler App allows campers to check their cooler's temperature and control functions remotely within Bluetooth range. On long road trips, a passenger can check the temperature on their phone and make adjustments while on the road. This eliminates extra pit stops to check the cooler and ensures you never arrive at your destination with spoiled food.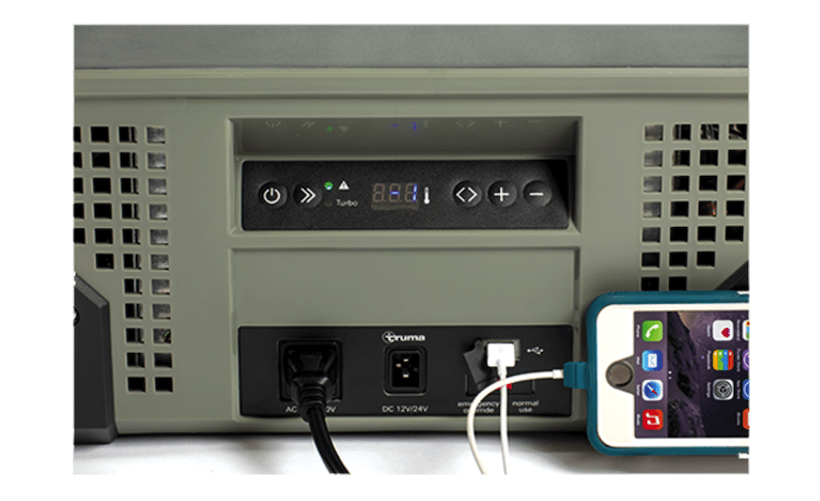 Available functions of the Truma Cooler App include:
Switch appliances on and off
Adjust and check the temperature
Switch turbo on and off
Change battery discharge protection
Check battery voltage
Display error messages
Other notable features of the Truma Cooler C69DZ Dual Zone Portable Fridge/Freezer include:
LED interior light
Headroom for upright standing bottles
Flat carry and tie-down handles
Bottle openers on both sides
3A USB port and charger
Weight: 69 lbs (31.2 Kg)
Check out the Truma Cooler Range HERE
_______________________________________________________________________