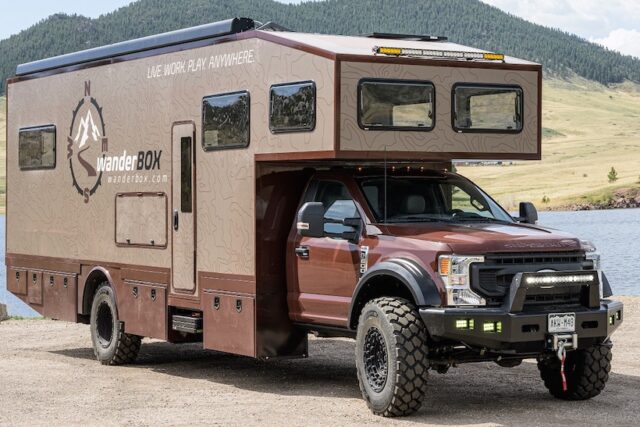 The last few years we've seen a lot of growth in the full size, luxury overland travel category, so here's a look at the flagship offering from wanderBOX
RV manufacturer wanderBOX builds a unique new style of 4×4 Class C or "Super-C" motorhome—one designed for extended off-grid camping with an emphasis on comfort and amenities. Think cross between EarthRoamer and Class A RV; capable of getting down maintained dirt roads and over mountain passes without getting stuck, with all the comforts of home, designed from the ground up for boondocking.
Years of camping in other types of campers that didn't let them boondock in comfort and work remotely while enjoying the outdoors led the company's founders to start wanderBOX. Early on they decided that three core design objectives would help wanderBOX become the world's first no compromise off-road, off-grid camper:
Capable – tons of solar/electric, water/waste and off-road/off-grid capabilities like no other camper, so you can go farther and stay longer
Comfortable – the space and amenities to enjoy camping for extended periods versus the cramped quarters of a Sprinter van or overlander
Connected – check email or do a Zoom call if you need to and not have to limit your adventures to where there's a cell tower or Wi-Fi signal
Hand-built in Mead, Colorado, 30 minutes north of Denver, wanderBOX builds its flagship Outpost 35 4×4 with an emphasis on being Capable, Comfortable and Connected, with a starting price of $399K. Designed with options to meet a wide range of needs, whether you're a remotely-working professional, sportsman/sports enthusiast or retiree, the Outpost is well equipped to support your outdoor lifestyle.
The living space is a comfortable and practical floor plan outfitted with amenities like a full-size fridge with ice maker, 3-burner induction cooktop, full-size microwave, washer/dryer, trash compactor, large 32×32 shower and vanity with vessel sink. The master suite's king-sized bed lifts to transform into a full-size desk with dual 32" monitors, and there's a four-person café bar that slides out from under the cabover queen-sized bed. Starlink® internet service provides at-home internet speeds for work or play, and CZone® touchscreens control and smartly monitor all systems.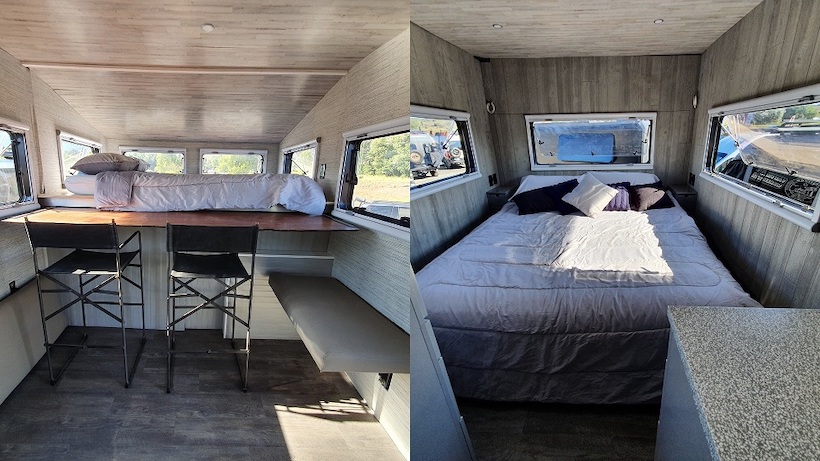 Vehicle Performance
The Outpost is designed for smooth and easy travel on the road and competent off-pavement performance on maintained dirt roads. To accomplish this goal, the Outpost is built on a reinforced 4×4 Ford F-600 Super Duty® Chassis Cab powered by a 6.7L PowerStroke® turbo-diesel engine and enhanced with a computer-controlled hydraulic suspension and on/off-road capable tires. Mission accomplished.
Additional Highlights and Specifications
R15-R25 composite panel wall construction for four-season/all-weather use
Up to 2800 watts of solar and 36 kilowatt hours of lithium battery capacity, integrated into a professionally designed marine-grade electrical system
Up to 200-gallon fresh, 125-gallon gray, and 75-gallon black tanks for extended stay capability
Ford F-600 with XTL trim, 330 HP, 750 torque, and 10,000-pound tow hitch
Double-pane insulated windows with integrated blackout shades and screens
7' ceilings throughout: bedroom and bathroom, kitchen, and den
Three-phase filtered water system with optional remote-source fill/filtration system
High-end countertops and heavy-duty cabinets and drawers
22′ awning, outdoor entertainment system, outdoor kitchen, optional fully enclosed patio annex
__________________________________________________________