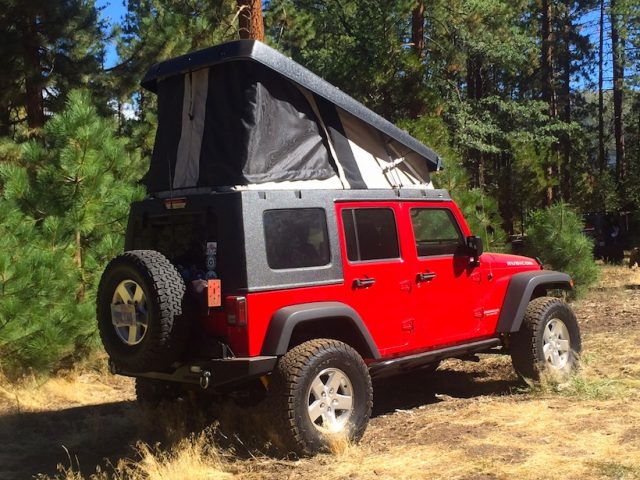 At this years American Adventurist's Mountain Rendezvous, the TAP team met up with a lot of old friends and got a chance to make some new ones. This cherry red Jeep caught our eye so we went and met the owner Kevin Vaden. After getting a closer look at his rig, we knew that we wanted to feature it on our site. So, here it is in all it's component glory. Enjoy and make some notes of your own.
The following is written by Kevin Vaden.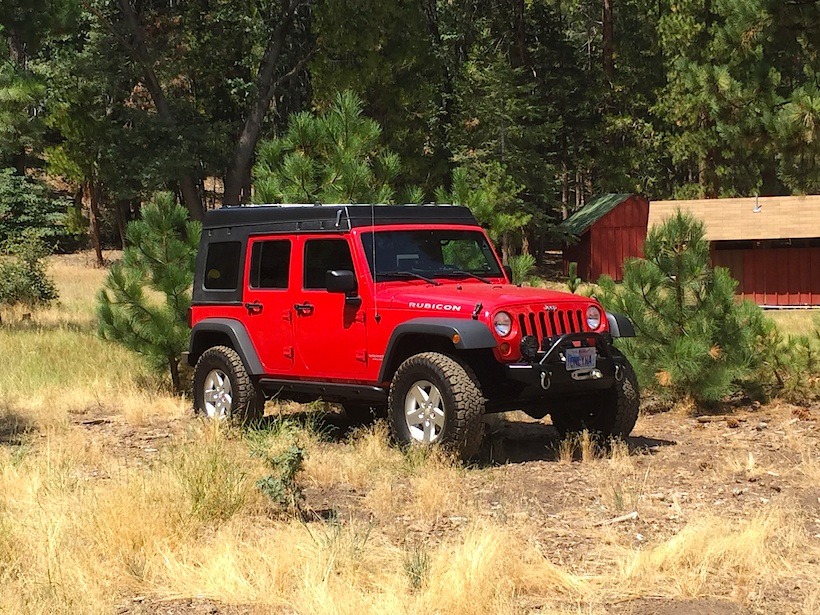 After gleaning a lot of information and advice from relevant forums, forum members, and others in the Jeep and off-road communities, I've spent several years building something that works quite well for me. Since my wife has not (yet?) developed an interest in this type of camping and the kids are busy with school and their own young adult interests, the Jeep is basically set up for solo expo use, but with the ability to take a passenger or two on occasion. The Jeep is about 98% done, but I doubt it will ever be complete.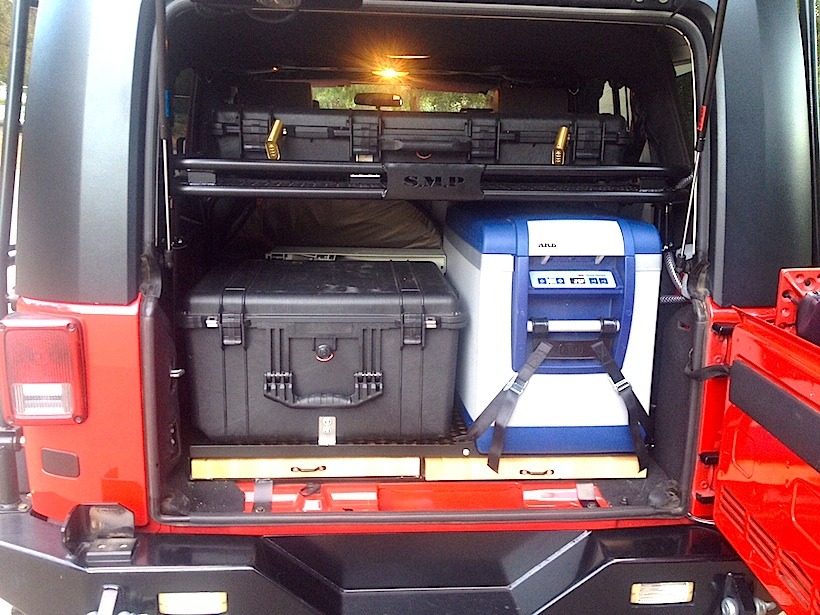 While I don't get out anywhere near as often as I'd like, I'm the kind of guy who keeps vehicles for a long time. Someday, when I grow up, I want to be "that old guy with the old Jeep."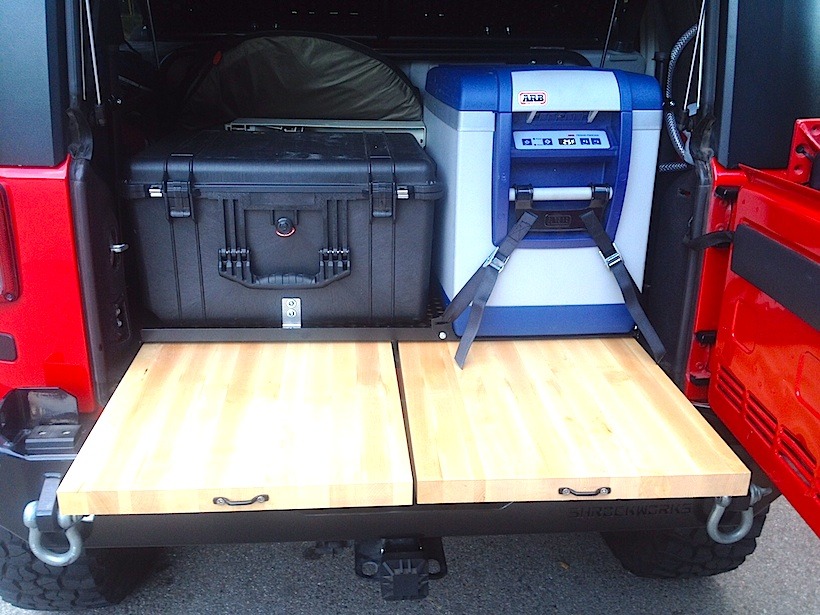 Highlights:
-2007 Jeep JK Unlimited Rubicon, 6-speed manual (still with 4.10 gears), 121,000 miles
-Ursa Minor Vehicles J30 camper
-35×12.50R17 KO2's on OEM wheels with 1.5″ Spidertrax spacers
-GenRight 20 gallon auxiliary fuel tank with Currie Antirock rear swaybar
-Shrockworks front bumper (with -Warn PowerPlant and IPF 968 lights), rails, and rear bumper/tire carrier
-Old Man Emu springs (2619's front, 2620's rear – 660# rating to better handle weight), long-travel Nitrocharger shocks, and extended brake lines
-JKS ACOS adjustable spacers, driveshafts, and upper control arms
-Dynatrac ProSteer ball joints
-Removable custom rear cargo rack of my own design, built by SMP-Fabworks
-Whelen 3" LED compartment light with both white and red settings
-Vector Offroad JK E-dock with RAM mounts for iPhone, Cobra 75 WX ST CB, and iPad
-ARB 50qt fridge/freezer
-Front Runner 10.57 gallon upright water tank with Helton heater and pump
-Dual butcher block cutting boards/tables-self designed
-Pelican cases with Caribou Cargo Quick Fasten System
-PETT toilet and Outback Porta Privy
-Recovery gear (straps, tools, shovel, Hi-Lift, Pull-pal, etc.)
-Safety gear, Adventure Medical Kits Comprehensive First Aid kit, fire extinguisher
-A Renogy 100w flexible panel connected to a dual-battery set-up.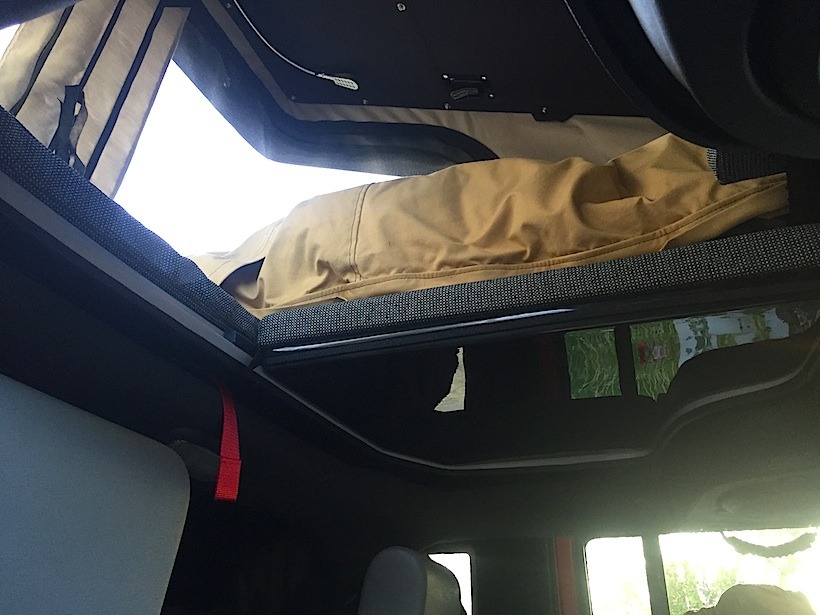 Still to come:
-So Cal Teardrops "Scipio" awning and annex
-Rigid SRM2 LEDs for utility/camp lighting on both sides
-Switch-Pros SP8100 switch panel
I would like to give some hardy shout-outs to:
Steve and Mike Parks at
SMP Fabworks
for the interior cargo rack
My friends Jim Cowan and Mitch Moerch for their experience, expertise, and help with several keys parts of the build.
They all do good work!
For more overland and off-road ready rigs, CHECK HERE