Last month TAP got the chance to try out the TemboTusk Camping Table System while on a week-long primitive overlanding camp trip in the Sierras. Here is a quick review of our thoughts after giving these tables a trial run.
First, let's be honest, you can buy camping tables everywhere and there are a multitude of inexpensive (or should I say, cheap) products stocked in any Sports Authority or Big 5 Sporting Goods store. The next level of quality can be found in stores like REI, where the price and quality goes up, and then there's the TemboTusk Camping Table System that's at the higher end of the price and quality ladder. TempoTusk is a small U.S., privately owned, artisan business producing high-end, quality camping gear for the discerning overlander. (TAP note: We have used a Tembo Tusk fridge slide for the past 3 years and it has performed perfectly, despite the crazy amount of dust and dirt thrown at it.)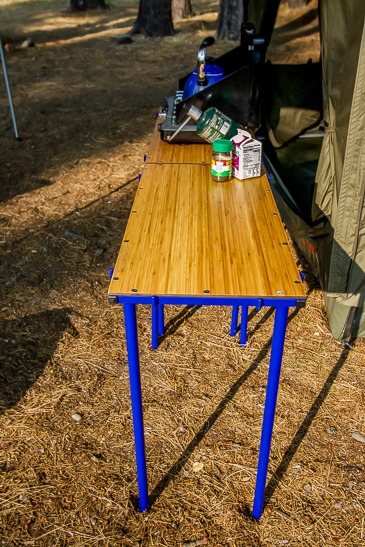 The TemboTusk Camping Table System is constructed of powder coated steel and has bamboo surfaces. It's legs are removable and held in place by stainless steel turn bolts. The table's dimensions are 15″ wide, 30″ long and 30″ high. Each table can be used as a stand alone or integrated into a system that effortlessly locks together to increase your cooking space. TemboTusk offers a wash basin option (not pictured here) that can be added to the table system. The tables are sold separately, or together in the "System" package. The TemboTusk Camping Table System's build quality is obvious and I would imagine that these tables would last for many years of camping abuse.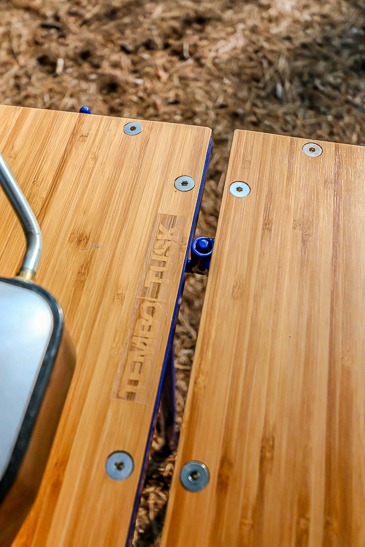 Assembly is as simple as it can get; simply place the 4 legs into the obvious holes on the underside of the table and screw in the turn bolts. Takes less than a minute. Once assembled, the tables are sturdy and secure. The legs are adjustable for uneven ground. Lack of stability has been a personal gripe of mine while using many other inexpensive camping tables. Each table comes in a canvas carrying bag and is designed to store in most overlanding vehicle drawer systems.
In conclusion, we found the TemboTusk tables to be sturdy. Their surfaces were able to stand up to the muck of camp cooking, and they are very easy to set up and store. Aesthetically, the trademark TemboTusk blue powder coating is a great contrast to the light colored bamboo wood surface. This is a TAP recommended product: The TemboTusk Camp Table System is a solid camping gear investment and will add a level of luxury to your backcountry basecamp. Go to TemboTusk
and check out this Camping Table System, it's separate components as well as TemboTusk's other products and TAP into Adventure!