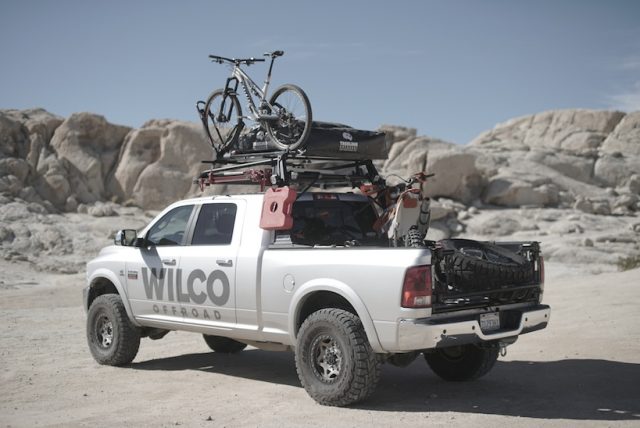 Gear for the sake of gear is pointless, but there's also something to be said for being prepared for any situation. In many ways this preparedness and versatility is what drives us to four wheel drive vehicles in the first place.
We've all been there. Loading up the rig for a weekend getaway and swiftly running out of room. There are typically three solutions to this problem. One, take less stuff. But when heading out on a much anticipated adventure, there's no such thing as "too prepared". Another solution is to cram it all in. The downfall here is the potential of damaging or losing expensive gear, or encroaching on passenger space. Lastly, you can create more space. That's where solutions like the Wilco Offroad ADV Rack can make sense, so we asked them to give us an insight into their rack system.
Luke Wronski of Wilco Offroad: "The 'ADV' stands for adventure, in any form that may take. For many of us this looks different from week to week. One weekend it's camping with friends, the next it may be skiing or riding dirt bikes. Another weekend might be loading the rack up with wood and tools to go build houses in Mexico. We wanted to build a truck rack as versatile as the people who drive them".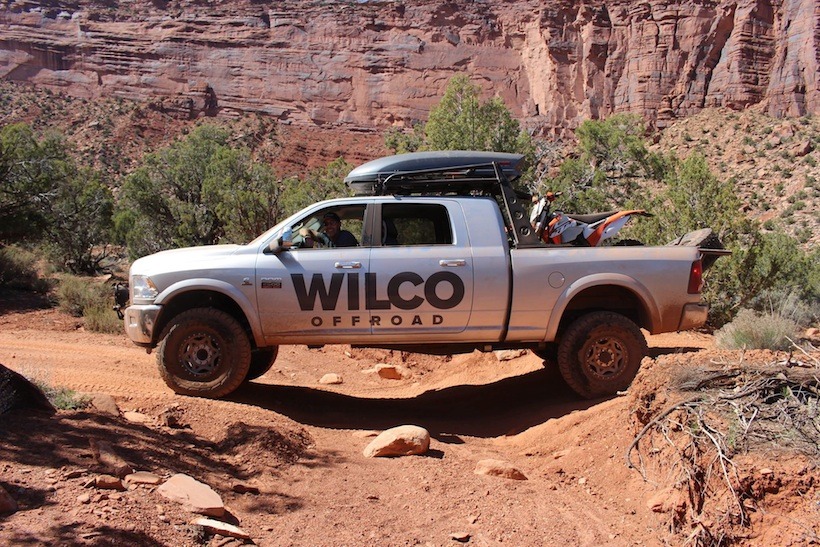 Over-cab truck racks have been commonplace in the desert racing scene for decades on chase vehicles. Traditionally this style of rack required custom fabrication and the drilling of large holes through the bed. Wilco Offroad wanted to develop a rack to carry all this gear, without having to commit to a permanently fixed solution. Permanently fixing a rack to the roof of the truck is just asking for problems long term. Drilling holes accelerates corrosion, causes leaks, and hurts resale value.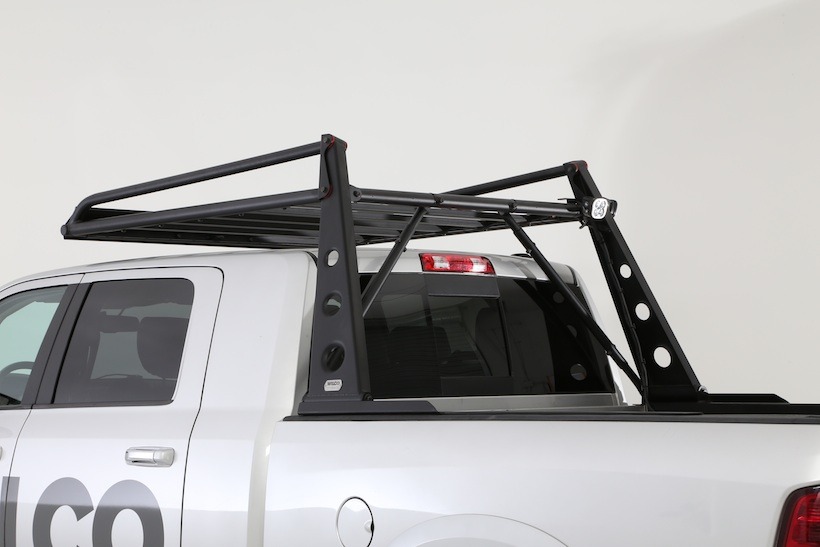 The ADV Rack was engineered to fit on virtually all full-size pickup trucks with no drilling required. Making it ideal for long term use and transferable to different vehicles.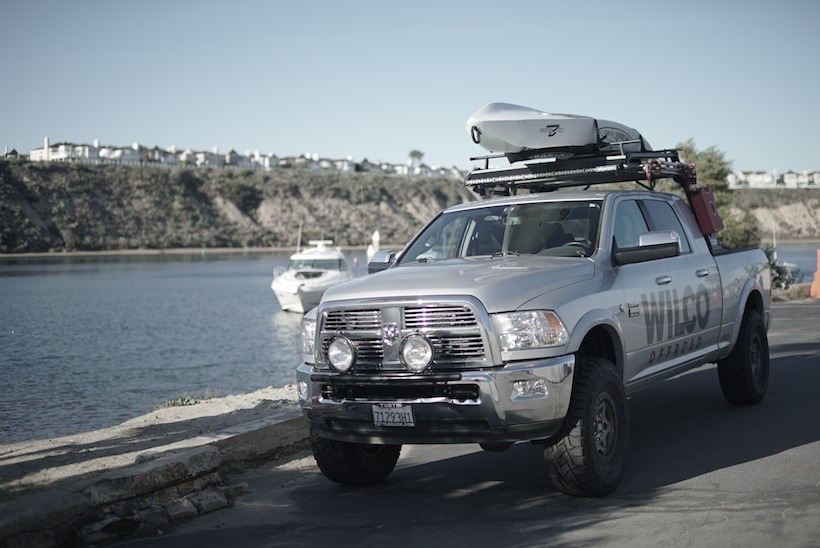 Roof-mounted light bars are a great way to light up the night. The higher vantage point can cover a large area, giving the driver plenty of time to respond to obstacles and night roaming critters. Few other mounting points are as protected from rocks and other trail hazards. The ADV Rack can accommodate a 50" light bar to keep you on track when navigating the trail after hours.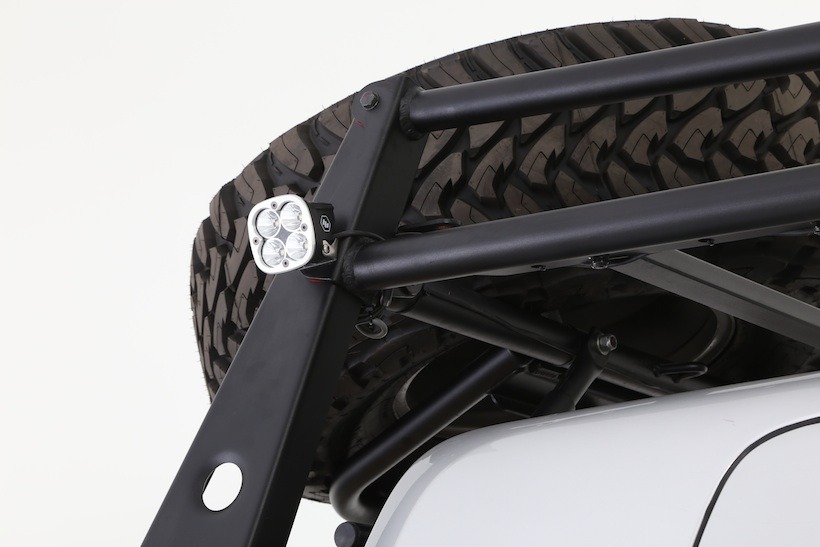 The side bolts of the rack's risers double as a mounting plate for auxiliary lights to illuminate the worksite or campground.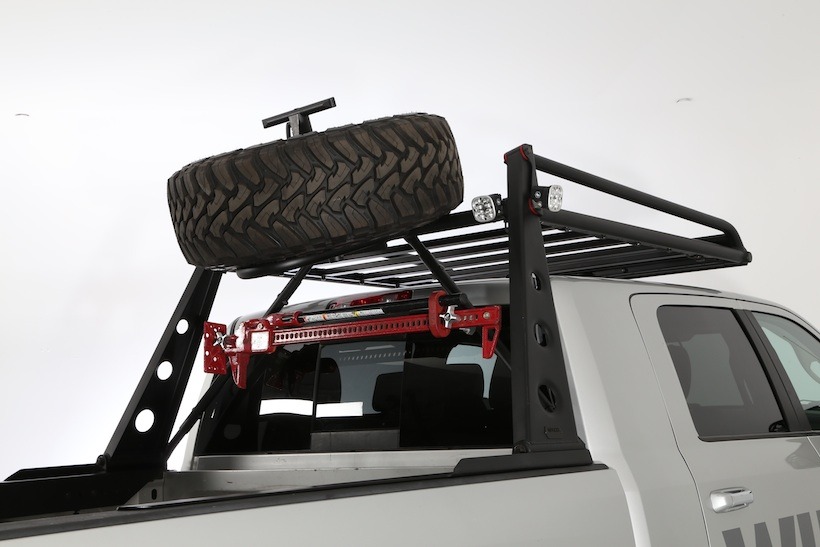 The "headache" supports of the ADV Rack are a great place for mounting a Hi-Lift, shovel, or axe. On chase vehicles there's no such thing as too many spares. The ADV Rack has an available spare tire mount that can accommodate up to 40" tires.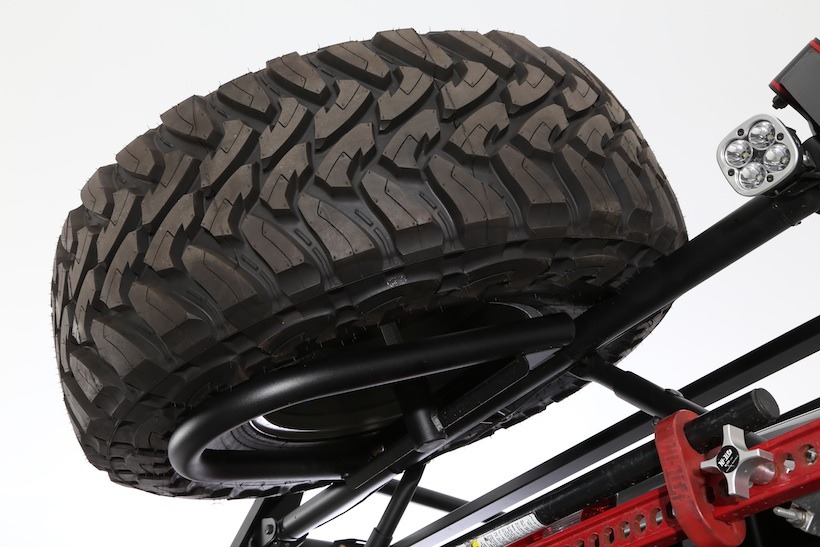 Many of the roof racks on the market are solid welded structures. The downfall of these designs is that fixed structures under heavy loads have a tendency to break, rather than flex when faced with the demands of off-road use. The constant vibrations of off-road driving will tear apart truck beds and break welds if no movement is allowed. The ADV Rack uses polyurethane bushings to allow for natural movement when traveling over rough terrain.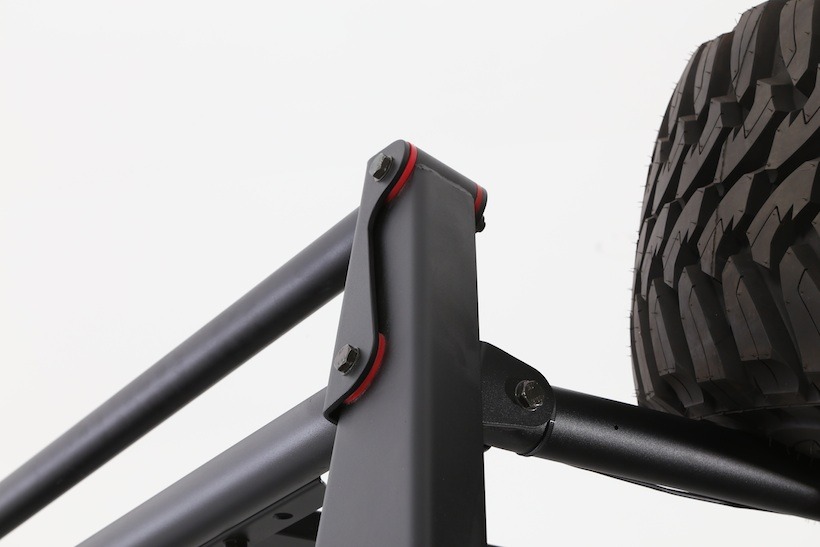 E-Track compatible slots along the upper rails allow for a plethora of tie-down options for whatever you may need to secure.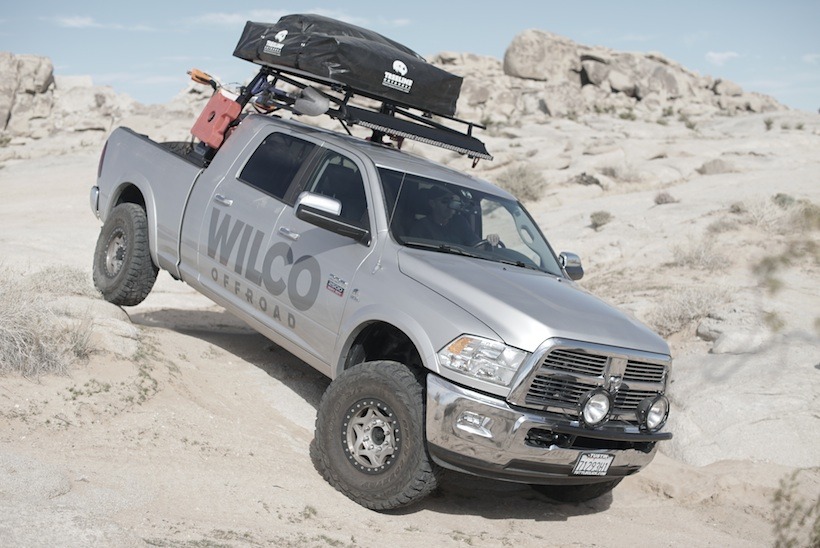 The ADV Rack's cantilever design utilizes 2 clamp blocks and a turnbuckle on each side of the bed to equally distribute the load.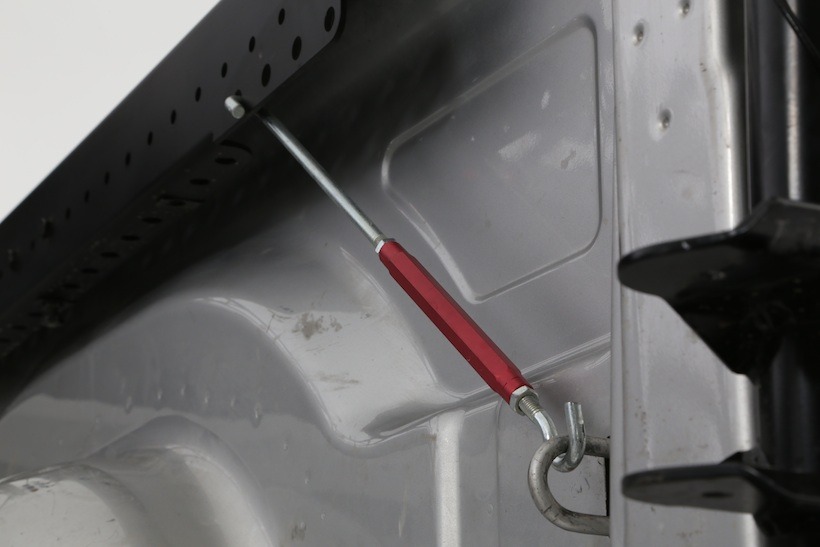 The load capacity of the ADV Rack is 500 lbs static (vehicle in park), 250 lbs on road, and 100lbs in extreme off-road situations.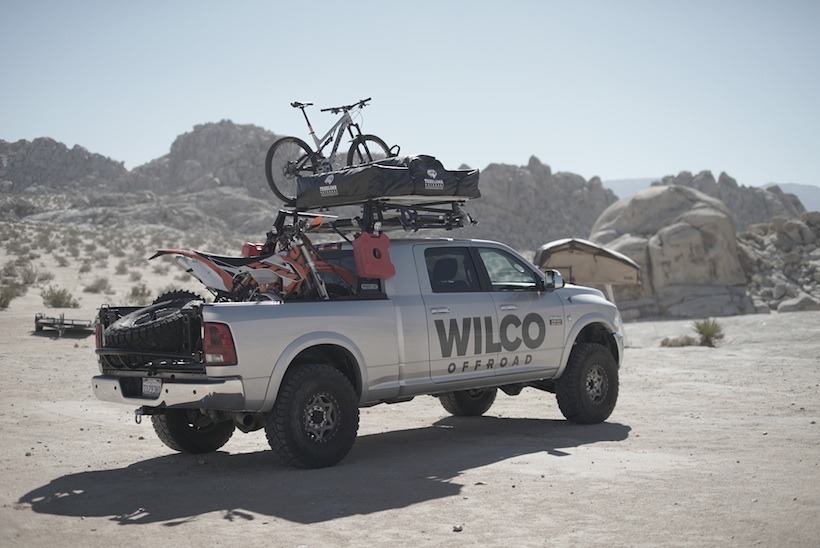 The cargo portion of the rack is 50" wide by 60" long, giving plenty of room for surfboards, skis, roof top tents, kayaks, bicycles, cargo boxes, and anything else you may need for your next adventure. A wise man once said "never leave camp without a gallon of water and a full tank of gas". The ADV Rack's dimple holes also serve as a mounting point for Rotopax fuel and water cans using a custom machined aluminum back plate and a standard Rotopax mounting plate.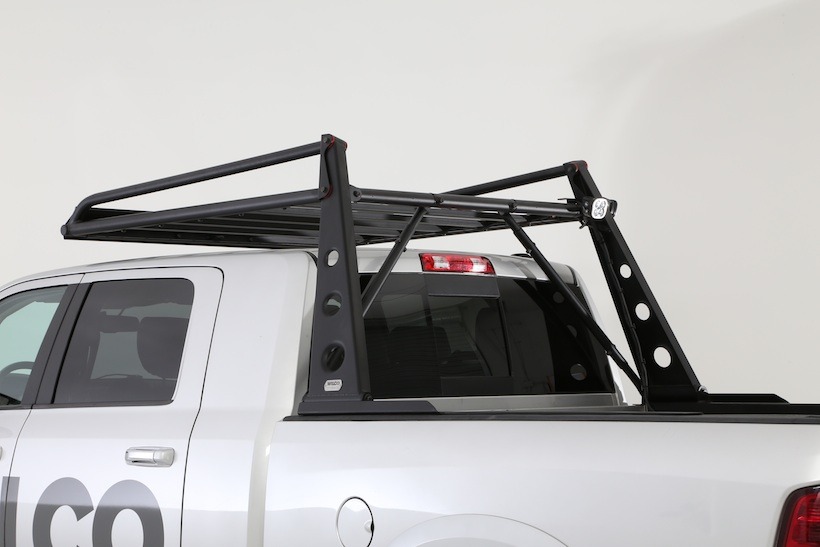 Chase Trucks are built to haul massive amounts of gear in places where failure is simply not an option. There's no such thing as "too prepared" in Baja. Chase trucks must be entirely self-reliant for anything needed to repair itself or the vehicle its supporting. Although the scene may be different, desert racers and overlanders share more similarities than differences in the demands of their equipment. Chase trucks need to get there quickly, prepared for anything that may roll into the pits. Overlanders may not care about making it the the next destination on time, but in remote locations, they need to be prepared for anything.
As many of us have experienced, Baja is where unproven gear goes to die. If it can break, it will. The ADV Rack was born in Baja. President and founder Paul Wilkins, was looking to carry multiple dirt bikes, and an endless list of supplies needed when heading out on an adventure where anything can happen, and failure is simply not an option.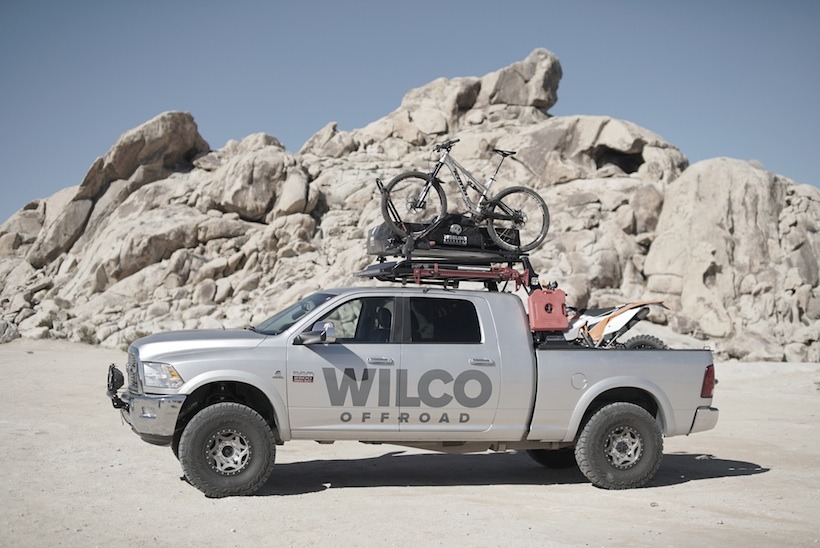 TAP is always looking for innovative and well designed/manufactured products. Whether your next adventure is chasing the Baja 1,000 or heading out on an overland expedition, we feel the ADV Rack is a product worth taking a solid look at.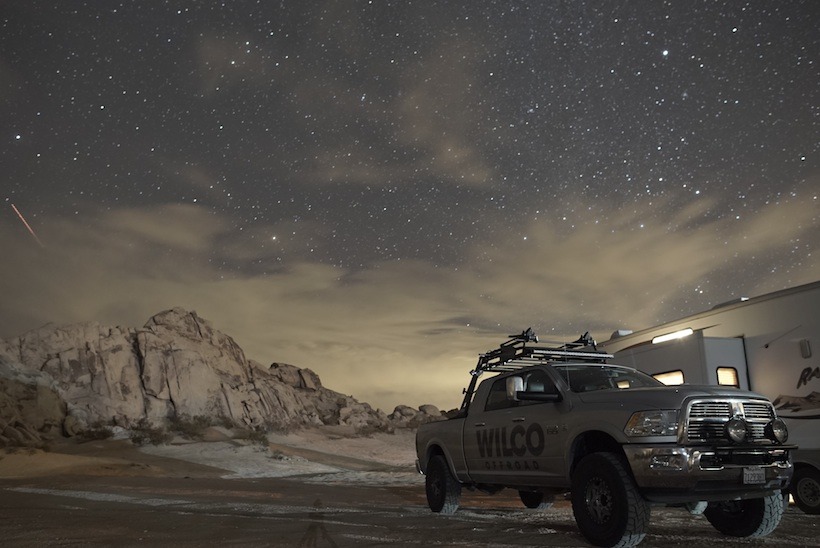 To see Wilco Offroad's full product line visit www.wilcooffroad.com
source: Wilco Off Road