Last month, TAP was fortunate enough to be able to spend a weekend testing out a So-Cal Teardrop trailer kindly loaned to us by Off The Grid Rentals here in Southern California. I am not going to lie, I have a love/hate relationship with trailers (more on that later), but have always genuinely had a desire to try out a teardrop, so this was a great opportunity. Our go-to place for this kind of test/review was Trona Pinnacles. Far enough away (3 hrs) from where we live to make it feel like a real trip and close enough to realistically do in a weekend. Also, and most importantly, an outdoor photographer's dream backdrop!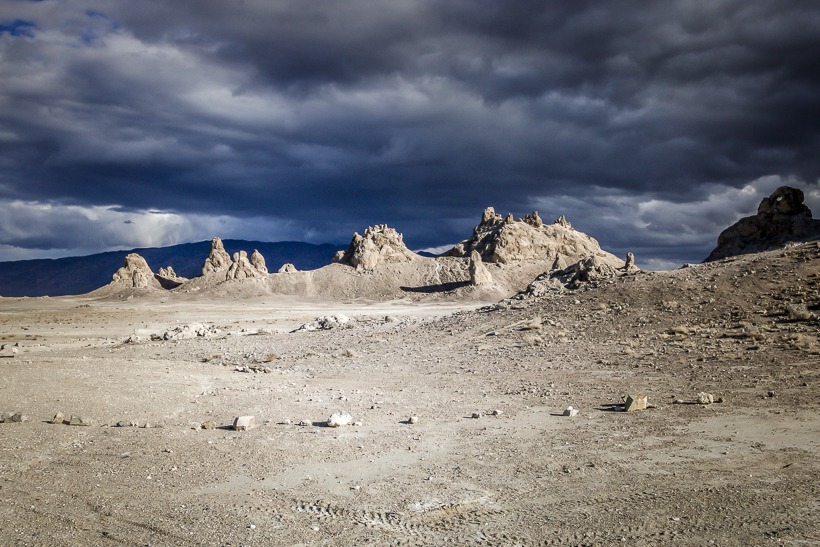 We picked up the trailer from Rebel Off-Road in Laguna Hills just off the 1-5 freeway. Off the Grid Rentals stages its Californian rental operation here. It also has Teardrop rentals in Sedona and Moab both operated through Barlow Adventures. Hats off to the Rebel Off-Road guys who were welcoming, courteous and efficient. As an aside, they specialize in custom-built extremely capable rock crawling Jeeps, which made our little 4.5″ lifted AEV build look a little…. "cute". We'd only been on the road a few minutes before Lori started explaining how she now needed 37's, sliders, a re-gear and a trip on the Rubicon Trail…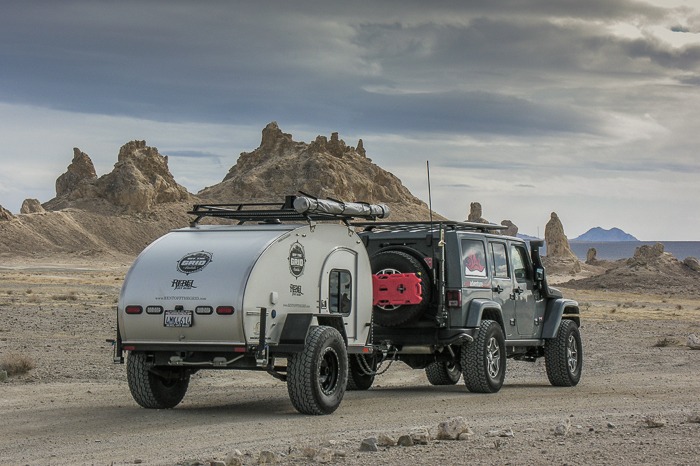 So we set out in convoy, the Rubi pulling the Teardrop with the Taco along for the ride. Gassing up the rigs, we both notice a new phenomenon. Usually our Tacoma easily out WOW's the Jeep, however with the Jeep pulling the Teardrop trailer, things seem on equal footing. Heads are turning for sure, so we score the Teardrop with a 10/10 trailer porn rating. Out on the freeway, first impressions are that the Teardrop is much bigger and heavier than both the M416 and Turtleback trailers we've used for the past 5 years. Despite this, it tracked really well behind the Jeep and quite honestly, in amongst the heavy SoCal freeway traffic, it never felt cumbersome or difficult to trail. Hills, on the other hand, were a different matter. The Teardrop has a dry weight of 1250 lbs, plus 30 gallons of water, firewood and 35″ tires, so the Jeep struggled on any type of incline. With the Pentastar V6 engine wanting to over rev if we decided to use the accelerator to improve the up hill average of 50mph, the only thing to do was to sit back and accept our fate. Just outside Adelanto, we got caught in a convoy for 45 minutes behind a big rig on the one lane, slowly rising, I-395. To be fair, trying to over take with a smaller trailer would have been difficult, but with the Teardrop it was impossible.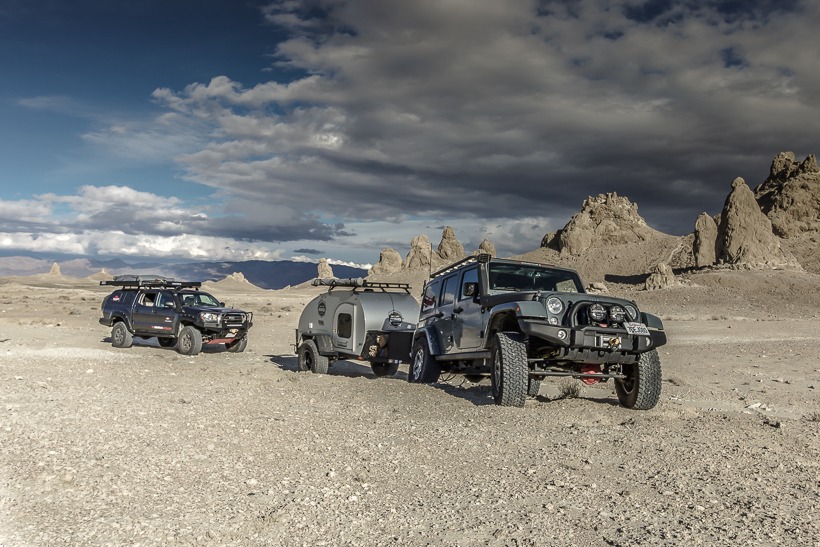 When we got to Trona Pinnacles, we did some limited and easy trailing off-road on the bumpy terrain. The Teardrop trailer felt stable and again tracked well behind the Jeep. At these slow speeds, the Jeep easily pulled the trailer up and over the obstacles in front of it. I also tried some reverse maneuvers and certainly didn't find the extra size of the Teardrop trailer any more difficult than other smaller trailers I have used. All this being said, this trailer looks and feels like it is built for a life off road, so I would have liked to try to get it into some more difficult terrain, to truly test it.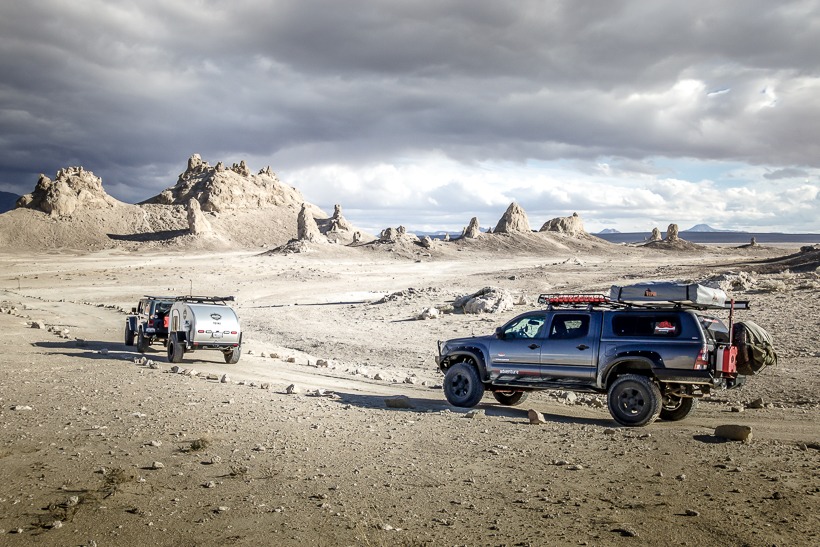 Unfortunately, on this trip the weather did not co-operate and we weren't fully able to utilize and test the trailer to the level we wanted to. We ended up spending 2 days and one night hunkered down battling against the 40 mile an hour winds, rain showers and temperatures in the low 30's. The winds kept us from having both a fire and cooking at the back of the trailer. Trona Pinnacles is an amazing place, but certainly does not offer any real shelter in these type of conditions. On a positive note, a trip like this does provide a sense of over- landing reality and it was interesting to experience how a Teardrop trailer allowed us to at least "hold out" against the weather. Something we probably wouldn't have wanted to do in an RTT on top of a standard box trailer. Conditions inside the Teardrop trailer were cozy, comfortable and relatively warm and it was surprisingly quiet inside despite the wind. We also didn't experience any grime or rain working it's way inside despite the weather conditions outside.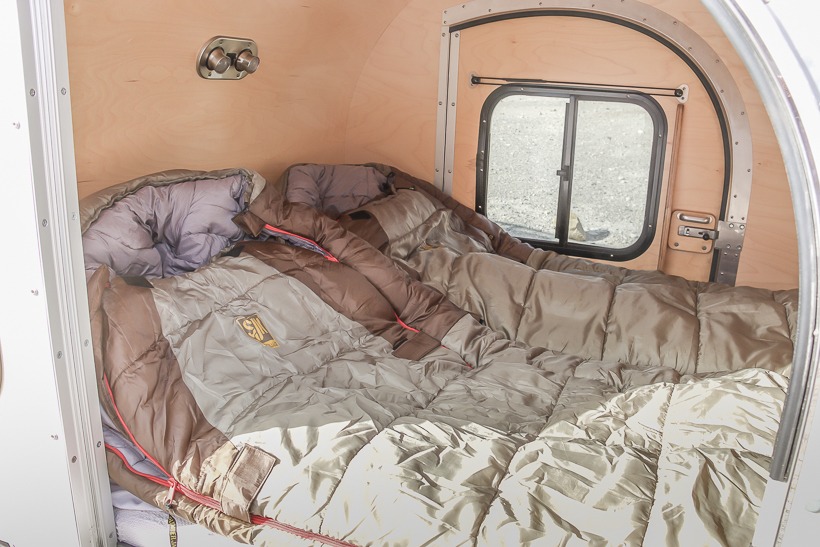 Overall, we were impressed with the quality of the build and excellent attention to detail that the Socal Teardrop trailer provides. This trailer had a locking front cage system for firewood, a roof rack and 6'x 6′ Scipio awning, 35″ Falken AT's on Method Race wheels, a 30 gallon water tank with an electric pump, an ARB fridge, a Stove Partner 2 burner propane stove on a slide out and LED lighting in the galley and inside sleeping area. Inside, there was a full size mattress with space for 2 adults and plenty of cubby storage space. Finally, it featured 12 volt outlets and I-Pod plug-in (something that became extremely useful to us as we waited out the storms).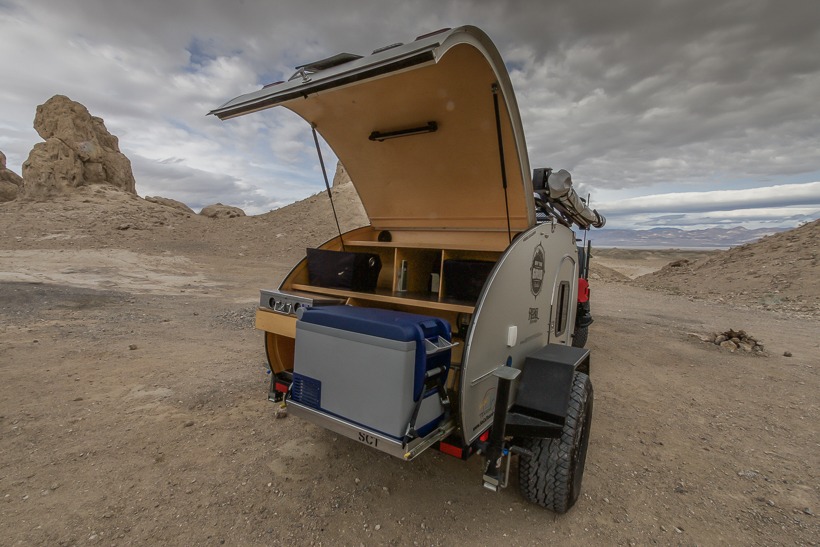 So, back to my love/hate relationship with trailers. They certainly allow you to carry lots of gear and "glamp" in style. Our So-Cal Teardrop trailer experience was overall a positive one. Be aware however, of the genuine speed and maneuvrability restrictions that come with all trailers both on and off-road. To conclude, what I love about the Off the Grid Rental experience, is that it allows you to inexpensively answer the "trailer question" first hand, without committing a significant amount of money up front.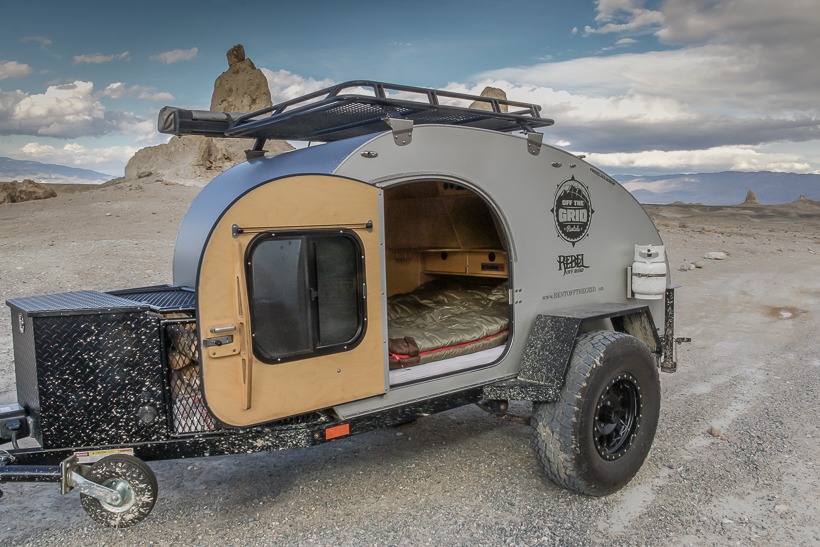 To find out more information from Off the Grid Rental click here
For further information on So-Cal Teardrop Trailers click here
Author/photos: Andy Palmer
Editor: Lori Palmer