Why take an E-Bike to Trona Pinnacles and go Overlanding? Well sometimes it's good to mix things up and do something a little different. So, when the owner of Tasco MTB, Nate Miller and I got talking about e-bikes, an idea popped into my head. Why not combine some light off-roading with some light trail e-biking? Let's be clear, this trip was not going to be about core Overlanding or Mountain Biking. The plan was set as a two-night Vehicle Supported Adventure trip to the other worldly Trona Pinnacles. Many of you may recognize the area, as it's where they filmed parts of Planet of the Apes, Star Wars, and Westworld, to name a few.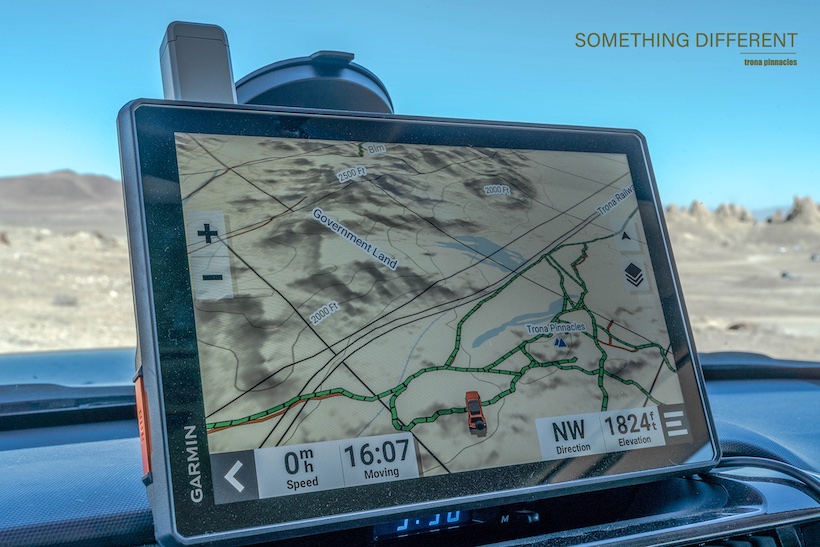 Nate had recently purchased a TRD 4X4 Crew Max Tundra as a light duty Overland Adventure Rig, to both support his passion for mountain biking and operate as the Tasco event truck. Of course, no one likes stock, so he's added 285 BF Goodrich KO2's, a Decked draw system, an RSI canopy, a Kabari hard shell Roof Top Tent, and a 270-degree Peregrine awning from 23Zero. The last thing to add, in my opinion, is a heavy-duty suspension, to support all the extra weight.
The Tundra is an excellent platform, and Nate has a great example of an off road ready, Vehicle Supported Adventure rig.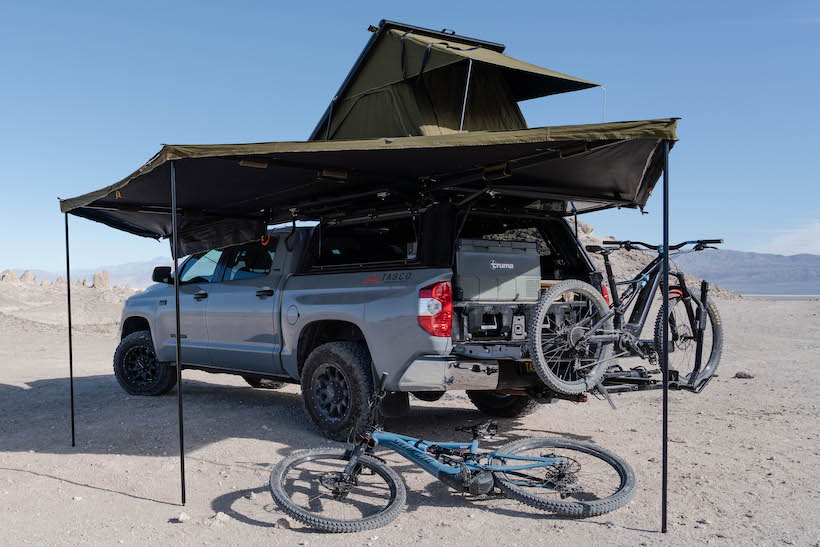 Thirty miles east of Ridgecrest, we found ourselves at the entrance to Trona Pinnacles. It's an easy five-mile dirt road that in dry conditions, most two-wheel cars can easily navigate the off road trails. Wet conditions are a different ball game and can swallow a car whole.
As I said, the Pinnacles are otherworldly, and you quickly feel you've entered another planet. The unusual landscape consists of more than 500 tufa spires, some as high as 140 feet, rising from the bed of the Searles Dry Lake basin. The pinnacles vary in size and shape from short and squat to tall and thin and are composed primarily of calcium carbonate (tufa).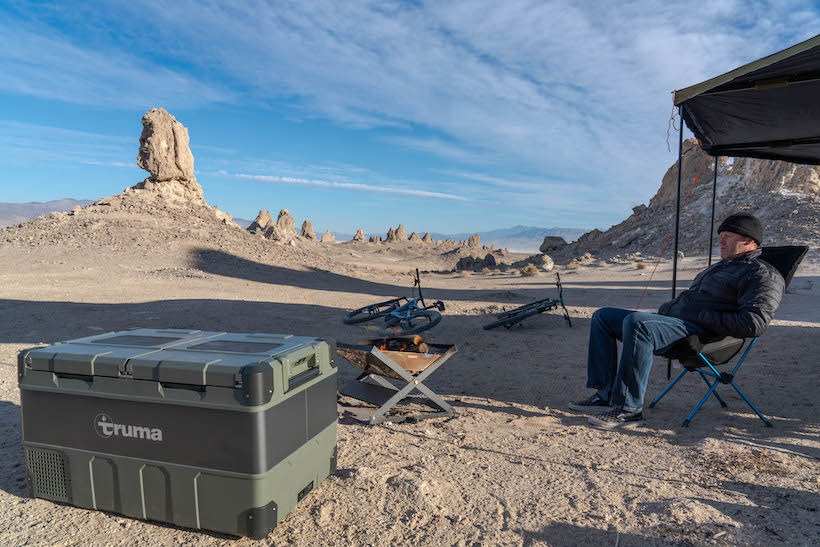 The area can get "busy" over the weekend (30 + rigs), but it's a Sunday night, so it was easy to find a peaceful and secluded spot in this 14 square mile region. This is a primitive camping area, so it only has one pit toilet. Over land adventure is about self-reliance in the backcountry, so I'm used to the shovel/hole technique. Nate on the other hand, was happy to ride the two miles from camp to the pit. To be fair, two miles to an expert mountain biker on an E-bike made sense!
As a core overlander with a background in mountain biking, I've never actually ridden an E-Bike and I have to say I loved the experience. They were a great way to explore the area with ease.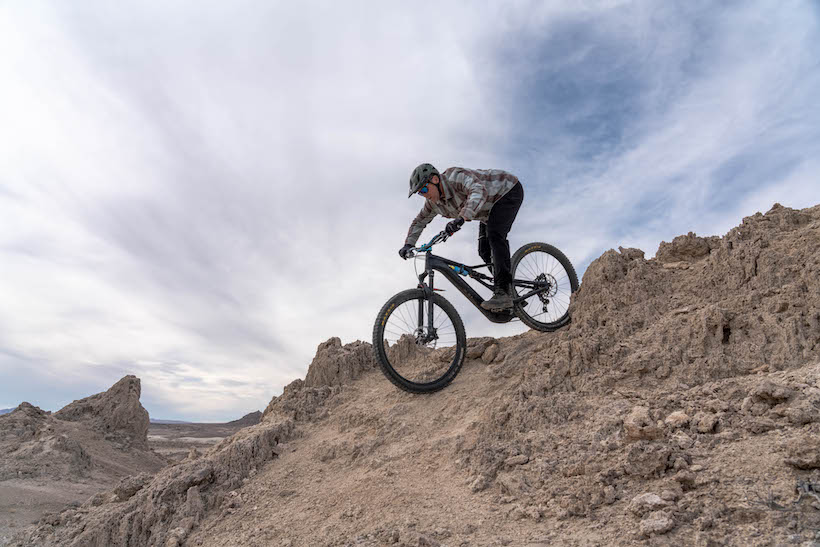 Nate, while extremely talented on an E-Bike, has limited overland and off roading experience. So, it was a good opportunity to try out his Tundra in a backcountry environment.
As I previously stated, this trip was always about combining two passions in an amazingly scenic location. The overland ready rigs never really had to be put in four-wheel drive, but did however, perfectly support the pursuit of backcountry base camping. Add in cold nights around a campfire drinking good whiskey with a good friend and this was a great trip!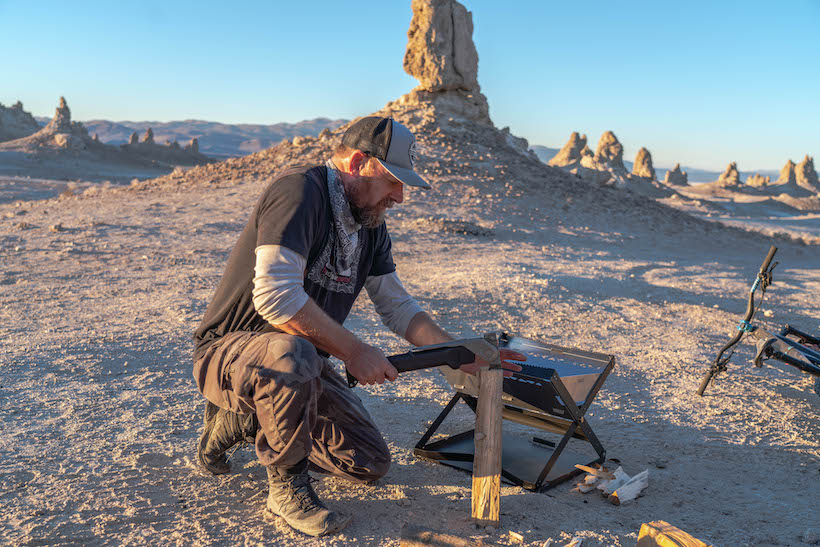 For more Overland and Off-Road Vehicle Supported Adventures, CHECK HERE