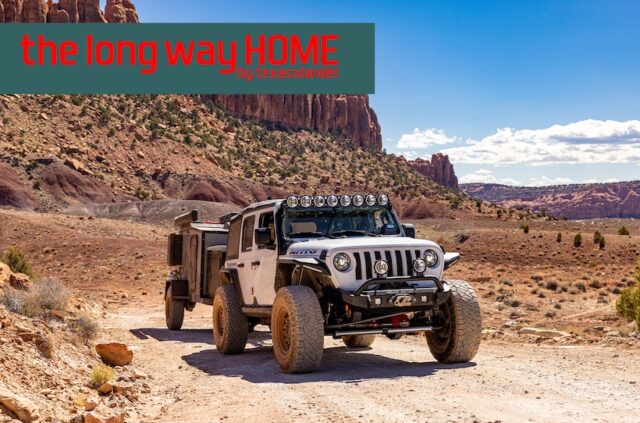 My love of Southern Utah and the American Southwest, dates back to the early 1980's. Trapped in the back seat of my parents 1981 Pontiac Sunbird, I was forced to listen to John Denver and Neil Diamond Cassettes as we crisscrossed the Four Corners region, seeking out National Parks and roadside attractions. What I didn't know at the time was, my parents were instilling a sense of adventure in me that has become incurable. As I write these words, my wife and I have been home less than 24 hours from a 2-week overland trip, and we are already planning our next vehicle supported adventure.
After 3 days of camping with a few thousand of our closest friends at Overland Expo West in Flagstaff, we headed north for our first night off the grid. Having reservations to tour Upper Antelope and Rattlesnake Canyons the next day, we needed to camp somewhere close to Page, Arizona and the Navajo Nation. With my life-long passion for the Grand Canyon, it made sense to find some BLM land along the rim between Lee's Ferry and Marble Canyon. Luck was on our side, and we were able to grab an amazing spot about four miles offroad from US Hwy 89A, overlooking Badger Creek Rapids on the Colorado River. As we were perched high above the Colorado River, we had everything we wanted from an off-grid overland campsite. We had views that went on for miles and miles. And we had the solitude only a place like this could guarantee.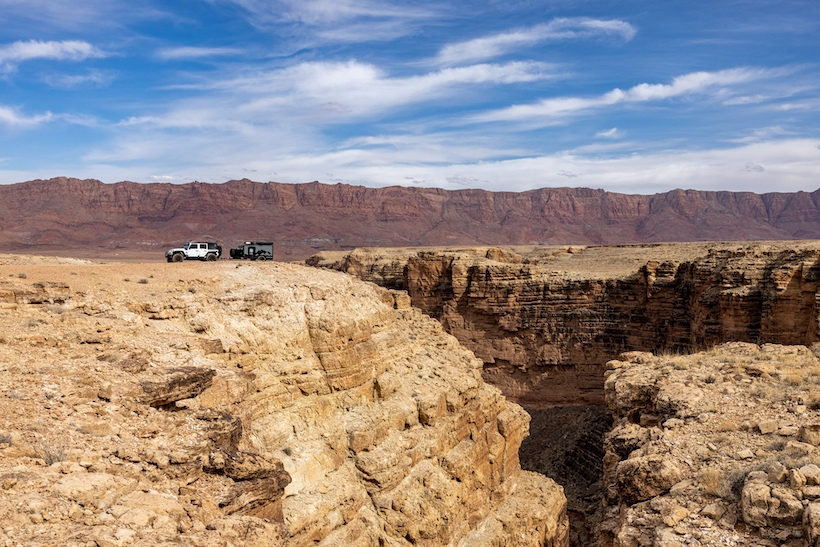 The next morning, we played tourist and checked an item off our never-ending bucket list with a semiprivate tour of Upper Antelope and Rattlesnake Canyons. Our Navajo guide spoke to the history of the Canyons and the struggles that the Navajo people have endured throughout their history and more recently, the harsh realities of how Covid effected their Nation. Inside the canyons, it's easy to be overwhelmed by the rich colors and sweeping lines of the Navajo sandstone. As professional photographers, Beth and I were both beside ourselves with the natural beauty the canyons had to show us. After several hours, we left knowing we would be back.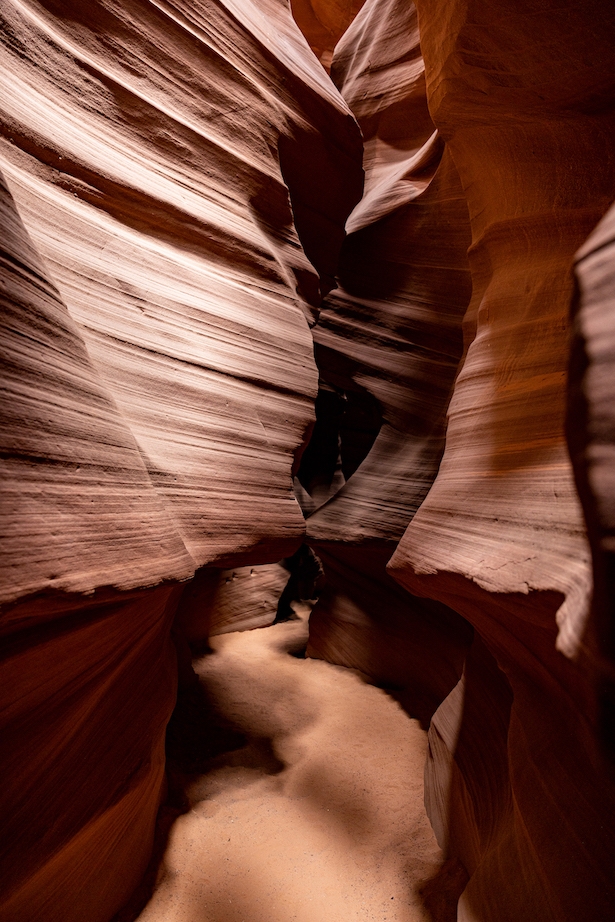 With the Southern Utah high desert and unforgiving landscape behind us, we made our way to the tiny village of Escalante, Utah. We needed to put a solid charge on our dual batteries and to resupply before heading int the back country. We popped into a commercial campground named, Yonder Escalante, located just east of town where we were able to plug into shore power, go for a swim and catch a drive-movie from one of ten classic cars. The amenities of this place make it hard to leave. The next morning, before heading out, we stopped by the only grocery store in town and resupplied our drinking water along with enough food to get through the next several days. Next stop, Boulder, Southern Utah. With only 2 gas stations, Boulder is the last point of civilization before hitting the trail. Gas up here and be sure to carry extra fuel. If you stick to the main off road trail, you shouldn't need it. But Beth and I had other ideas and rarely stick to the plan. We were headed deep into the back country.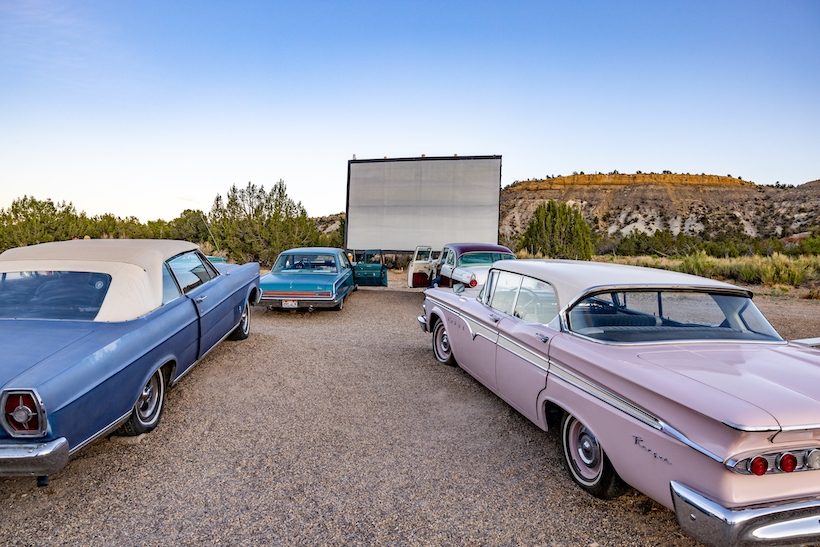 Topped off with fuel and ready to lose ourselves, we pointed the Jeep south and headed into the great unknown. At least for us, it was unknown. There is no cell service to call 911 in this part of Utah, so be prepared and leave your itinerary with a friend. To put ourselves further into a past life, instead of relying on our Garmin InReach or GAIA GPS to guide us through the plateaus and canyons, we opted for a paper map that showed us the offroad backroads and dirt roads of Utah. With Grand Staircase Escalante to our west and Capital Reef National Park to our east and our quest for adventure, we knew the possibilities were nearly limitless. As we made our way deeper into the back country and thinking the views could not get any better, we were greeted with slot canyons and the Wolverine Petrified Wood Natural Area. The day just kept getting better.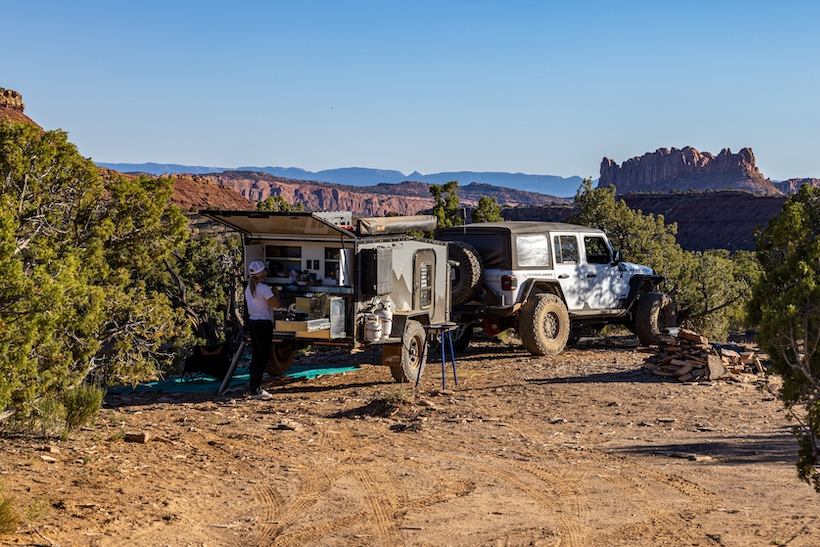 With sun getting lower on the western horizon, we knew we needed to find a place to camp. Taking a right turn on what appeared to be a dirt road, ended up opening up to a place where we could stop for the night, giving us the most spectacular views of Grand Staircase Escalante. We quickly set up camp and explored the surround area before dinner. We were certain, there was not another human being within 10 miles of us. As we sat down for dinner, we reflected on the day and the good fortune we had to find the perfect spot and what was to come. Waking up the following morning, we were in no hurry to start the day. Sipping coffee and enjoying the magnificent views, we contemplated, where to next.
We leisurely broke camp and got on the trail, deciding to push for Valley of the Gods. But first we had one last obstacle: The Burr Switchbacks. With a grade of 14%, the Burr Switchbacks descends more than one thousand feet in less than a mile. The road is mostly 1 lane with several places to pull out and allow the uphill traffic to pass. Although the five switchbacks are big enough to accommodate a small overland trailer, I would not recommend taking an RV through this section of road.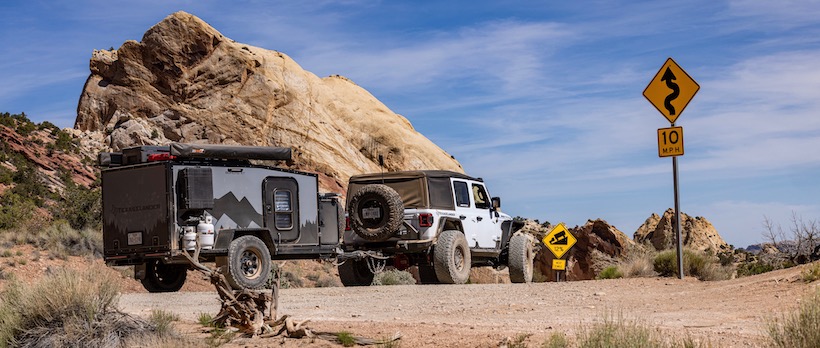 We could not think of a better way to close this adventure than with a stopover in The Valley of the Gods. Located near Mexican Hat, Southern Utah, the Valley brings me back to my childhood trips with my parents as we crisscrossed the American Southwest in their 1981 Pontiac Sunbird. These are the memories that feed my appetite for tomorrows adventures.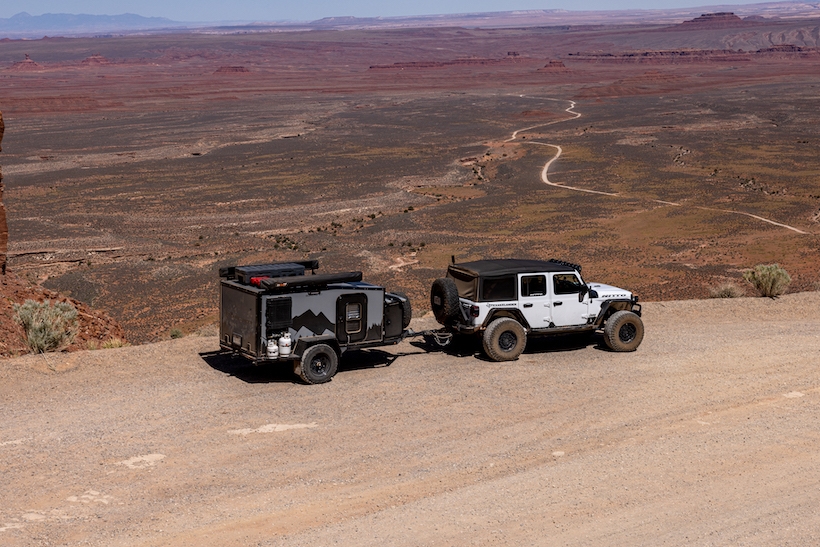 For more Off-Road and Overland Vehicle Supported Adventures, CHECK HERE
Looking for an Off-Road and Overland Trailer, then CHECK HERE