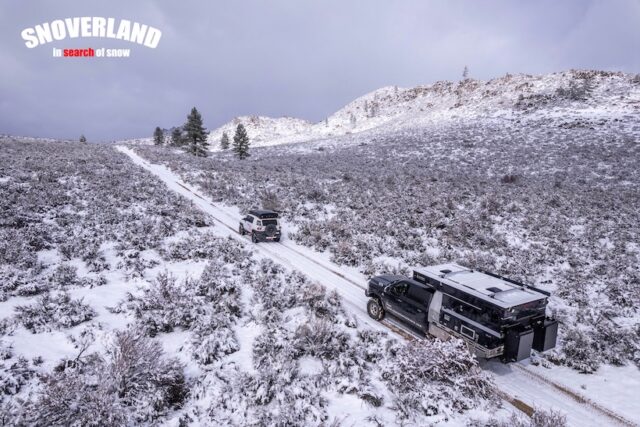 Do you even Snoverland (overlanding in snow) Bro? Being based in San Diego, we don't get to see much snow, so it's become something of a tradition here at TAP to briefly leave the temperate winter deserts of Southern California and head out on a Snoverland Adventure. This year was going to be a little different, as luckily, we'd been offered the chance to try out a Four-Wheel Camper Hawk Flatbed, combined with a Ram 3500. Having spent the last four years in a Jeep Wrangler and small Roof Top Tent, this was going to be different.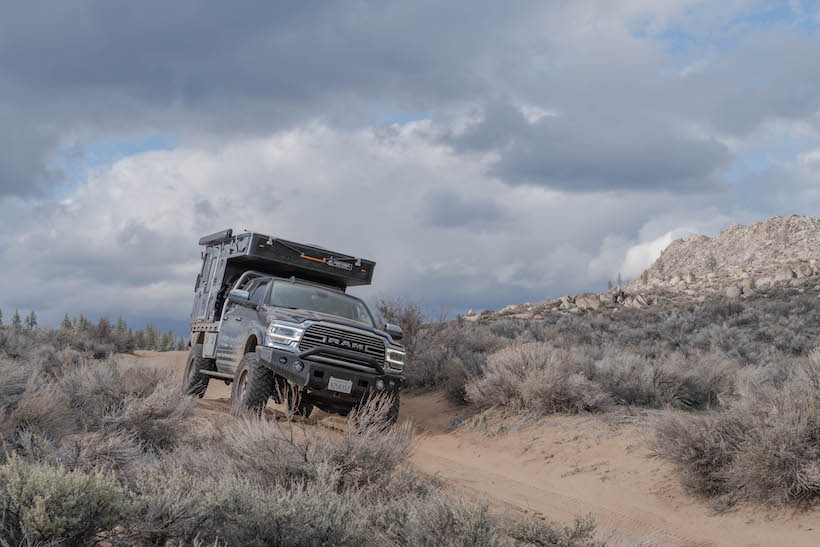 Heading north and after battling through the LA crazy town traffic, I eventually hit the i-395 or what I like to call "The Adventure Highway". I coined this moniker many years back, as the road parallels the Eastern Sierra and every time, I'm on it, I seem to be heading out on some Vehicle Supported Adventure.
The plan is to spend the first day/night overlanding at Alabama Hills, to give me time to dial in the rig and camper. This area has unfortunately become somewhat overrun due to its proximity to the highway and its amazing views of Mount Whitney. Recently the BLM has closed the western side to overnight offroad camping and even though I'm camping mid-week, it still takes me time to find a dispersed camp spot. Without wanting to get on a soap box here, please remember to TreadLightly and leave the area better than you found it. Without this mindset, we're going to see more and more closure!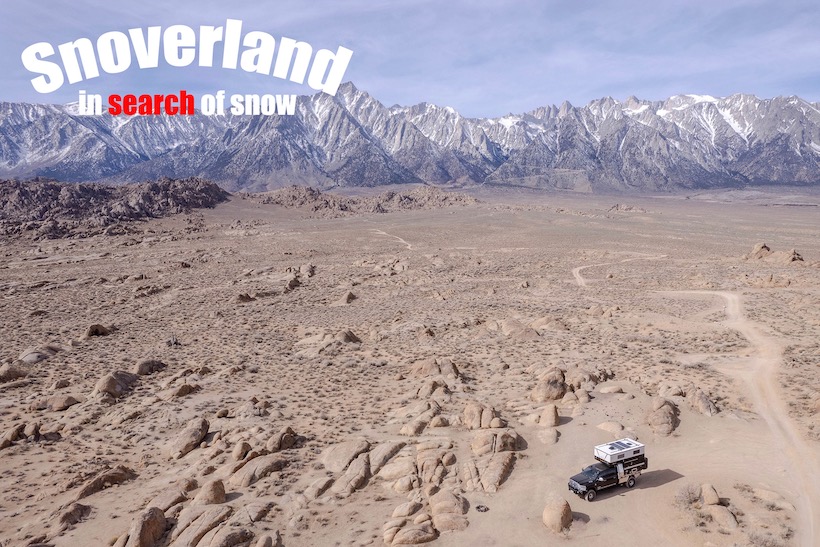 After 24 hours of "Chilin' like a villain" and despite the beauty of the area, it's time to head up to the High Sierra for some snoverland (overlanding) Vehicle Supported Adventure. To be honest, although excited, I am a little apprehensive about finding open off road trails, or even snow, as it's been a really dry winter. I'm also slightly intimidated about driving such a big rig in the snow, as this will be a new experience. All should be good however, as my wingman in the white stuff, is Todd Rogers, owner of Four Points Adventures. Todd is an experienced trail guide, 4×4 trainer and former Search and Rescue (SAR).
Six hours in the saddle later, and after driving through many burn areas from last year's fires, I eventually meet up with Todd in the Lost Sierra region. We head out to Diamonds Ranch where we'll be camping up in the pines and as expected, snow levels are diminished. Dinner and a good whisky are the priority and with the coyote's yip, yipping in the background, we chat around the campfire. This area is also home to bears and mountain lions, so if I survive the night, we'll start our search for snow covered trails tomorrow.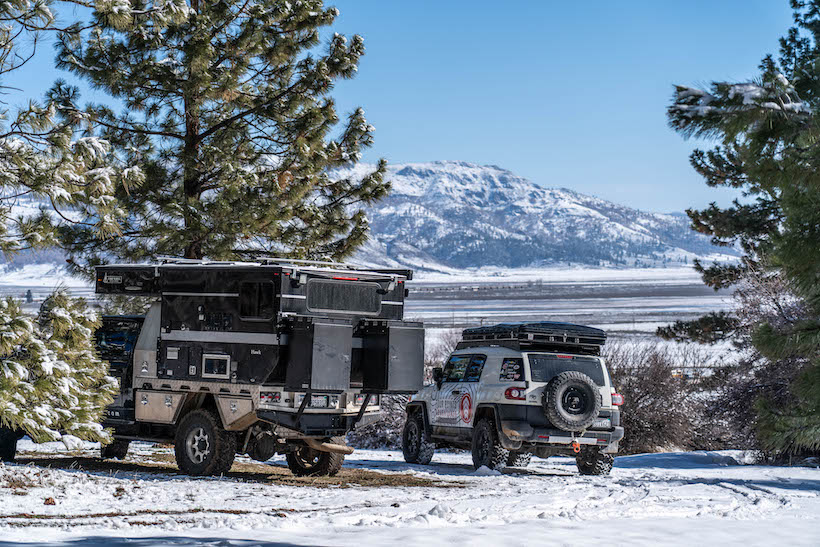 First day overlanding conditions are a mixture of snow and mud, and we crisscross the area looking for off roading good trails. Despite getting the beast stuck once, which proved an easy extraction using Tred boards, the rig outperformed my expectations. 37" mud terrains and plenty of power from the Cummins, give me confidence to push myself and the rig. The size of the vehicle obviously limits your ability to truly explore with abandon, but after a day of trial and error, I quickly get used to it.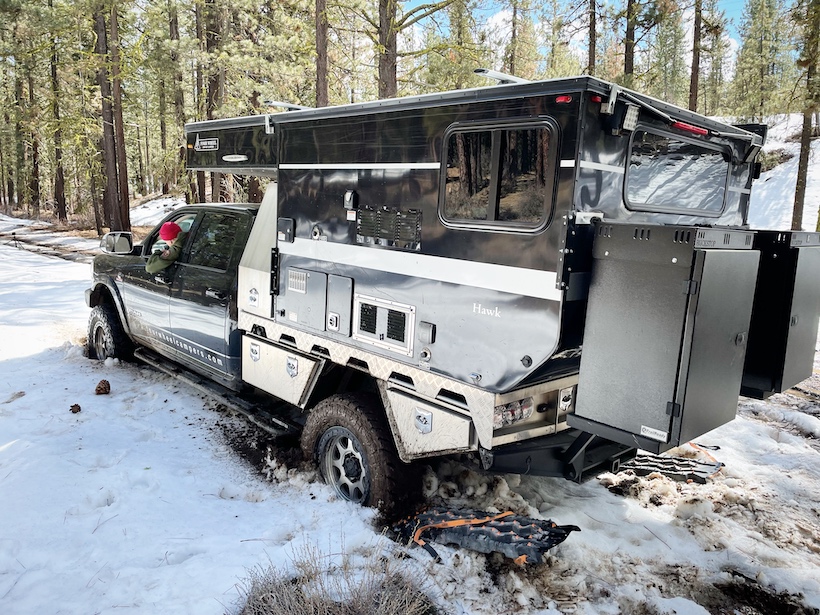 On the second day, the snow gods bless us and the heavens open, pounding us with snow. This is what we've come looking for and it truly allows the camper to come into its own. As Todd sleeps in his roof top tent, I bathe in the comfort of my setup. The ability to simply warm the camper with the propane heater, before getting out of bed to make coffee, is pure luxury! This coupled with enormous storage capacity and a self-contained living space, make snow camping a fairly easy endeavor.
That day on the trail, the big tires and powerful engine eat up the conditions. At no point do I feel that the beast can't simply power through the offroad mess. Todd in his smaller FJ stays ahead scouting the route and I advance once I've received the radio call saying it's all good. It's a system we employ all day, and it keeps me out of trouble. To be fair, I'd be way more hesitant without an experienced trail buddy doing the recon.
Last year's snoverland adventure, we drove as far as we could safely go, then snowshoed into the backcountry, eventually sleeping in tents on a heavy blanket of snow. It was 18 degrees over night!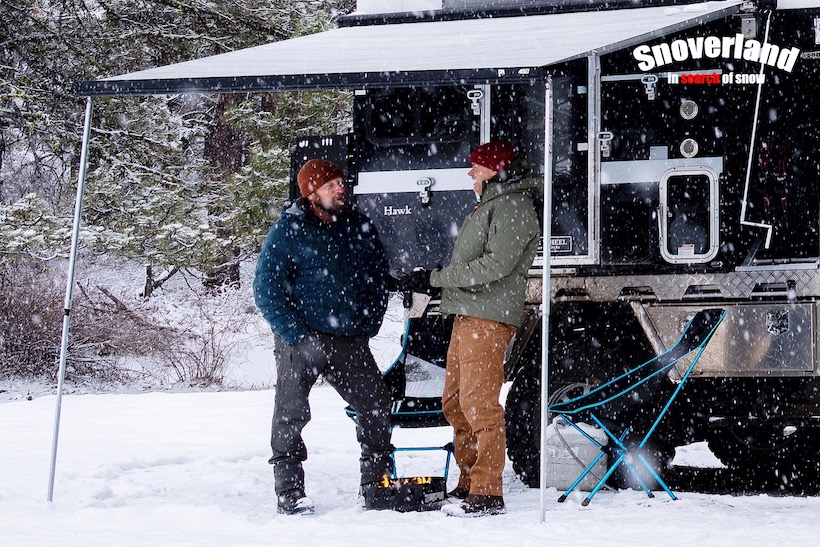 This year snoverland trip was obviously a little different! The FWC camper's comfort is obvious, and the rig performed solidly in the snow. For me, the takeaway is that adventure doesn't always have to be a suffer fest and it's okay to be warm and cozy sometimes!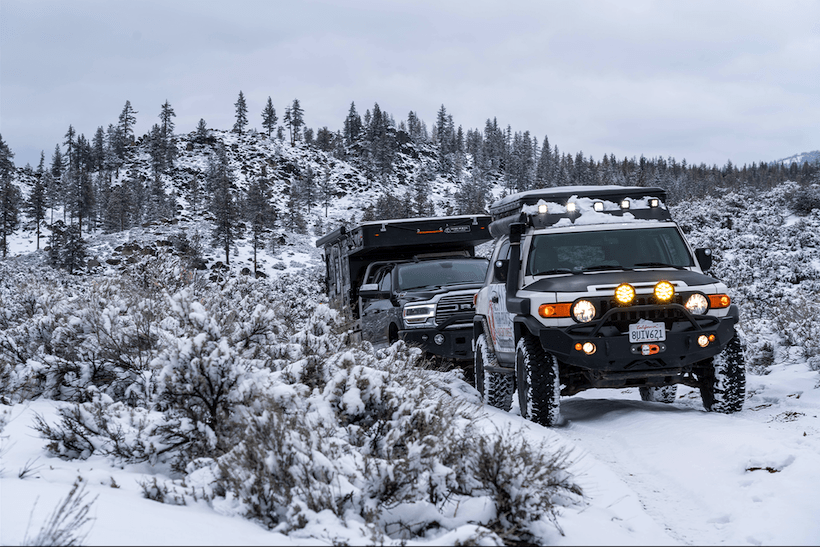 For more Overland and Off Road Vehicle Supported Adventures, CLICK HERE
CHECK OUT our article on Overland Winter Camping Adventure Gear