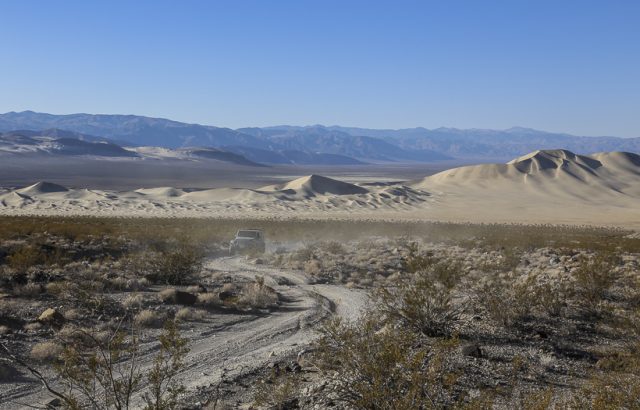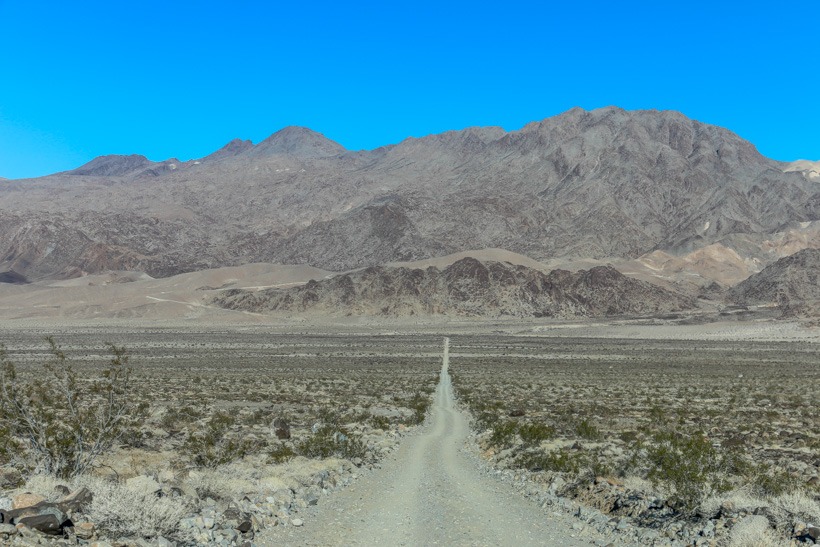 | | |
| --- | --- |
| Location | CA and NV |
| Nearest City | San Bernardino, CA; Beatty, NV |
| Coordinates | 36°14′31″N 116°49′33″ |
| Area | 3,373,063 acres |
| Established | 1933 Monument/1994 Nat'l Park |
| Governing Body | National Park Service |
| Phone | 760-786-3200 |
| Visitor Center | Furnace Creek: open Nov.-April |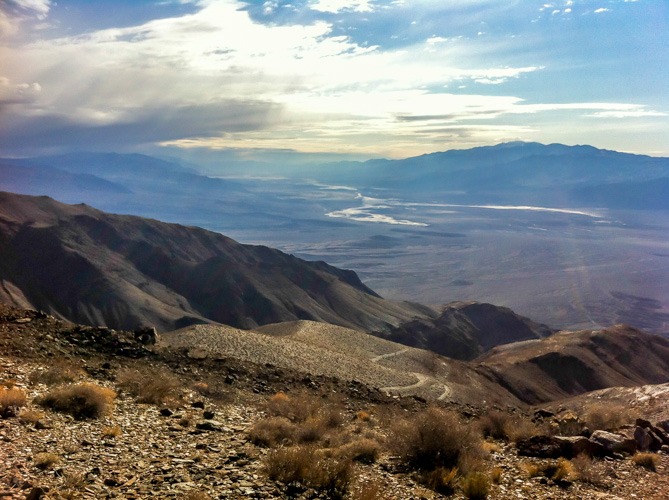 Site Location and Description: Death Valley National Park is located in the states of California and Nevada, east of the Sierra Nevada, spanning an area between the Great Basin and Mojave deserts. The park protects the north-west corner of the Mojave Desert and contains a vast array of desert environments: salt-flats, sand dunes, badlands, valleys, canyons, and mountains. It sits on the continental north American plate and was created by a complex series of tectonic movements. It contains faults that have occurred as the plate has stretched and moved. Geologists call this a pull-apart basin. The surrounding mountains rise as the valley sinks. These tectonic movements have created numerous lava flows and craters throughout the park. The Ubehebe Crater, on Desert Racetrack Road in the north-central part of the park is an example of this phenomenon. Within Death Valley lies the lowest point in the Western Hemisphere; Badwater Basin (-282 ft or 86 m below sea level) which is less than 100 miles away from Mount Whitney, the highest point in the United States. Death Valley is the largest national park in the lower 48 states and is an International Biosphere Reserve. Approximately 95% of the park is a designated wilderness area. It is the hottest and driest place in the United States.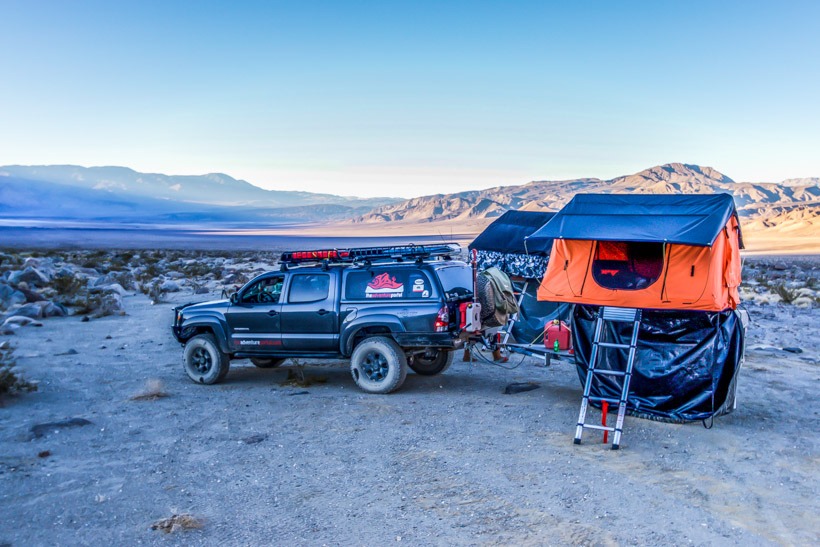 Average temperatures: Temperatures from April-October range from the 90's up to 120 degrees fahrenheit during the day and the 70's to high 80's at night. Temperatures from November to March range from the late 60's to low 80's during the day and the 40's and 50's overnight.

The Visitor Center at Death Valley National Park: The visitor center is located in the Furnace Creek resort area on State Route 190. A 12-minute introductory slide program is shown every 30 minutes. During the winter season, November through April, rangers offer interpretive tours and a wide variety of walks, talks, and slide presentations about Death Valley's cultural and natural history. The visitor center has displays dealing with the park's geology, climate, wildlife and natural history. There are also specific sections dealing with the human history and pioneer experience. The Death Valley Natural History Association maintains a bookstore specifically geared to the natural and cultural history of the park.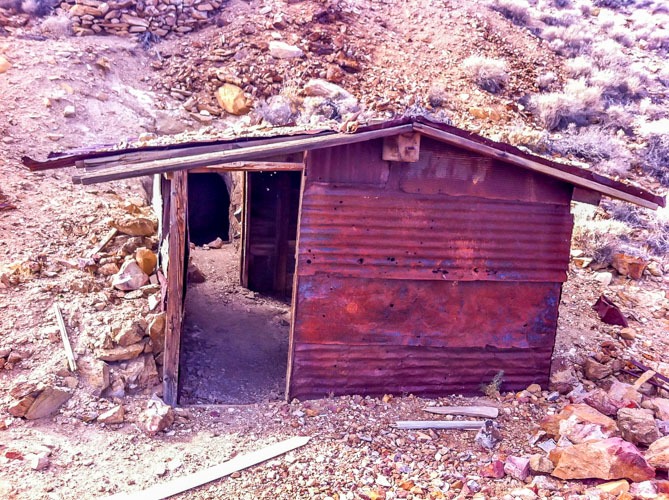 Camping: There are nine designated campgrounds within the park. Overnight backcountry camping permits are available at the visitor center
Campgrounds:
Campgrounds
Season
Elevation
Fee
Sites
Water
Fire pits
Toilets
Reservations
Furnace Creek
Year round
-196′
$18**
136
yes
yes
flush
yes
Sunset
10/15-5/1
-196′
$12
270
yes
no
flush
yes
Texas Spring
10/15-5/1
sea level
$14
92
yes
some
flush
yes
Stove Pipe Wells
9/15-mothers day week-end
sea level
$12
190
yes
yes
flush
yes
Mesquite Spring
Year round
1800′
$12
30
yes
yes
flush
yes
Emigrant
Tents only
Year round
2,100 ft
$0
10
yes
yes
flush
no
Wildrose
Year round
4,100 ft
$0
23
yes
yes
pit
no
Thorndike*
March-November
7,400 ft
$0
6
no
yes
pit
no
Mahogany
Flat*
March-November
8,200 ft
$0
10
no
yes
pit
no
* Accessible to high clearance vehicles only. 4-wheel drive may be necessary.
** RV Hook-up sites have an additional $12 Utility Fee that is not subject to Lifetime Pass discounts. Furnace Creek Campground becomes first come-first served and fee changes to $12 per night from mid-April to mid-October.
Reservations: For the Furnace Creek Campground and group sites: call 1-877-444-6777 or by go online at https://www.recreation.gov. All other campgrounds are first-come-first-serve.
RVs: Furnace Creek Campground has a few sites with full hookups for recreational vehicles. RV hookup sites are also available at the concession-run Stovepipe Wells RV Park and the privately owned Furnace Creek Ranch and Panamint Springs Resort.
Generator hours: 7 a.m. to 7 p.m.
Camping limits: Campsites are limited to no more than eight people and two vehicles or one recreational vehicle per site. Larger groups can reserve the group sites at the Furnace Creek Campground. The two group sites are limited to a maximum of 40 people and 10 vehicles each. No recreational vehicles may be parked at the group sites.
Campfires: All vegetation in the park is protected. Firewood and charcoal are available at the NPS Concession run Stovepipe Wells General Store, or at the Furnace Creek General Store. You can also bring your own. Fire pits or grates are provided at Furnace Creek, Texas Spring, and most of our other campgrounds. See the campground table above for specifics.
For a list of all TAP overland trail write-ups in Death Valley click HERE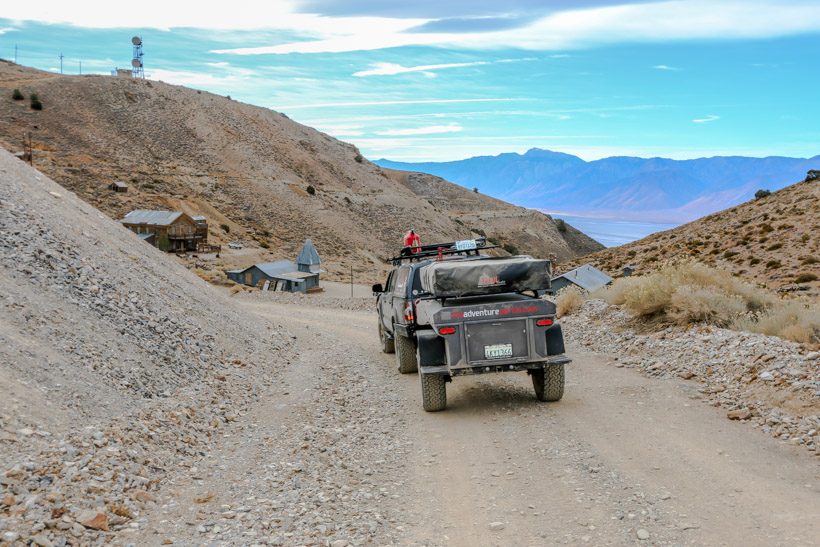 Death Valley Dream Lapse 1: Courtesy of Gavin Heffernan
For more Californian Overland and Off-Road Trails, Check Here