Ethos means: the characteristic spirit of a culture or community as manifested in its beliefs or ambitions to create something. I got on the phone with Co-owner Will Herring of Ethos Off-Road trailers, based out of Lago Vista TX, and found out why he chose this particular name for his company. Here is his story describing the evolution of Ethos Off-Road trailers, the company he and his partner Gary Fiveash have created. Check out the unique, user-friendly components on these trailers and the story behind their creation.
We started Ethos Off-Road last September. It came about out of the love I have for camping, fishing, hunting and off-roading; life-long passions that I now share with my family. Years ago, my wife and I purchased a Jeep Wrangler TJ and found that as our family expanded, our ability to carry necessary camping gear contracted. A trailer seemed like the logical solution to our storage needs. The idea of building an overland style camping trailer came from a friend of mine who created one out of a M416 military tub, then mounted a roof top tent on the lid. He brought it on one of our camping trips. I really liked it, and decided that I would make my own. All that storage space and the idea of having a tent off the ground, was extremely appealing. The only problem with the tent set up on my buddy's trailer was that in order to access the contents of the trailer, he had to move the tent up at an angle because it was mounted directly on the lid. For me and my family, this meant that early morning coffee could not be made without everyone waking and exiting the tent. That wasn't going to happen. The weight of the tent also made opening the trailer lid difficult. A couple of other things I wanted were to be able to mount a roof top tent high enough to walk under it once it was open and to have the ability to use a vehicle awning without having to elevate it above the trailer. All of this, led me to design and build a rack system for the tent and awning mounted to the lid of our trailer. The rack had to be adjustable because we wanted the trailer to have the lowest center of gravity possible while on the trail, but have the ability to be elevated in order to maintain head clearance once we opened our RTT.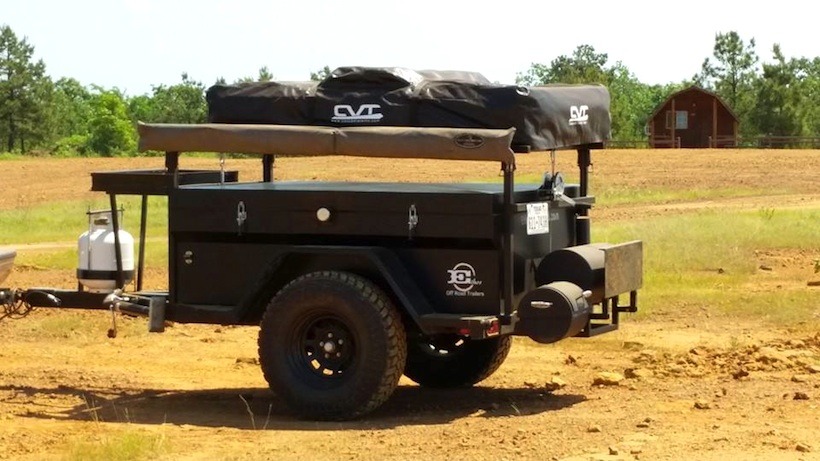 All of this being said, I designed and built an exterior mounted rack system for the tent. When we took it out camping for a test run, we found that the rack was very difficult to raise. My wife, who is 5'3", had a terrible time trying to lift 180 lbs of tent and rack up. After a long day of driving and dealing with my tribe of yelling, restless kids, this one little hurdle of raising the tent became the straw that was about to break the camel's back, literally. We did not want to have to struggle to set up camp, so….another problem that needed to be solved.
I built a telescopic, self-lifting exterior mounted rack for our trailer. The rack I had previously designed was retro fitted with 80 lb. lift assist gas shocks. A synthetic winch cable was added in order to lower the rack once it was raised. A hand crank winch was installed at the rear of the trailer where the cables were run. We now had the ability to raise and lower the rack system with one person and very little energy.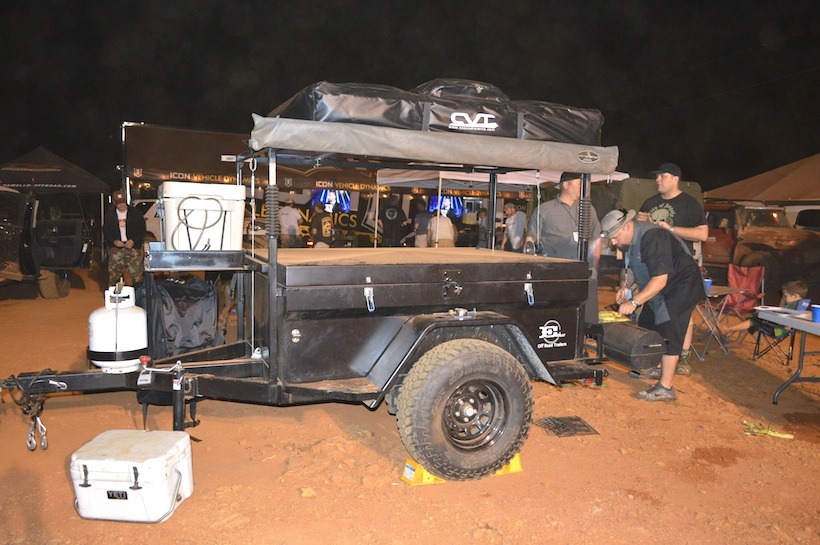 My family and I took this modified trailer all over the place. I added a barbecue pit to the rear as we wanted a large cooking surface for family and friends during our outings. Soon, I began to get inquiries from people wanting to have a trailer like ours. During one of our outings, my friend Gary Fiveash and I were sitting by the lake fishing and I told him that I wanted to build a new trailer (remember, my original trailer was made of an M416 military tub) and asked him if he would be interested in helping. Gary is a structural metal fabricator with a large shop already set up for anything we would need; CNC drill, welding equipment, large grounded work tables, band saws etc. I wanted to build high quality trailers to sell to the general public. So, with Gary's many years of experience, his fabrication shop, and my design ideas, Ethos Off Road was born. We began production of our prototype; a modified version of my M416 built trailer. We posted the prototype on Facebook and it was purchased before we were done building it!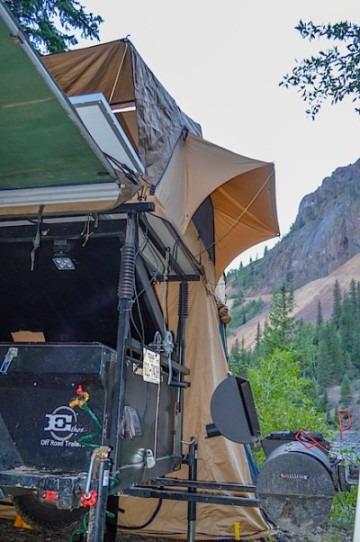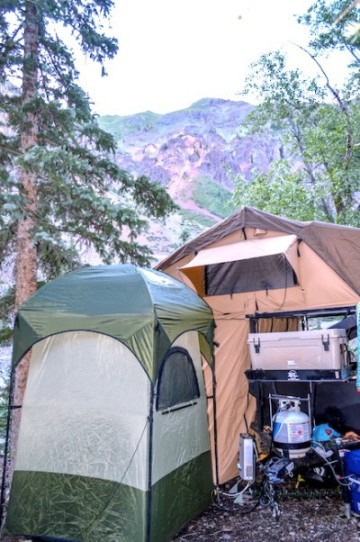 Our designs are always evolving. With Gary's knowledge and years of metal working experience at our disposal, we've been able to create new and better ways of constructing trailers for our customers. We redesigned the tub and lid, matting surfaces to resemble a truck tool box type lid, thus improving upon the weather proof design. We have added metal X breaks to the lid as well as front and rear trailer tub panels to insure the tub is rigid. This creates structural integrity to those areas as well. The x break application has allowed us to build a frameless tub and lid combination using 14 gauge steel that is extremely strong. The chasis of the trailer has a 3 x 4 x 1/8th inch full length tongue and fully welded 2 x 4x 1/8th square tube framing.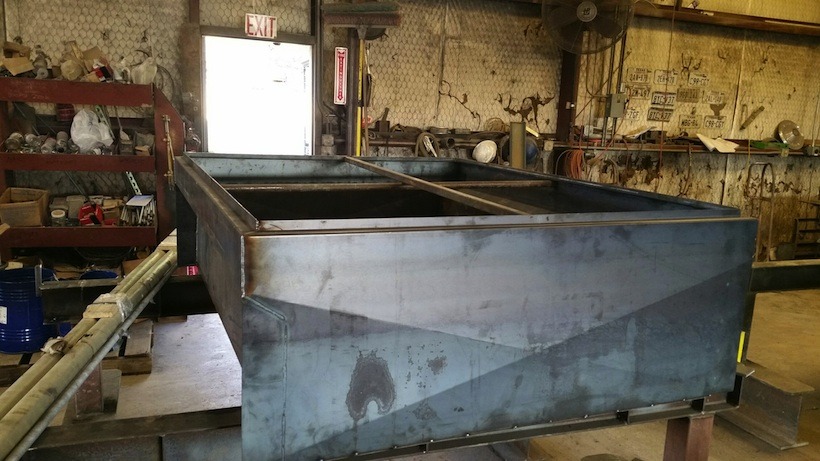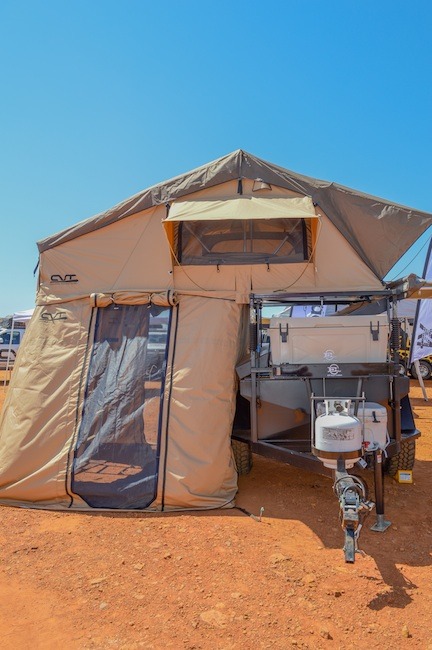 Our trailer, the Travois X-1, comes with our patented self-lifting roof rack system to lift the RTT high enough to open the lid without disturbing the tent. It's got a 600lb. hand winch quipped with 6 thousand lbs of synthetic winch cable to allow the user to lower the rack with no assistance. This model has a cooler rack for your perishables, a 20 lb. propane tank mount, Timbren independent suspension system for 3500lb applications, 31×10.50×15 mud tires, matching tow vehicle wheel lug pattern so you don't need to take a spare for the trailer, a removable sliding smoker/bbq mounted on the rear of the trailer on our custom-built cooking rack that was constructed to ensure good trail clearance. All trailer wiring is enclosed inside the frame to keep it from getting damaged on the trail. We also offer many other options such as water storage and 12 volt power systems installed as well.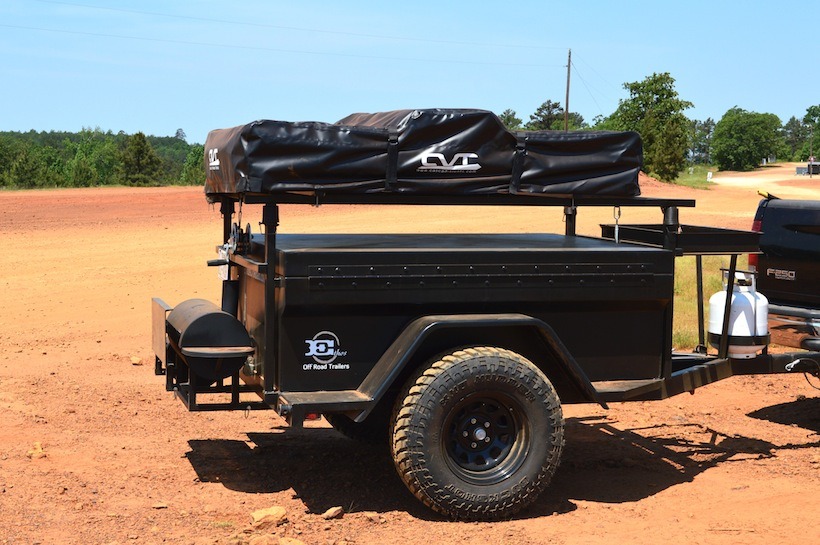 Ethos Off-Road's goal is to be as self-contained as possible. My family and I go down to the Texas Gulf Coast quite a lot so it was important for me to design a "break-in proof" trailer. I also needed our trailer to be completely weather proof. We love camping. Ethos Off-Road makes products that enable people to get out there without having to take a lot of time setting up and breaking down camp. Our trailers are custom-made, user-friendly and have evolved out of our love for getting outdoors and playing in the simplest, safest way possible.
You can check out Ethos Off Road Trailers at www.ethosoffroad.com
Facebook: https://www.facebook.com/ethosoffroad
Twitter: https://twitter.com/ethosoffroad
Author: Lori Palmer
Photos: Dana Herring
Editor: Lori Palmer