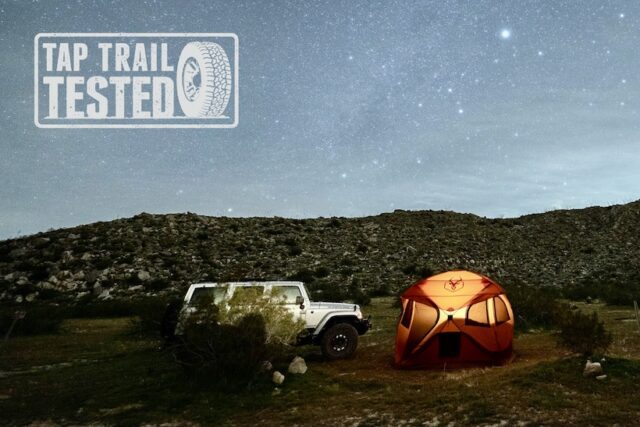 When you think Overlanding, you probably think of a tent on the roof of the vehicle. However, not everyone wants to raise their vehicle's center of gravity, endure increased wind noise on the freeway or climb down a ladder at night to pee. In the last year, we've definitely seen an increased interest from the overland community in ground tents, so we decided to take a look at what was out there for the Vehicle Supported Adventurer. The Gazelle Tent range instantly caught our eye, so we reached out to them for a TAP Trail Test. Below are our thoughts, having recently spent some time on the ground, with the T4 Hub Tent – Overland Edition.
Set up and Take Down:
The Overland Industry is obsessed with set up time and the Backpacking world is obsessed with weight. Gazelle Tent is no exception and they claim the tent is fully set up in 90 seconds. Like other tent reviews we've done, we're going to dispute these marketing claims. Let's be honest, if you take into account getting the tent out of the vehicle or off the roof rack, removing it from the bag, staking out the ground sheet, unfolding and erecting the tent and attaching the rainfly, you're really looking at double that. That said, I still think that amount of time is extremely good and I am going to state that the set up and take down of this tent, was one of the easiest we've ever experienced.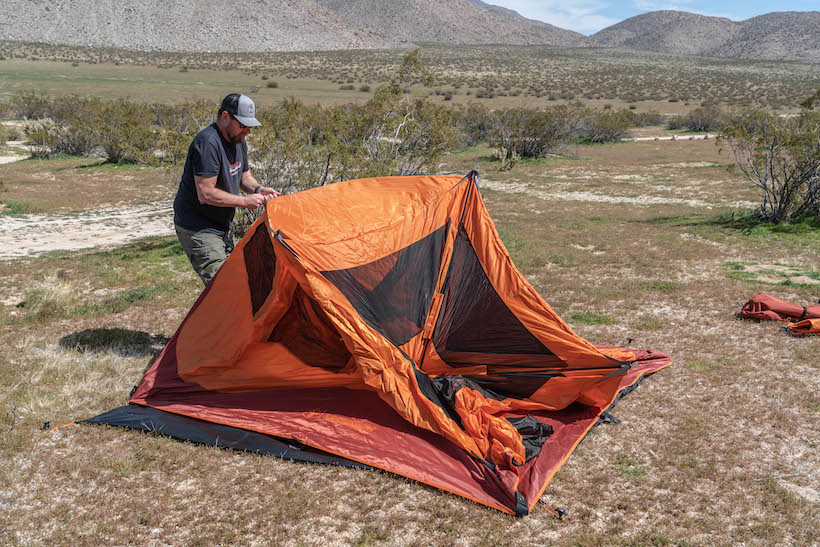 So, let's discuss the set up itself. Once you've found your flat ground and staked out the ground sheet, it's time to set up the tent. Frankly, it's as easy as maneuvering the tent floor plan into place over the ground sheet and simply pulling out the 4 hub panels that make up the tents shape. The internal frame mechanism (wall hubs) feel spring loaded and once pulled out, the panels form a rigid shape. At this point, the rain fly easily fits on and lastly the roof is popped up to complete the solid structure. Taking down the tent, is the reverse and incredibly easy. See the Gazelle set up video below, as it clearly shows how easy this process is.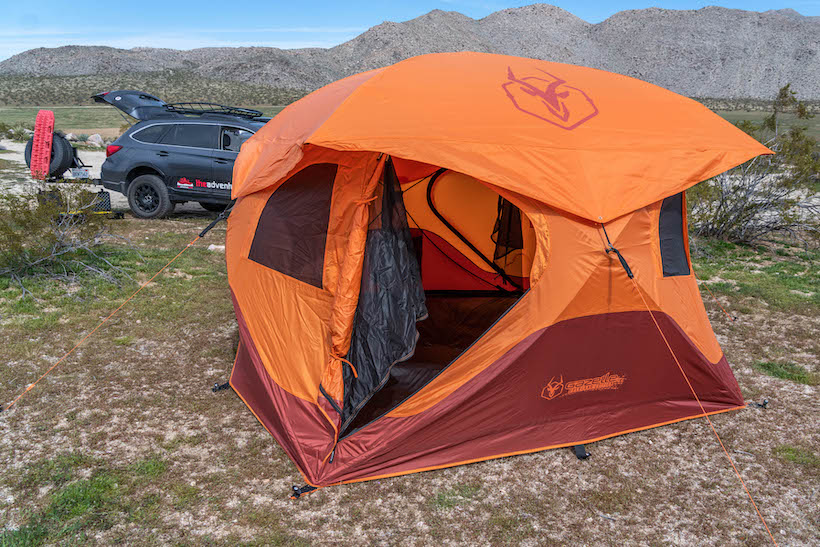 Quality:
The Gazelle T4 Hub Tent walls are constructed of 210 denier Oxford weave polyester material (waterproof up to 2000 MMHH) and the tent floor comes in at a rugged 300 denier Oxford weave material (waterproof to 5000 MMHH). These materials give a solid feel and a sense the tent will last. I particularly like the use of YKK zippers, as they are proven to be the best and cheap zippers always seem to be the first thing to fail. Another excellent feature is the ability to remove the floor for cleaning, something very likely to be needed after camping in wet conditions. Regarding the hub mechanism system, it is a clever design and appears to be very robust. Also, it's worth noting that the tent stakes were sturdy and the oversized waterproof tent bag, allowed easy access and return of the tent. I can't express enough how annoying it is, when it takes ten minutes to get the tent back in the bag! Well done Gazelle!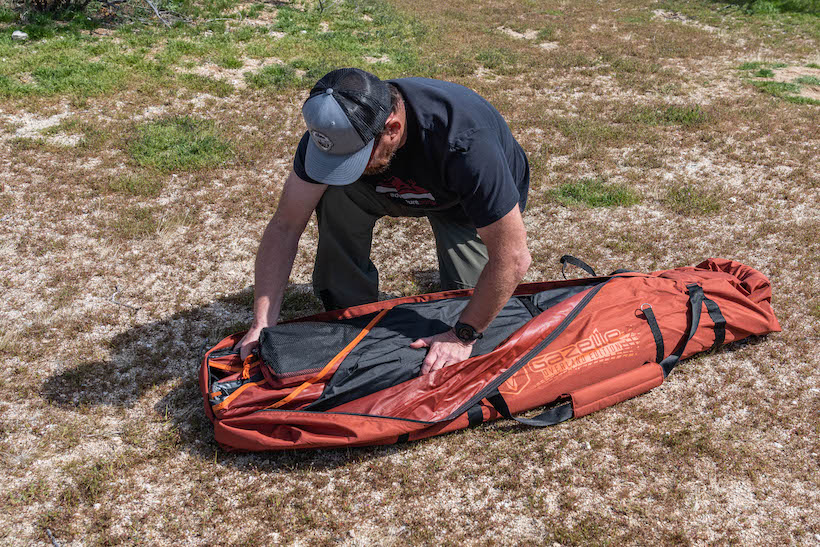 Features:
Two tight weave screened doors and six zippered windows allowed us to open up the tent and produce a cross breeze. This is essential for good ventilation and comfort in the warmer months. Couple this with a stand up height of 78″ and the tent feels airy and spacious. One comment on the doors, is that they are D shaped, being narrower at the bottom, making it easy to catch a toe getting in an out. Inside the tent is a removable gear loft (we placed a headlamp in it to illuminate the tent) and six large gear pockets for storing all the inevitable items like cell phones, headlamps, car keys etc.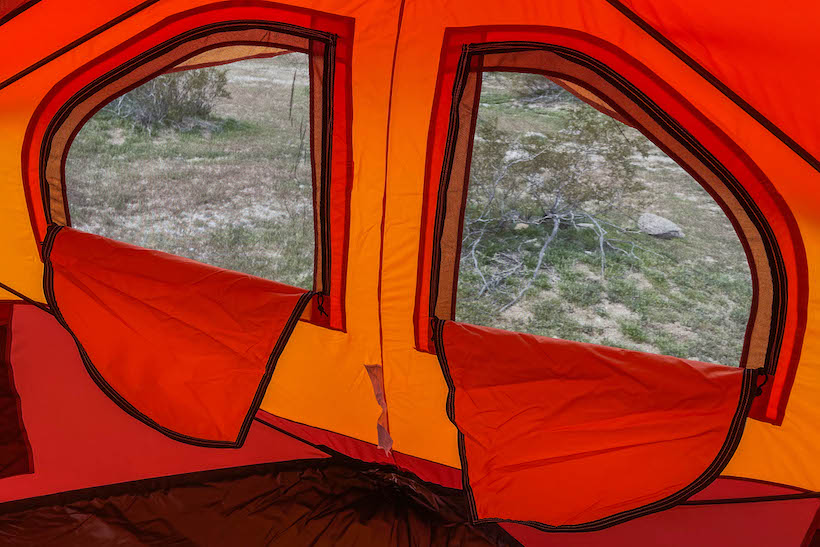 Specifications:
Color – Sunset Orange/Sedona
Sleeps – 4
Height – 78″
Floor Dimensions – 94″x94″
Floor Space – 61 sq ft
Hub to Hub – 101″x101″
Collapsed Size – 8″x8″x67.5″
Weight – 34lbs
Conclusions:
So far, we have used this Gazelle tent in classic desert conditions (strong and gusty winds), and experienced only a little material flapping and tent movement. It should however be noted, that one particularly strong gust collapsed a hub panel. Our solution was to replace the 4 guy rope stakes, with longer and sturdier versions and after making this change, we've not had any further issues. At 34lbs, this is a robust tent, obviously built for use from a vehicle. It is quoted as a four person and yes, four people could certainly fit in it. That said, from the POV of space and comfort, I really think it naturally fits 2 to 3 people.
Overall, I really like this tent, particularly the headroom and the ease of setting up and taking it down. It has a great design, with a high quality build, at an acceptable price of $430. If you're looking for a ground tent to support your adventures, TAP feels confident recommending the Gazelle tent T4 Hub – Overland Edition.
Editor's note: This is not a long term review and we'll update this review at a later date.
You've got a good tent, now you need a good sleep system. Check out the Badger Bed HERE