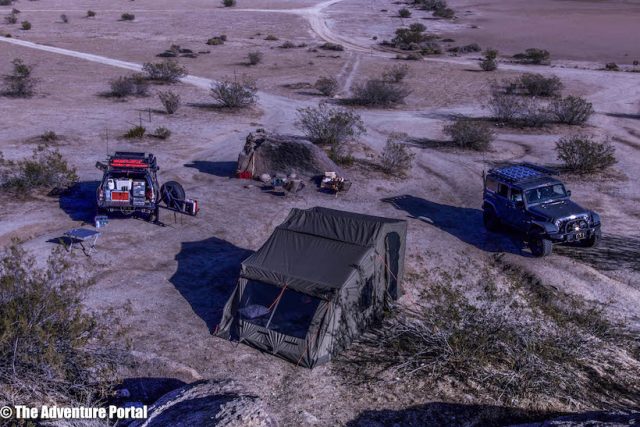 Here at TAP we've used roof top tents (RTT's) on trailers for the past 5 years, so it was interesting and a definite change to go on a 5 day backcountry overland trip in the Sierra's and get to try out the OZ-Tent RV-5.
Ground vs Roof- So, the first obvious difference is that you're on the ground and not elevated on top of a roof. In all reality not a big deal, but you of course now have to find a fairly flat spot to set up. Being elevated off the ground certainly gives a sense of security against intrusion from critters, especially in the desert. On the other hand, not having to deal with a ladder in the middle of the night will be a positive for a lot of people.
Set up time, ease and stability- Set up probably took twice as long as an RTT. The marketing says "a 30 second tent". I beg to differ and had it dialed all in, at around 5 minutes once I'd taken it off the roof rack and pegged out all the corners. Not a big deal, but reality. This time does not include putting up the awning, which took another couple of minutes. I didn't use the side-panels, if I had, set-up time probably would have doubled. It was fairly easy to set up on my own, but two people would have made it a breeze. This is something actually stated in the set up manual. Once erect, the tent was stable and I could see it easily handling a strong wind with the application of guide ropes. I didn't experience any difficult weather, so never used them on the tent body, only on the awning. The build quality and materials used in construction (high-quality waterproof 8 Ounce Rip-Stop Poly-Cotton Canvas, taped waterproof seems, YKK zips, quality window/door mesh and heavy-duty heat-sealed PVC floor) are rugged, and I fully expect it will easily stand up to the abuse we'll put it through over the next 6 months. I particularly like the fact that the entire rear of the tent rolls up, it has openings on both sides and a mesh front door. All this gives great ventilation.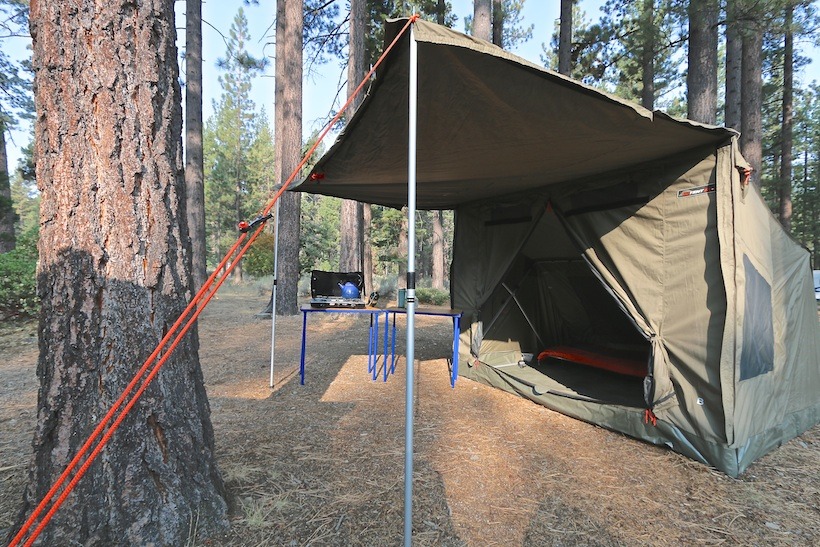 Comfort- I'm used to sleeping on a mattress in an RTT. For the OZ-Tent, I used a basic fold away cot from REI, which was really comfortable. I'd even go as far as saying that I was more comfortable than any of my nights in the RTT's we've used.
Size- The tent is named RV-5, which hopefully doesn't indicate it's made to hold five people? In my opinion, three people on cots (and a dog), would be cozy but doable. As I mentioned, I have the side and front panels to the awning. If I'd used these, it would have created a lot more livable (as well as sleeping) space and a dry sheltered area to cook and get out of any weather. I like this addition that can be added when needed.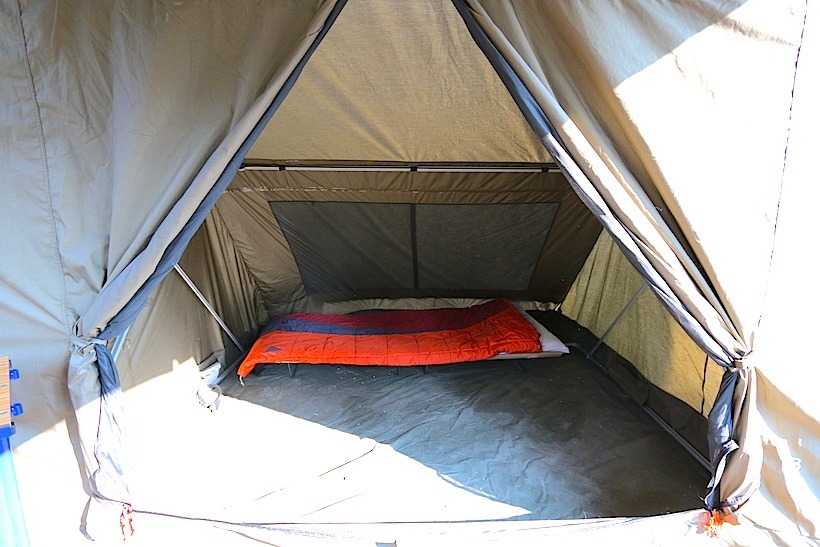 So, what didn't I like?- The OZ Tent was too large to fit in the bed of my Tacoma with all my other gear, so every day I had to load it on the roof rack and strap it down. This concerned me when going through tight tree lined trails, which I did a fair amount of. I was also concerned about the potential of theft. I used Yakima locking cables to ease my mind on this matter. Of course, this is a personal issue based on my own vehicle choice and will not be relevant to everyone. I also had some sticker shock with the RV-5 coming in at $1100 and the additional deluxe side and front panels adding another $500. At this price it's right up there with the RTT's. However, having used it for a week, I can see how the innovative design and quality construction justifies the price.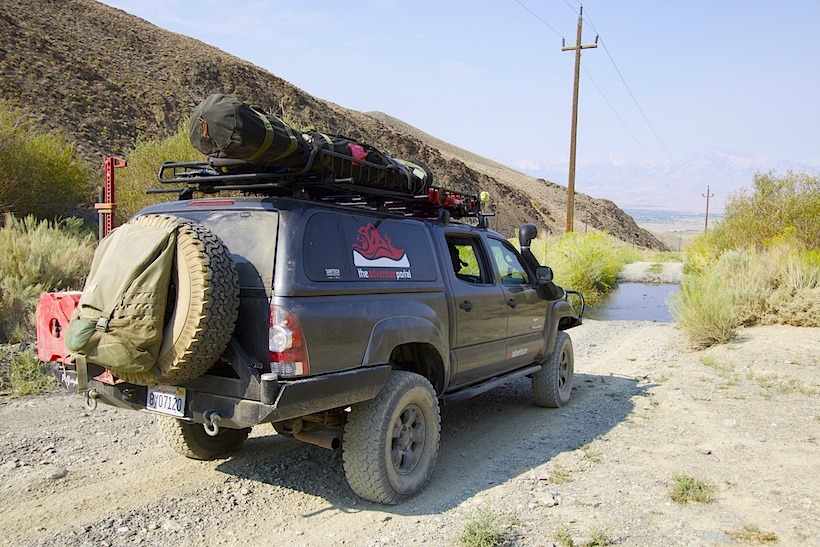 TAP's 12 month OZ-Tent Up-Date:
We've spent many nights in the Oz-Tent over the last 12 months and thought we'd up date our thoughts.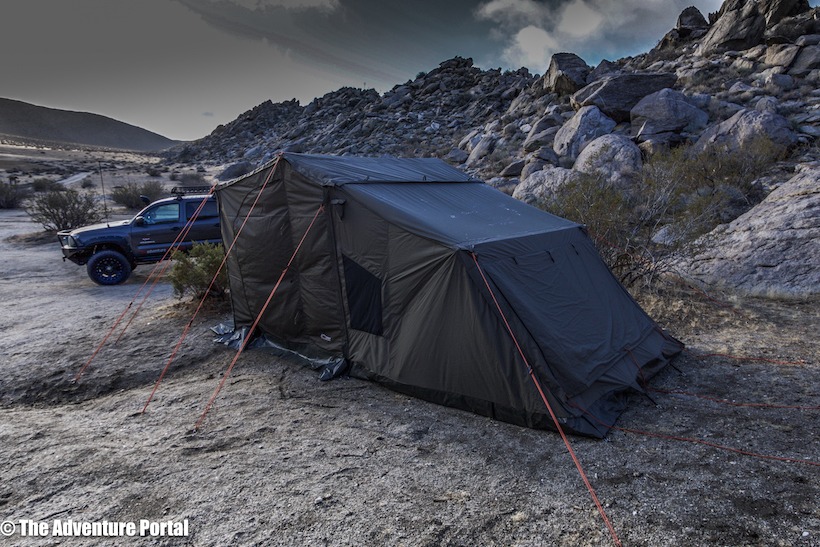 Pros: The quality and the build of this tent is excellent. It is also a well thought out design that simply works. It has held up to a fair amount of abuse and still looks new. We've used it in 50+ mph winds and torrential rain and have yet to see any leaks or worry about it collapsing in a storm (There are multiple tie/stake down points). We also, used the additional annex throughout a fairly significant storm recently and that too came through with flying colors. The annex is sizable and a great place to hang out when the weather closes in. The travel bag is beginning to show signs of wear, but honestly I'm not surprised as it's been on the roof of our rigs through sun, dust storms, rain, wind and low hanging branches. The zips on bags are a pet peeve of ours as we often see them fail. Not this one. Tough!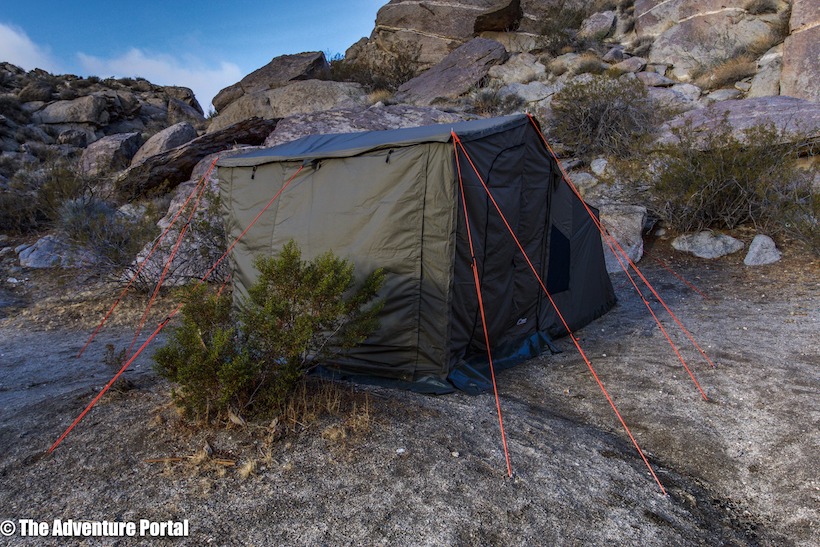 Cons: It's heavy and taking it off and on a roof rack on a lifted rig gets tiresome. Also, it always needs locking on the roof, as we are never prepared to take the risk of leaving a $1500 tent simply strapped to the roof when we were off somewhere. As previously stated, don't believe the marketing hype….it's not a 30 second tent. By the time you take it off the roof, get it out the bag, stake it out and erect it, it's more like 7 mins +. Not a big deal, but be prepared for reality. Finally, they call the RV-5 a 5 man tent. We beg to differ, as 5 people would be a real crush. In our opinion the RV-5 fit two adults really comfortably with a sense of room. 3 adults on small cots is also fine, but no room to move around. 5 people crushed in together and too close for comfort, maybe, but not for us.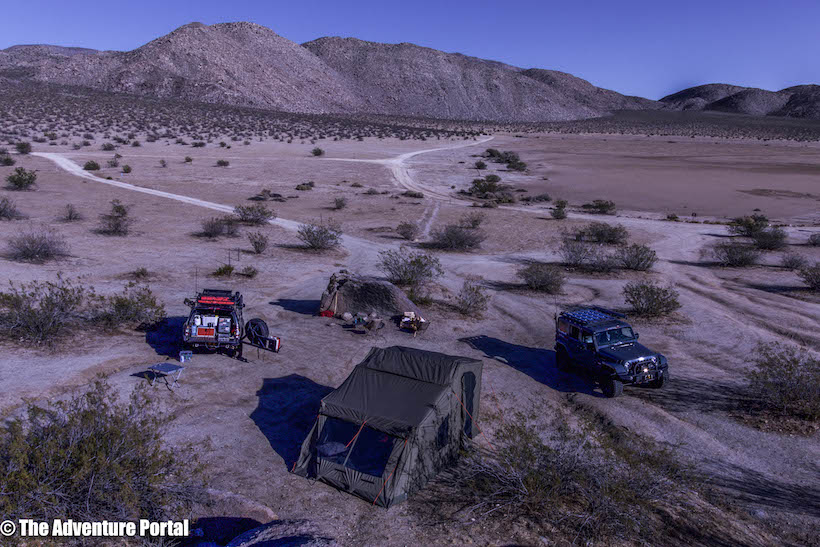 Conclusions: The buyer has to decide whether they want the convenience of a RTT or the extra size and space of the Oz-tent. Quite honestly sleeping on a cot in the Oz-tent, is more comfortable than any RTT mattress we've slept on. However a RTT is less effort to set up. Overall, we've been impressed with this set up and can genuinely recommend this product as an excellent overlanding camp choice.