Why build his own trailer? Bernhard Leitner of Leitner Designs has a passion for adventure, off-roading and camping. With all the wilderness and beauty Alaska has to offer it was the perfect place to plan a trip to. The decision on what vehicle for this journey would be an easy one. The 1973 Pinzgauer 712. The tough part was finding a trailer on the market that not only looked good with the "Pinzy", but one that supported all the functions Bernhard wanted. A place to sleep, kitchen facility and plenty of storage. Being a mechanical engineer, owner and creator of Leitner Designs, maker of the Active Cargo System, he had the vision, skills and desire to take on the build himself. Working his normal hours of his day job, Bernhard would spend 6-10 hours every day in the evenings and weekends for 6 months straight to finish in time for the trip to Alaska.
Important custom trailer components:- Bernhard was looking for a trailer that matched the specifications of his tow vehicle, track width, wheel base, and ground clearance that was as high as or higher than the Pinzgauer. When he couldn't find it on the market he set out to build his own. First he did some hand sketches that encompassed the basic overall design, and later the design was refined and modeled in 3D using Solidworks CAD software. One big consideration in building the trailer was that everything was ergonomically correct. Something he had not found on other trailers on the market. He made all working/cooking areas at 32 inches high, same as a standard kitchen. He created all the slides (refrigerator/stove/silverware) so that everything was within easy reach. He fit all components together like a jigsaw taking into account the fact that he would likely hit some trails that could roll his trailer. Bernhard designed everything down to the hinges and screws. This process took him three months to complete and he was meticulous.


We spoke with Bernhard about the process involved in planning and building his custom 4×4 trailer. Here are some segments of our conversation:
LP: How did the building process go?
BL: As smoothly as expected for a custom build of this complexity. I expected it to be really hard and a lot of work. It was, even more so than I thought. When I created the 3D plan, I put myself into it. I wanted to be sure that everything I planned to include in the trailer could be reached, lifted etc. I micro-planned then chunked the project in order to get through it. I literally broke this project down into the smallest detail and tackled one thing at a time. It was the only way I could do it without becoming overwhelmed. For example, after the planning stage, I needed to start building. I had no tools. Nothing but an empty garage. So, I went out and bought a welder, a grinder, some sheet metal and a press break. That was the first "to do" item on my list. I'm not kidding when I say that I broke this project down to the smallest detail and then took it in small chunks. It would have been too overwhelming had I done it any other way. The most time consuming part was all the sheet metal work. There are over 100 individual panels that needed to fit together. I did not have a lot of experience with sheet metal, so I purchased a Sheer and Press break and taught myself how to use them. I wanted the finished trailer to look like it was one smooth piece of steel, so every joint was seam welded and ground flush. I have to say, even though I micro-planned this build, the fact that it works as well as it does, I consider pure luck.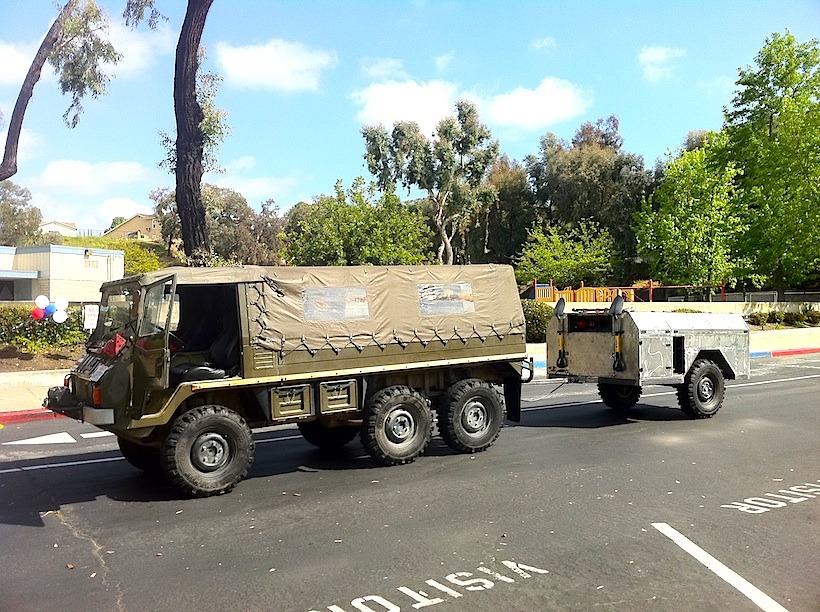 LP: Tell me about the frame build.
BL: I built the main frame from 3 x 2 X .125 mild steel. I reinforced all the corners with 3/8 steel gussets. The trailer tongue is especially over built. Where most trailers would use a C channel, I went with a 3" square tube that runs over ½ the length of the frame. This design allows for a telescoping tongue with an adjustment range of 36". The length adjustment has come in handy numerous times, on many boat ferry's they charge by the length of the vehicle. By shortening the trailer the full 36" I was able to save a few hundred dollars!
LP: The next steps?
BL: Once the main frame was complete I started work on the body of the trailer. Although when assembled the trailer looks like one piece, it is actually several components that are bolted together. The kitchen side is the most elaborate, containing the slide out for the refrigerator, trash can and silverware drawer. My plan from the start was to ensure everything would stay in place even in the event of a complete rollover. I did this by securing everything with rubber straps and having the doors of the trailers close so tight that items could not shift. Unfortunately, I have had to put this design to the test on several occasions!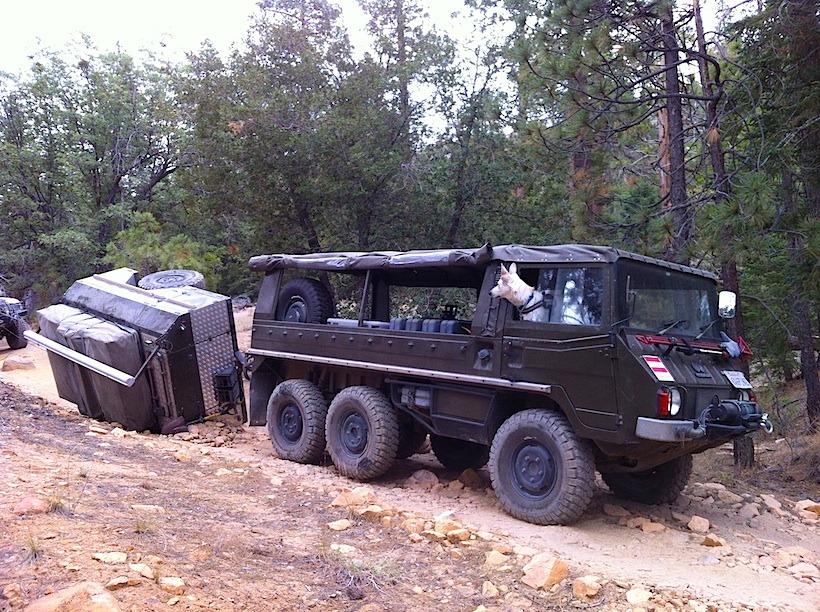 Here is a list of Bernhard Leitner's Off-Road custom camping trailer's components and specs:
-Year built: 2011
-Weight empty 1800#
-Weight fully loaded 2500#
-Tongue weight 500#
-Dexter Torflex axle with electric breaks
-80 quart 12 volt fridge
-2X deep cycle batteries/charge from tow vehicle or from 110 power
-2 burner propane stove/ 2X 20# propane tanks
-Full kitchen with table settings for 4
-140 cubic feet of storage space
-Sink with hot and cold water/backup hand pump in case of power failure
-1.8gpm water pump with .5 micron water filter/ can be reversed to fill tank from streams and rivers
-Full Led lighting in all compartments with 4 Vision X Floods for outside lighting/Red night vision Led lighting
-Eezy awn awning with 3 walls on kitchen side
-Instant hot water heater/ with shower tent
-25 Gallon main water tank/ 4 gallon reserve tank
-King size roof top tent with led interior lighting
LP: What's the best, most memorable time you've had in your trailer?
BL: Finally arriving at the Top of the World Highway in Alaska. We had driven 4,000 miles and it felt so good to get there! All the hard work I had done on the trailer paid off. I built it specifically to go to Alaska and it turned out really well!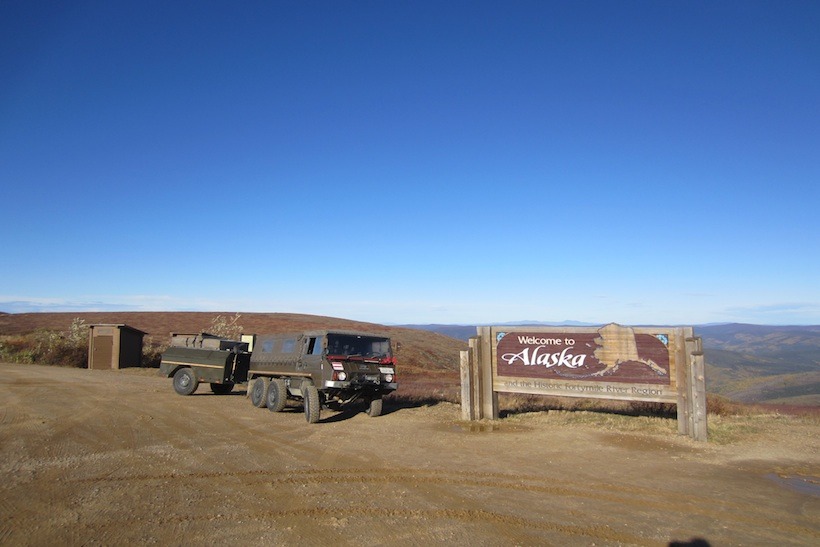 Watch Leitner's trailer in action:
Photos and interview courtesy of Bernard Leitner of Leitner Designs. Check out his Active Cargo System here.
Written by: Lori Palmer, TAP Editor