Here's the scenario: You pull in late, you're exhausted but you've got set up camp. You dig through a mountain of gear to find your tent. Then you fumble around with shock-corded poles and tiny clips (blinding your camp buddy, in the process with your headlamp beam). You blow up your air mattresses and unpack the sleeping bags. All you want to do is lay down and go to sleep. What's your option? Read on….
"Roof top tents have been popular with the overlanding crowd for years. Recently they've been gaining in popularity amongst more mortal folks who don't have the luxury of spending months at a time off-roading their way around the globe. Several varieties exist from nearly a dozen manufacturers ranging in price from about $800 to over $5,000 for high-end carbon fiber models. After much research we settled on the Maggiolina AirLand tent, size medium, to sleep me, my wife Melissa and our 2 year old son, Jackson. After using it for almost two weeks on a road trip around Oregon I've had enough time with it to decide whether I like it, or if we threw away a not insignificant chunk of change."
"I usually prefer to start with what I like about a product. This time, I'm going to start with one thing I really, really didn't like. In fact, I've even got a photo to share with you to demonstrate my point (see below). While you're looking at the photo I'd like you to imagine operating those latches without getting bug guts all over your hands. Yeah, it's impossible."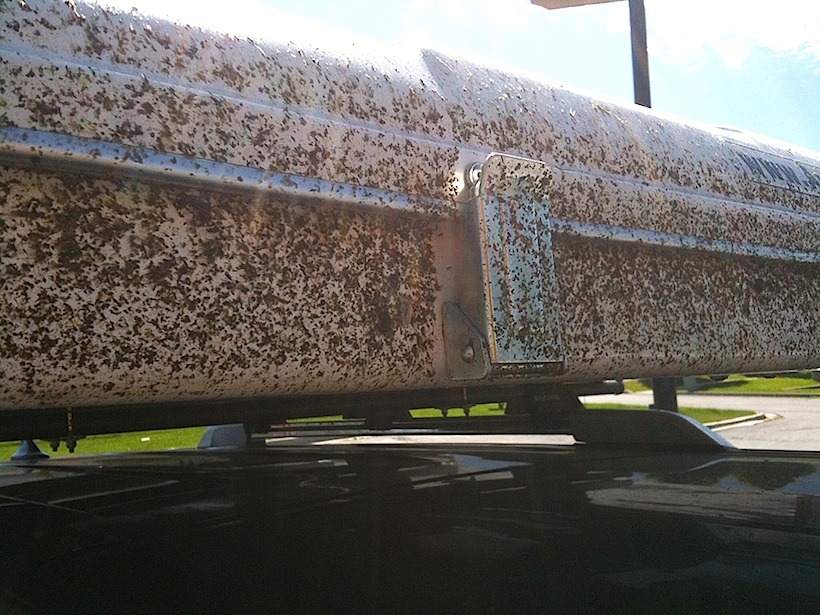 The Good
"Now let's move on to the good. The tent installs directly to your roof rack with four U-bolts. Installation is simple, but there isn't much room to tighten the bolts between the bottom of the tent and roof of your car. A self-ratcheting wrench works well. Once installed, deploying the tent upon arrival at camp takes about 1 minute and is easily managed as a solo effort. You simply unfasten two latches at the front and one at the rear, insert the hand crank and start cranking. The roof of the tent rises up on two scissor style arms until the fabric is stretched taut. Remove the ladder from inside the tent, extend it and secure it to the lip of the tent, climb inside and crawl into your sleeping bag for some shut-eye. That's right, your sleeping bag and pillows stay inside the tent, on top of the comfortable 3.5″ mattress. This saves time in set-up and saves precious cargo space inside your vehicle."
"The tent has two large doors on either side and two small, triangular shaped windows at the front and rear. Ventilation was excellent and the interior never felt muggy, even in the humidity of the Oregon Coast. Often times good ventilation comes at the expense of reduced water resistance, but a full night of persistent rain never penetrated the fabric. While on the topic of rain, you can store the tent when wet, and it is much easier to do than trying to disassemble and pack up a regular tent in the rain."
"Packing the tent away requires a little bit more effort and about 5 minutes of your time. Still, less than it typically takes to break down a typical backpacking or car camping tent set-up. The two most challenging aspects of packing up the tent are keeping the fabric tucked inside as the roof lowers and figuring out the best way to position your sleeping bag and pillows inside the tent for stowage. If you don't do it right, you won't be able to secure the latches. On the bright side, once you learn how to configure your sleeping bag and pillows you'll be able to pack away the tent much quicker."
"I expected a significant hit to our gas mileage and was pleasantly surprised to see that we only lost about 1 mile per gallon at 85 MPH. Yeah, we didn't always obey the speed limits.
"The footprint is quite small. If you can find a reasonably level place to park, you can find a place to set up the tent."
"The mattress is quite comfortable. It's firm but not harsh and is plenty long enough for my 5'9″ frame, with a few inches left over."
"You don't have to search for ground that isn't rocky, or wet or muddy or covered in thorns. You're somewhat better protected from animals and insects (ants, scorpions, etc.) although you're still game for large predators, like bears."
The Bad
"The tent ain't cheap. Retailing at $2,899 for a size medium, it's a lot of money for four canvas walls and some fiberglass."
"The ladder is sturdy but the rungs are painful on bare feet. Speaking of bare feet and the ladder, middle of the night bathroom breaks require a bit of effort. I determined that if I wasn't in pain, I didn't need to go bad enough to justify the effort."
"We had a couple windy nights and the tent performed fine but I don't think I'd want to test it in major gusts. I've read elsewhere that none of the Maggiolina roof top tents handle big wind very well and after using ours for a couple of weeks, I agree."
"This model has no storage pockets inside. I had to hang my glasses from a gap in the door, put my wallet and phone in a small cavity next to the mattress and my clothes at the foot of the bed. Some models come with pockets along the walls and a net attached to the ceiling, and I think all of their tents should ship with these storage solutions – especially at $3,000 a pop".
"All Maggiolina roof top tents have a small light inside, which is cool, except that the light is powered by a cord that you have to plug into your cigarette lighter. That's just silly. Put a battery powered LED light in the tent and I'm a happy camper (literally)."
"This may be a personal beef, but I'm not crazy about the door closure. There is no zipper on the bottom of the mosquito net door, which means you have to tuck it in to the mattress to keep the nasty little blood suckers out. The outer door has an extra long flap that hangs down a couple inches past the bottom of the tent, which could be a bit drafty in cold weather as there is no way to seal it."
"All said, I think the Maggiolina AirLand roof top tent is a quality product that definitely makes setting up and tearing down camp a less time consuming task. It's convenient, well made and a nice addition to our growing collection of tents."
Some Random Tips: If you decide to buy a Maggiolina roof top tent, here are some tips to help get you through the learning process a bit faster.
"First, read the instructions before you mount and/or deploy the tent. Seriously. I didn't, and doing so would have made things much easier and significantly reduce the risk of damaging the tent."
"As you deploy the tent, it is critically important not to let the roof slide forward or backward while cranking the roof into the up position. Use one hand to crank and one hand to keep the roof parallel with the front and rear of the bottom section. Failure to do so can result in bent scissor arms and a non-functioning tent."
"When packing away the tent, we found that it is easiest to lower it approximately 2/3 of the way before tucking in the fabric. There are two straps that tend to fall out just as you've almost got the tent closed and they can be easily pushed back inside if you notice it before the roof is all the way down."
"Be sure to remove the hand crank before you hit the highway. I left it in and noticed it in the rear view mirror a few miles down the road. Luckily, it hadn't fallen out or we'd have had no way to deploy the tent. After that, I started doing a walk-around to make sure all latches were closed, all fabric tucked inside and no crank was left in place."
Author: landscape and adventure photographer, Bret Edge.
Courtesy of: Melissa Edge, founder of Adventure Tykes