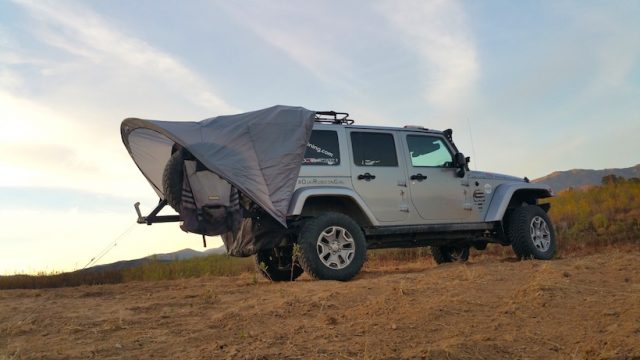 Even though roof top tents are all the rage in the overlanding world, I found that they just don't work for me. My Jeep build is unique because I designed my sleeping and storage space inside the cab. One of my challenges with this type of build is cab ventilation and maintaining a comfortable cabin temp. I also want an awning to shield me when utilizing space outside the back of the Jeep. My rear door opens and is equipped with a small utility table that I use as a meal prep area. I have searched to find a suitable shade or canopy to extend off the back, but haven't found one that works on my roof rack until now.
Napier recently released the new Sportz Cove 61500 at the 2016 SEMA show and it caught my attention. I have and use their Sportz Truck 57 Series tent on my Ford F150 for camping. It has held up in some tuff weather conditions over the years, so when they released the Sportz Cove, I had to try it out.
Now, my truck tent is designed specifically for my truck bed size etc. The Sportz Cove is made to fit on a variety of hatchback style vehicles, so my concern was that it wouldn't be diverse enough to fit right. One size does not always fit all. We have two Jeep JKU set ups, one with an aftermarket build and one stock. My questions going into this product review were, would the Sportz Cove fit both of our rigs and would the awning provide sufficient coverage?
I was pleased when my package arrived, it was small, lightweight and could store easily, but the real test would be out on the trail.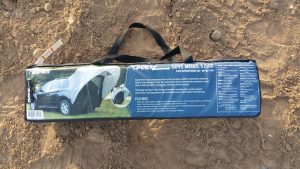 We decided to take the Sportz Cove on a short photography trip with our stock 2016 JKU. Our plan was to set up and work out the back, testing the Sportz Cove canopy coverage. The tent unpacked easily and quickly. Thankfully, it doesn't have a million pieces to assemble, just the tent, the collapsible frame, tie down ropes and stakes. The directions are very easy, and set up did not take long at all. Probably about ten minutes.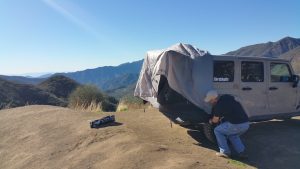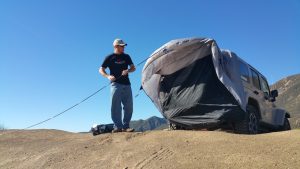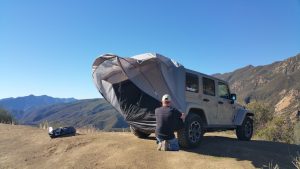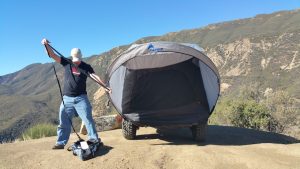 Thankfully, with a Jeep, if the attachment areas on the directions don't exist, they have many standard frame, recovery mount notches and tie down points. These served well to secure the Sportz Cove.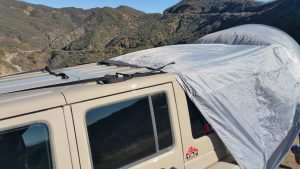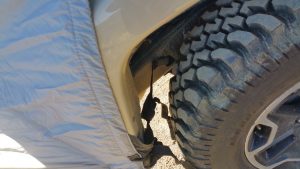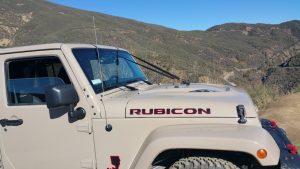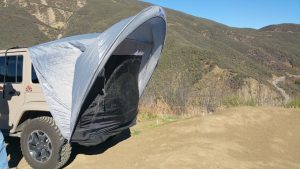 Having the rear canopy was extremely helpful, giving me a place to get out of the sun and wind to review my work, rest and enjoy the view.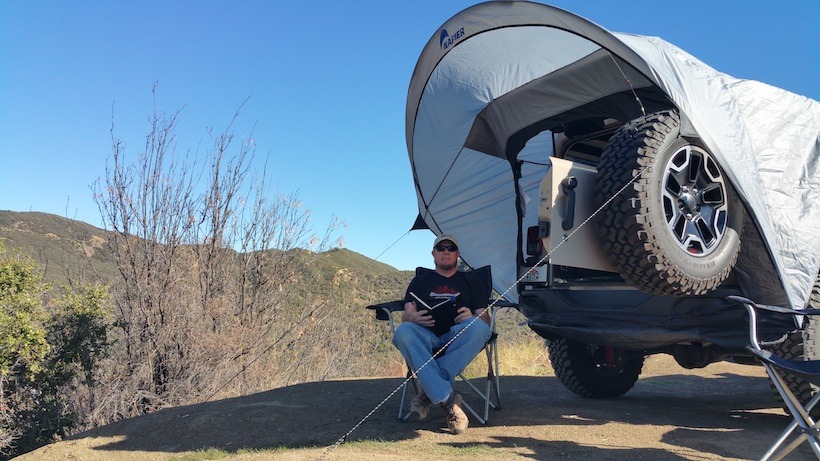 So, the Sportz Cove passed the first test run on the stock JKU. It was easy to set up, withstood a long day of light to medium winds up on the mountain peak, provided ample shade off the back and was easy to take down and pack up. Next, I was eager to see if the tent set up would work on my modified rig as a tent. The following week I was invited on a nearby camping trip….perfect!
Again, the set up was very easy. My concern was, whether or not it would fit over my aftermarket rear bumper, tire carrier and roof rack. I was pleasantly surprised that the Sportz Cove was able to snugly fit over all my aftermarket upgrades!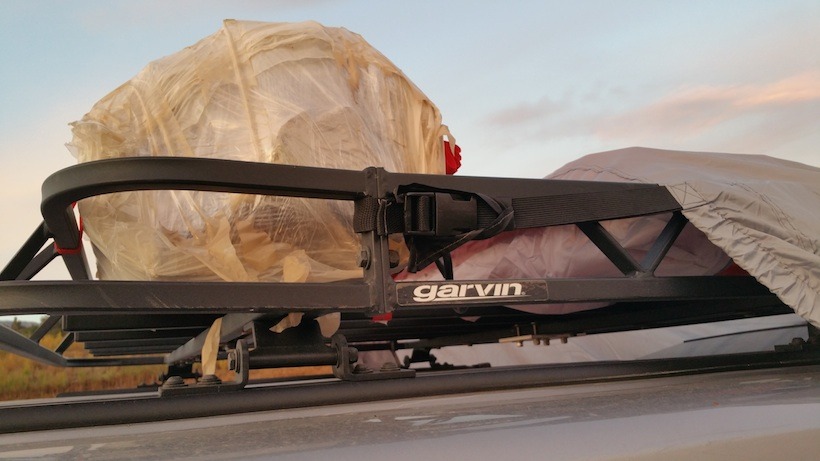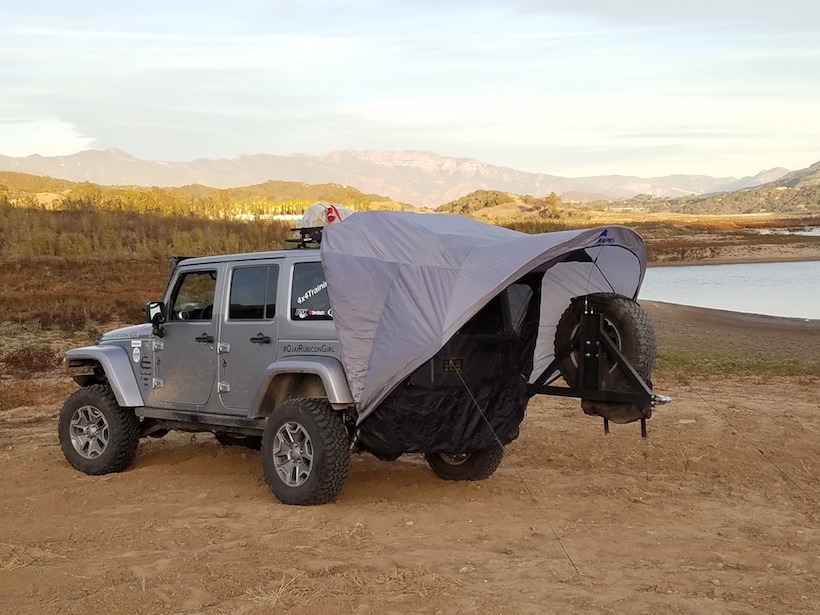 Since I sleep in the cab, in the summer it's always too hot and in the winter, too cold. I like to keep the windows cracked a little for fresh air to try to maintain a comfortable temperature, but the bugs can be a pain. Now, when using the Sportz Cove in warmer months I can leave my back window up and use the tent's bug netting to keep critters out and fresh air coming in.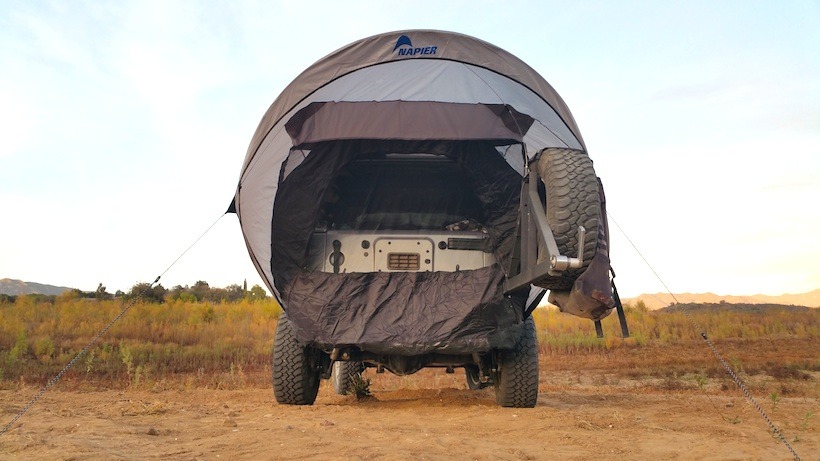 I can also zip up the second layer to block out sun and wind enabling me to better control the in cab temperature. That evening I slept comfortably and bug free.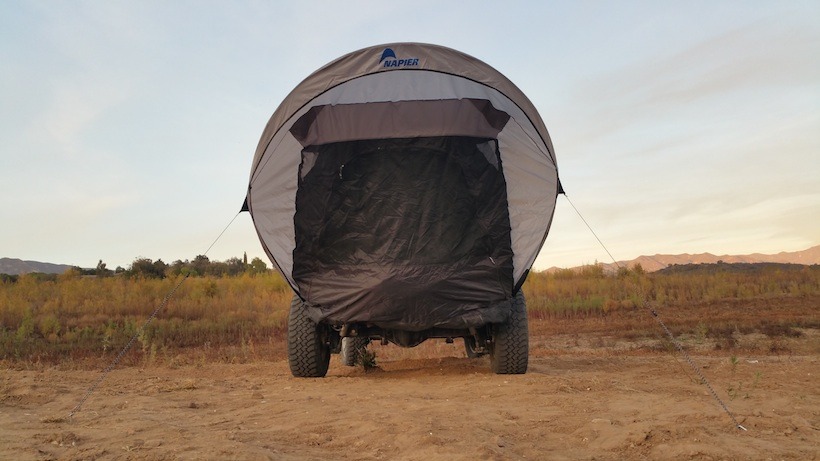 The Napier Sportz Cove vehicle tent worked out really well. I use this rig year round for all my overlanding trips and really needed a car tent that would help me manage cab temp, ventilation, and again, provide a good sized awning out the back. The Sportz Cove gives me all of that. So now I get to camp almost in a tent, (Without being on the cold, lumpy ground.) have awning coverage out the back and the bonus…..it's super easy to set up.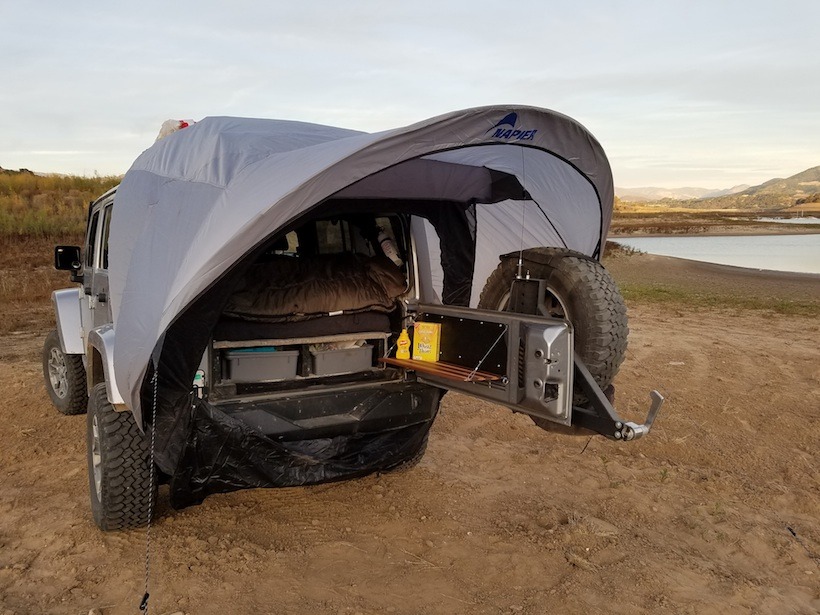 This tent will help me maintain cabin comfort year round and the canopy provides abundant protection from the elements even with the larger rear tire carrier.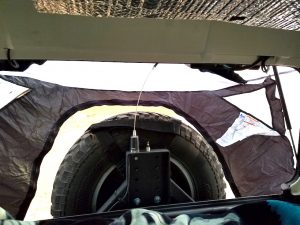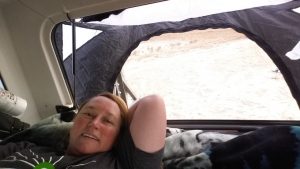 So, the search for an affordable, unique, and easy solution to my aftermarket, overlanding vehicle was easier than I expected. I like it's ability to fit on a diverse set of vehicles, as well as it's easy set up, take down and compact storage size.
Check out napieroutdoors.com and get out there and TAP into Adventure!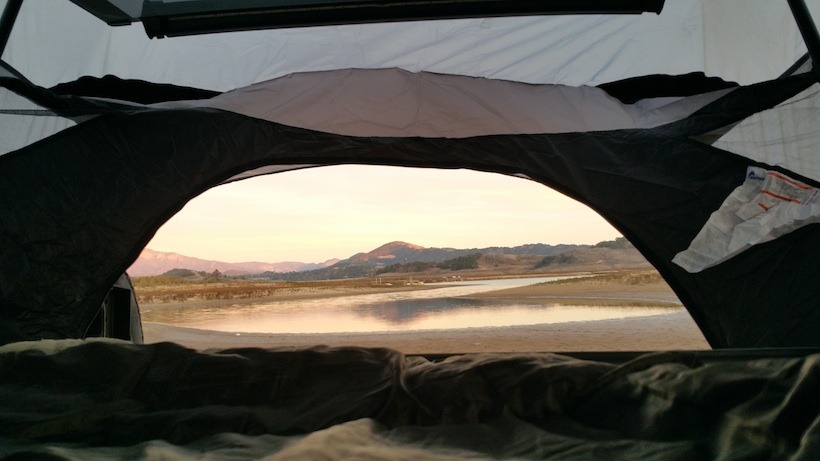 Napier listed features of the Sportz Cove 61500
-Universal vehicle sleeve designed to accomodate all mid to full-size SUB's, CUB's and Minivans
-Over 2 ft. of awning coverage
-Entrance includes built in storm flap for weather protection and privacy
-Mesh screen door provide bug-free views
-Rear vehicle access offers convenience and storage solutions.
Article and Photos by Lisa VanRijnsoever