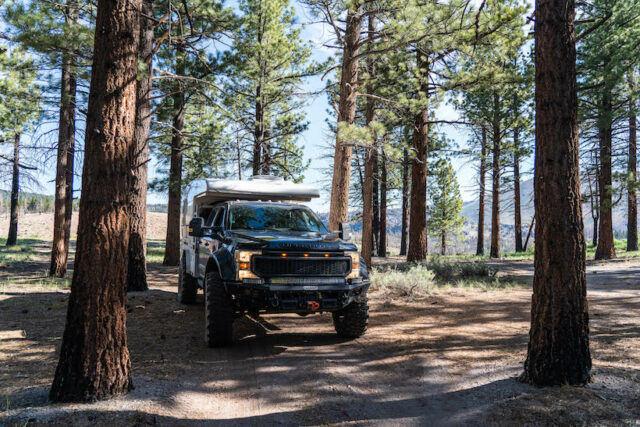 Last month we were handed the keys to the Nimbl Evolution Max Expedition Vehicle and took it for a four day spin in the Mammoth Mountain and east Walker River area. Let's be clear, this is a monster rig and if you want to blend in, it's not for you. Everywhere we went, people wanted to talk to us about it and frankly, who can blame them!? So, here's our thoughts and a run down of what you get when you order up such an impressive expedition vehicle.
Ford 550 Lariat Super Duty:
As we said, this is no shy retiring flower. Its size is immediate and a little intimidating on first approach. That being said, once behind the wheel it's a steady, smooth, and easy drive. The 6.7l Power Stroke and 10 speed transmission makes light work of freeway travel. Off-road, the 1,050 foot pounds of torque also delivers power on command and gave us a real sense of confidence over the miles of dirt roads we covered. Over the four days we drove 1,200 miles and achieved 13MPG (surprisingly only slightly less than the TAP 4Runner). The rigs tires, were gigantic Continental 43.6″'s and despite an easy to use winch system to lower the spare, I was definitely hoping not to have to make a change (I didn't). The rig's exterior package was rounded out with Bodyguard Industries front armor which was aesthetically pleasing. Sometimes I feel that big rig armor can be overkill and detract from the overall look and feel of a vehicle.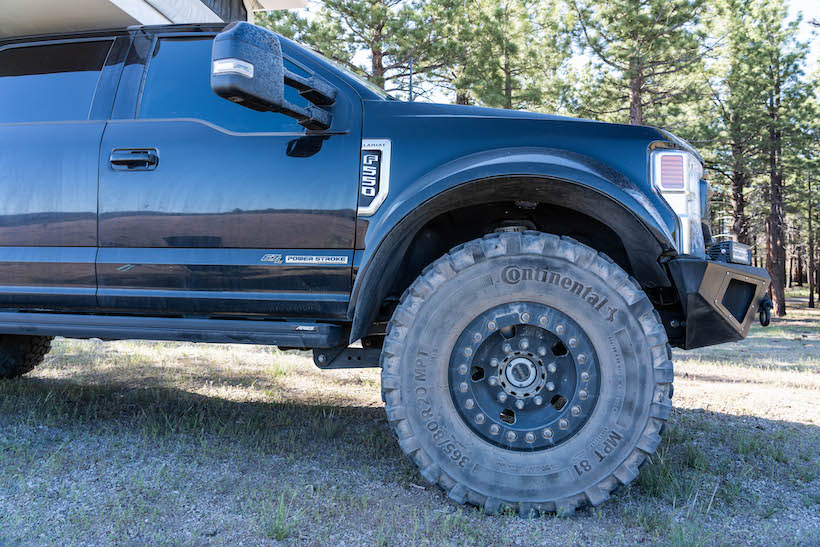 F550 Lariat Details:
Tires: 43.6″ Continental
6-17 differential gear ratio
6.7L Power Stroke with 1050 foot pounds of torque mated to a 10 speed transmission
Bodyguard Front Bumper w/ 16.5K winch with synthetic winch line
Rigid Industries Amber LED Fog Lights & offroading lighting via 3 Rigid light bars mounted to front bumper
1080P rear view mirror/camera
ActionTrac Steps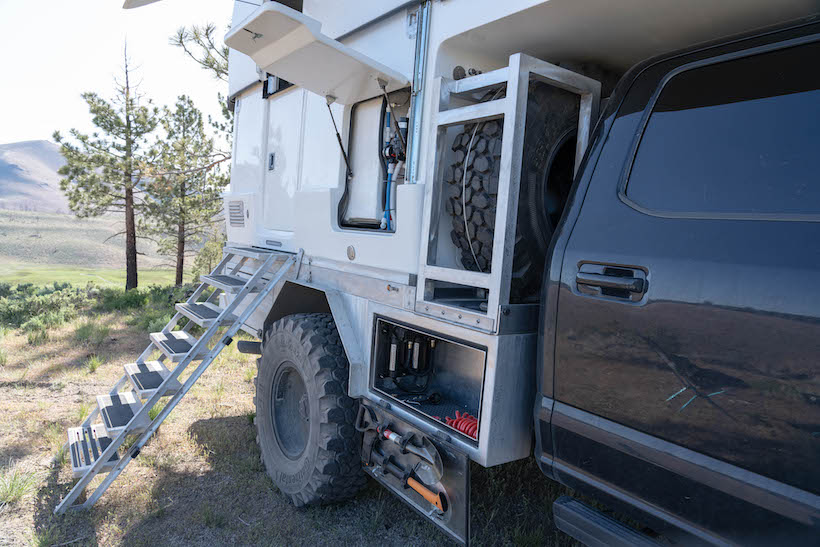 Flatbed Construction:
The custom Aluminum Flatbed is a work of art in its design. It is mounted to the frame using an aluminum channel, slats, and vibration mounts. From a design POV it truly supports (figuratively and aesthetically) the Nimbl Vehicles Camper. Practically, it also provides copious storage opportunities, with lockable and sealed rear and side storage cubbies/drawers. We spend a lot of time on the trail and can attest to how important a feature this is, as it allows you to separate all necessary outside gear (recovery, camp chairs, fire pit, tools, etc) from the internal living requirements (food, clothing, cookware).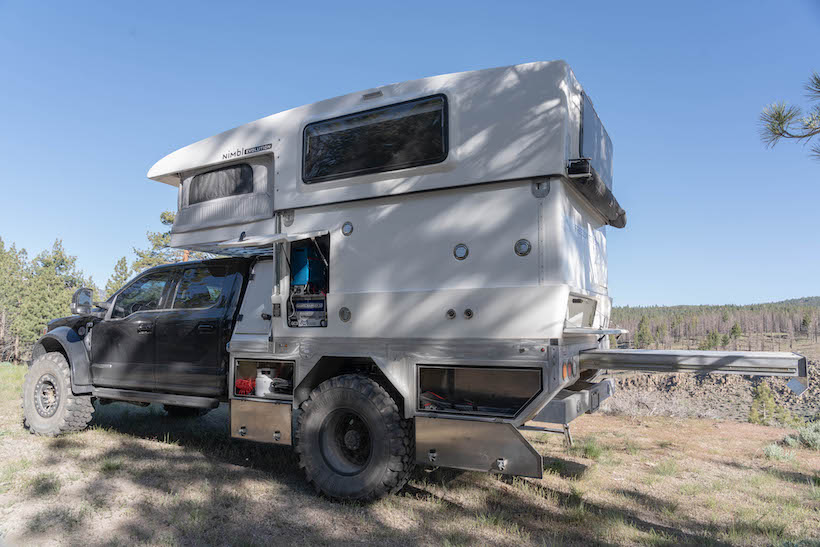 Custom Aluminum 10′ Flatbed with lighted storage boxes. Flatbed is mounted to frame rails using aluminum channel, custom made aluminum slats & 6 vibration mounts.
Custom Nimbl aluminum rear bumper – Rear drawer is 6′ with an 8′ option
4″ drop nearest the cab to accommodate for the custom spare tire cage with automatic winch lifting system using 2500 lb ATV winch & storage box with removable shelving
Compressor & tank are added to the boxes/under the flatbed
Axe & Shovel in one of the storage boxes
Stair Lighting in flatbed
The Nimbl Evolution Camper Design:
Made from a seamless Monocoque design. "Monocoque is a structural technique in which stresses are reacted by a thin membrane or a shell of material, rather than a collection of beams. Such structures are stiff in bending, and light, and are therefore ideal for weight-sensitive vehicles".
What I truly loved about the Nimbl Camper is that it operates with a smooth and quiet automatic Hydraulic Lifting Mechanism (which of course comes with a manual override and remote control). The advantage of this is two fold; (1) it creates a low profile, aerodynamic structure when driving, but obviously allows for significant living space when deployed and (2) while other lifting camper roofs tend to be human assisted, this was truly an easy setup.
Water System:
Baffled 75-gallon Fresh Water Tank
24-gallon Gray Water Tank- Webasto ThermoTop Diesel/Petrol Hydronic Water Heater
Carbon Block Water Filtration System
GuzzleH20 DC Ultraviolet Water Sterilizer
Spacious Wet Bath with Shower and Cassette Toilet
Exterior Shower
Power System:
2 Battle Born 270 Ah Gamechanger Batteries (with the option for up to 1080 Ah total)
Victron 3000-Watt Inverter/Charger
Victron BuckBoost DC-DC Charger
Victron Smart BMV Battery Monitor
Victron Color Control System Monitor
Victron SmartSolar MPPT Charge Controller
570-Watt Solar Array Rooftop (3 Panels w/ option for a 4th panel)
Nimbl Evolution Camper Interior:
The campers interior was everything you'd expect of a premium build. With a large sleeping area, kitchen, dinette and shower/toilet. It was well designed and relatively spacious. We were only gone for four days on this trip, but I could easily see spending longer periods. In my opinion it's comfortably suits a couple or possibly three people, if you're all good friends (or family).
The bed was a comfortable east/west queen mattress (60″x77″) with underneath storage, which we used for our bedding while traveling. An enjoyable feature was the skylight window above the bed, that allowed for star gazing and extra air flow.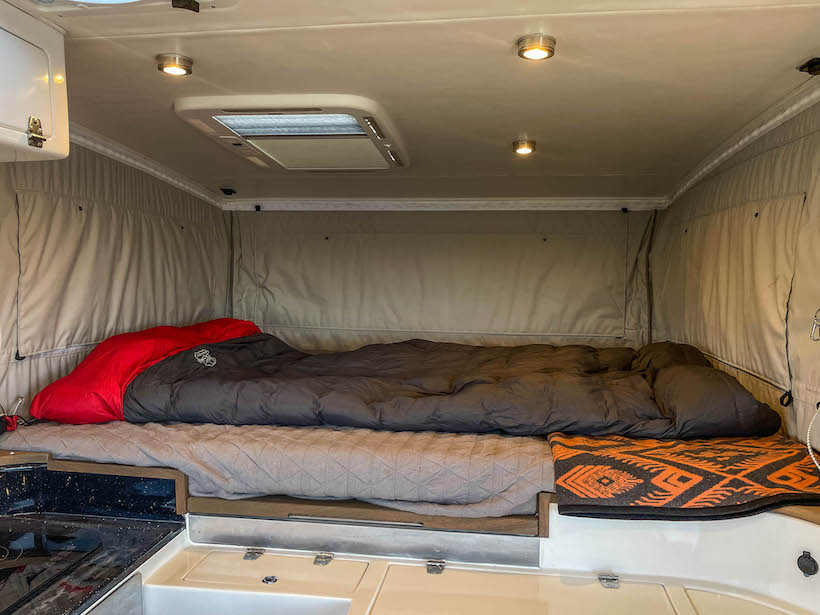 The kitchen provided a spacious fridge/freezer, induction dual burner cooktop and sink.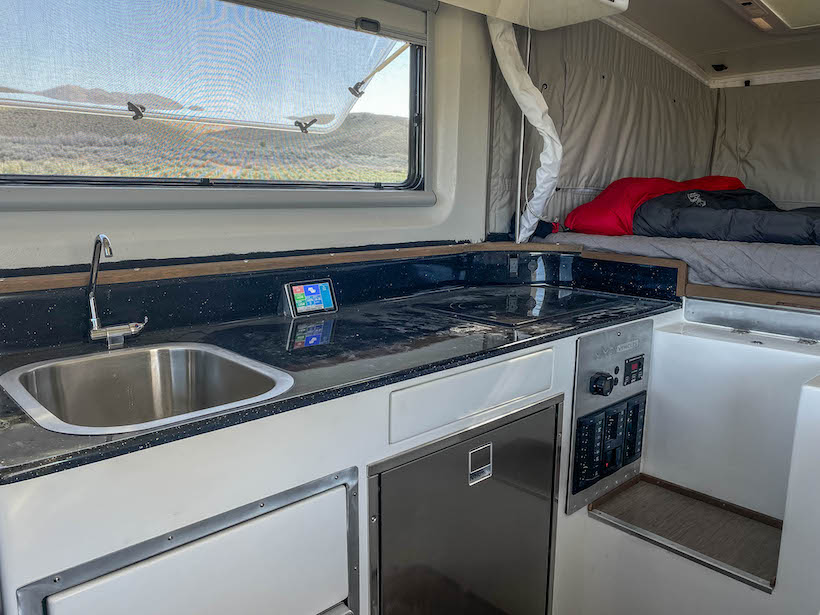 The dinette was comfortable with a removable/adjustable table that could be converted into a small bed if required. Visibility to the outside from the dinette was excellent and gave an airy feel to the interior.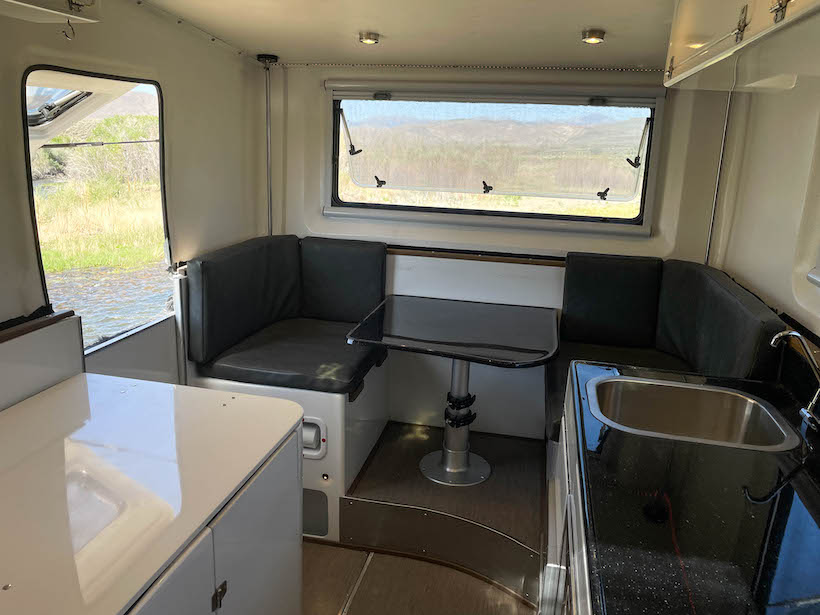 Finally, the interior included a compost toilet and shower. As someone who's a minimalist, I'm a shovel and hole guy, but I can fully understand that this is a fantastic feature for many consumers. The compost system works very well and has an additional outbound airflow system to help with odor control.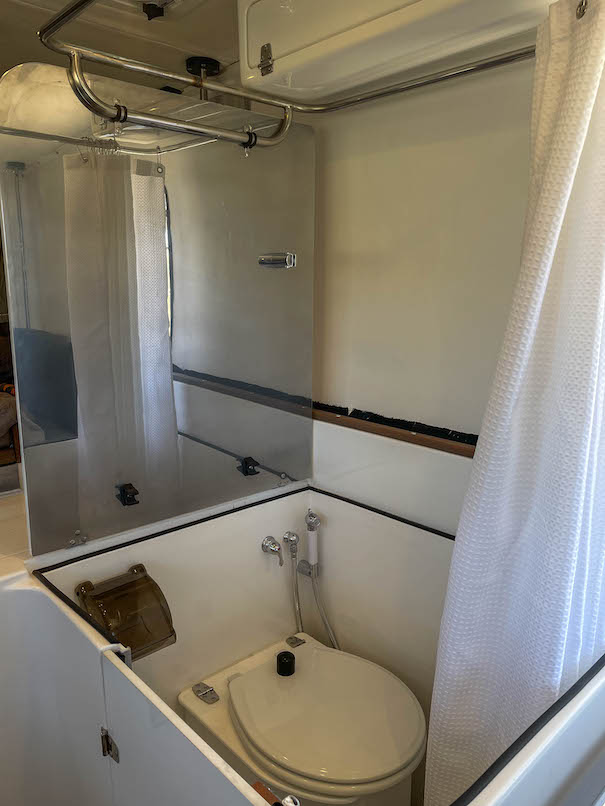 Other noteworthy features:
Custom Memory Foam Sleep System (East West Custom Queen, 60"x77")
Dual Tern Overland Double-pane Euro-Style Windows with Integrated Shades and Screens
Marine Grade Vinyl Flooring- Extreme Weather Nimbl Softwall Tenting
LED & RGB Lighting Throughout
Isotherm Stainless Steel Refrigerator — 4.6 cu. ft., AC/DC (In-cab Prewire for additional refrigeration from camper battery system)
In Cab Fridge/Freezer
Maxxair Plus Dual-ceiling Fans
True Induction Dual Burner Induction Cooktop
Premium Leather Dinette Upholstery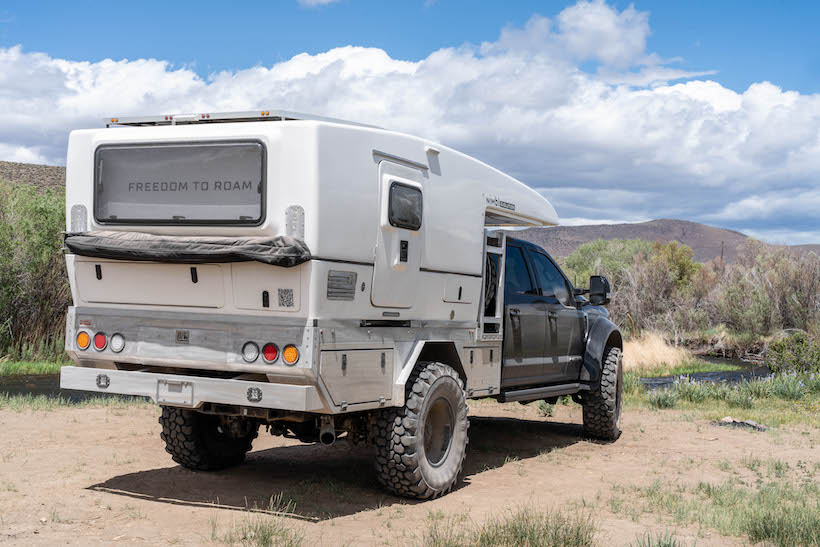 Conclusions:
A four day trip in the mountains hardly produces an exhaustive review, however, it did provide us a great insight into the world of premium expedition vehicles. At a price range of $267k-400K, obviously the Nimbl Evolution is for a select audience. However, if you have the means and you're looking for a truly capable expedition vehicle that is beautifully designed and atheistically pleasing, you need to take a serious look at the Nimbl Evolution. It should also be noted that the vehicle we drove, was the Nimbl Evolution Max, built on the commercially sized F550 platform. The Evolution can also mounted on any 1 ton pickup (Ford F350, Ram/Chevy 3500) which may be more practical for everyday overland adventure travel.
To read the story of our trip in the Nimbl Vehicle click HERE
____________________________________________________________