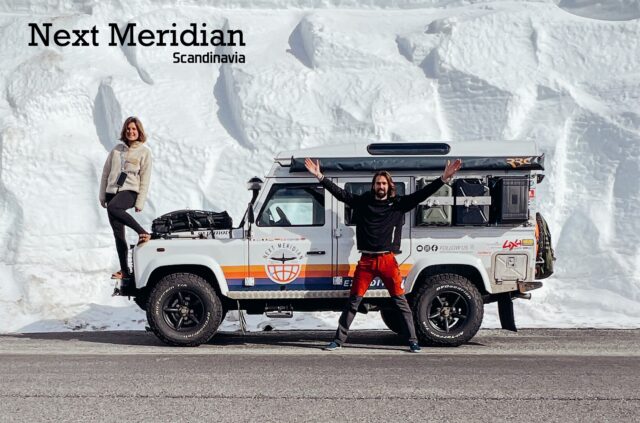 Overlanding in Scandinavia: After 2 years of preparation, on April 18th, 2022, we left the French Alps, and officially started our Overland World Tour. We are Mathilde and Nicolas and we left everything to travel the world in our Land Rover Defender nicknamed Albatross. At 28, we embarked on a 3-year journey in our Defender td4, spanning 7 continents and 88 countries. No more apartment, no more job, no more deadlines. So much for a change of life.
Technically, Scandinavia is part of Europe, right? In some way for us and even though we already travelled quite a bit through the continent and are both European, Scandinavia always felt like a distant land, wilder and rougher. The land of Vikings. Embarking on our world tour, we couldn't resist exploring Scandinavia, despite the urge to rush far beyond Europe. We made the most of the 2-month wait for our boat to Canada, driving 7000km through Germany, Denmark, Sweden, and Norway on our way to North Cape. We later drove 3000km through Finland before heading back.
Denmark and Sweden: we move in the car
Moving into the defender was more natural than we thought it would be. We settled into the car as if it was our new apartment. It felt immediately natural. Thinking about it, it's probably the good weather of these first two weeks in Denmark and Sweden that got us so quickly accustomed to this new life. The water heating system (heat exchanger) installed before the trip allowed us to take hot showers regularly has surely helped as well. We were able to Offroad drive, hike in the sun, cook and eat outside, in short to make the most of Albos set-up.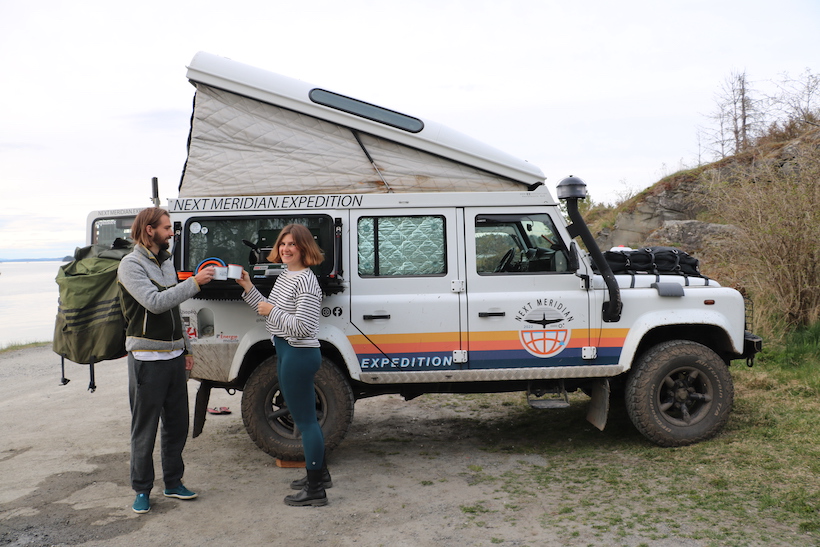 We already travelled several times in Denmark and Sweden. So we focus on the places we had not seen, the western coasts. In Denmark we went through endless beaches and dunes stretching as far as the eye can see. There, you can even offroad drive on the beach: happiness overload. Be careful though, we heard too many stories of travelers with their vehicles stuck in the sand on the rising tide. In Sweden, we drove through archipelagos connected by ferry and rocky coasts, not the ideal for offroad but magnificent to discover by foot. Finally, we realized that the best part of these first two weeks were encounters with other overlanders.
As we document our travels on YouTube and Instagram, we get to meet a lot of travelers online, so we took the opportunity to meet some of those virtual friends in person. Most were Defender owners, and all had traveled extensively. We brought the beers, and they would invite us for dinner in their homes and propose to do laundry, a huge gift when you're on the road! We would spend the night talking about the country, the culture, and traditions. Both of us understand quickly that these encounters are going to boost our trip, meeting people for us is key and is also the best way to learn about a country and will constitute the key moments of the next three years on the road.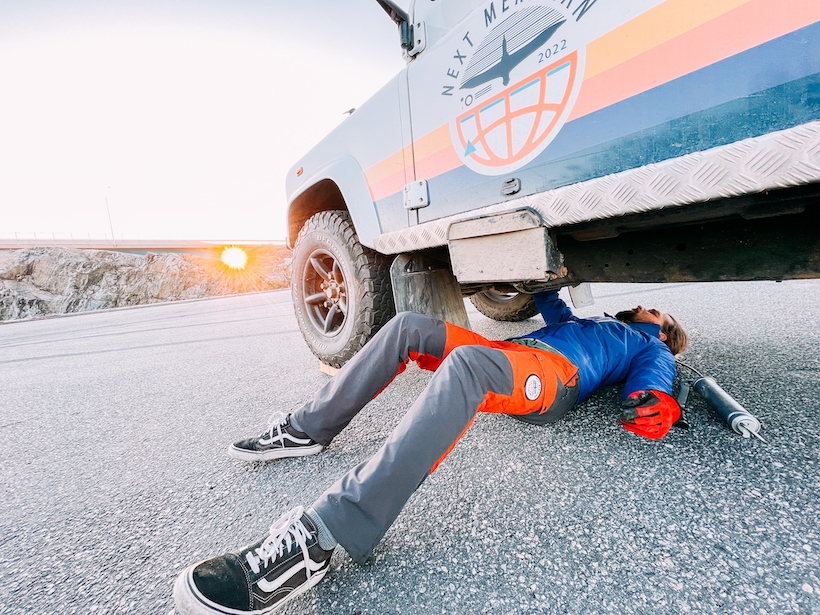 From Denmark and Sweden, you can easily hop in ferries that would bring you to Finland or to Norway if you wished to shorten the transit time to the location you wanted to visit.
Adventure mode ON in Norway
We understand immediately that Norway was going to be the country for us. Once passed the capital Oslo, the road starts winding through the mountains. There is no rest in this country. The roads go up and down at the rhythm of the valleys. Another world. On the south-western coast the land of the famous Norwegian fjords begins. You have to imagine huge mountains falling abruptly into the grey and narrow waters of the sea arms – we are talking 600m to 900m high cliffs.
There is so little space left to men in this extreme typology. The roads are magnificent, the hikes are breathtaking. We engage always more to the north; at this latitude the Spring weather is like a toss of a coin. One continuously travels between spring at the bottom of the valleys and winter in snow-covered passes under 3-meters high snow walls surrounded by frozen lakes. It begins to get cold. But after weeks on the road we are now well accustomed to the life in the car.
Norway is so grandiose that we forget about it even under the pouring rain. In the Summer, tourists and mosquitoes take over and it can get overwhelming both for the visitors and the locals. Visiting Norway at this period we had the opportunity to see these breathtaking landscapes in a more intimate way and find nice wild camping sites even in the most touristic regions. The downside of it, is that some roads are not yet open, and you will need to put your feet in the snow to reach some of the most famous viewpoints. Overall, we do not regret to have come so early in the season and would probably do it again this way.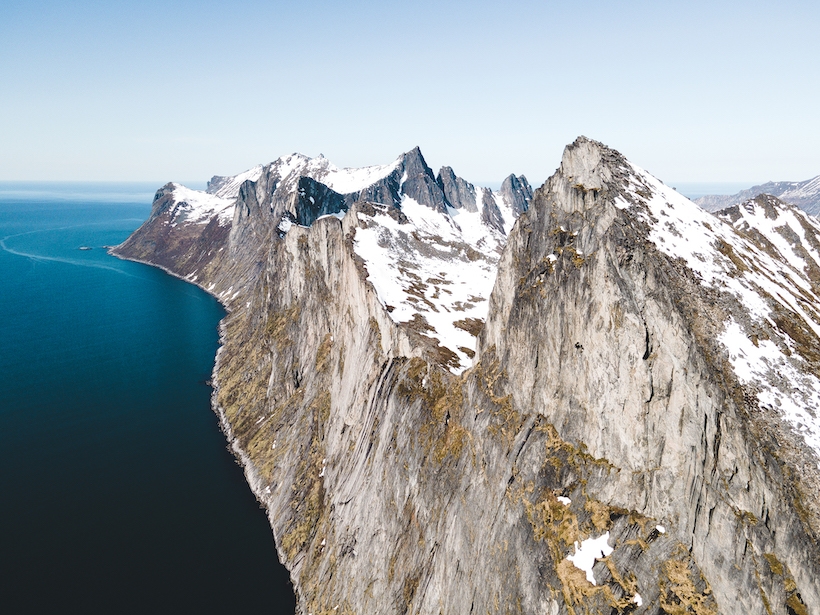 We continued always north and passed the latitude 66° officially entering the polar circle. We are now surrounded by snow and small birch trees scattered in the plains. Both of us see our first reindeers on the road. It is mid-May, and we really have the impression to have reached the true north. There is no more night-time, we wake up at 2am thinking that it is time to wake-up.
In Bødø we hop in a ferry direction the extreme western point of the Lofoten archipelago. If you need to mentally represent yourself the Lofoten just imagine alpine peaks dropped on sand beaches. It's a must if you come to Norway. Especially for its Grandiose hikes above the cold waters of the Arctic. Further up north, do not miss the islands of the Vestragren and Senja. They have nothing to envy in beauty to their Lofoten southern sisters and offer a wilder set of amazing landscapes.
In the end, Summer arrived at the North Cape. After 5 weeks, hundreds of tunnels and 7000 km on the road and off-road, it is under the sun and with 15 degrees Celsius that we made it to the northernmost point of the European continent. In just a few days, the icy road and the cold fogs described to us by travelers coming from cape north was replaced by a blue sky. It opened us a clear horizon from the edge of the cliffs above the artic ocean. We had finally reached the maximum latitude for this European loop. The midnight sun is well installed, and it is time for us to take the road south.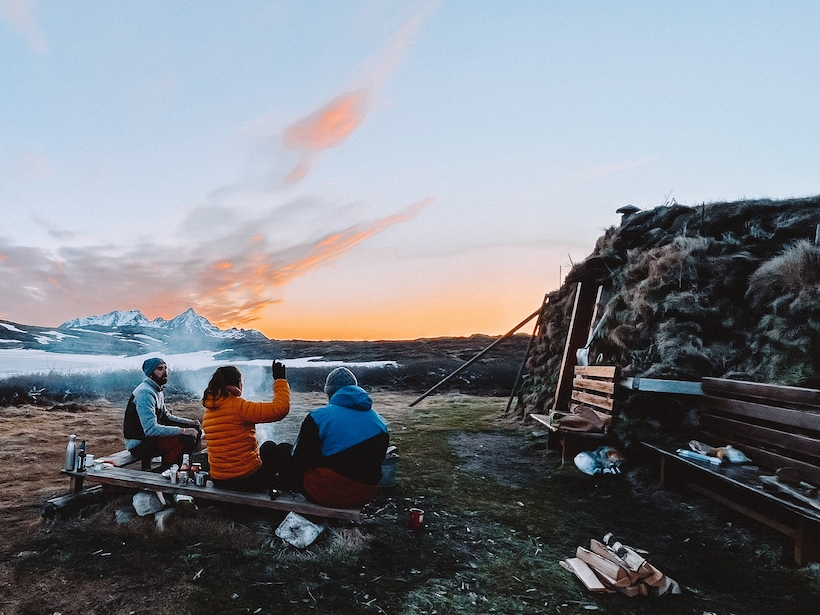 We re-learn to travel in Finland
We crossed the border in the extreme north of Norway to Finland. Just like magic, the sinuous Norwegian roads straightened into endless sections of straight roads. We had entered the Finnish Lapland. We never really prepare our itineraries in detail before entering a new country. In Finland we understand quickly that it will be very different from Norway. Not really a list of defined points of interest, hikes, visits, viewpoints. At the risk of being reductive let me try to describe Finland: it is flat and covered with forest. Goodbye the steep hikes and mountain views. Hello true wilderness. You do not visit Finland, you live it. Reindeers at every crossroads, off-road tracks in all directions, lakes, again and again lakes (180 000 listed in the country), and endless archipelagos are on the menu there.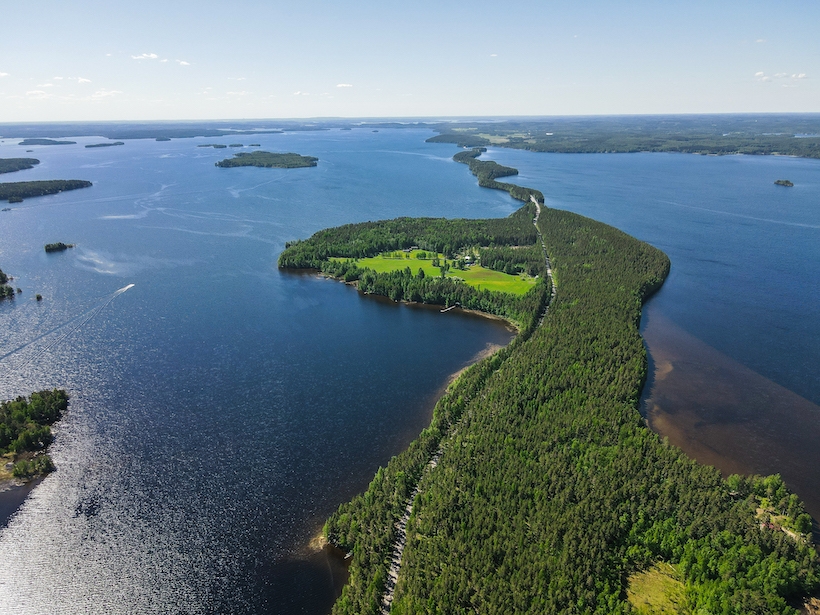 How to make the best of this unique Scandinavia environment? We deflated the tires and we decided to cross Finland only using off-road tracks. In 2 hours, we had mapped the tracks which would take us south. Magnificent paths, rubble, dust, mud, and of course, rivers to cross. After only a day, Albatross our Defender had lost its immaculate white color and we constantly kept a 1-meter distance with it at the risk to be also covered with mud. We saw almost no one in 7 or 10 days. If it was not for a border control patrol while we were travelling along the border with Russia in search of the bears, we would not have interacted with anyone in the Lapland. We did not see more bears than we saw travelers on the tracks, but we found the best bivouacs of our entire Scandinavia trip in Finland.
In the Lapland and in the east, wild lakesides just for us, and abandoned boats, which we did borrow for a picnic. Further south in Lakeland, there were tons of free public camping areas with tables, docks to the lake, sauna, toilets, fireplace, and wood reserve for people to use. Of course, no one around. This was unheard of for us. Finland taught us to slow down, to appreciate simpler but equally beautiful landscapes. Finland is a 4×4 paradise for nature lovers.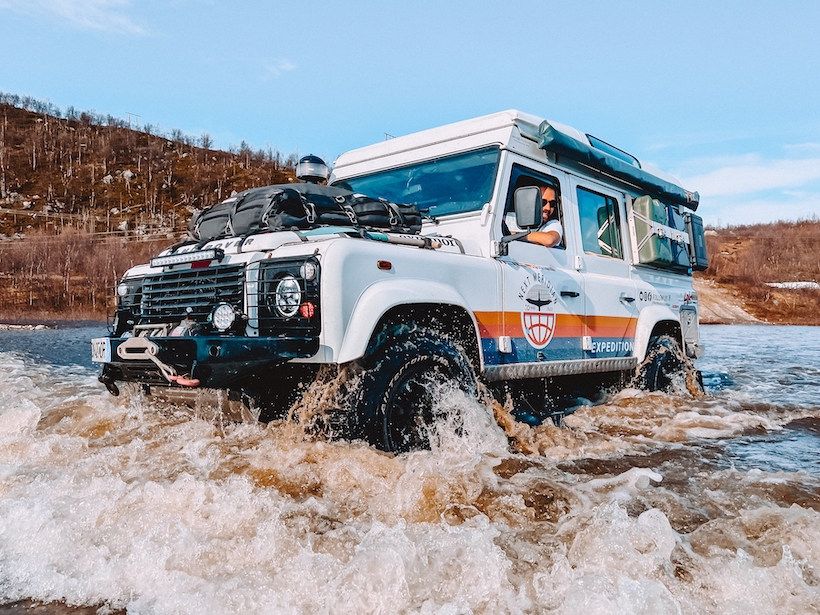 Summarizing Overlanding in Scandinavia
Well, let's talk about money, we have been asked multiple times: "Is Scandinavia expensive? Yes, Sweden, Denmark, and Finland are expensive, Norway is even more. We go on hikes, wild camping, we avoid toll roads, and we cook in Albatross. That helps us save a lot and does not make the trip less pleasant. Eventually the recent fuel price increase (reaching 2.4€/liter) was what made the trip expensive.
In short, go to Denmark for the long beaches. Sweden for its rocky archipelago and forests. Norway for the breathtaking landscapes and Finland for the off-road and forests. A constant in all four? First the beauty of preserved nature and second the level of security. We don't think there is another area in the world where you can leave your fully equipped and loaded overland vehicle, keys on, in the parking of a supermarket or overnight parked in town. Well, we met Norwegian people who were doing that on top of leaving the door of their house open when they were not there. The time of the Viking raids is long gone.
There is something for every overlander in Scandinavia. Just pick a set and enjoy the ride. You can re-live these last months of travel in Scandinavia or follow our current trip in the Americas through our videos on our YouTube channel or Instagram: Next Meridian Expedition.
Mathilde Vougny and Nicolas Chazee.
For more Overland and Off-Road Trips, CHECK HERE