As the days start getting longer again and winter fades into the past, it's time to turn our thoughts to camping and adventure. Here's a quick look at some items that made TAP's 2022 Spring/Summer Gear Guide.
_______________________________________________________________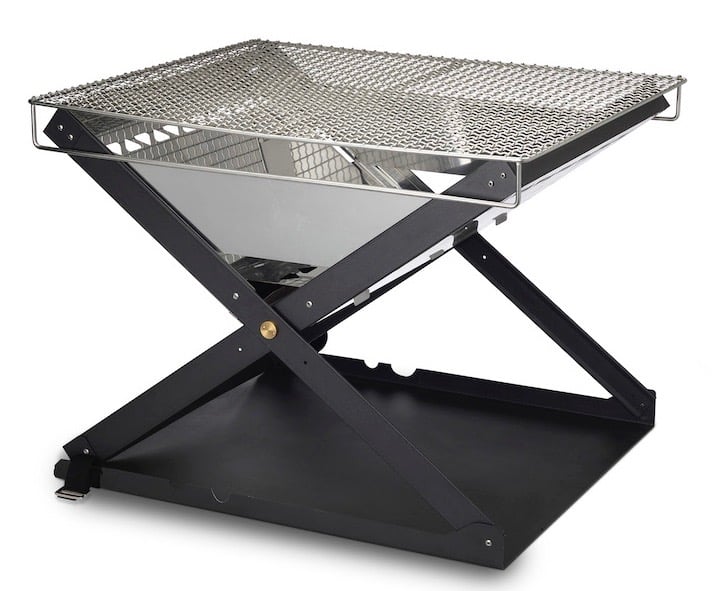 Create that campfire feeling wherever you want, the portable Kamoto Fire Pit can be used anywhere, with wood or charcoal, for ambiance, cooking or grilling. It packs flat for convenient storage and travel, and quickly unfolds faster than you can build a fire!
In addition to any campsite or rafting rig, this leave-no-trace, use-anywhere fire pit is ideal at the beach, your backyard, or even a parking lot tailgate party. The integrated ashtray/base protects the ground from heat or embers. A removable grill grate is ideal for open-fire cooking. The powder-coated frame is stable and robust for countless campfires. The stainless steel windshields and the air inlet tray combine for efficient combustion.
( 21.2lb) | extended dimensions: 18.5" x 15.7" x 25.6" | folded dimensions: 18.5" x 2.4" x 25.6")
_____________________________________________________________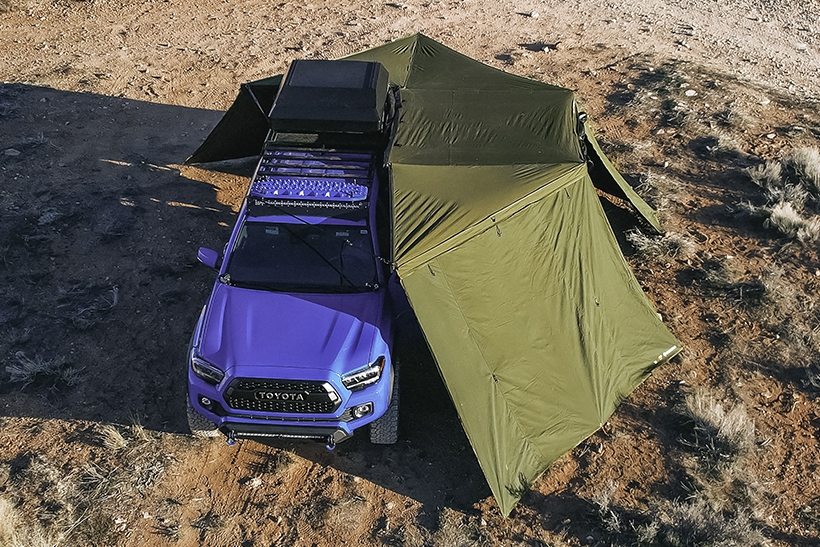 The 23 Zero five-arm Peregrine 270° Awning has a free-standing design that spans nearly 20ft along a vehicle and can be set-up and packed down by a single person in under 60 seconds. It is suitable for mounting on almost all 4WD vehicles and trailers including teardrop trailers with a rear galley. The Peregrine 270° Awning offers an incredible amount of shelter and is the perfect roof rack awning choice for your overlanding or camping set up. Ideal for overnight stays, meal breaks and long-term base camping. Our Peregrine roof rack awnings are made with a 280gsm PU coated Ripstop poly cotton canvas fabric and come with Light Suppression Technology reducing the temperature underneath the awning by 20% and helping you avoid sunburn. The Peregrine 270° awning provides second to none shelter and coverage and offers optional walls (2), which, when erected, can provide up to 279 sqf of shelter around your vehicle making it ideal for both sun and rain protection. Measuring 88 inches when stowed it is suitable for many mounting applications. Incorporating two convenient integrated swing down pivoting telescopic legs for ease of set up and pack down and constructed with extruded box alloy rafters and cast alloy hinge mechanisms the Peregrine 270° Awning is surprisingly light weight at under 51lb. You can opt for a driver's side or passenger side opening and they all come with mounting hardware for most cross-bar style roof racks, "L" shaped mounting brackets, additional telescoping legs, guy ropes and stakes.
MSRP: $999 (Awning only) and $1597 (With two walls) – Excluding shipping Buy HERE
_____________________________________________________________________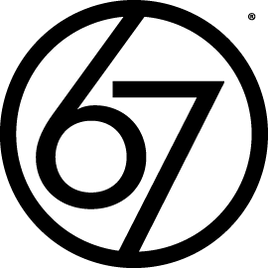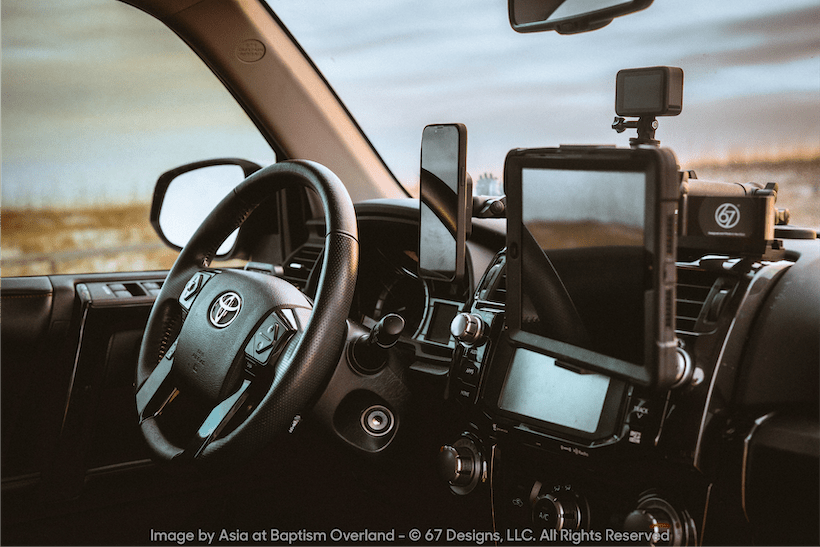 The 4RunnerRailTM by 67 Designs is the lowest and most discreet device mounting systems on the market today. The aluminum rail sits discreetly atop the dash and allows up to 5 different trackball mounting points to add arms and device holders. 100% Designed and Made in the USA as part of the Series 55 range of bases. Combine with arms and holders from the Carbon Fiber SeriesTM to mount everything from phones, tablets, GPS units and more.
About 67 Designs:
Established in 2012, 67 Designs has been particularly involved in the Jeep® and overlanding community for the past several years as the preeminent mounting solution. Per the request of customers, 67 Designs now offers products suitable for Jeep®, Ford, Ram, Land Rover, Toyotas, Sprinter vans and more. 67 Designs currently sells online, and their products are used across the globe and help enable the best adventures.
________________________________________________________________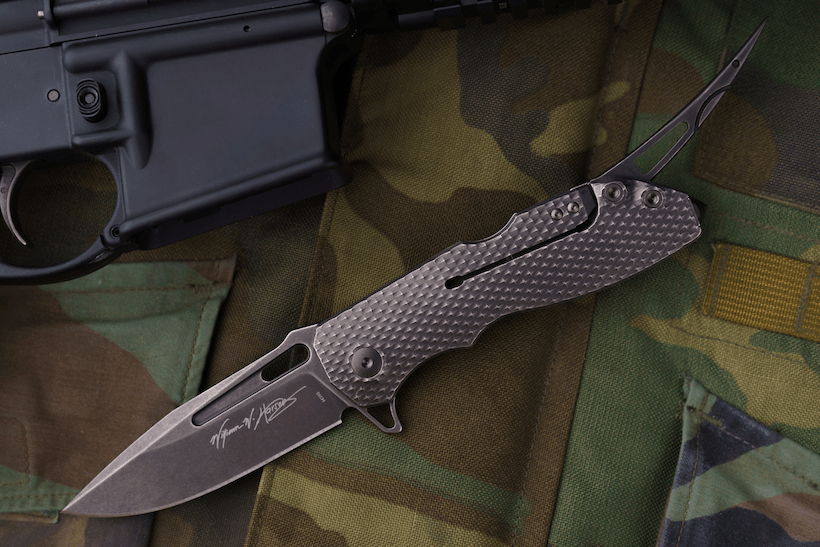 Robert Young Pelton and William Harsey, Jr collaborate to create the ultimate tribute to Army Special Forces/CIA Paramilitary legend, Billy Waugh: The Billy Waugh DEMO Knife.
Together, Pelton and Harsey fine-tuned a design only a warrior of Billy Waugh's level could sign off on. Inspired by the standard issue multi-purpose knife Waugh remembers from his Vietnam days, the Billy Waugh DEMO is not only a knife fitting of the special operator, but an homage to toughness, and performance under fire.
The DEMO features a balanced three dimensional Titanium alloy body with a retro diamond pattern and vintage finish. The four inch flat grind M390 blade is on bearings, with flipper, glass breaker screw, and an Awl on bronze washers. The knife comes with a replacement flat head screw. The deep pocket combat clip is engraved with Billy Waugh's signature, the blade is laser engraved with William Harsey's signature.
Billy Waugh has a military and intelligence career that can only qualify as legendary. Prevented from enlisting for WW2 because of his age, Billy signed up for the newly created Special Forces, choosing the most dangerous tasks our nation demanded. He is the recipient of eight Purple Hearts and has a lifetime of service to America, continuing his Special Forces career all the way to the opening months of the war in Afghanistan.
Only 250 copies of the Billy Waugh edition have been created with one off, custom numbered stonewashed versions made available through RYP Design's exclusive dealer, Straack.com.
_______________________________________________________________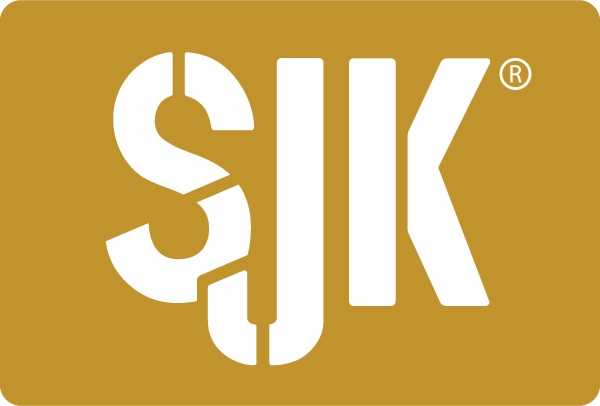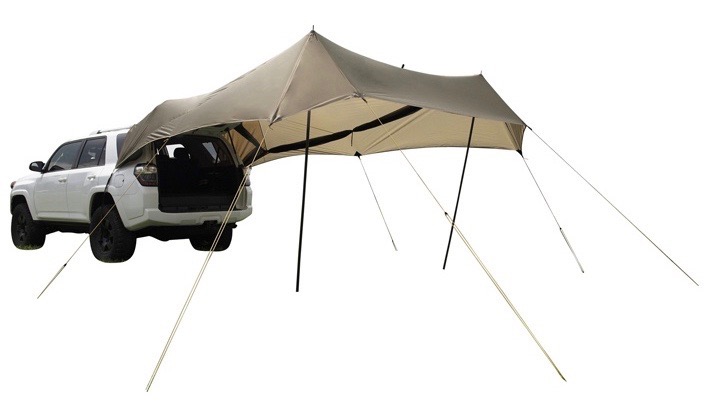 SJK's Roadhouse Screen Tarp will have you overlanding like a pro with vehicular based shelter for all your off-road adventures. We've improved on the livability of the Roadhouse Tarp by adding the protection of convertible mesh sidewalls. Leave the mesh down to keep the bugs at bay or roll it up to let the breeze through. We've incorporated a unique attachment system that easily connects to most Jeeps, trucks, or SUV's. Includes 2 heavy duty 96" tall steel "awning" poles, 10" super-duty steel stakes, and heavy duty reflective guylines to keep things in place when weather moves in. Carry bag included.
_____________________________________________________________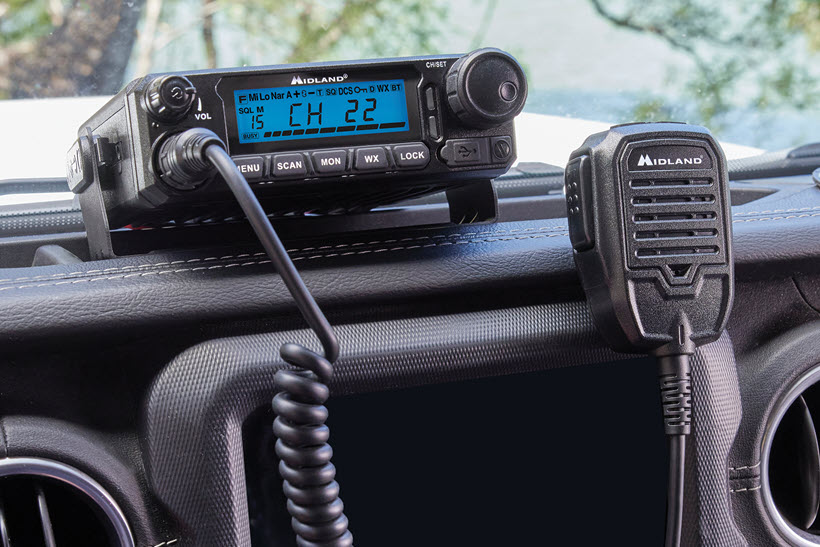 Midland's MXT500 MicroMobile® Two-Way Radio brings unprecedented radio range to the trails. With it's 50-Watts of power, the MXT500 is the most powerful radio allowed by law.
Whether you're exploring The Rubicon Trail, Valley of the Gods Road, or the Smoky Mountains, Midland's MXT500 brings reliable and clear communication to any adventure with its 15 GMRS channels, eight high-powered repeater channels, and split tone capabilities.
When off-grid, off-roaders won't have to fret about losing power on any of their devices because the MXT500 has USB-C charging ports. This ensures devices like walkie talkies, tablets, and phones have the fastest charge time out there.
No matter the trail, severe weather can pop up, but Midland's MXT500 will keep you alert as it's equipped with NOAA Weather Radio. Don't risk safety when taking in all the outdoors has to offer. If rain does come, those open-air vehicles don't need to worry because this radio is fit for the elements- it's IP66 waterproof.
With the MXT500 installed in your vehicle, you can continue to communicate inside and outside the vehicle as obstacles or spotting is required because it's compatible with all Midland's FRS and GMRS walkie talkies.
Adventurers will rejoice as the MXT500 is narrow and wide band capable, offering crisp and clear communication no matter what trail conditions they encounter.
The box includes the radio, microphone, magnet mount with cable, antenna, power chord, owner's manual, and quick start guide.
Grab Midland's MXT500 and hit the trails to take adventure to new levels.
________________________________________________________________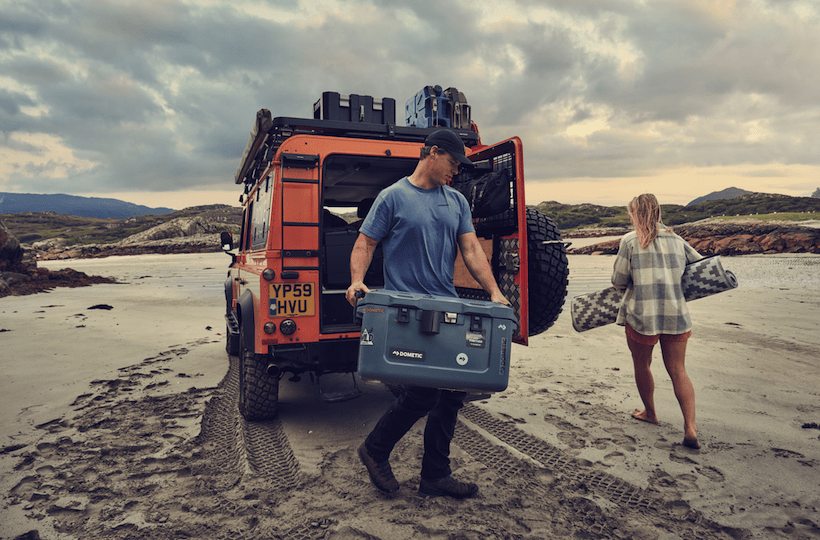 If you are planning a shorter trip – perhaps just a few days – we recommend you check out our passive (non-powered) coolers. Equipped with extremely effective insulation, these portable ice chests will keep your groceries, fish, bait, wild game and other perishables fresh for several days – depending on use and weather conditions.
Enjoy longer-lasting ice on your next camping or fishing trip – our Patrol ice chest keeps ice frozen for days. Its tough construction places no limits on adventure. Now available in the fresh Ocean blue color.
_________________________________________________________________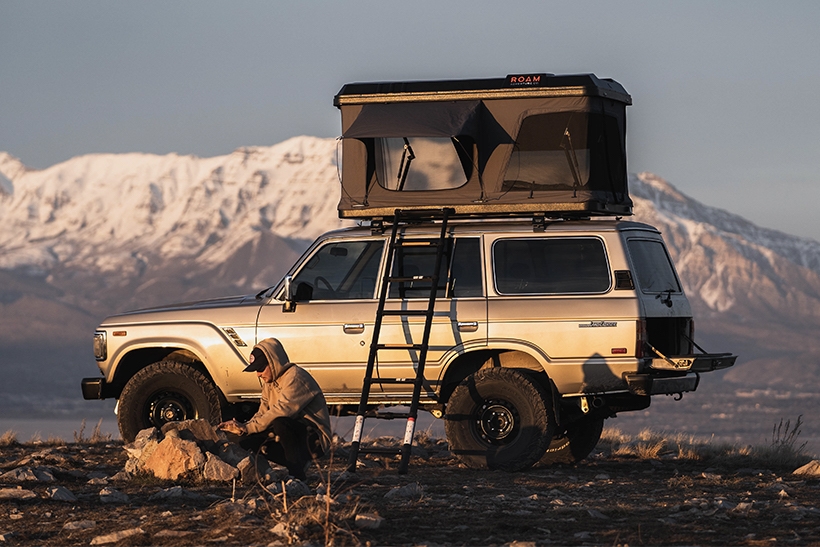 The all-new ROAM Rambler Hardshell Rooftop Tent is made for the on-the-go adventurer. Its 4 stainless steel latches and gas struts make setting up easy and take less than 30 seconds to deploy. The custom-molded hardshell, patterned after the aesthetic of the widely loved Rugged Cases, gives it a look that is unlike any rooftop tent on the market. It doesn't stop there. With a 2.75″ mattress you never have to leave the comforts of your home bed at home while still getting to camp in the places you love to go.
Features:
Waterproof PU coated 280g poly cotton ripstop tent body fabric
Padded Gas Struts
Two Door Awnings
Two Panoramic Windows
7.5' telescopic ladder
2.75" High-Density Foam Mattress
Insulated Base and Ceiling
Pull Down Closure Straps
Custom Hard Shell Design
Quiet Zippers
PU Window Zippers
Stainless Steel Latches
Machined Aluminum Badge
_____________________________________________________________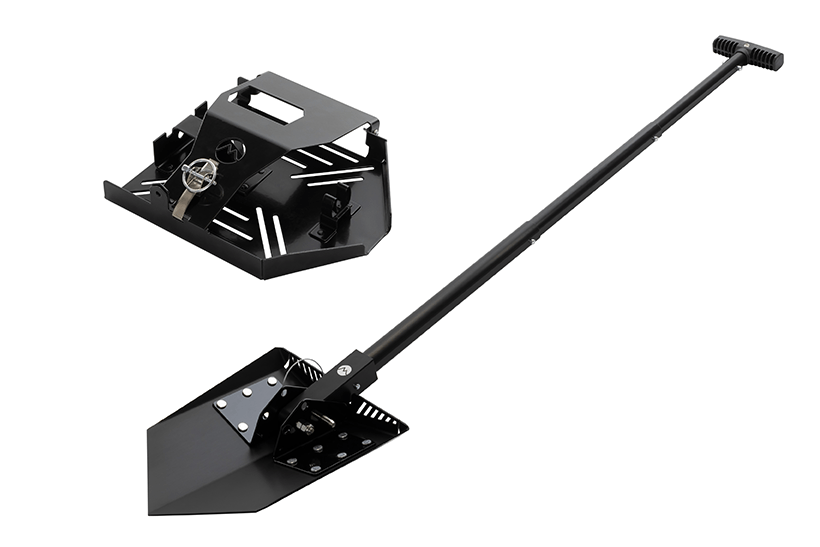 Meet the Delta Pro Shovel and Mount, straight from DMOS Collective.
We built the Delta Pro Shovel to be incredibly tough, but surprisingly lightweight. This big bad mother of a shovel weighs in at only 3 pounds, 8 ounces (less than a sack of flour!), but it delivers on it's promise with over 1000 pounds of payload. Featuring 3 blade modes (shovel, hoe, or collapse to stow) and 3 adjustable handle lengths, this is a full-sized shovel that is meant to work. It's impeccable design starts with premium aircraft-grade aluminum, selected for its unique balance of strength, weight, and style.
But as we all know, the best recovery gear won't do you any good if it's at home. That's why we recommend pairing our impeccably designed, incredibly strong, surprisingly lightweight Delta Pro Shovel with our secure and rattle-free Delta Mount – for overlanding tools that are always at hand and never in the way.
Made from premium aluminum, the Delta Mount comes as a full kit for installation, including the backing plate featuring pre-drilled holes (or drill your own for custom mounting!) that accommodate up to 2″ ladders or racks or bars. Mount it to your roof rack, truck bed rack, ATV/UTV roll bars, MOLLE panels, snowmobiles, or whatever your steed is for the adventures at hand. Because we know gear envy is a real thing, we additionally designed it with a standard locking lynch pin, or add your own combination or key padlock for the ultimate security.
MSRP: $349 Shovel and $259 Mount Buy HERE
_______________________________________________________________