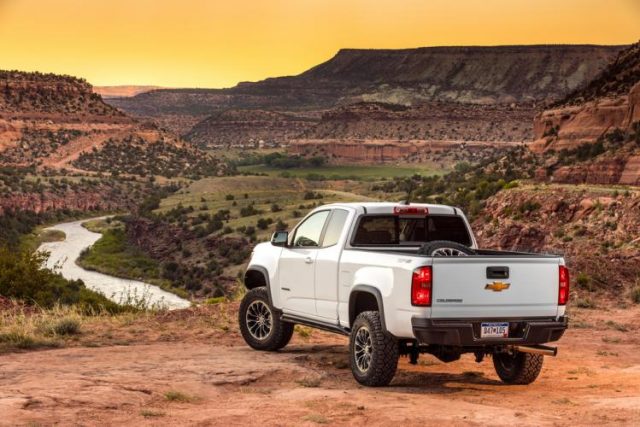 For those of us who live our lives driving from one adventure to the next, the offering of capable vehicles in the U.S. is slim. When traveling abroad, I drool with envy over the variety of 4wheel drive mid-sized trucks. Not only do many manufacturers offer them, they offer them in diesel. Not so Stateside.
I continually read with anticipation the rumors of a new Defender, a more capable Discovery, or an auto show concept that gives promise, only to be let down by news of schedule push backs, the "not available in the US" caveat, or compromising over computerized CUVs deemed capable in the eyes of execs who don't drive off-road.
Enter Chevrolet. The longstanding, American vehicle division under the GM umbrella isn't necessarily known for building what the core market sees as a true adventure worthy vehicle. The Silverado is respected as solid and reliable, and the second generation Colorado was a welcome improvement over the original. However, with a little insight into the engineering team (having worked with several while racing for HUMMER), I knew their Chevy Colorado Variant Z had the potential to change people's minds and perception.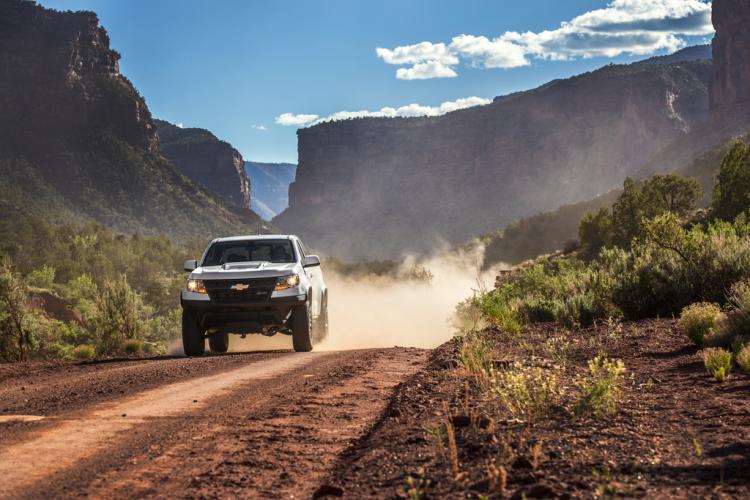 I first saw the ZR2 at NAIAS (the Detroit Auto Show), and it was a sight for sore eyes. After spending much of the show discouraged at the barrage of autonomous vehicle talk and the implied message that felt like tech companies couldn't wait to save us from our driving selves, I was happy to see a vehicle built for those who love to drive. What excited me most was what started as a concept vehicle first seen late in 2014 in Los Angeles, would really end up hitting the trails, in the hands of consumers. Whew.
Putting the ZR2 Through the Paces
The ZR2 is purpose-built and has lofty goals. Chevy claims it has "exceptional performance in a variety of scenarios" ranging from tight, technical trails, crawling, high-speed off-road as well as daily driving on pavement. Off the showroom floor, the ZR2 has a solid stance and the specs to back up Chevy's claims. But the proof is in the ride, so Chevy invited me to gather up a worthy crew and head to Gateway, Colorado to put it to the test.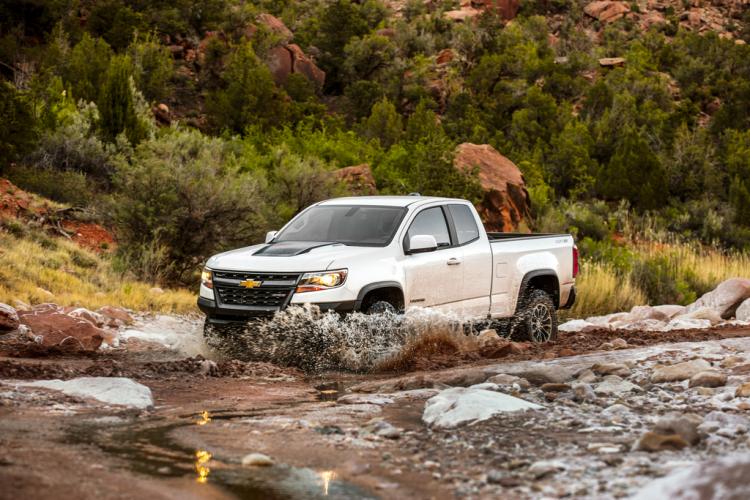 To give some perspective, I spend many days coaching off-road, and countless hours and days on trails in remote locations. I have the task of laying out a 2000 kilometer off-road rally raid that spans 8 days, so a dependable, capable vehicle is a critical tool. I was joined by 3-time King of the Hammers Champion Shannon Campbell, World Extreme Skiing Champion and Olympian Wendy Fisher, and Johnny and Manuel Garner – the twins of Dirt Cinema.
As we pulled into the majestic valley under the red cliffs and buttes, I had to wonder if this 2-day Chevy ZR2 test drive was going to be the real deal and allow us to put it through the paces. However, I was already happy to be back in the Rockies where my true home is, and pleased to be in a different location than the "go to" Moab experience.
Right out of the starting blocks, we were ushered off to the Trophy Track and in helmets and HANS devices before we could blink, with ample laps on the two-mile course complete with jumps, straightaways, and plenty of corners. Airing the truck isn't standard fare at a test drive, but the engineers at Chevy knew it would be the best way to show off their new prize. From there, we headed to Bangs Canyon just outside Grand Junction to run double track trails, and a section of stair step climbs and descents. In between, we had plenty of time driving the classic Colorado roads of Highway 141 and the majestic Colorado National Monument to gauge its road manners. With a side session for filming on the sweeping dirt roads along the bases of massive canyon walls, I walked away with plenty of data and seat of the pants feel for what the ZR2 is all about.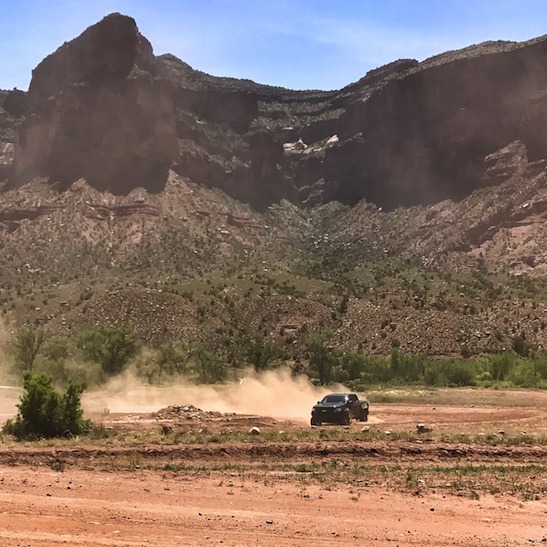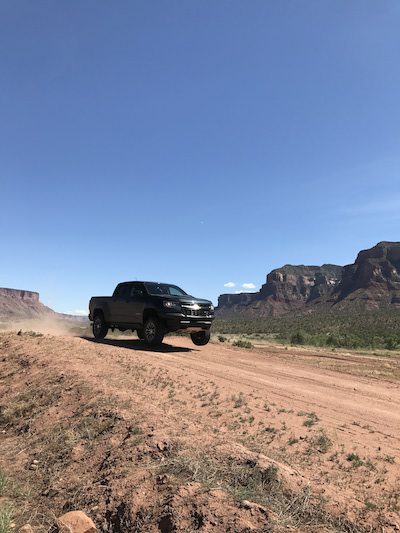 Is the ZR2 the real deal? Absolutely. While there are many integrated features, the ones that stand out for the dirt include a 2"lift, 3.5" wider track than the standard Colorado, redesigned front bumper which boosts the approach angle to 30°, front (notable for a mid-size truck) and rear electronic locking differentials, Multimatic's Dynamic Suspension Spool Valve (DSSV) shocks and beefed up control arms. Rock sliders come standard along with a solid skid plate and t-case protection.
Immediately noticeable is the responsive, tight steering. Off the jumps, the truck settles quickly. The elockers made the ledgy, loose climbs a breeze. Honestly, not much upsets the ZR2 on dirt, and it is genuinely fun to drive.
Stiff? Yes. Deal breaker? No. Although you might be a committed Fox or King fan, the DSSV damper technology is borrowed from road racing, notably Formula 1, and now available for us mere mortals. Chevy tasked Multimatic to achieve an off-road version and it is worth the look and a test drive, so don't be tempted to discount it just because it is new to our market. (Worth the read – http://www.trucktrend.com/how-to/chassis-suspension/1611-chevy-colorado-zr2-shocks-explained-inside-the-multimatic-dssv/)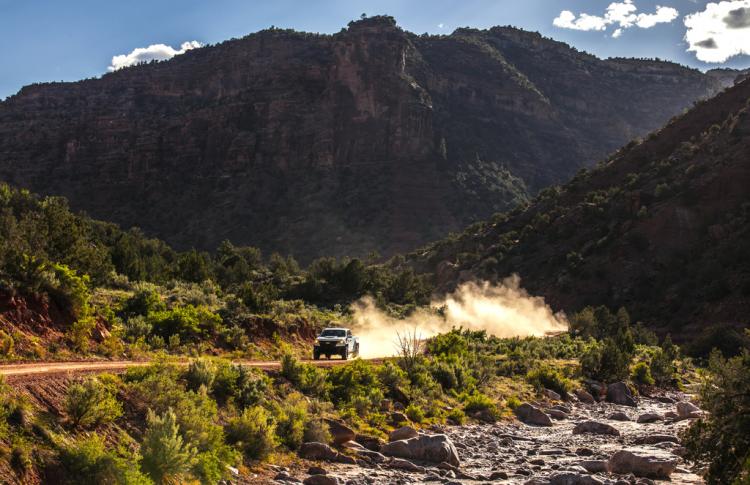 Given the level of off-road capability, I didn't anticipate much on-road. We off-roaders expect compromise. However, I was blown away by the truck's manners on pavement. Honestly, it is the best road handling truck I've driven to date. Once again, a combination of steering and suspension. With minimal body roll, we could drop into high-speed corners of the mountain roads without hesitation. And while I didn't drive it all tooled up with a bed full of gear, I suspect the handling will serve you well when loaded down and headed out for the your next escape.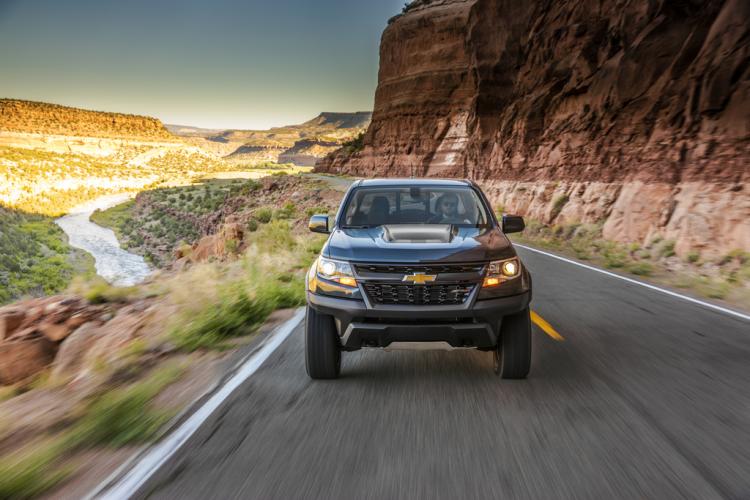 Curb weight is 4,985 lbs with a wheelbase of 128.5". It feels well-balanced in all conditions. And while Chevy opted for 31" Goodyear Duratracs on 17" rims, they get the job done.
You can choose a 3.6L V6 or a 2.8L Duramax diesel, and crew or extended cab. The petrol version comes with an 8-speed automatic transmission and the diesel is a 6-speed automatic. No manual option for the ZR2. The price starts at $40,000. Our pick was the crew cab diesel with a sticker of $45,435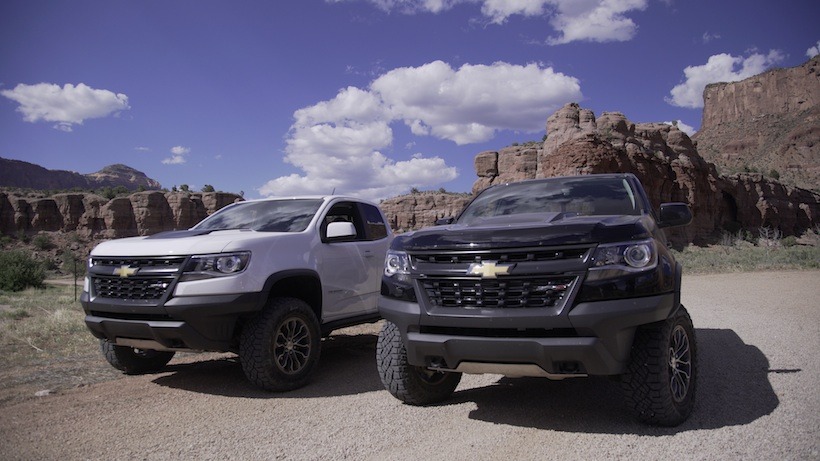 Rolling into Overland West
So after I finished the test drive, at 3 a.m. I hopped straight in a subpar rental and worked to set a time record to Flagstaff where I was teaching a mid-day course at Overland West. As I pulled in, I was struck by how many Tacos were on display and in attendance. It felt more like the Toyota Overland Expo. There were plenty of other vehicles, a large number of Sprinters, but vehicle diversity is not a phrase I would use to describe this year's event. I couldn't help but appreciate Chevy for making a big bet and deep commitment to this space, and the mid-size truck segment. The ZR2 is not just a sport utility vehicle, but a purpose-built truck hell-bent on adventure. So my recommendation is if you are looking to stand apart from the crowd, saddle up and get ready for a great ride.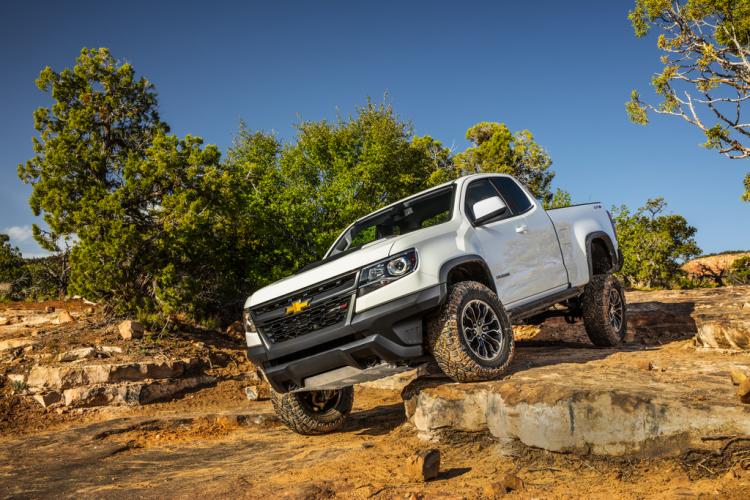 Sidebar:
Saguaro Trail – ZR2's own playground and test track
What stood out at the ZR2 test drive was the engineering team, and their recounting of the process to make concept a reality. I counted nine engineers that took part in the drives and events at Gateway. What is very clear is the ZR2 is a passion project. These engineers are not just vehicle fanatics, they are off-roaders. For example, ride and handling engineer Todd Hubbard is an avid rock crawler, as well as mountain biker, hiker, and outdoorsman. He led the Rubicon Trail test of the ZR2. Doug Moore, based at the GM Proving Grounds in Yuma, AZ, is in charge of certifying the engineers in off-road driving. In his signature cowboy hat and boots, he takes dirt seriously.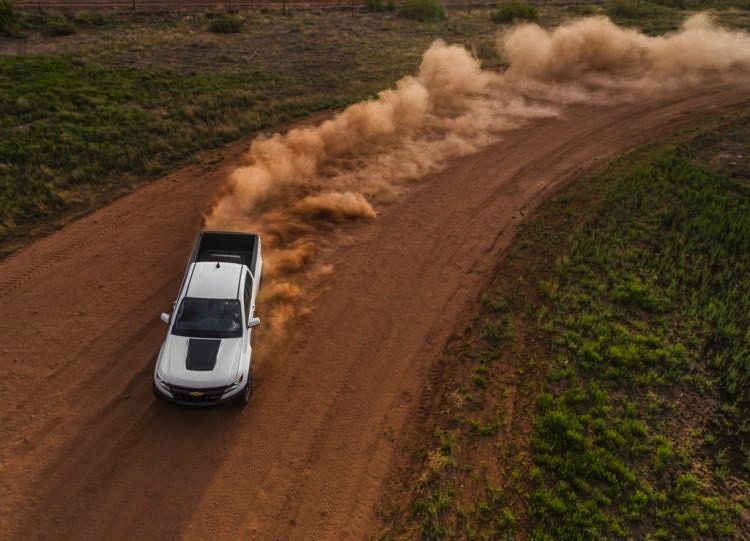 And then there is the Saguaro Trail. This isn't a public venue, but a course at the Arizona facility specifically built by a team led by Moore and Brian Kudela to put the ZR2 through the paces – day after day after day. Approximately six miles in length and complete with varying sizes of whoops, high-speed dirt, jumps, and a natural sand wash. It may be a source of pride internally, but externally it signals the level of commitment by a team dedicated to delivering a superior product, not a compromise or afterthought. For all the specs, log on to https://www.chevrolet.com/colorado-zr2-off-road-truck
Here's a slice from Gateway, edited by Dirt Cinema: A compilation of Chevy and Dirt Cinema Footage.
About the Author: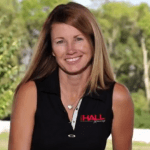 Emily Miller is most comfortable driving the dunes of the Sahara and dreads the commute on the 5 freeway. A California transplant from the Rockies, Miller learned quickly that a vehicle is the great equalizer for body size and gender. What started as an opportunity to race stock trucks for legend off-road racer, Rod Hall, became a chance to not only see many amazing places across the planet, but gain invaluable life and work lessons from the driver's seat. Miller holds numerous podium finishes and wins, including the Baja 1000 and being the first woman to solo Vegas to Reno – longest off-road race in the US – and win the class.
Today, she has coached over 4,000 people to drive off-road, organized and produced over 100 experiential automotive events, and is the founder of the first women's navigation rally raid in the U.S., the Rebelle Rally – a 7 day off-road competition based on manufacturer vehicles and skill not speed without GPS, cell phones, or outside assistance.
Photos by Chevy and Dirt Cinema