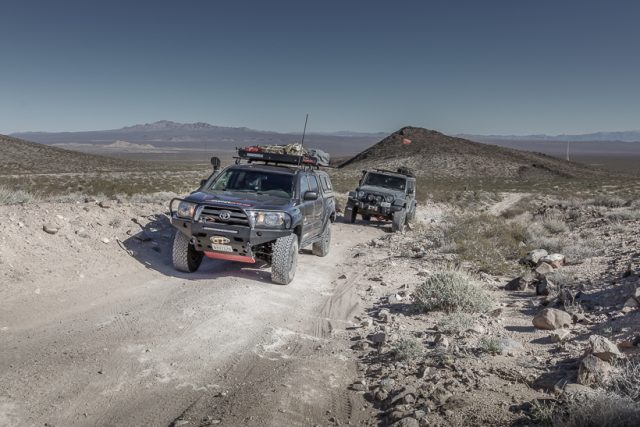 | | |
| --- | --- |
| GPS | N35 03.08 W 114 40.57 |
| Elevation gain | 900- 5,200 |
| Season | October-May |
| Terrain | Sandy, whoops, moderate rocks, one challenging downhill/uphill and some large washes with steep, sandy banks. |
| Difficulty | Mostly easy, some moderate sections. |
| Required Vehicle | Stock 4×4 |
| Time | Two days minimum, preferably 3. |
| Length | 128.6 miles |
Directions: From Needles Highway Nevada, .7 miles N of the CA state line, turn southwest on a formed sandy trail leading up a wide wash. Stay toward the right and you will see a Mojave Road Trail marker on the right.
Site Location and Description: This is an iconic trail that every overlander should experience at least once. The Mojave Road is rich in history and stark, beautiful scenery. As this is a long, somewhat isolated road, it is recommended that you travel with other vehicles, carry extra gas and plenty of water. Be ready for anything and enjoy this historic journey through time. Primitive camping is allowed anywhere that has been previously used as a campsite and is at least 200ft from the trail. The trail is marked by cairns that should always be on your right, when traveling east to west. Sometimes they are easy to follow, other areas, not so easy. Carry a guidebook (or electronic trail guide) along with a GPS, to keep you on course. Most of the terrain is sandy or mildly rocky, although you will encounter quite a few deep washes with steep sandy sides. As long as you know how to pick a line over these mini crevasses, you will be fine. A word of caution, we saw a stock vehicle come very close to rolling on to it's side due to the driver's lack of knowledge about how to navigate through this sort of terrain. Take these areas slowly.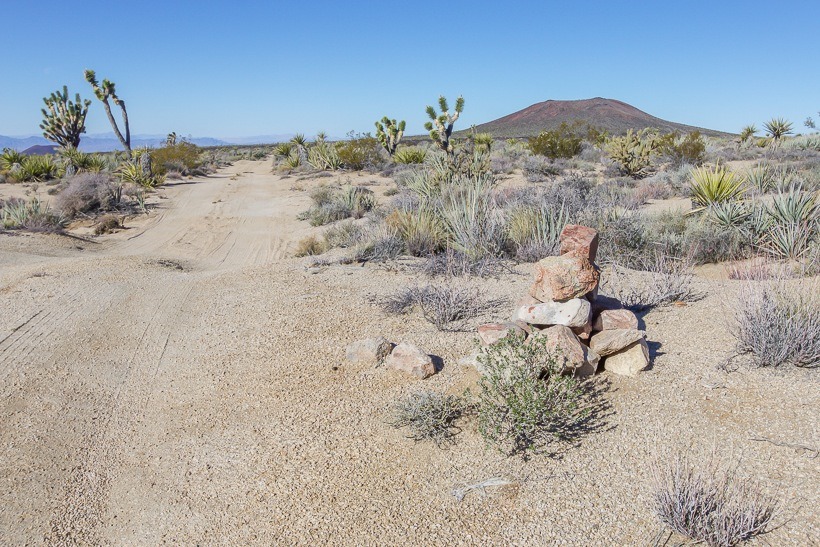 The trail leaves Needles highway and travels up a wash toward the Dead Mountains. It crosses through the Dead Mountains and descends into the Piute (Pah-yoot) Valley. You will cross US 95 and back on the trail, will ascend toward the Piute Range. A short, rough spur leads to the old stone ruins of Fort Piute. The main trail carries on cresting the Piute Range before descending into the Lanfair Valley. Parts of this section of the trail are moderately difficult due to deep moguls and gullies. The Lanfair Valley is filled with beautiful desert vegetation. Before crossing Ivanpah road, you will get to an old broken down school bus on the right and then on to the Penny Can Tree. Don't pass the Penny Can Tree without adding a coin, making a wish and taking a picture. This is one of our desert's classically off-the-wall, man-made attractions, and there are more to come!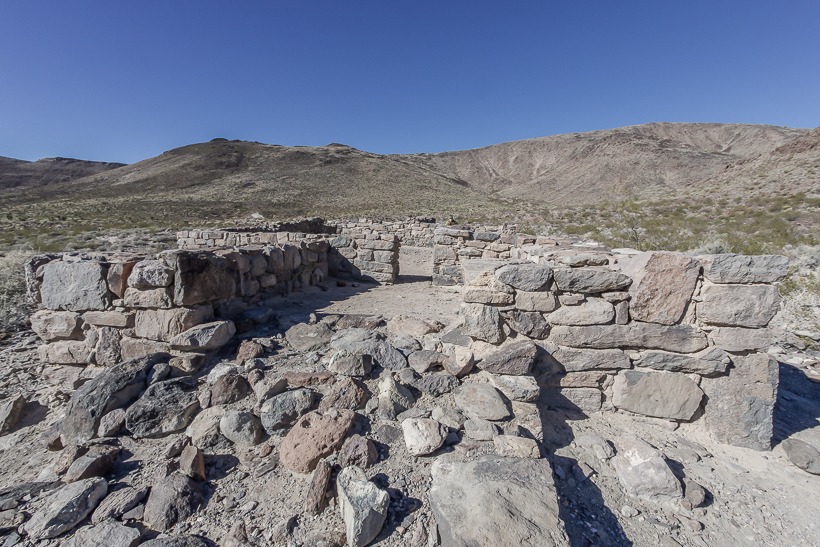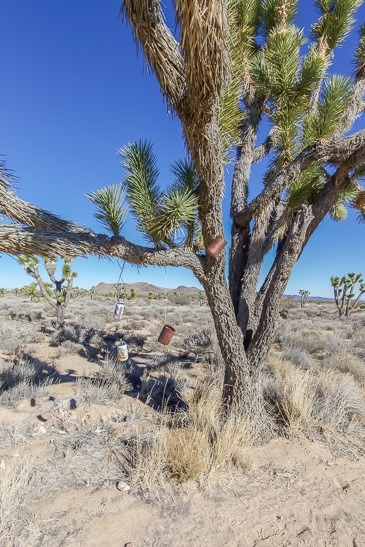 After crossing Ivanpah, you come to a very rough section along Cedar Canyon Road, as the trail drops steeply into Watson Wash. Soon after, you can hike to an area where you will find the historic military site of Camp Rock Spring. Continuing on, you will find Bert Smith's cabin. Don't miss seeing this well-preserved cabin and reading the history behind it. Another historic site is Government Holes. Here you will see a well, corral and a tank that bears the name Ox Cattle Company. The trail skirts the edge of the Marl Mountains and Marl Springs and is mainly made up of whoops. For a great photo-op, don't miss the iconic Mojave Road Mail Box located just past the power lines. Walk behind the mailbox and check out the amazing array of toy "gardens". You will see a massive group of frogs, a line of bobble heads against another rock, some tiny trucks scaling a nearby boulder and finally a gathering of gnomes under a Joshua Tree further back. As you are reading this, make a mental note of what you and your friends or family will contribute to this little patch of desert wonder.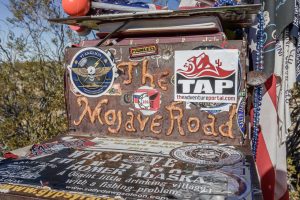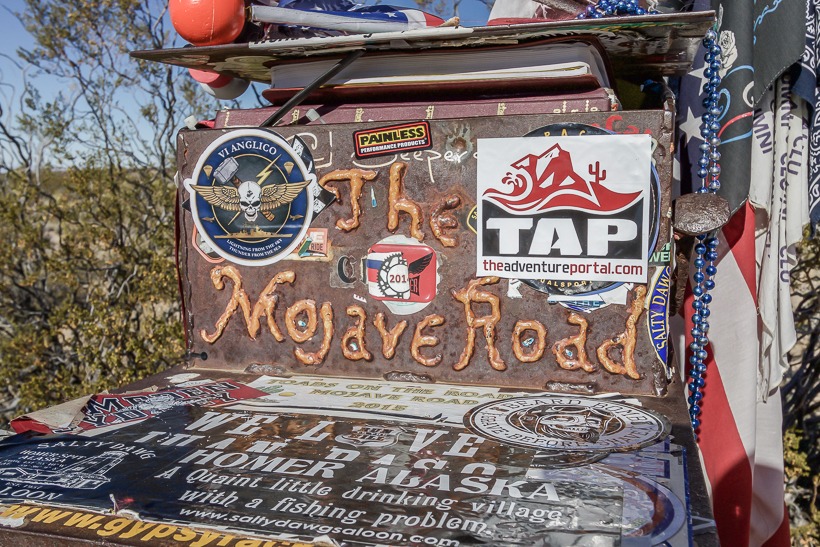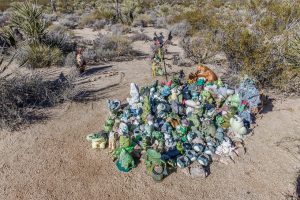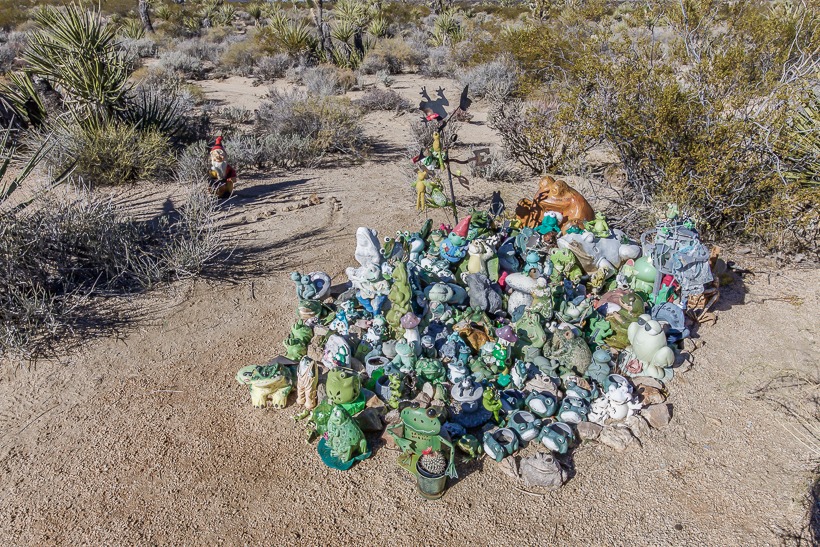 Your next stop along the road should be the Cinder Cone Lava Beds, where you can actually go into a lava cave. The landscape in this area is otherworldly. When you come to Kelbaker Road a few miles past the Lava Bed Wilderness, check your gas gauge and if you need a top off, take a right and go 14 miles toward Baker. From Kelbaker Road to Soda Lake the trail is mostly flat and well packed dirt. Soda Lake is a dry lakebed whose waters have evaporated and left alkaline evaporites of sodium carbonate and sodium bicarbonate. Don't cross the lakebed if it has recently rained. This place has notoriously trapped vehicles in its muck, when wet. If the lakebed is wet, head north to Baker, then return to the trail via Rasor Road from the I-15. On Soda Lake, you will encounter a large pile of rocks called Traveler's Monument. Be sure that you bring a unique rock to add to the pile, then climb up and read the secret message contained in the midst of the rocks. The message is a well-kept secret, only known to travelers of the Mojave Road. Read it and forever keep it secret. An important thing to keep in mind after returning to civilization, is that the sodium from the lake is corrosive to vehicles. As always, give your rig a good under-carriage and body wash after your trip. From Soda Lake, you enter an area where the trail could become wind-blown and difficult to follow. At the end of the trail, you will pass under a Union Pacific trestle into Afton Canyon. Follow all posted signs and cross the Mojave River alongside the trestle. The second river crossing can sometimes be deep, so be aware. If you cannot traverse the water, go back to Rasor road and head west to highway 15. After the second crossing, you will arrive at Afton Campground. Continue up the road approximately 3 miles and you will come to the I-15, 35 miles north of Barstow.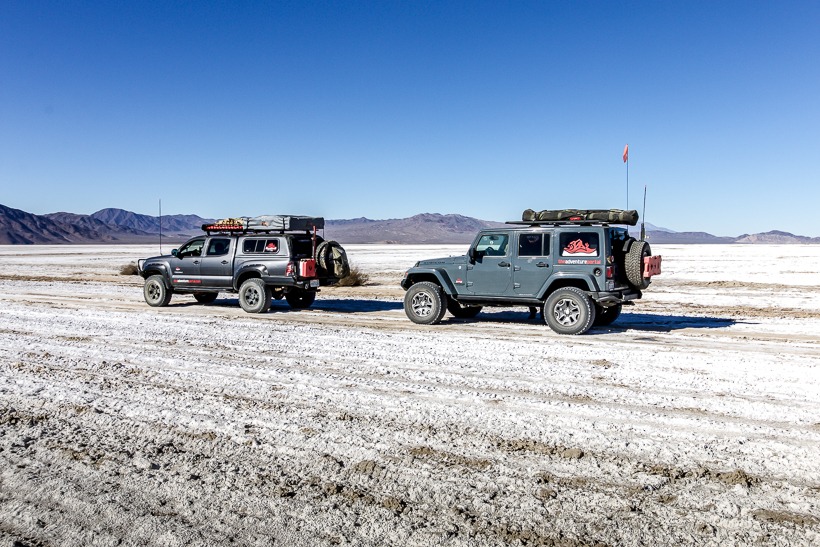 The History of the Mojave Road: The Mojave Road once served as a trade route that spanned from the Colorado River to the Pacific Ocean and was used solely by Native American tribes. The Mojave Indians presided in Soda Springs on the western shore of Soda Lake for at least 7,000 years.

Father Francisco Garcés, the Spanish Franciscan missionary, traveled the trail with the expeditions of Juan Bautista de Anza in 1774, 1775 and 1776. In 1775, Garcés, became the first European to meet the Mojave Indians. They accompanied Garcés on his journey to the coast. José María de Zalvidea, of Mission San Gabriel, crossed the trail in 1806, reportedly converting the indigenous Mojaves near present-day Hesperia. In 1826, Jedediah Smith became the first American to travel the Mojave Road. From 1829-30, Mexican traders from New Mexico established the routes that came to be called the Old Spanish Trail trade route (now the Mojave Road) to California.
With the California Gold Rush of 1849, thousands of American settlers headed west through Mojave country and into California. Rock Springs was a critical water point that made traveling on this route possible. Rock Springs was named by Army Engineer Lieutenant Amiel W. Whipple, for navigational purposes, when he led a scouting party seeking a route for the transcontinental RR in 1854.
The influx of migrants passing through this area, combined with simple misunderstandings, led to conflict and to the Mojave War. In early 1858, as a result of the Mojave War, the Mojave Trail became the Mojave Road and came under the purview of the U.S. government. From 1854-1868 numerous military posts were built along the route from Camp Cady near Barstow to Fort Mohave on the Colorado River. The remains of one of these forts, Fort Piute, can still be seen today.
The caves in Afton Canyon were used by Native Americans before the arrival of Euro-Americans. Later, the caves provided a much-needed refuge for Euro-Americans traveling between Fort Cady and Soda Springs. There they could get supplies and protection from Native Americans. In 1866, Camp Rock Spring was established to provide mail carriers and travelers safe escort across this remote and difficult terrain. When the mail route was closed in 1868, so was Camp Rock Spring. The army protected the settlers and travelers from attacks of the resident Paiute, Mojave and Chemehuevi Native Americans until 1871. This protection also opened the way for large mining development in the Mojave Desert region of San Bernardino County and agricultural development in the Victor Valley area.
The Mojave road was important to the people of Los Angeles because it linked them to Prescott AZ, a prominent town at the time. The railroad reached this area in 1883. In 1894, the Rock Spring Land and Cattle Company, later known as Ox Ranch, controlled most of the area's water. There were numerous gun battles between homsteaders and ranchers over water rights up until around 1925.
Great Resource: The Mojave Road Guide With GPS, 4th Edition, by Dennis G. Casebier
Sources: Guide to CA Backroads &4-Wheel-Drive Trails by Charles Wells and Matt Peterson, TAP travels, Backcountry Adventures: Southern California by Peter Massey and Jeanne Wilson, mojavedesert.net , Wikipedia,
Click here for more CA off-road, Overlanding trails…..and TAP into Adventure!
Photos: Andy Palmer