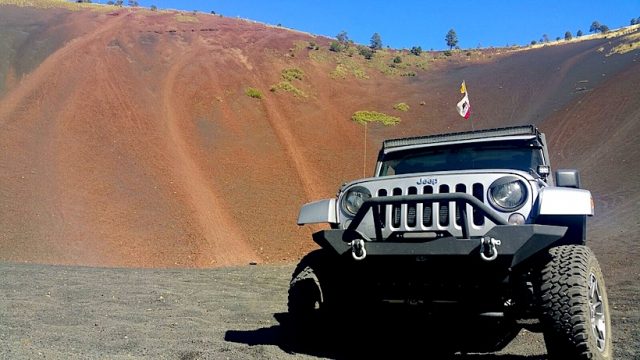 A Volcanic Perception: Off-Roading and Overlanding has taught me that perspective is a powerful thing. The more I off-road explore, the wider my understanding of topography becomes. I am continuously humbled by the wide variety of terrains at our disposal. Yes, I know, that sounds very philosophical, but I can't explain it any other way. This occurred to me when I traveled from California to Arizona to check another state off of my "Overland the Lower 48" bucket list.
I've been to Arizona before (not off-roading), mainly around the Phoenix area, and was expecting this run to be among the red rock, wind carved, landscape. I was making my way to Cinder Hills OHV Recreational Area in the Coconino National Forest, which is farther north and closer to the red rock water carved landscape of the Grand Canyon. So, my thought was that the topography was going to be similar. I was way wrong.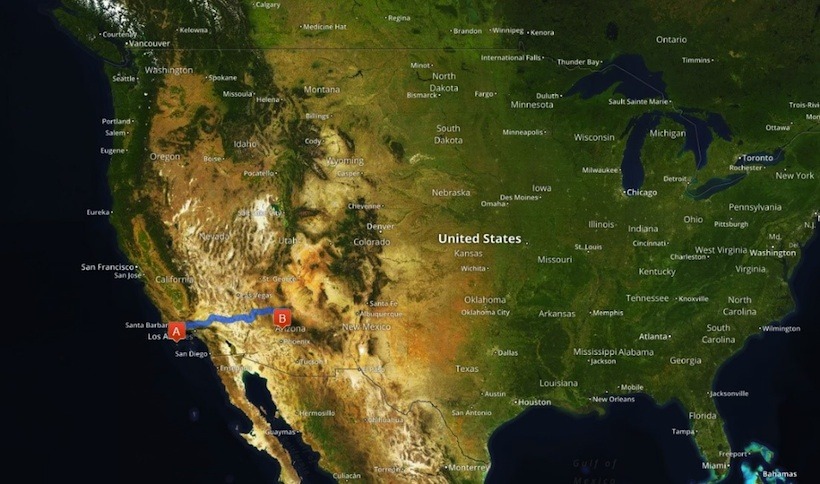 As I left the California desert in late September and crossed into Arizona via interstate 40, the terrain was as I expected. But after I passed through Havasu heading toward Flagstaff, my first thought was, "This looks like Oregon.". The landscape was becoming more mountainous and green as I climbed to higher elevations. Lots of tall, trees and grasses covered the hillsides. There was water on the ground from a rainstorm that had come through a few hours ahead of me and the temperature was dropping quickly. I love cooler weather, and was getting excited because on this vehicle supported adventure trip, I was expecting to have was changing rapidly into something completely unexpected.
I made it to our group's meet and greet campsite at the Cinders Volcanic OHV Recreation Area in Flagstaff Arizona. I had been invited to attend by a fellow 4wheeler Diane Zalman from the 4wheel club, Off Road Passport. I parked and set up camp, met some of the others, then wandered into the woods to explore. I was happily lost for over an hour, taking in all the newness of this unexpected Arizona topography.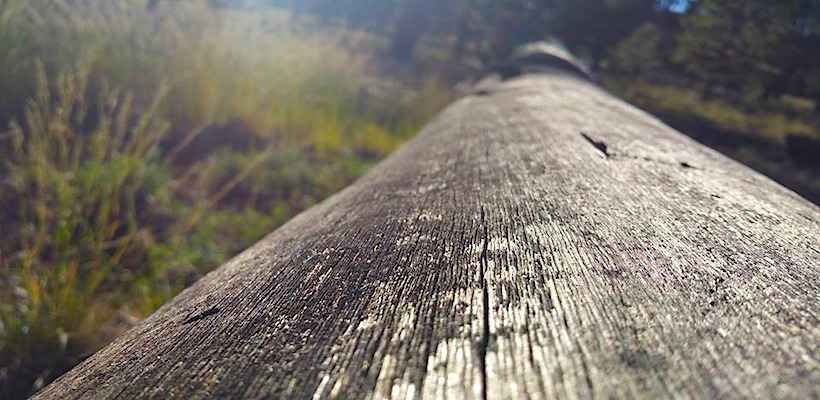 No red dirt roads here, only a black one. I found a comfy spot and sat in the woods soaking it all up, literally. Yep the ground was warm, so I decided to lay down.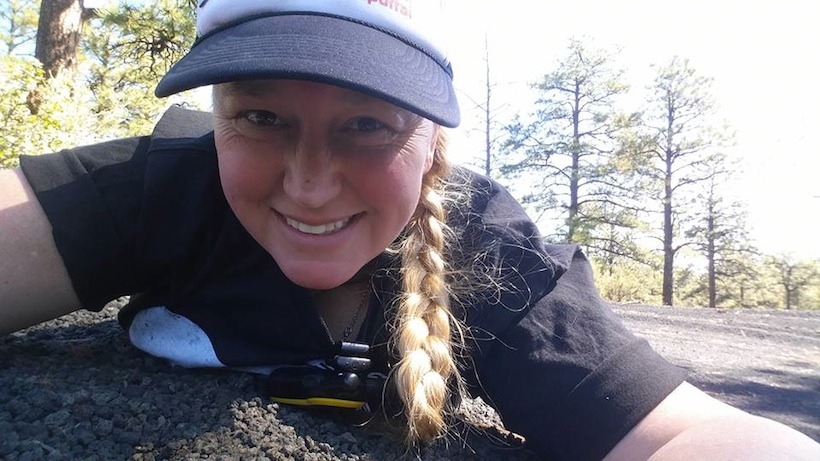 Why would I do that? Well, have you ever sat on exposed Volcanic lava rock? I haven't. It was nice and warm, so I laid down to take it all in. Let me tell you, the experience was amazing. As I lay there, it occurred to me that I was laying on pieces of geologic activity and they were everywhere. Simply put, the lava rock I was laying on was once part of the large well of magma inside of the earth. It reminded me that I was just a very small speck on the face of this planet. A shift in perception….a "volcanic" shift, if you will.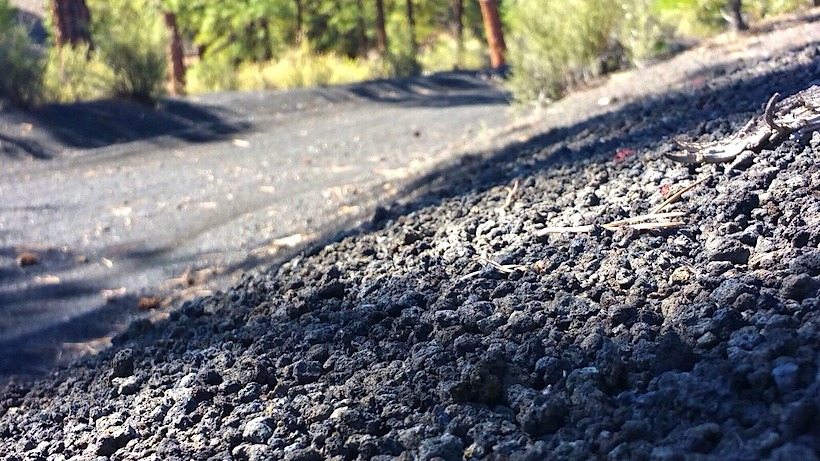 I had never experienced this kind of terrain. It amazed me that trees, plants and flowers were thriving in it. The lava was burnt black, porous and uncompacted. It was hard to walk in, like sand, and then I thought…"How am I going to drive in this?" Thankfully, I was with a group that had been doing this run for years, so I was in good hands.
The next morning, our group headed out. Feeling apprehension about driving over this type of terrain, I decided to play it safe and air down my tires to 8psi. Anytime I run on sand, I get good floatation (stock BF Goodrich KM's) at about 8psi, and with the ground being warm, I knew my tires would fluctuate between 8-10psi. I also placed me and Jake (my 2015 JKU) in the middle of the pack in case I needed some assistance with recovery. I was probably overthinking everything, as usual. Anyway, we hit the trail. Here I was, 4wheeling in Arizona, state number 4 on my bucket list!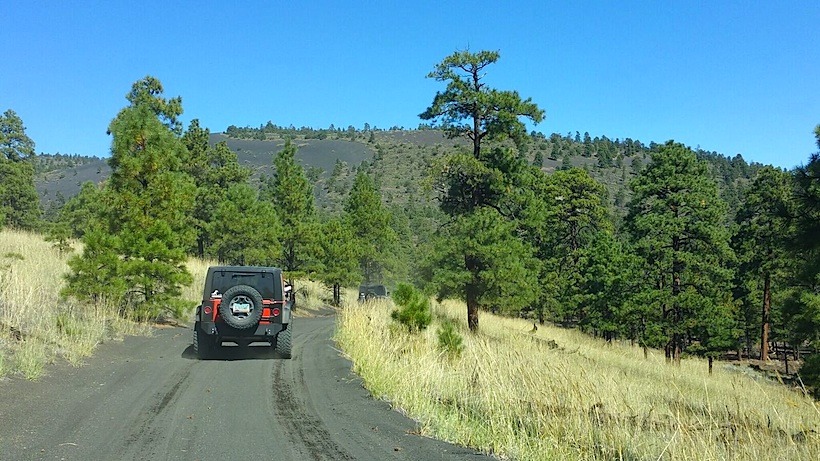 We were slowly making our way up into the higher hills. The trail was easy as we navigated around the Arizona pines and past the tall grasses. As we got higher up, the trees and grass became sparser and the terrain began to change. The burnt black lava rock was also becoming reddish- brown in color, again messing with my perceptions of what lava rock was supposed to look like…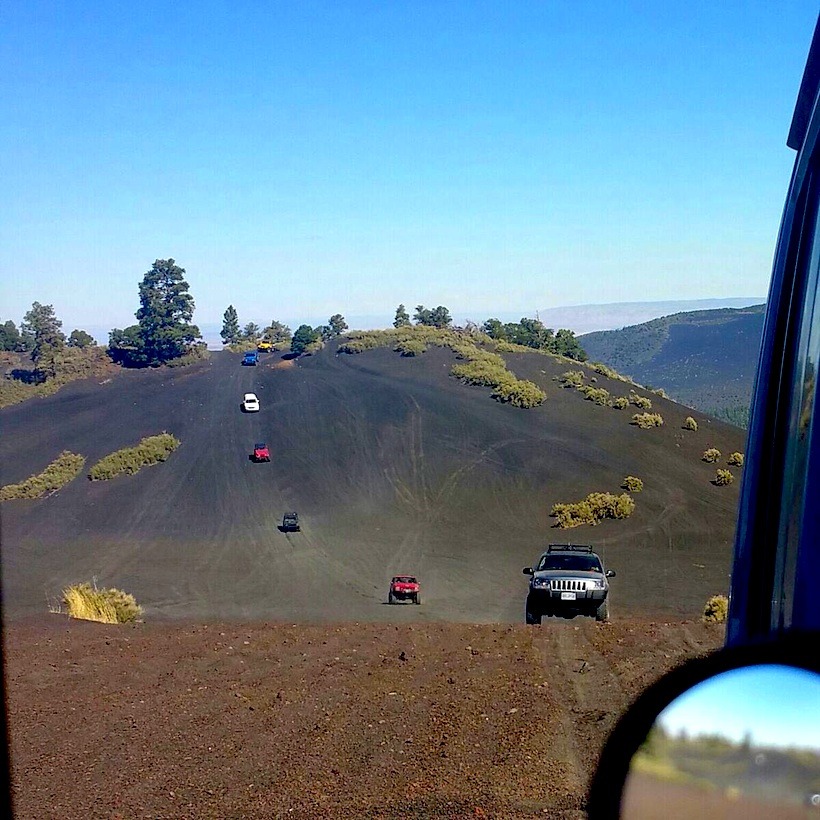 We reached the top of one of these reddish-brown and black, porous, rock-filled, peaks and stopped. I wanted to get a good look around. I stepped out onto the ground and my foot instantly sunk in. The lava rock looks firm until you walk on it, then you realize that it's just like sand. I could tell by looking at the Jeep behind me that our tracks had gotten deeper than they were before. But then when I looked up, I immediately lost interested in the depth of the volcanic rock under my feet.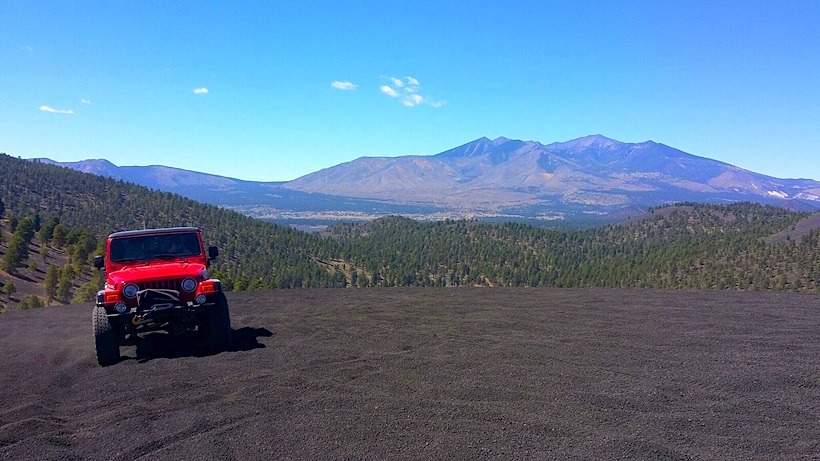 The view was stunning. I could not believe I was in Arizona.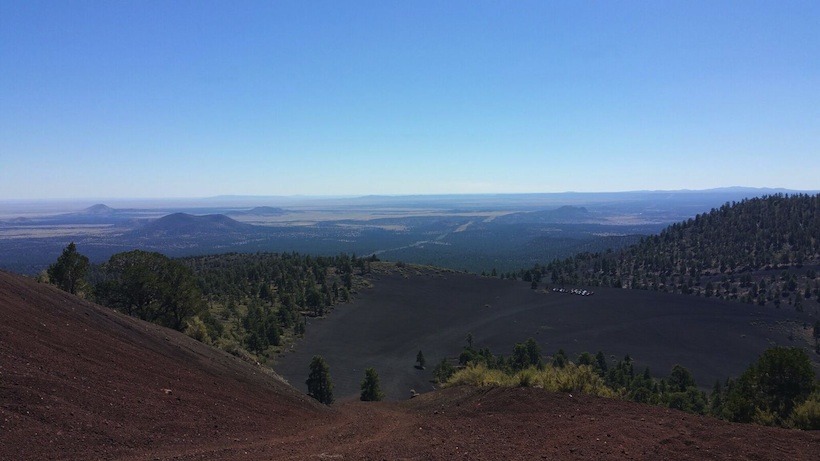 The higher we got, the more vast and colorful our view became. As we reached the crest of the uphill course, we came to a plateau that crested along a large half-moon shaped ridgeline. This was the highest vantage point we had hit yet.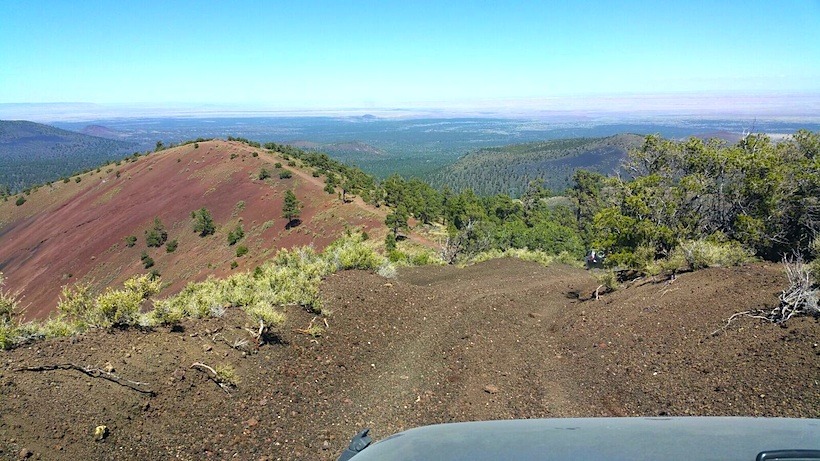 We followed the ridgeline down and slowly around. That's when I realized we were driving along the top of a volcanic cone.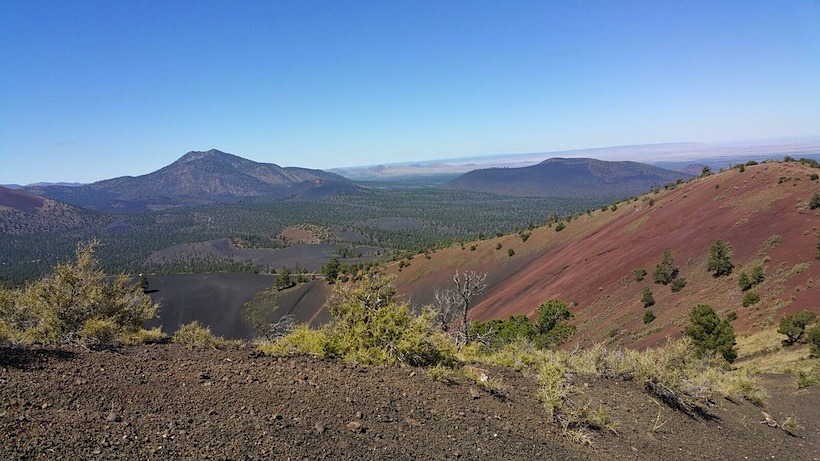 Now let's think about that for just a second. A volcano. In Arizona. So here we are again back to my perception… which has just changed. All that NatGeo I watched on Volcanos in Hawaii….. and now black was not the only color volcanic rock came in. I understood that we were in a volcanic area, so I had expected to see some lava rock. What I didn't expect, was that I would be driving on a volcanic mountain! One that had spewed lava across the land hundreds of years ago. While driving along its crested ridgeline, I looked down at all the colors. A shift in perception. Lava doesn't only come in black, but in "Arizona red", brown and orange. Stunning.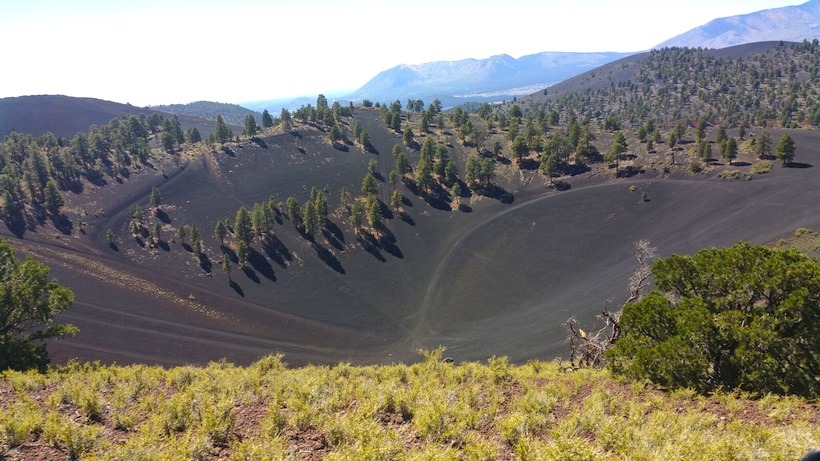 The half-moon crested ridgeline wrapped around and down and I could see the middle of the volcano. We took our time descending the thin shelf to the bottom, then parked for lunch.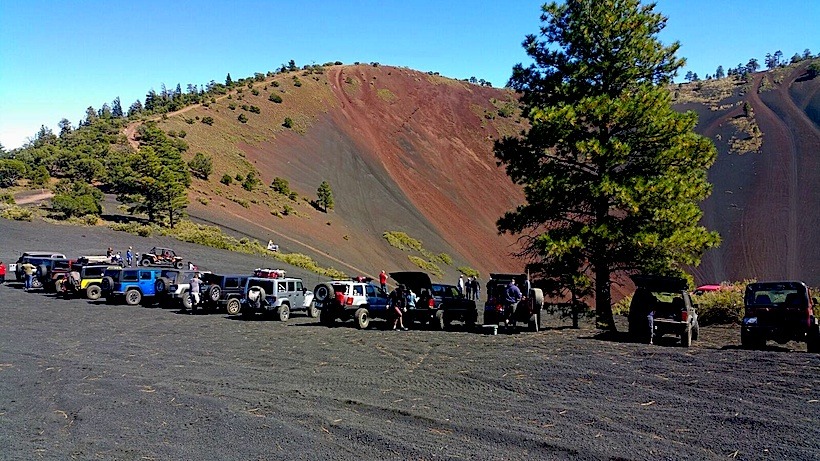 Mom – "So Lisa, what did you do this weekend?"
Me – "Oh not much, just had lunch inside a Volcano in Arizona, how about you?"
This is what I was thinking when I took a picture of our group that stopped to have lunch. How else would I explain it?
It was cool out, very arid and I could feel the elevation ringing between my ears. This happens to me on every trip, so I always drink a lot of water, even if I think it's cool out and I won't need to. We quickly wrapped up lunch and in teams of 2 and 3, made our way in to the bottom on the volcano. This was not easy. You're headed straight down a steep grade in a 4-5 thousand pound, weighed down vehicle with gravity helping you along. If you go too slow, the volcanic ground you're driving on piles up quickly in front of your front tires making the heavy back end of your vehicle want to swing around the front. I had to power up, which goes against my natural instinct to brake when descending a steep grade. Slowing down on this terrain would make things much worse. I stopped at the bottom, inside the cone of the volcano, and got out. What a Site! I was sitting in a once active volcano and so was my jeep, Jake! Who knew? Again, there went my perception.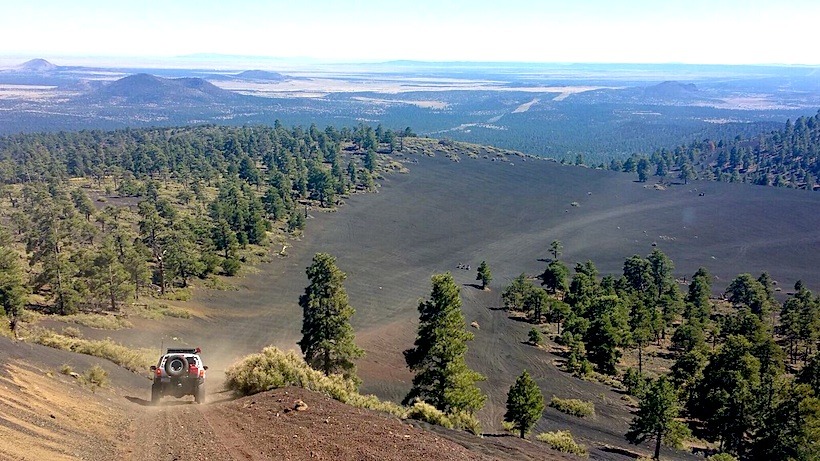 We played around for about an hour, then continued driving over, through, around and down the volcano. I was told that off in the distance there was an area called The Painted Desert. This made sense to me, because from where we were sitting, it literally looked like someone had painted the view.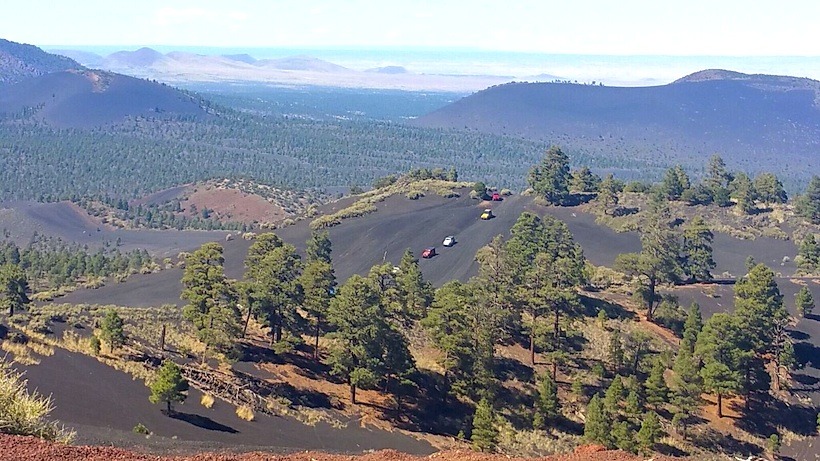 So, this trip had a volcanic impact on my perception about what a trip to a volcano would be like. Everytime I have headed out on one of these adventures, I have come back humbled and wowed having gotten to experience something I never could have fathomed. I would recommend this trip to anyone who needs a "volcanic shift" in their perception.
Author and photos: Lisa VanRijnsoever
For more Overland and Off-Road Vehicle Supported Adventure trips, CHECK HERE