Do you love Turkey Day but dread Black Friday and Cyber Monday? Well the Holidays are coming like it or not, so check out this short but sweet list of goodies for the overlander in your life (read-YOU). Hey, we all know that lots of gear is absolutely, vitally important and necessary! 😉
We will have a couple of these gift lists coming out, so stay tuned, check it out, make your wish list and TAP into Adventure!
---
Casio G-Shock Master of G Mudmaster
Our Publisher is a watch guy through and through, so this is a product that has been tried and tested by him on trails and in a variety of extreme conditions. It's taken a real beating these past few months and hasn't missed a beat (tick). TAP endorses this quality product as tough and ready to go through the ringer.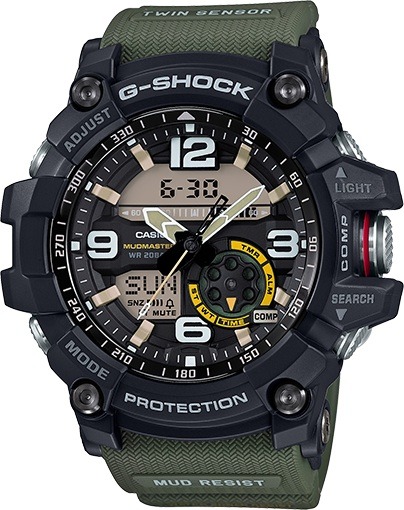 This watch is mud and water resistant up to 200M. Operation of the watch is not necessarily intuitive due it's the vast amount of capabilities, so hang on to and read the user's guide. Here is what this watch provides:
-Digital compass
-Thermometer
-LED backlight and Neo-brite Luminous hands and markers
-31 time zones and daylight saving on/off
-5 daily alarms
-Hourly time signal
-Stopwatch
-Auto calendar programmed through 2099
-12/24 hour formats
-Button operation tone on/off
-Low battery alert
-Accuracy: 15 sec. per month
-Battery: SR927Wx2 (approx. life-2 yrs.)
-Module 5476
-Band length 145mm-215mm
---
Luci Outdoor 2.0 Inflatable Solar Light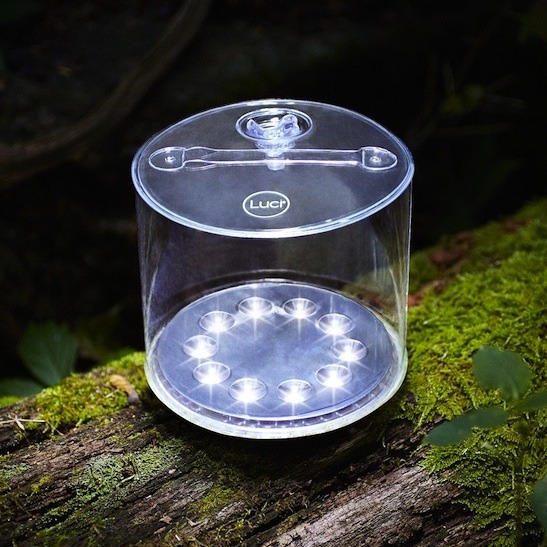 Our Editor just can't contain her enthusiasm for these little gems. She simply loves them. They are functional, fun, completely solar powered and they pack up nicely. They are lightweight and deflate down to a one inch thin disc. Fun? Yes, they come in colors and you can put these puppies anywhere you can hang them around your basecamp. They have straps both on top and the bottom, so get your zip ties or any type of camping hook and go to town making your site a visual delight. Get your "Glamp" on!
Luci Outdoor 2.0 Specs
-Dimensions: 10.8 cm height, 12.7 cm diameter
-Compact: 2.5 cm collapsed
-4 modes: low, bright, super bright, 1 sec flashing
-10 ultra bright LEDs/65 lumens
-High efficiency solar panel
-Charge level indicator
-Lightweight: 4.4 oz (125 g)
-No batteries needed – just the sun
-Charges in 7 hours in direct sunlight
-Lasts up to 18 hours on low setting
-Adjustable bottom strap/fixed top strap
-Waterproof: IP67 rating
-Operating temp: 15°F – 122°F (-10°C – 50°C)
-Lithium-ion rechargeable battery
-Functions as a flashlight
-1 year warranty
mpowerd.com
---
The Four-Wheeler's Bible by Jim Allen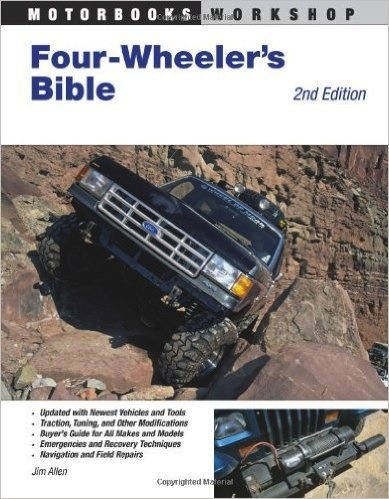 Jim Allen is known as one of the forefathers of off roading. This is a must have for any off-road, overlanding enthusiast. TAP got our first copies years ago when training with Tom Severin of Badlands 4×4. As always, we believe in safety when wheeling and align ourselves with and recommend attending professional trainings, yes…even if you have been doing it for years. Anyway, we like and use the book so much that when we host trainings, we use them as giveaways. Jim Allen wrote this book because he saw some of his favorite off-roading spots closed due to careless and destructive driving and land use practices. He believes that by adopting land-friendly techniques and responsible behavior, we can minimize our carbon footprint on open areas and keep the trails open to us. He also saw people doing things incorrectly and getting hurt, which is why he recommends this book for 4wheelers of any level. TAP recommended, TAP read and a MUST for your holiday wish list.
Click here for a link to Amazon.com to buy this book.
---
Trailhead Automatic Tire Deflators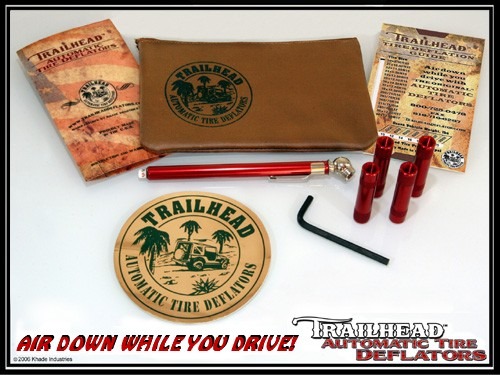 These are on OUR holiday wish-list. We use deflators that are not pre-set to a specific psi and they work fine, BUT these are so much easier! We wheel with people who have/use them and have been able to borrow and use them on our rigs on several occasions. Once you have them set, label the psi and keep it there. Get a couple of different sets if you tend to run primarily on a couple of different terrains (example: I run off-road at about 15 psi and 10 psi in sand…those are my two most frequent psi settings). The deflators come in two separate adjustment ranges: 15-40 psi and 5-20 psi. They are made in the USA and come with a limited life time warranty. TAP note to Santa…..please deliver Xmas Day!
They can be purchased at www.4x4training.com
---
Winch Recovery Bandana
Performing a winch involved recovery is potentially dangerous. Use of the proper techniques is very important. This bandana outlines the "Vehicle Recovery Plan" and lays out steps for a "Winch Rigging Check Walk Through" to enable you to identify and verify every element of the rigging before you commit to the pull.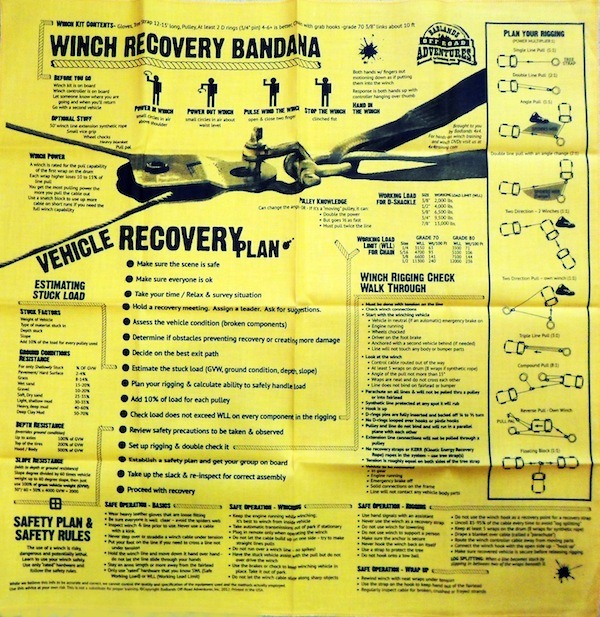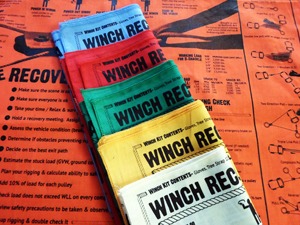 The bandanas come in a variety of colors and are a perfect "quick reference" tool. Warning: These are NOT substitutes for proper winch training and please be sure to use equipment that is within the bounds of their safe working load. TAP's very own Head of Security, BlueDog particularly likes this item as it's adds style to his weekend adventures!
Purchase these Winch Recovery Bandana at 4x4training.com
---
Tembo Tusk Skottle Grill
The Tembo Tusk Skottle grill is a TAP endorsed product and probably our favorite piece of camp gear. We use ours when camping and appreciate the ease of use and flexibility it offers. This grill is compact, doesn't take much room in your rig and is very easy to set up, use and clean. The center of the grill holds the most heat while the areas around the perimeter are used as a warmer. A TAP favorite is carne asada. To clean the grill, pour some water on it, let it boil, scrape it, wipe it dry then put a light coat of olive oil to keep it seasoned and ready for it's next use.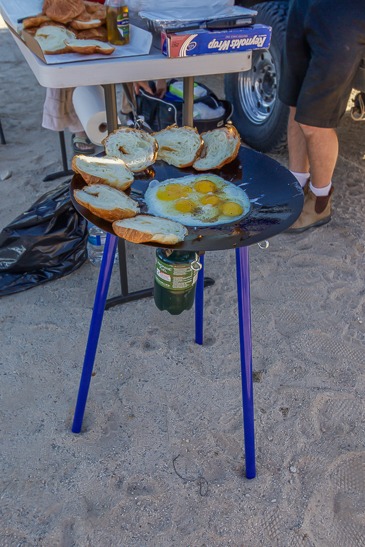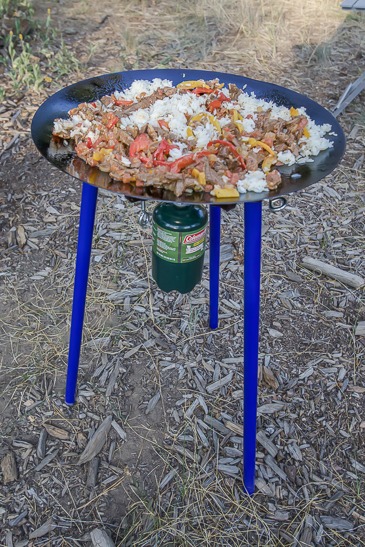 Read TAP's full review on the Tembo Tusk Skottle Review.
So, there's a our first list to get you started thinking about what you would like this holiday season to make your overland journeys just that much more enjoyable, easy, safe and fun.
TAP into Adventure!
Do you have any holiday gift ideas, or items that you want to share about? Let us hear from you in our Forums!