Here at TAP we've used various off-road trailers over the years and through lots of trial and error, have become reasonably proficient with them. This hasn't come without dents, scratches and blood sweat and tears. We have particularly fond memories of taking two trailers up the eastern side of Cerro Gorda in Death Valley, where we got ourselves off course and spent an hour reversing our way back out through a rock garden. Couple that with the fact the trail had been washed out by a winter storm and a 5 mile trail took 5 hrs. Exhausting yes, fun….yes! Here's an article that we wished we'd read many years ago.
Deciding to Purchase and Drive an Off-Road Trailer
Many overlanders find the convenience of owning an off-road trailer appealing. Trailers can enhance your overland experience by:
– Allowing you to transport more supplies into the backcountry for an extended stay.
– Making the camping experience more convenient and comfortable.
– Allowing you to unhook and leave your trailer in the backcountry, while making day trips away from camp with a lightly loaded vehicle.
– Minimizing preparation for an overland trip (especially if you keep your trailer loaded and ready to go at a moment's notice).
For the most part, there are four basic camping configurations for vehicle-supported adventures (yes, there are hybrids).
You may camp from a:
1) Vehicle (tent directly on vehicle or on the ground).
2) Highly modified, standard size vehicle with a bed inside.
3) Trailer (roof-top tent directly on the trailer, tent on the ground, or sleep inside the trailer – as in a teardrop trailer).
4) Larger RV-type 4WD vehicle.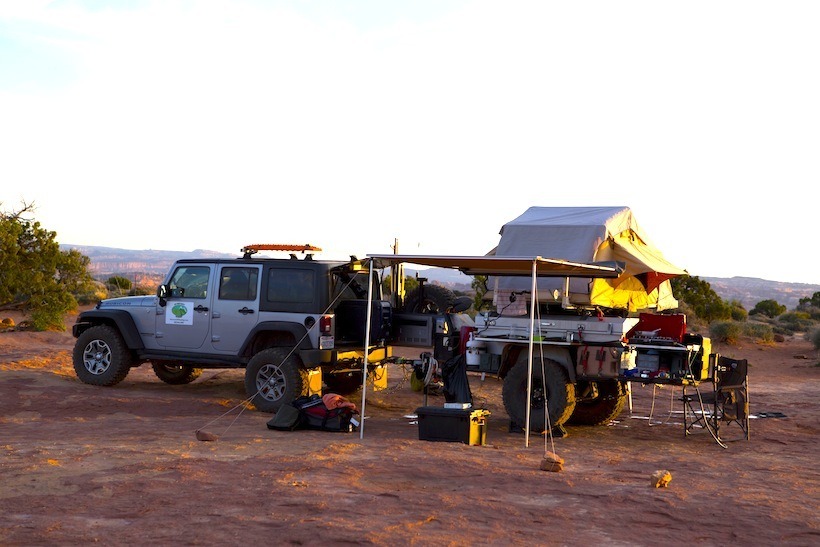 The advantages of camping with an off-road trailer vs camping directly from your vehicle:
-Weight distribution
-The ability to keep a trailer loaded between trips
-Practical use of your vehicle when not overlanding.

Advantages of traveling with an off-road trailer vs a larger, self-contained RV-type 4WD vehicles (Sportsmobiles, EarthCruisers, EarthRoamers, Unimogs, etc.)
Trailers are:
– Are less expensive.
– Allow you to use your towing vehicle as a daily driver when not overlanding.
– Can travel on just about any trail the towing vehicle can.
– Some of the larger RV-type 4WD vehicles, with their long wheelbase and high center of gravity, can't travel on really narrow, off-camber, or extremely challenging trails.

Disadvantages of traveling with an off-road trailer vs a larger, self-contained RV-type 4WD vehicles (Sportsmobiles, EarthCruisers, EarthRoamers, Unimogs, etc.)
Trailers are:
– Less secure from wild animals and human predators.
– Less comfortable overall.
– RV-type 4WD vehicles are best for escaping bad weather and provide a more comfortable camping experience.
– Make camping in parking lots or along highways awkward.
– 4WD RVs can be used with sheath when overnighting along a highway or in city parking lots.

Basic Features of a Solid Off-Road Trailer
When purchasing an off-road trailer, look for these basic features (admittedly, some of these are the author's opinions).
– Built specifically for off-road use. Construction, clearance, camping- Same size tires and wheel bolt pattern as tow vehicle's wheels
– Articulating hitch – 360 degrees of rotation and 3 axis of movement; Lock-n-Roll, MaxCoupler. Avoid the Lunette and Pintle hook combination; noisy, difficult backing up
– Utility beyond overlanding
– Recovery Point(s) on the rear. Ideally a 2" receiver on rear of frame/bumper
Driving With a Trailer
When confronted with a technical stretch of trail, off-roading with a trailer can be challenging – very challenging. Towing an off-road trailer successfully and safely requires an entirely new set of driving skills. You have to "re-program" your mind since you now have six wheels on the ground. In a turn, each wheel takes a different path on the trail. Hairpin turns (tight switchbacks) on narrow, rocky trails are a real challenge. These skills cannot be taught with words. The only way to acquire these skills is to practice; you need to actually drive with a trailer over challenging terrain.
New skill acquisitions aside, here are some suggestions for off-road trailer use and driving.
-Practice at Home. It's very easy to spend most of a day practicing with a new trailer if you are inexperience. Practice loading the trailer, backing up, parking, setting up camp, changing a tire, and lifting the trailer with different jacks in a variety of ways.
-Trailer Weight and Balance. Keep the load in your trailer light and balanced. Put heavier items over the trailer's axle. If you have a "nose" box at the front of your trailer, try to keep the weight in this box light. If you have a battery in this box, keep that weight in mind when balancing your trailer's load. Generally, I try to place the trailer's front to rear center of gravity just forward of the trailers axle line. I also try to keep the trailer load balanced from left to right.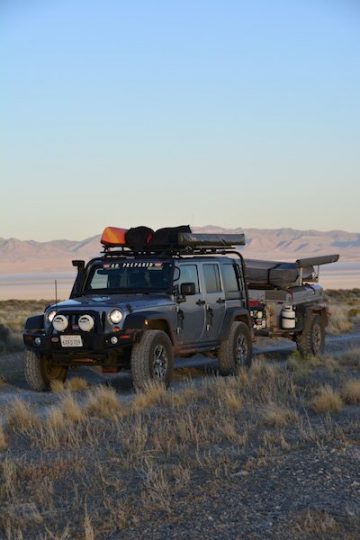 – Tow Vehicle Weight and Balance. An off-road trailer should allow you to travel with less weight in and on top of your tow vehicle. When I load the tow vehicle, I put heavier items in the middle of the vehicle, off-setting the tongue weight of the trailer and avoiding overloading the rear axle.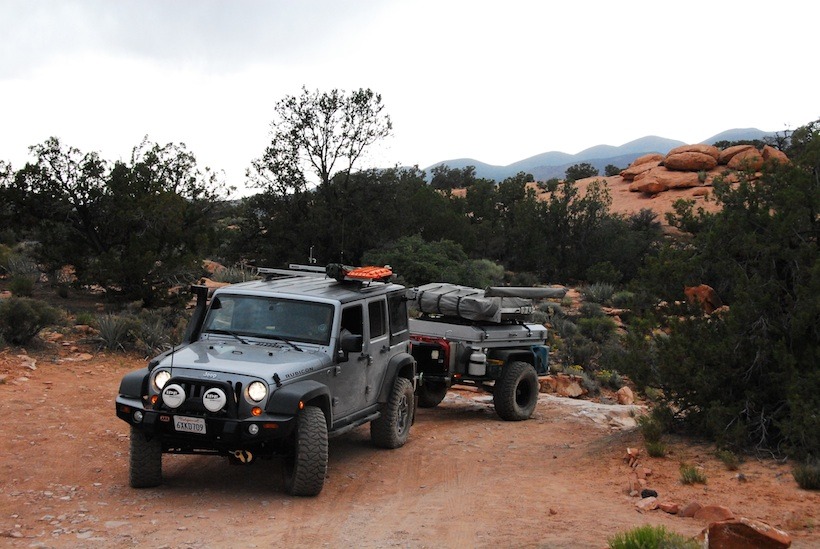 -Lower Tire Pressures for Off-Road. Off-road, lower the pressure in your trailer's tires. Just like in your towing vehicle, a lower pressure in your trailer's tires will provide your trailer with a more "relaxed" ride. Have some mechanical compassion for your trailer when driving over rocky trails and washboard gravel roads. A lower pressure in your trailer's tires will also allow the trailer to easily float over already traveled terrain by the tow vehicle. Some say to lower the tire pressure in a trailer below that of the tow vehicle. I lower my trailer's pressure to what I have in my vehicle.
-Trailer Drag. Crossing rocky or uneven terrain with a trailer causes drag on the tow vehicle. Those driving this type of terrain with a trailer need to learn how to drive with both feet, modulating the brake and throttle pedals together as needed. Obviously, driving an automatic transmission is easiest when towing a trailer over challenging terrain.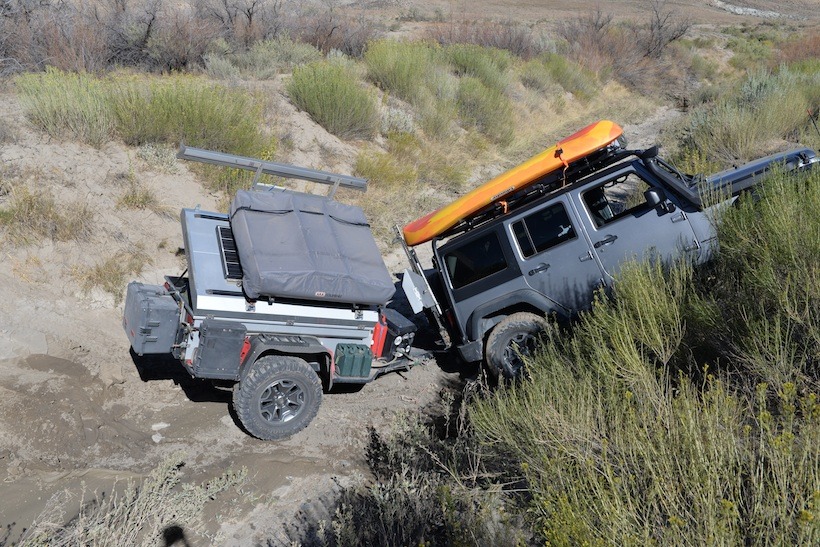 -The Hi-Centered Trailer. It's easy to get your trailer hi-centered on large rocks when on a challenging trail. If you do, one solution is to use a Hi-Lift Jack to lift the trailer off the offending rock or terrain. Once up in the air, you can try pushing the trailer laterally off the obstacle (letting the jack fall – dangerous) or build up terrain under the lifted wheel to assist the trailer up and over the offending object.
– Downhill Driving. When driving down slick and slippery hills, use 4WD-low gearing. If your vehicle has hill descent, use it. Further, you can apply your trailer's electric brakes (if you have them) to slow your descent. Solo trailer brake application can also straighten out the trailer and towing vehicle should it begin to swing sideways and jack-knife. With most trailer brake controllers, you can manually apply just the trailer's brakes with a lever from the driver's seat.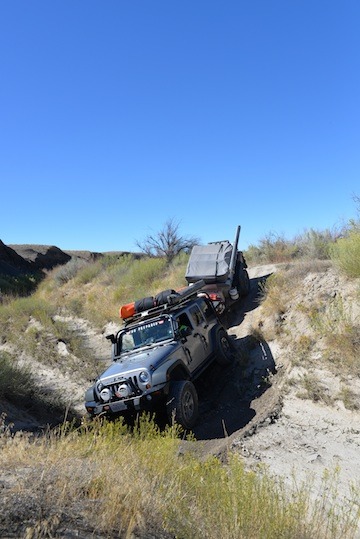 -Whoop De Doos. Be cautious of quick "ups and downs" on the trail (aka whoop de doos). Even small ones can be hazardous. When towing an off-road trailer, don't forget the first and most important rule of off-roading: Go as slow as possible and as fast as necessary. Taking a whoop de doo too fast is bad enough without towing a trailer, but it can be very hazardous when towing. Whoop de doo washouts on fast-paced gravel roads are of particular concern.
-Deep Gully Crossings. Crossing a deep gully, you can get you very stuck. This is especially true if the gully has a steep down, little level terrain at the bottom, and then a quick up. At the gully's bottom, the trailer hitch will dig deep into the ground, possibly getting you stuck. If the downhill slope of the gully is slippery, the trailer may slide sideways due to it's own weight. If you get stuck in a gully, be prepared to winch out.
-Use Your Winch Over Challenging Terrain. If you plan to tow a trailer off-road, have a winch on your front bumper and use it regularly. Rather than stressing the driveline of your tow vehicle when driving over challenging terrain, use your winch to pull your entire rig gently up and over.
-Side Winching with a Hi-Lift. Learn how to winch with a Hi-Lift Jack. Although I have never put my trailer on its side or rolled it over, I've come real close. I have, however, helped another driver get his off-road trailer back on its wheels. To accomplish this, we used my Hi-Lift Jack as a winch to pull his trailer sideways and back up on its wheels. Even though he had a powered winch on his front bumper, this method of righting his trailer was easiest.
-Use Spotters. Because the tires of your trailer take a different path than your vehicle, use spotters to help you successfully navigate around and over difficult obstacles.
-Rims and Tires. Use the same rims and size tires on your trailer that you use on your tow vehicle. If you do, you'll only have to carry one spare. Further, the same size tires on your trailer will often give you similar axle clearance as your tow vehicle (a vehicle geometry you should already have "programmed" in your brain). Your trailer's rims don't have to "look" like those on your vehicle; they simply have to have the same bolt pattern.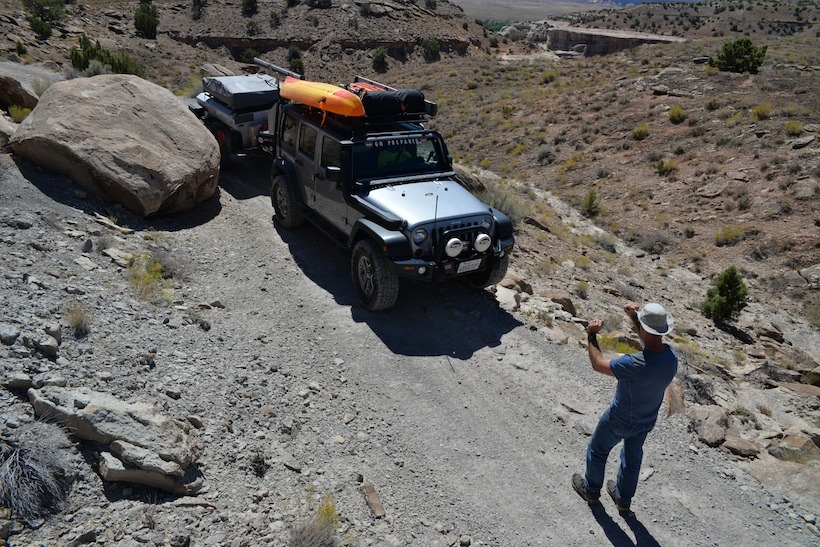 -Hub-Centric Wheel Adaptors. If you want to use a rim on your trailer that has a different bolt pattern than its hubs, you'll need wheel adaptors for your trailer's hubs (or you need to purchase all new trailer hubs with the correct bolt pattern). In most situations, the adaptors and spacers for trailer hubs need to be of the hub-centric type (as opposed to lug-centric adaptors). Make sure you ask an expert before purchasing wheel adaptors for your trailer hubs.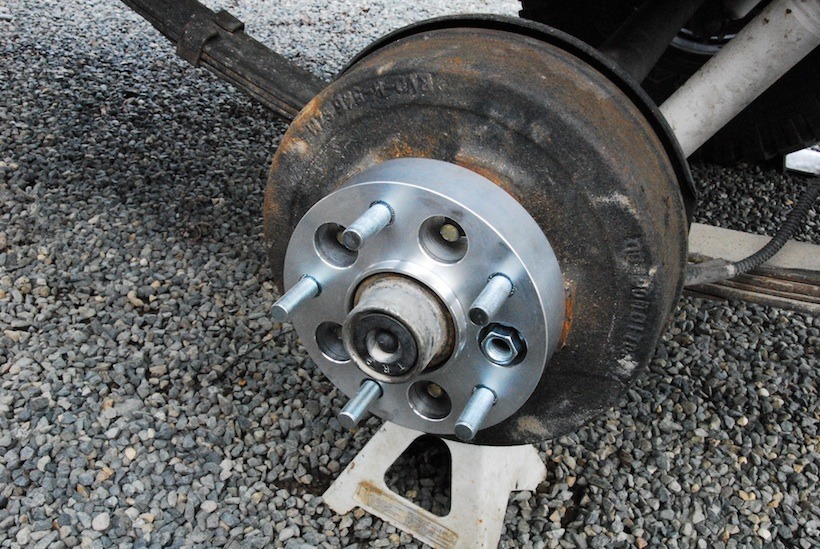 –Highway Towing. While towing on the highway: 1) Watch your speed. The extra weight of an off-road trailer will lengthen your stopping distance. 2) Some states require chains on trailer wheels if the trailer axle has brakes.
Whether you are considering purchasing an off-road trailer or you already have one, taking a minute to think about what you need to brush up on in order to ensure that your next off-road adventure is as stress free and safe as possible is time well spent.
Article and photos by Bob Wohlers
About the Author: Bob Wohlers is the owner of Off-Road Safety Academy and teaches corporate, government, and recreational off-road safety, survival, and wilderness first aid courses. As a registered government contractor, he teaches courses for the National Park Service and BLM. Currently, Bob teaches monthly introductory and advanced recreational off-roading at Prairie City, a California State Recreational Vehicular Area (SRVA). He also organizes and leads groups on 4WD adventure tours into the remote backcountry. www.discoverOffRoading.com