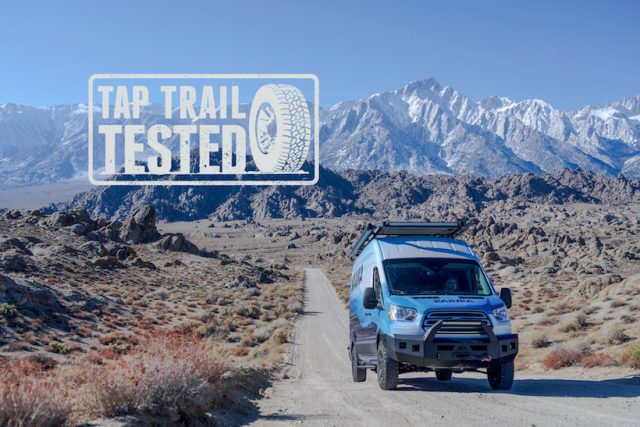 We've never owned an Adventure Van, but have always looked over the Van Life fence and wondered what it would be like to spend some time behind the wheel of one of these awesome rigs. Imagine our excitement, when the guys at newly created adventure van rental company, Kaiuka offered us the opportunity to test one out. Let the games begin!
We decided to take a 4-day trip up the I-395 and visit some iconic overlanding locations. Nothing technical, just beautiful landscapes, perfect for camping and experiencing some solitude.
Being used to the TAP Jeeps, our first impressions as we parked next to the Kaiuka Ford Transit high top, Quigley 4×4 was how big it was. The Backwoods front and rear armor make the rig look intense and frankly awesome. Jeep camping is all about only taking what you need, so this was going to be the exact opposite. After a thorough run down on how everything operates in the Vandoit build, we set off north to battle the Southern California freeway traffic. I'm not going to lie, I was a little apprehensive about driving this rig amongst the craziness. To my surprise, once behind the wheel, the rig was incredibly easy to drive. Great forward vision and no real sense of not knowing where you are on the road. Despite being large and heavy, the Eco Boost 3.5l engine had plenty of power to spare.
1st Van Life night at Alabama Hills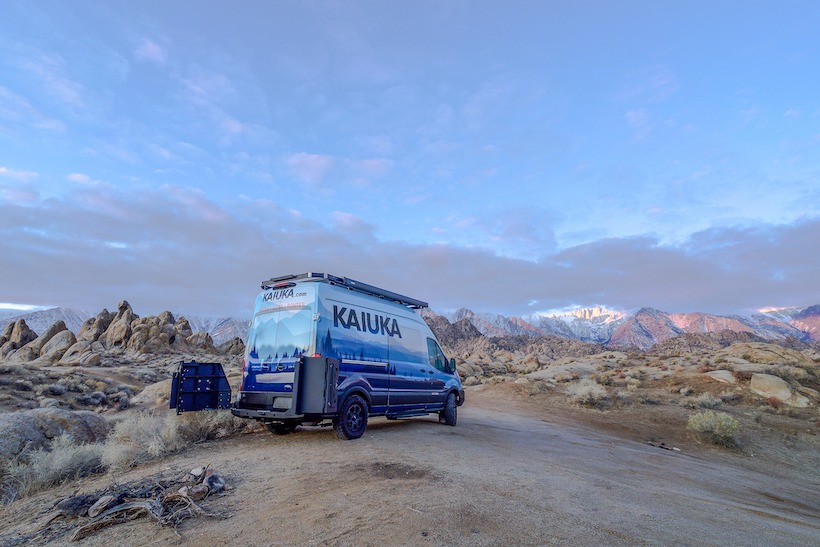 Our first stop was Alabama Hills, in Lone Pine. A breathtaking location and an adventure photographers dream. Many automobile companies or industry folks use this location to shoot brand video's or stills and today was no exception. As we drove along Movie Flats trail there were the boys from Rebel Off Road in their bright orange Jeep Gladiators. With plenty of open space, pretty soon we found a flat area with fantastic views of Mount Whitney and the eastern Sierra. As we watched the sun set behind the snow laden peaks, the golden hour did not disappoint. Alabama Hills is amazing this time of year, but I caution everyone. It's beginning to get busy, so to keep it primitive, pack in and pack out. We don't want to lose this gem of an area.
Our first night's sleep in the van did not disappoint. The 4" mattress on the raised platform bed was ridiculously comfortable and provided plenty of room for the two of us. The temps got down to freezing and the Espar heater kept us warm and cozy. It runs directly off the van's gas tank and the gauge hardly moved while performing quietly and efficiently.
Onward to Trona Pinnacles
After breakfast we made our plans for the day and decided to head south to Ridgecrest and then east to the iconic landscape of Trona Pinnacles. An other-worldly landscape where Planet of the Apes, Westworld and Star Trek have been filmed. We know it well, as it's often our first night's location when heading into Death Valley. Also, back in 2017 we held the Run to the Sun there with over one hundred rigs and a couple of hundred people.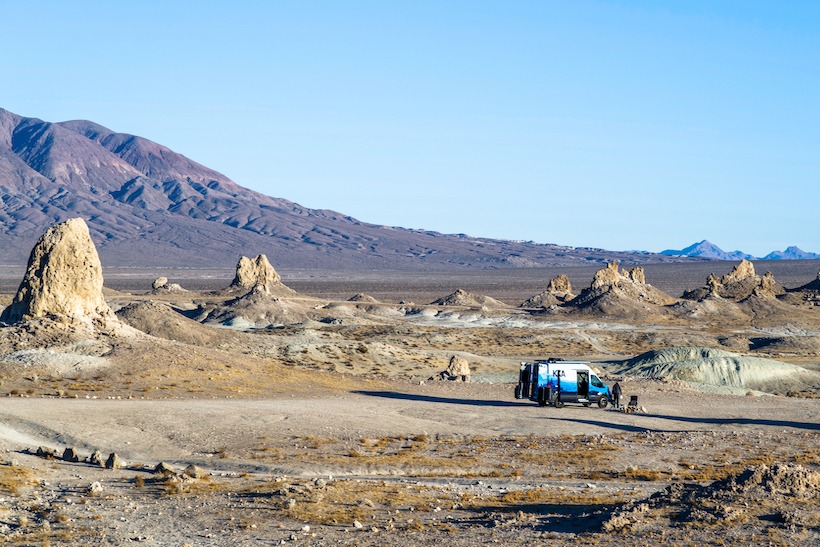 Traversing the 5-mile rough dirt road into the Pinnacles, I was pleased with how comfortably the rig's all terrains and Quigley build handled it.
The Pinnacles is my go-to Astro Photography location due to the landscape and lack of light pollution. It's November, so the Milky Way wasn't showing and after the fire died down and Lori crawled into bed for the night, I broke out my camera gear. As always, Trona does not disappoint.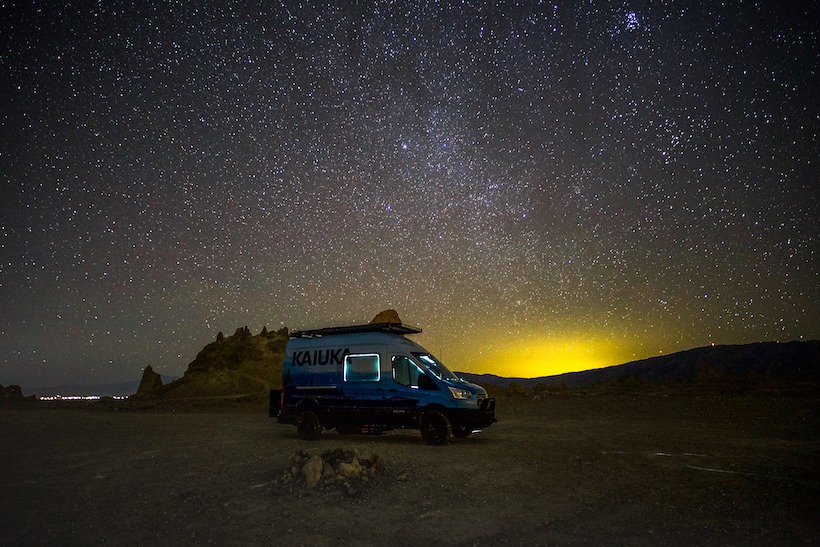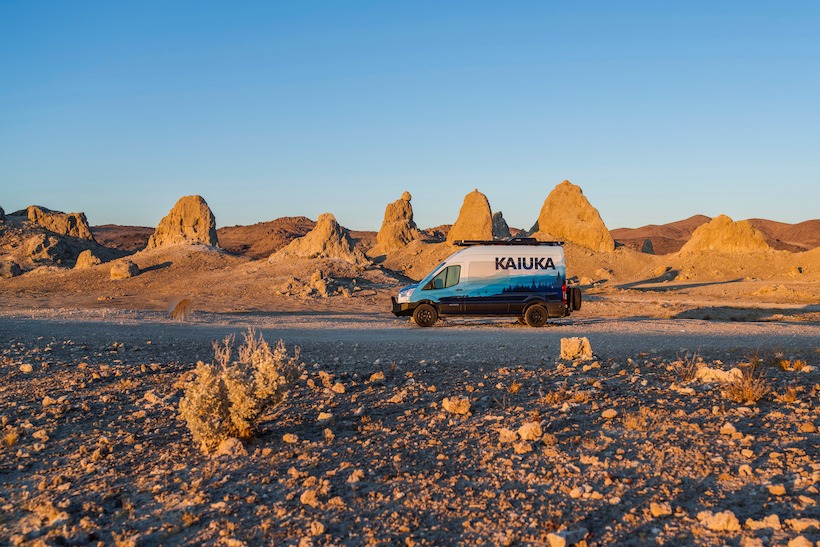 Final Van Life stop, the Kern River
The third day, we decided on a change of scenery and headed 1.5 hrs west to Kernville and the River Kern. This time of the year, the town is quiet, most campsites are closed and the river runs peacefully. It's a beautiful time of year and we soon found a primitive camp spot a few miles out of town and next to the river. Solitude and peace!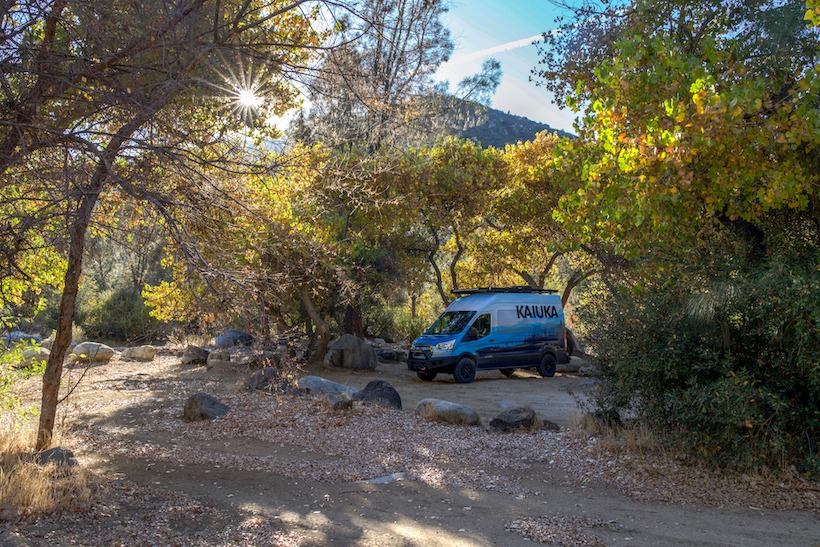 So, after 4 days living out of an adventure van what are our impressions?
Van Life Pros:
The Ford Transit Vandoit conversion was well thought out, roomy and came with plenty of amenities that we don't have in our current overlanding rigs (overhead AC unit, Espar heater, hot water shower). With its ample amount of space, it was easy to live out of, store all our camera/video equipment and live off the grid for a few days at a time. The 4×4 Quigley build, allowed it to hit dirt roads and sand with comfort and ease. All in all, it was a fantastic experience and something I'd be confident driving south to Baja.
Van Life Cons:
As I said, this is a big rig. I wouldn't suggest taking it on terrain that's too narrow, off camber, or otherwise technically challenging as its fairly low clearance inhibits its off-road performance. I would classify it more of a "front country" vehicle.
Van Life conclusions:
It was a fantastic trip and a very positive van experience. For people who wish to visit National/ State Parks, drive long distances across the states and traverse and camp along reasonably maintained dirt roads, this is the perfect rig. Finally, a big shout out to Kaiuka who provided an excellent rental experience from start to finish.
www.backwoodsadventuremods.com