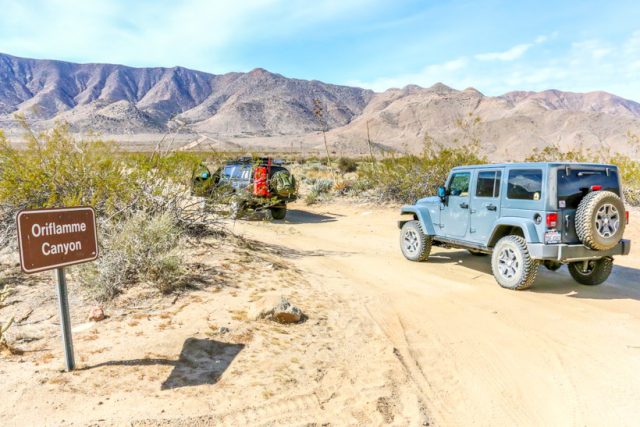 | | |
| --- | --- |
| GPS | N 33 00 27.4 W116 27 19.6 |
| Elevation gain | approximately 2,500 ft |
| Season | Year round: best Oct.-May. There may be snow in the winter. |
| Terrain | Packed dirt, mildly rocky with some steep switchbacks. |
| Difficulty | Moderate |
| Required Vehicle | Stock 4×4 with high clearance. |
| Time | 1 1/2 hours one way |
| Length | 11.1 miles one way |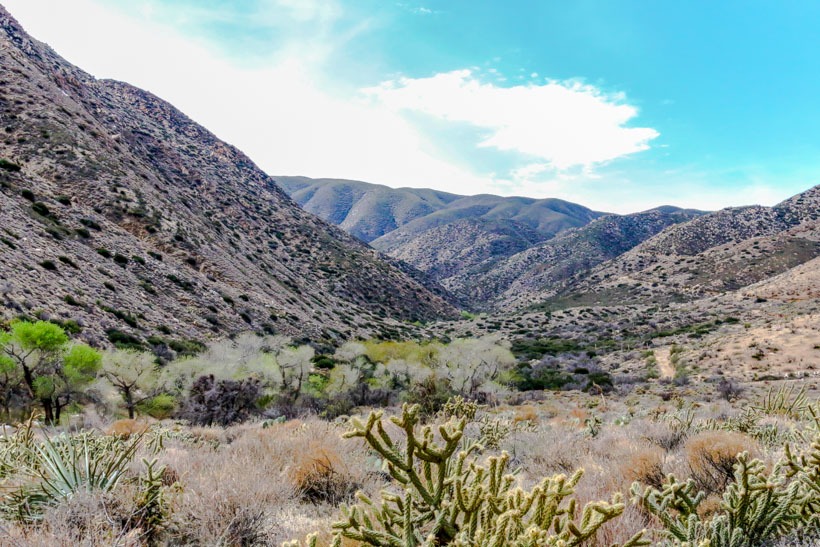 Directions TO Oriflamme Canyon: Go west just north of mile post 27 from Hwy S2 approximately 10 miles south of Hwy 78. The road is well marked and ends up in Banner and Hwy 78.
Site Location and Description: This is a beautiful and really fun, moderately difficult off-road trail to drive. You cross through a remote canyon, traverse some tight switchbacks; a few of which you may need to back up and three-point turn into them with longer wheelbase vehicles. You will need a high clearance vehicle due to some uneven and rocky terrain on this overland trail.
This is a nice afternoon adventure as it has so many varied types of topography and vegetation to feast your eyes on as you drive. The view from the top of the canyon is also spectacular. We didn't see anyone else while up there and thoroughly enjoyed the desert bloom and peace.
TAP Note: The Pacific Crest Hiking Trail passes through this route at the six-mile point.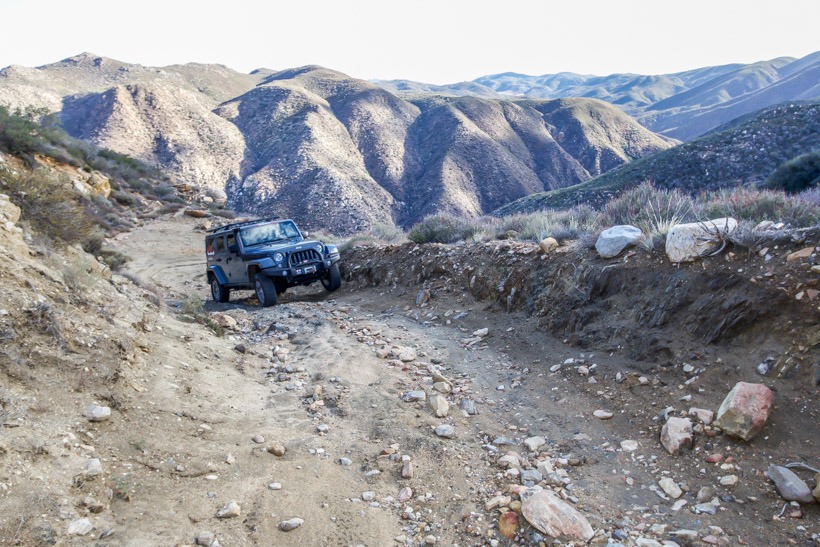 The History of Oriflamme Canyon: This overlanding trail was used by Native Americans to traverse in the summer from the blazing arid desert heat to the moderate climate of the Laguna Mountains. It was also the route that Colonel Pedro Fages took in 1772 while searching for army deserters. He was the first European to go to Anza Borrego Desert, survive, and later write about it. In the 1800s cattle ranchers built a rough road through Oriflamme Canyon to move their cattle to summer pasture in the Laguna Mountains.
The name Oriflamme most likely comes from the name of a side-wheel steamship with that name that brought the first miners to the area in 1870 during the Julian gold rush. The first mine in the area was called Oriflamme and soon thereafter the canyon and mountain were called that as well. In the 1850s, Oriflamme Canyon was part of the transcontinental mail route, "The San Antonio and San Diego Mail Line" or "Jackass Mail" because mules were used to transport the mail up the steep road through the canyon.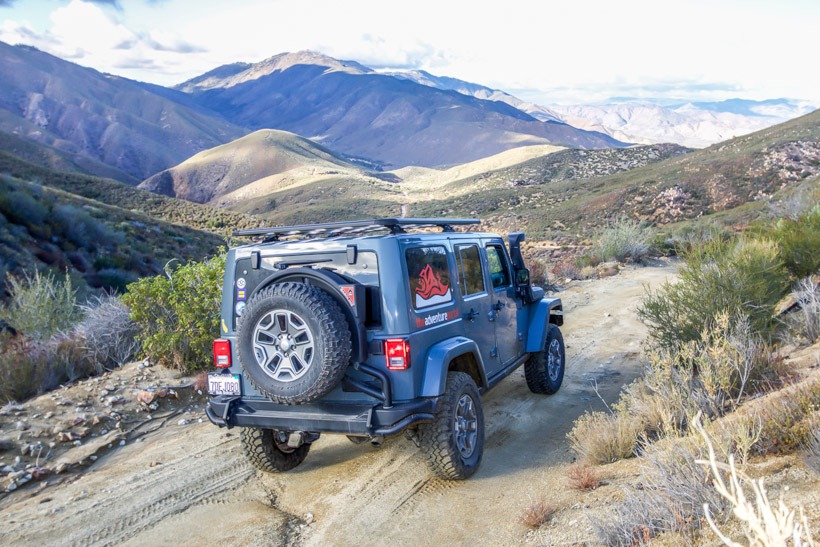 Click here for more CA off-road, Overlanding trails…..and TAP into Adventure!