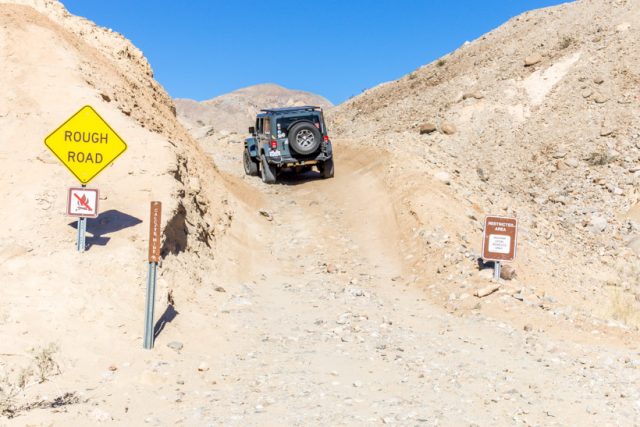 | | |
| --- | --- |
| GPS | N33 16 52.2 W116 05 44.4.70 |
| Elevation | 600-1,100 ft. |
| Season | Year round: best Oct.-May |
| Terrain | Packed dirt, large embedded boulders, steep rocky ledge, narrow wash and off-camber sections |
| Difficulty | Moderate/difficult. Most is moderate but there is a steep rocky ledge. Vehicles with good articulation and high clearance won't have a problem. Do not travel after it rains. The clay surface gets very slippery. |
| Required Vehicle | High clearance 4WD. Skid plates recommended. The ability to go into low a plus. |
| Time | 1 hour |
| Length | 1.9 miles |
Directions: The Calcite Mine Trail leaves S22 18.5 miles east of Borrego Springs in Anza Borrego State Park. There is an information board on the north side of the highway between mile markers 38 and 39 that marks the start of the trail. It is just west of a large microwave tower and across from Truckhaven Trail. It's easy to miss the trail head.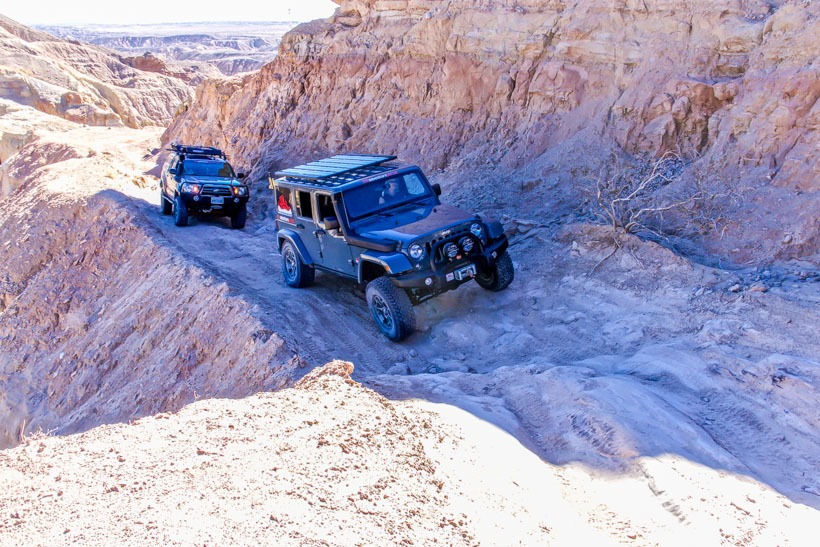 Site Location and Description: This off-road trail is only recommended for the appropriately-equipped, moderately-experienced driver. It is fun and challenging as it winds up to the mine. You will drop into a a deep wash, then up a rough and rutted packed clay road with embedded rocks/boulders. The most difficult part of the trail is a climb up a steep, tippy, rocky ledge. Disconnect your sway bars if possible for increased articulation and choose your line wisely or you will end up catching your undercarriage on a rock. TAP NOTE: Remember: Do not drive this off road trail when wet. It will be slippery and very dangerous.

The views from the top looking toward Mexico are expansive and beautiful. On the east side, you can see the vertical mine shafts, and you can hike down into a twisted wind and water-washed sandstone conglomerate of rounded rock shapes and holes that make it look like you have landed on another planet. These were formed by rivers that once washed sediments into an ancient sea. Climbing around these rocks is fun and you can get a great view of the Salton Sea to the east.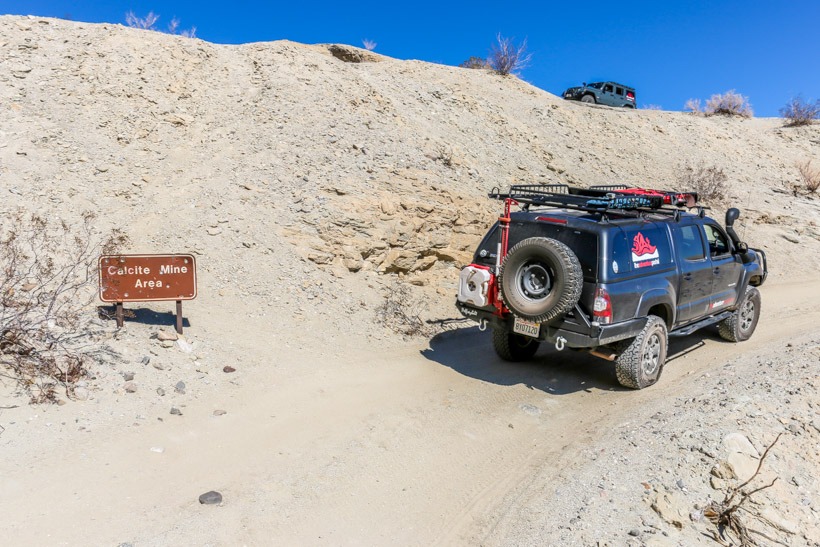 The History of Calcite Mine: High-quality calcite deposits were found here and the mine was built during WWII by U.S. government officials commissioned to find optical-grade crystals for gun sights and rocket launchers. The Polaroid Corporation bought the mine and employed several dozen men to mine the crystals until a synthetic replacement was invented. After that the narrow, open shafts were mined by collectors. Today it is illegal to remove calcite from the mines.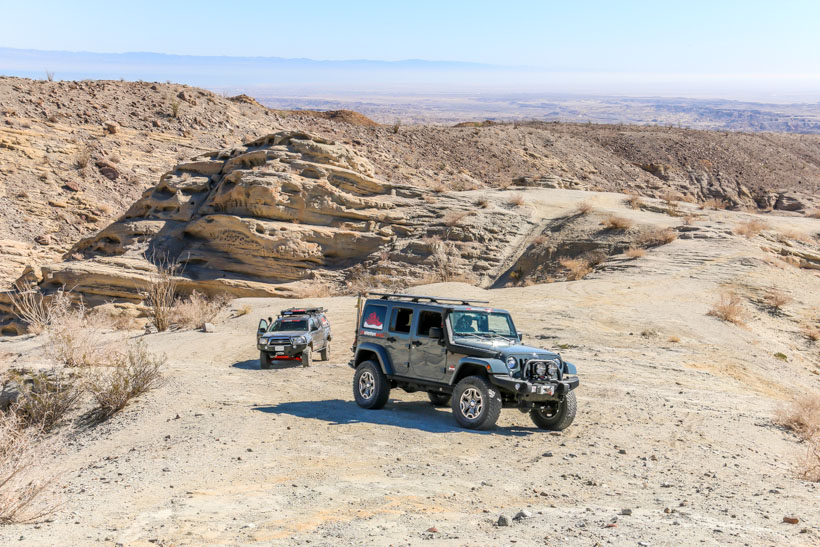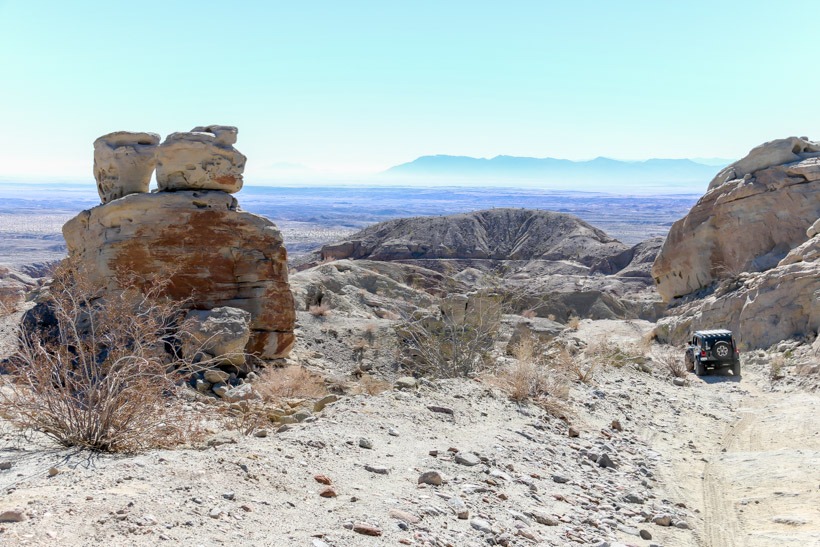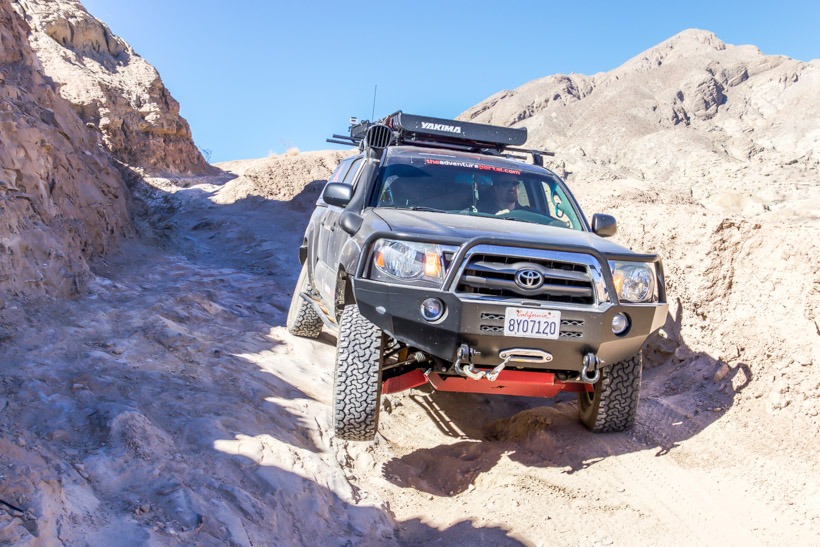 Click here for more CA off-road, Overlanding trails…..and TAP into Adventure!