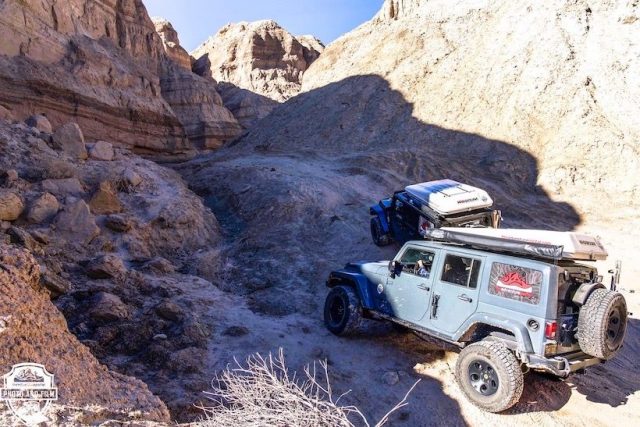 | | |
| --- | --- |
| GPS | N32 52 56.9 W116 09 30′ |
| Elevation | 600 ft. to 1,100 ft. |
| Season | Year round: best Oct.-May |
| Terrain | Packed dirt, deep sand in places, washboard, possible sandstone/ rock slides , narrow in places: flash floods are a possibility |
| Difficulty | Easy to moderate terrain on Arroyo Seco – conditions change frequently due to weather conditions. Diablo Drop off is rated challenging. June 2015 it was moderate |
| Required Vehicle | High clearance 4WD, air down |
| Time | 1 hour 1 way |
| Length | 8.2 miles one way |
Directions: We came into Arroyo Seco Del Diablo via Canyon Sin Nombre (off the S2 between Sweeny Pass and the Carrizo Badlands Overlook, approximately 13 miles NW of Ocotillo) then veered north at the above coordinates.


Site Location and Description: Most of Arroyo Seco del Diablo twists and winds through sandstone canyon and an off-road sandy wash in Anza Borrego State Park. The sandstone walls of the canyon are geographically amazing in their formations. Be aware that the nature of sandstone can be fragile and we encountered quite a few wall collapses that we had to drive over. Nothing too challenging, but worth mentioning. At approximately 6 miles you arrive at the top of Vallecito Canyon on Middle Mesa and you turn left at the Diablo Drop Off sign.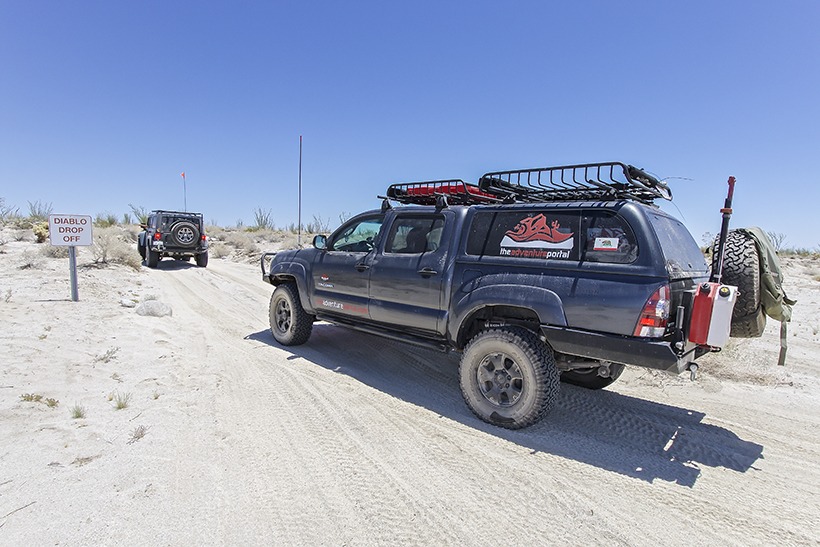 The view from the top of Diablo is amazing, you can see the Fish Creek area and the Vallecito Mountains. There are two off-road "drops" at Diablo. The first is a semi-steep, very sandy hill which is not difficult to descend (we went down in low gear…yes, safe and slow). Rumor has it that you do not want to attempt going back up…SO, you need to be willing to make the second descent called "Broken Shaft" Gultch which has been rated challenging and which we were warned about by the park ranger as being washed out though passible with our rigs. Here you enter a narrow slot and pass over some ledges, ruts and rocks. While these have been written up as treacherous, we found that the recent rains had actually filled in some of the deeper ruts and padded the ledges. DO NOT take this review of the second part of the drop as "set in stone" (ha…) because conditions change frequently and the ruts and ledges can be deep requiring careful wheel placement. For current road conditions call: 760-767-4205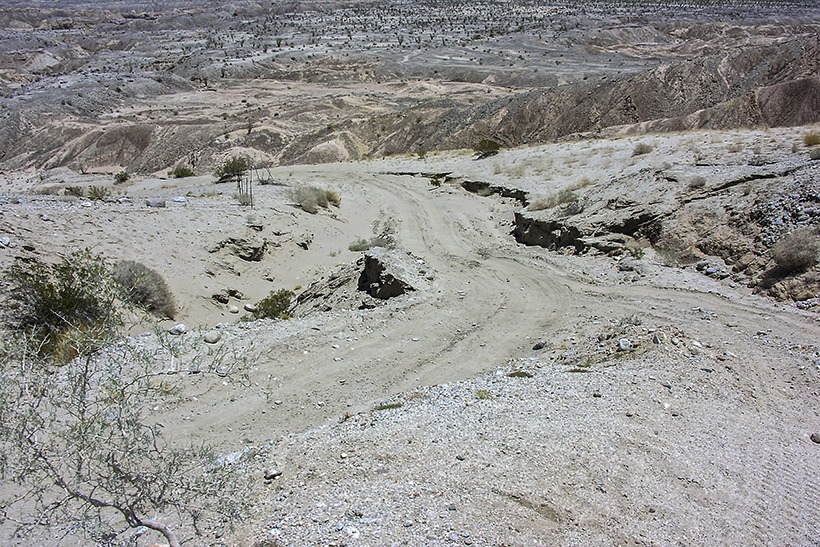 History of Arroyo Seco del Diablo: The name Arroyo Seco del Diablo means the Devil's dry wash and is located in the Carrizo Badlands formed out of water flowing from the ancient Colorado River cutting through the sandstone and rock concretions along it's way to the Gulf of California. (Concretions are basically cemented bodies of sediment particles embedded into rock or sandstone..usually round or disk shaped.) The concretions that were carried downstream helped to form the deep-sided canyon walls of Arroyo Seco del Diablo. Diablo Drop Off sits on a mesa (spanish for table) above the paths carved by the massive floodwaters millions of years ago.
Click here for more CA off-road, Overlanding trails…..and TAP into Adventure!