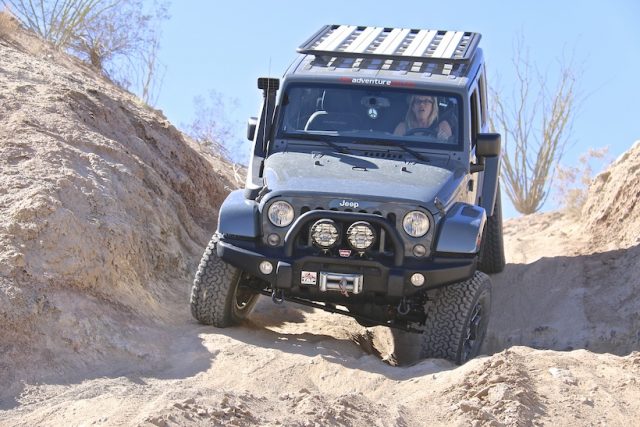 | | |
| --- | --- |
| GPS | N36 51.56 W116 50.70 |
| Elevation | 200 ft.- 5,300 ft. |
| Season | Year round: best Oct.-May |
| Terrain | Packed dirt, sand, small rocks to the slot, past the slot more rocky terrain, deep sand, steep sand hill drop, narrow passages, larger rocks. |
| Difficulty | Easy until you pass the slot going northwest to the very steep sand hill (difficult) and rocky washes at the bottom (moderate). |
| Required Vehicle | Stock car or truck to slot. Past the slot: high-clearance 4×4 |
| Time | About one hour |
| Length | 11.5 mile overland trail for 4WD high clearance. About 1.5 miles to the slot canyon hiking area. |
Directions to the Slot Canyon Trail: From Christmas Circle in Borrego Springs, drive 11.5 miles southeast on Borrego Springs Road. Turn left on Route 78 East, drive 1.5 miles east of Borrego Springs, and turn left (north) on a dirt road marked Buttes Pass by milepost 87.

Site Location and Description: Drive one mile up the Buttes Pass overland road to a fork, and continue to the left up Borrego Mountain Wash. Go another mile to the parking area for The Slot. 4×2 stock vehicles should be able to drive to the trailhead at the end of the sandy dirt road, but should not attempt to go further on this off-road trail. Park at the flat area in front of what looks like a miniature version of the badlands. You have reached the Slot Canyon area. Mark your entrance, as there are many ways down into the Slot and it will help on your return. Walk a short distance and you will enter the Slot. The sandstone canyon walls get taller and more animated-looking in their form as you go. This is an amazingly fun and interesting hike into the bowels of the earth. The Narrows is a great place to take kids, take photos, videos, and explore.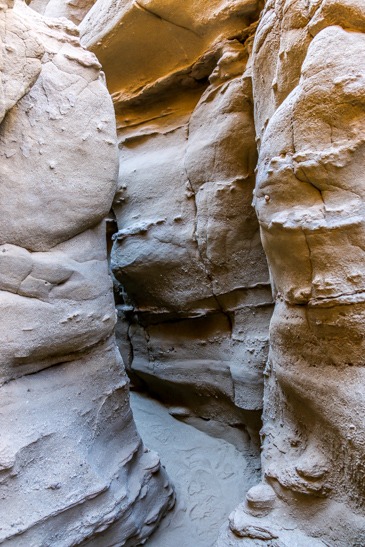 Overland Slot Canyon Trail Drive: If you have come with your high-clearance 4WD and are looking for some overland fun, head north out of the parking area on a single-lane, sandy road. Bear left at a fork, then left at a T-junction. You will have gone approximately two miles by this point. Follow the trail along the top of the ridge to the end to an overlook. Ahead of you, you should see a sign saying "one way" and a stepped and rutted sandy hill heading east. This is the difficult portion of the trail. If you decide to descend, then we recommend you scout it out first to pick your line. If you have a spotter, then be sure they are in a safe place out of harm's way, since this is a steep, rutted and sandy hill, and spotters and cars can slide. Air down your tires, go into L4 to help slow your descent and disconnect your sway bar if you can. Off-road Tip: Remember on steep sandy descents, do not lock your brakes as you will slide. Keep facing directly downhill and avoid getting sideways.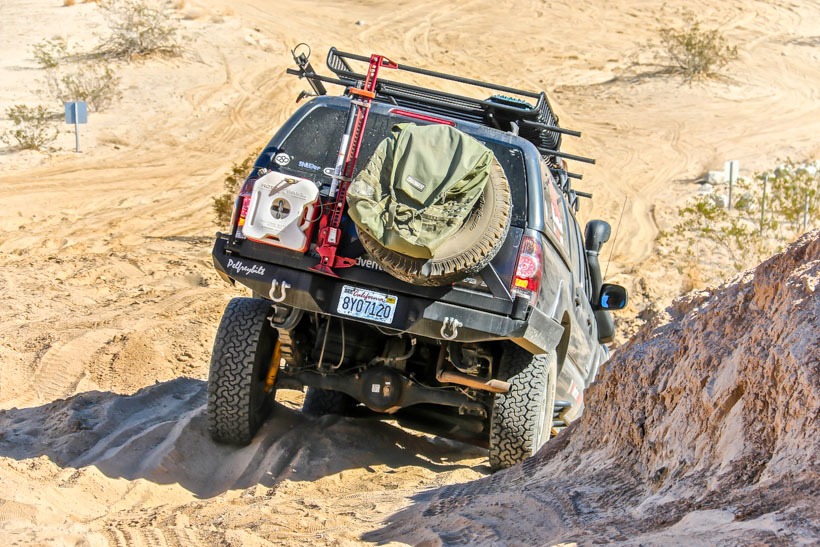 TAP NOTE: If you have no experience in sand, then do NOT attempt this hill. Be safe. Go slow and easy.…..for the experienced driver, this hill is a BLAST.
Once you get to the bottom head north through a moderately rocky area in Borrego Mountain Wash. Turn left at a rock that looks like a face, then bear right in the San Felipe Wash. From here you can either go about 4 miles and turn right on Buttes Pass back to Highway 78.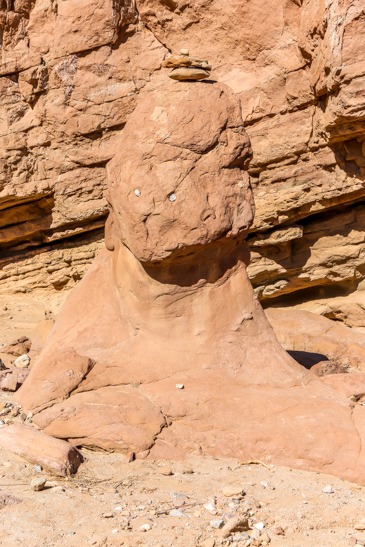 Click here for more CA off-road, Overlanding trails…..and TAP into Adventure!