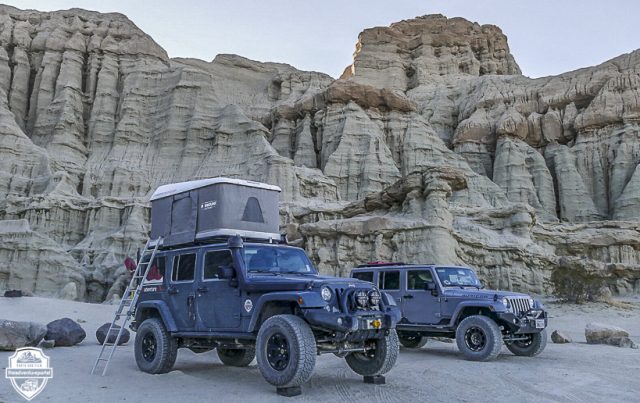 Welcome to the final chapter, part four of TAP's journey through Death Valley. If you've missed the first three days, check them out then read on as we stop by the Wildrose Charcoal Kilns, Ballarat Ghost Town, then leave the park and head over to Jawbone Canyon OHV Park to see Burro Schmidts tunnel and finally stop to camp at Red Rock Canyon State Park.
Day Four Destinations:
The Wildrose Charcoal Kilns, Ballarat Ghost Town, Burro Schmidt's Tunnel in Jawbone Canyon OHV Park , Ricardo Campground in Red Rock Canyon State Park.
Wildrose Charcoal Kilns
From our third night's camp at Mahogany Flat, we headed back down Wildrose Canyon and stopped to check out the Wildrose Charcoal kilns.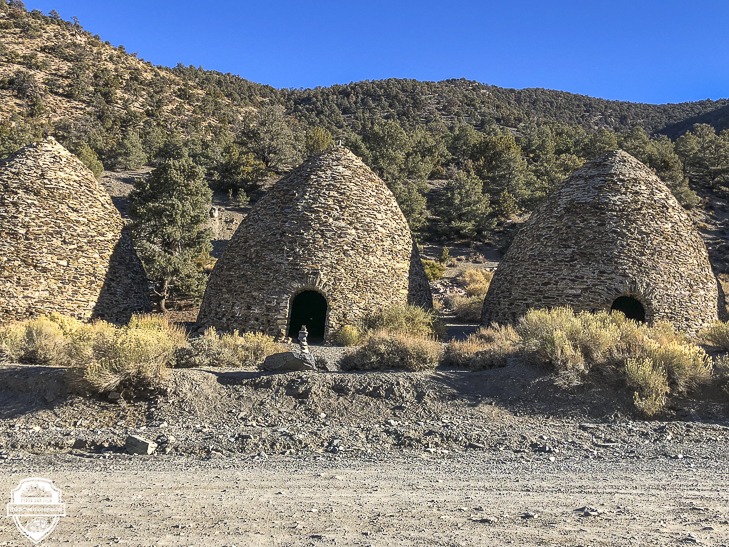 The Wildrose Charcoal Kilns, built in 1877, are one of the best preserved and largest examples of historic charcoal kilns in the West. The kilns are located in the western part of Death Valley National Park, in Wildrose Canyon. The kilns were in operation from 1877-1879. Each kiln would be loaded with as much as 35 cords of wood and then lit. Air flow was limited by blocking the vents located near the base of the kilns and the wood was allowed to slowly burn for a week or more until it was reduced to charcoal. It would then take another five days for the charcoal to cool before it could be removed from the kiln. Charcoal was desirable because it burned hotter and slower than wood, and was more suitable to power boilers and for use in smelters.
The Modock Consolidated Mining Company built them in order to provide fuel for use in two smelters close to their group of lead and silver mines in the Argus Range west of Panamint Valley, about 25 miles from the kilns. The mine was partly owned by the famous George Hearst (William Randolph Hearst's father; a lucrative miner), this was not a particularly productive venture compared to Hearst's other investments so it's unlikely that he took much personal interest in it. The reason for the closure is likely a combination of poor economics (the charcoal had to be transported up to 25 miles by wagon over difficult and primitive roads) and the fact that the kiln's voracious appetite for wood quickly depleted the sparse pinyon forests for miles around the site. (westernmininghistory.com)
Ballarat Ghost Town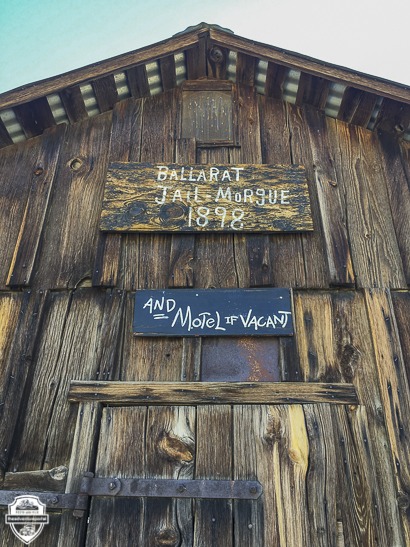 We continued down Wild Rose Canyon road to Panamint Valley Road to check out Ballarat ghost town. I found an interesting video on Ballarat and its infamous past inhabitants on DesertUSA.com.
When we got there we ran into a colorful crew of characters sitting in front of the old general store. We didn't go over to chat, just took a few pictures of the town's remains and left.
From Ballarat, we said goodbye to Steve and Laura. They were heading home to the Bay Area and to Seattle. David and I also left the park and headed over to Jawbone OHV area in search of Burro Schmidt's tunnel.
Burro Schmidt's Tunnel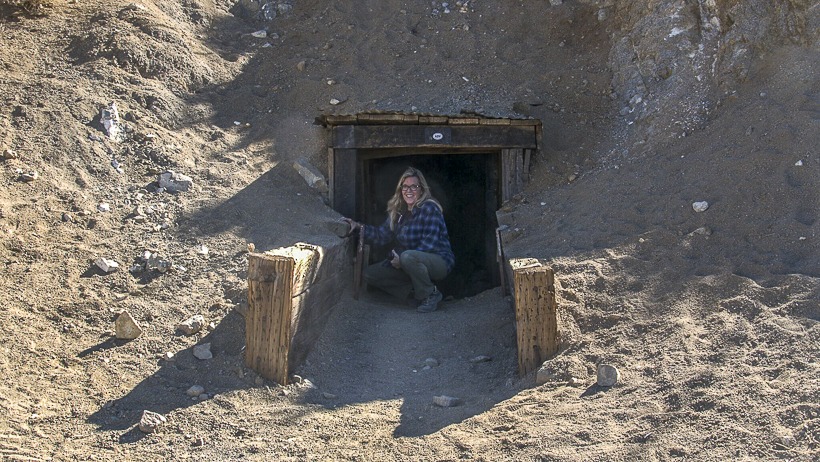 William Henry "Burro" Schmidt prospected around Kern County and established claims in the El Paso Mountains. Starting in 1906, he dug, drilled and blasted his way through the interior of the mountain for thrity-two years, until 1938, when daylight was finally visible through the far side of the tunnel, but he found no gold. His tunnel is 2,094 feet long and you can walk through it and check out the incredible yellow and rust colored strata formations on the ceiling. He's another example of the eclectic characters drawn to the desert and its riches.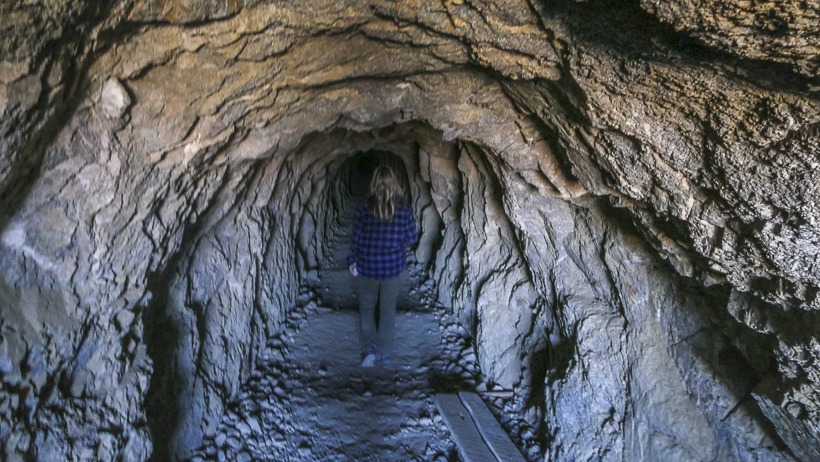 Ricardo Campground-Red Rock Canyon State Park
That evening we drove over to Red Rock Canyon State Park and camped at Ricardo Campground. The rock formations in the camp are spectacular. They form fluted folds from the erosion of softer rocks beneath the dark caprocks which were formed by a harder lava flow layer many moons ago. For more info on the park from DesertUSA.com click here.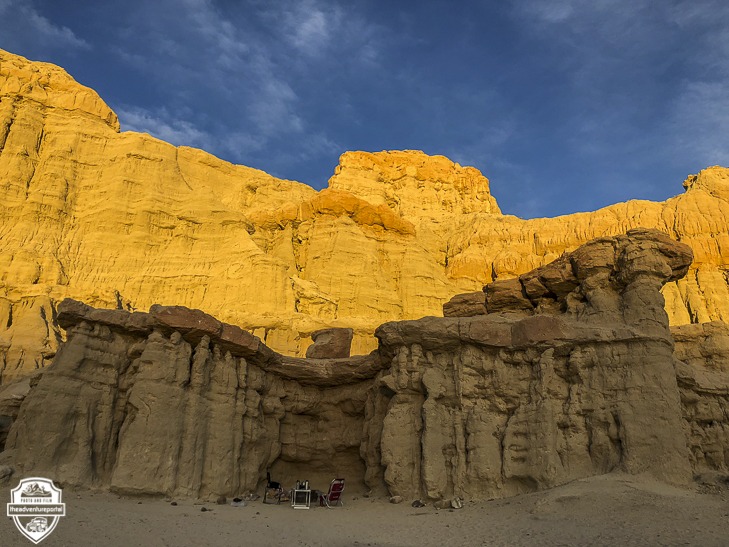 It was a great time to be at the park as the campground was almost empty. We hiked around a bit and walked through some amazing tunnels and chambers formed by erosion. If we'd have had another day, we would have explored the park, but that will have to be another trip. We made a big fire in a pit that was nestled close to a rock wall in a half circle enclosure and enjoyed the beauty and the peace of the evening and the warmth of the fire. We talked about life and family and how lucky we are to have such a wonderful playground within reach. This had been a truly remarkable trip, one I would not soon forget.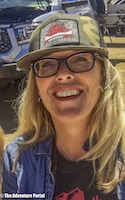 Author: Lori Palmer
Photos: Lori Palmer, David [email protected]