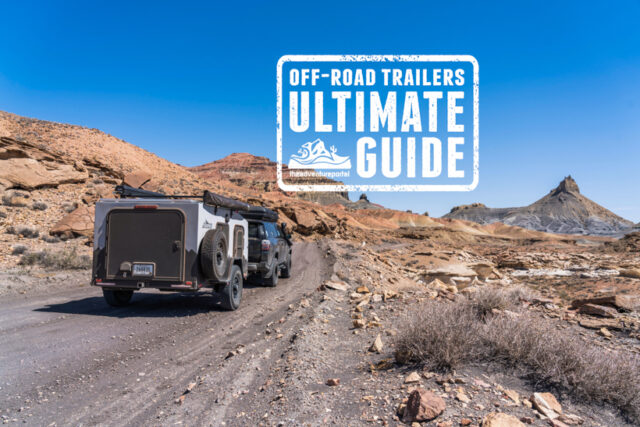 Off-Road Trailers : Styles to look for:
Teardrop Off-Road Trailers (Enclosed living space with kitchen usually at the rear)
Expedition Style Off-Road Trailers (Multi functional tub style trailer with internal carrying space and kitchen. Usually features an additional Roof Top Tent)
Cargo Style Off-Road Trailers (Large storage based trailer)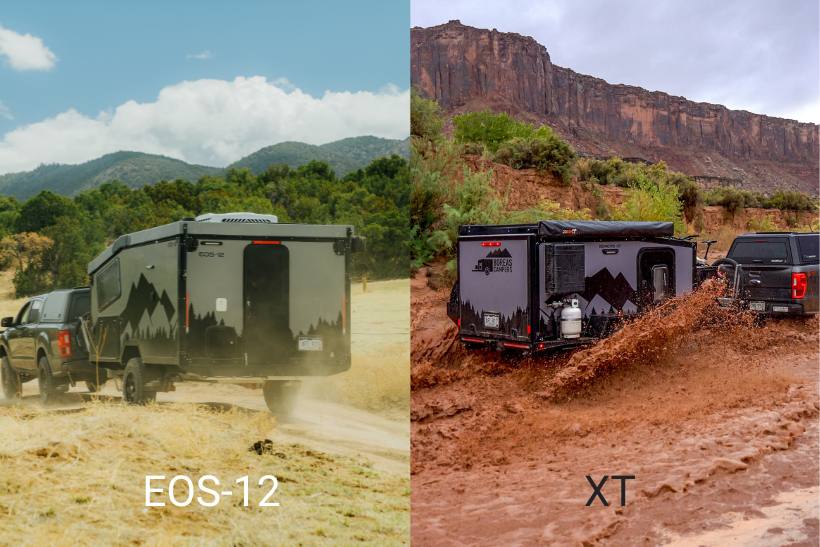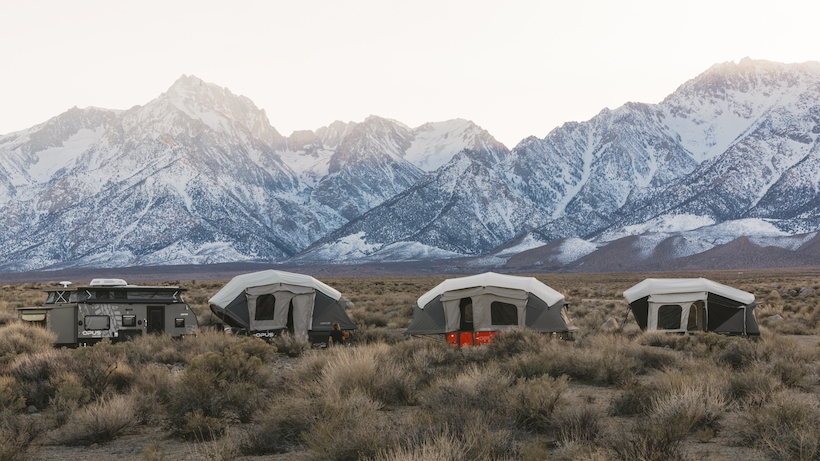 Tel: 925 215 7315 [email protected]
________________________________________________________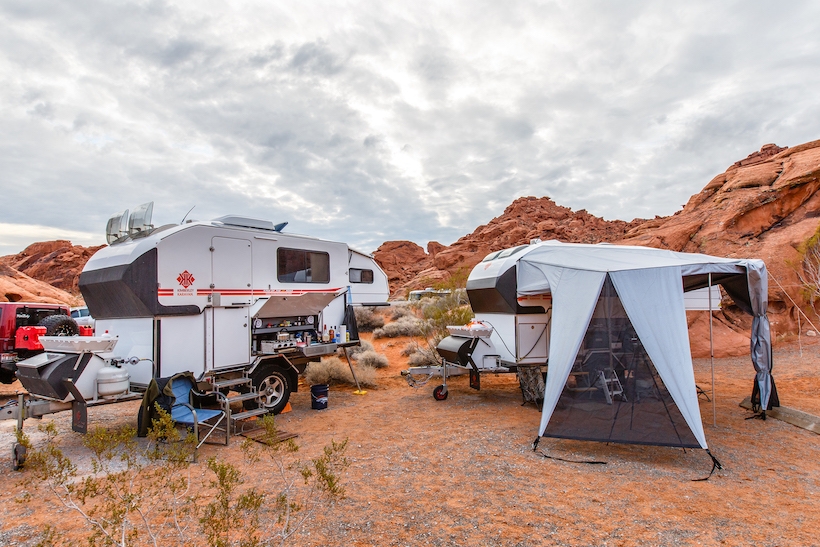 30 YEARS OF AUSTRALIAN INNOVATION:
KIMBERLEY KAMPERS LAUNCHES NEW PREMIUM OFFROAD CARAVAN FEATURES
'King of the Off Road™', Kimberley Kampers, celebrates 30 years as one of Australia's longest-standing luxury RV manufacturers with the launch of many premium upgrades to its range.
Founded in 1993, Kimberley Kampers continues to dominate the market nationally and overseas. From its manufacturing hub in Ballina, NSW, Australia, Kimberley produces top-of-the-line offroad camper trailers and caravans.
"We're proud of our legacy as a driving force behind offroad innovation and Australian manufacturing," said owner and CEO James Cockburn.
"To continue this tradition and celebrate our 30-year heritage, we're increasing the performance and comfort of our existing caravans."
Taking Luxury Where It's Never Been Before

Built on a rugged galvanized steel chassis, the Karavan offroad caravan ventures off the beaten path in style. These are off-road-ready with heavy duty construction, independent air suspension and abundant off-grid living features.
Designed for first-time offroaders and seasoned caravanners, the Karavan marries comfort and capability for a first-class experience.
Offgrid Capabilities for Unbridled Exploration
Independent air suspension and powerful disc brakes.

Lightweight composite body with Aluminium alloy furniture

Smart energy system, solar panel arrays and generous water carrying tanks with diesel-powered hot water system.

Dual kitchens, indoor and outdoor, with hot and cold water and a full-size shower ensuite with composting toilet, are heated by diesel.
Tackle the bush, beach and infamous Australian tracks such as the Gibb, Tanami and Strzelecki—the Karavan goes where others can't follow.
Tel: 937 594 9565 [email protected]
____________________________________________________________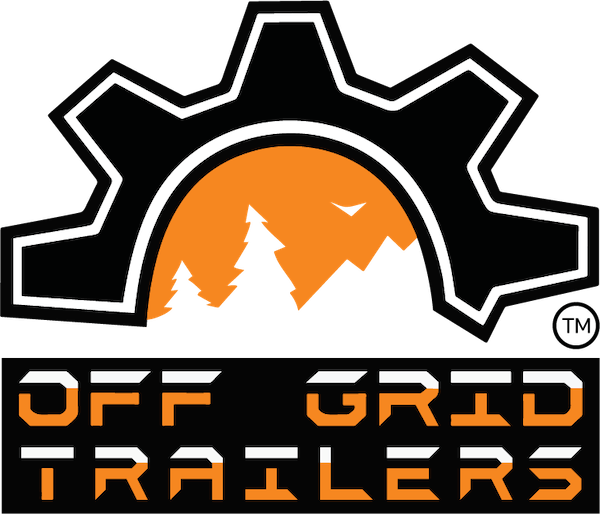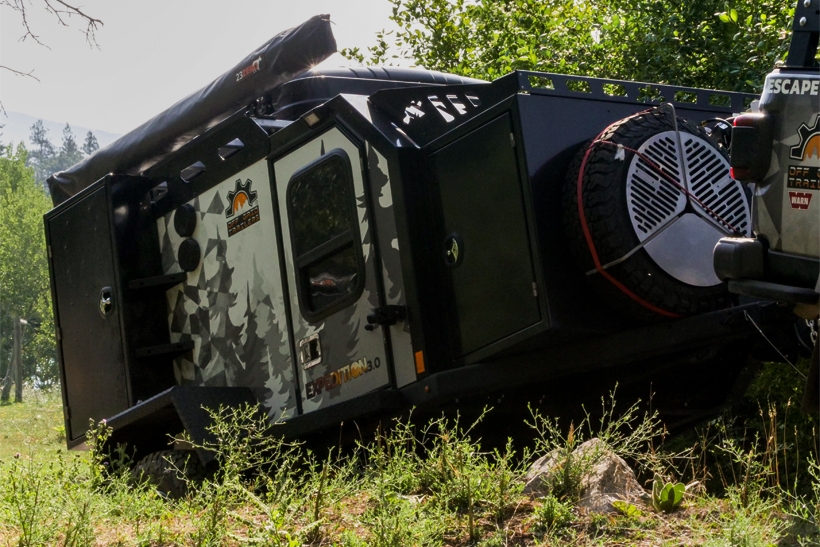 The all-new, re-designed Off Grid Trailers Expedition 3.0 has the same world-class craftsmanship as its predecessor with all new upgraded components. This RVIA-compliant all-metal off-road camping trailer has a completely upgraded electrical system with lithium battery options, an all-new Trauma Aqua Go Comfort Plus hot water on-demand system, Truma Vario Heat forced air furnace, and high-output Dometic dual burner cooktop.
The Expedition 3.0 is still built on a steel 4-inch c-channel frame with a standard Timbren 3500 HD Axle-less suspension and optional OGT Evolution Series trailing arm suspension with 25 inches of ground clearance and 8 inches of wheel travel to ensure your trailer will follow anywhere your 4×4 can go. The integrated roof rack is tested to carry 1000 lbs. of static weight, ensuring no need to leave any gear behind. The innovative exterior-mounted drop-down kitchen includes a dual burner cooktop and stainless-steel sink with a faucet and does not occupy any interior or storage space. The massive rear storage compartment comes with adjustable shelves to suit your needs. Inside you will find a comfortable queen-sized bed, interior storage compartments, your electrical display, and an optional furnace display with a thermostat.
Beyond the Expedition 3.0 Off Grid Trailers has also updated its rugged off-road teardrop with the release of the Pando 3.0. If you are looking for something different be sure to check out the fully modular sleep-in Sprocket as well as the Switchback overland adventure Trailer.
Build and price your Off Grid Trailer today.
Tel: 800 786 3221 [email protected]
_____________________________________________________________________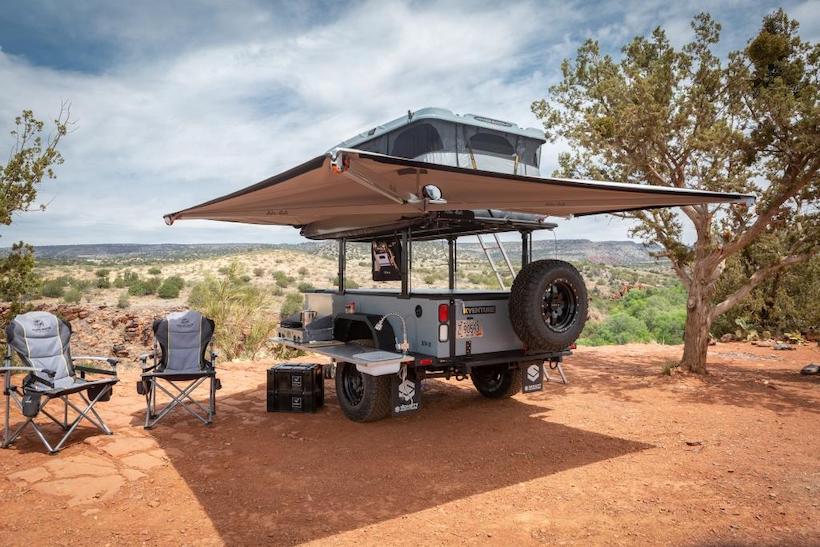 Xventure trailers (built by Schutt Industries) have a Military pedigree and long history of providing the most substantial build quality in the industry. Starting with their Military inspired chassis that carries a 10-year warranty, aluminum extrusion frame and huck bolt fasteners, Xventure gives you quality found nowhere else in the Overlanding market. Our flagship XV-2 has been developed from the J8 military trailer and has seen extensive adaptations to become a perfect fit for the Overlanding community. Now available with a 25-gallon water tank, on-demand water heater, propane system with a 20lb. tank, full galley system with 7' stainless steel table, tonneau cover, elevating rack, full lighting system and numerous other options, the XV-2 gives you the capability to carry motorcycles, a full size quad or just all the gear you need for an extended trip to your favorite destination. Our 25+ years of manufacturing the toughest trailers made give us the confidence to say we will be "BEHIND YOU ALL THE WAY". Outfit your Xventure the way you want with or with a roof top tent, awning or fridge, remember it's "YOUR LIFE…YOUR TRAILER".
Tel: 715 823 8025 [email protected]
_____________________________________________________________________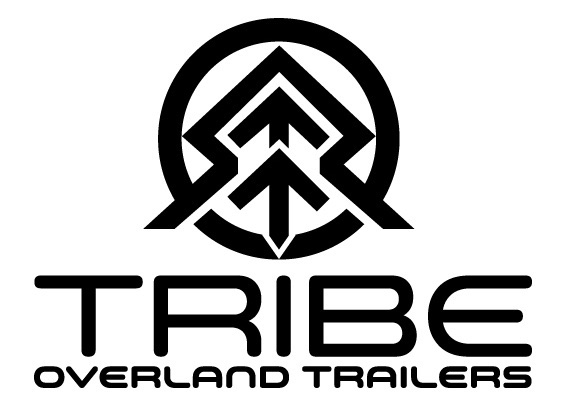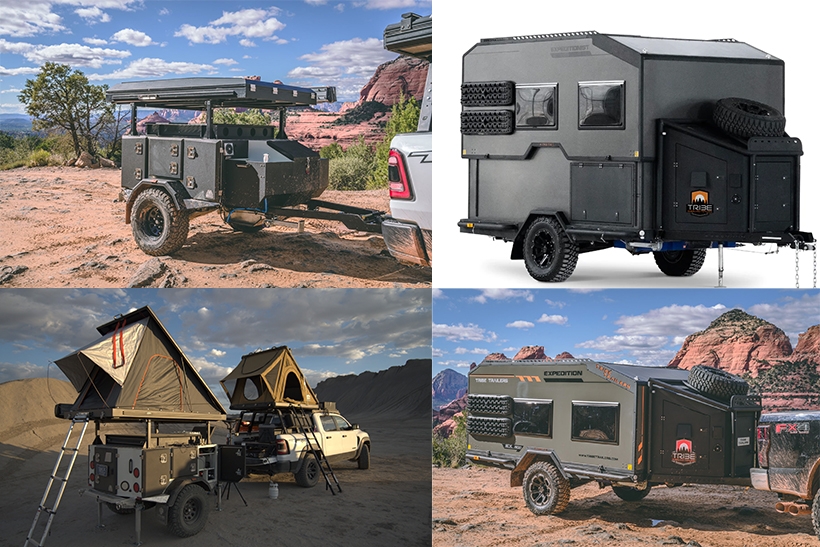 Introducing Tribes Overland Trailers – Your Ultimate Adventure Companion.
Join our overlanding community with Tribe, a family-owned business devoted to getting you out on the toughest trails with everything you need, and nothing you don't, all at the lowest possible cost!
Discover the Basecamp trailer – a tried and true companion ready to take you to the most remote camping destinations. Equipped with an aluminum rooftop tent, 270 batwing awning, 17 gallons of fresh water, a full slide-out kitchen, 100-amp hours of electricity, and solar ready plugs, you'll enjoy all the comforts of home in awe-inspiring locations. Its steel independent A-arm suspension, built-in bump stop springs, shock with additional mounting brackets, and limiter straps ensure there's nowhere you couldn't call home.
Brand new to our lineup is the Expedition 500 hard-sided pop-up camper – say goodbye to pesky canvas pop-ups! Packed with features like an outdoor and indoor kitchen, shower, toilet, heater, AC unit, ample storage, independent air ride suspension, solar, and more, the Expedition 500 is your ticket to unparalleled comfort on your overlanding journeys. Its drop-down ability and independent suspension allow for perfect tracking on roads, while raised suspension grants ample trail clearance. And with a height of under 7 feet when completely lowered, you can even store it in your home's garage.
Embrace the spirit of adventure with Tribes Overland Trailers today. Unleash your wanderlust and make every journey extraordinary!
Tribe Trailers, escape the crowd!
Tel: 866 447 7895 [email protected]
____________________________________________________________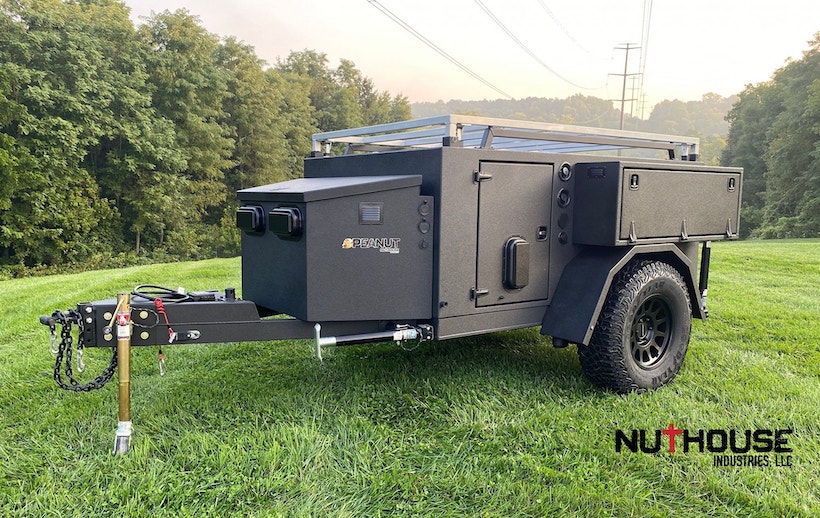 Nuthouse Industries trailers are handbuilt in Ohio, USA. With trailer options for the weekend warrior up to the veteran overlander. We build each trailer to order and offer many options that can be added overtime or bought as a complete package. Our trailers are constructed from in-house designed custom extrusions, fully welded aluminum materials, providing light-weight, superb strength that will last a lifetime.
The Peanut and Hickory expedition trailers use Timbren 3500# HD Axle-less suspension with the ability to match the trailer hub pattern to any vehicle and run up to a 37" tire. We use a fully adjustable height coupler with the option to use ball (Standard), Pintle or Lock N Roll hitch. 7-way RV style plug and electric brakes are standard. Reverse light is standard and we use LED lighting throughout. Extended tongue and aluminum tongue box is included. Gas struts are used for the lid and lockable compression latches provide a weatherproof seal. The latches and tailgates are keyed alike. All hinges, vents and hardware are stainless steel.
Options available: The latest offerings on solar management, deep cycle or Lithium batteries, 110v inverter, propane, cooking and shower modules, water, fridge/freezer, electric tent height adjustment, RTT rack, awning mount, slide out trays, spare tire carrier and lockable Nutshell boxes.
Tel: 513 899 2342 [email protected]
_________________________________________________________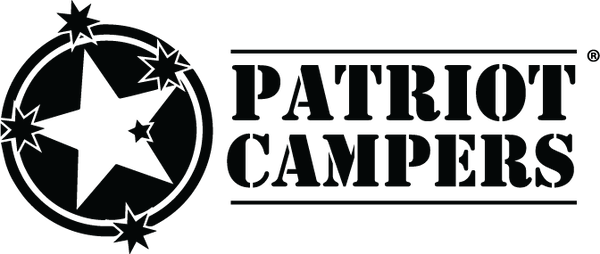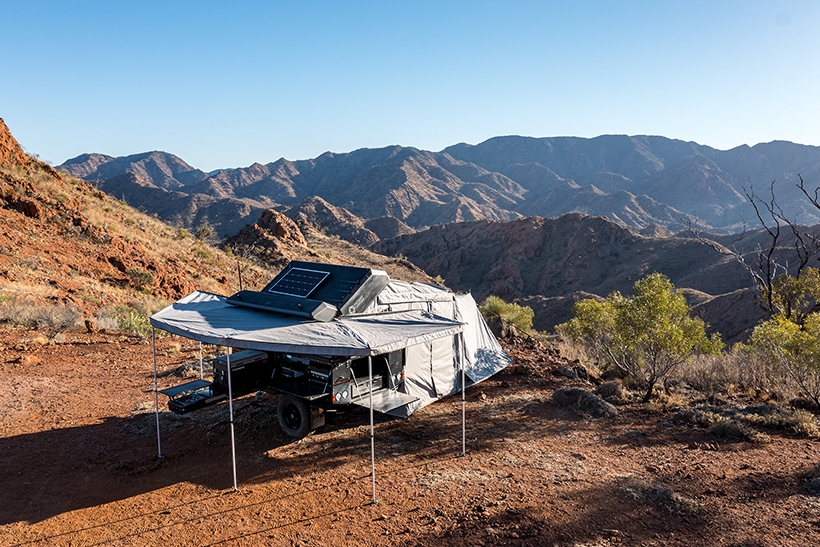 Patriot Campers is an Australian Camper Trailer Manufacturer that has built a reputation for producing high-quality, award-winning, off-road camper trailer products made in Australia. They are constantly innovating and refining their products at their headquarters located on the Gold Coast, and testing their products over harsh terrain both at home in Australia and internationally.Patriot Campers has revolutionized the off-road camper trailer experience with their recent launch of the all new GEN2 Model Range. The X-Range of Camper Trailers is designed to be user-friendly, with intuitive features and impressive automation, making it possible for anyone to set up, operate, and pack down without assistance.
Tel: 702 767 3329 [email protected]
Subscribe to our Youtube: https://www.youtube.com/user/patriotcampers
Follow us on Instagram: https://www.instagram.com/patriot.campers/
Follow us on Facebook: https://www.facebook.com/patriotcampers
________________________________________________________________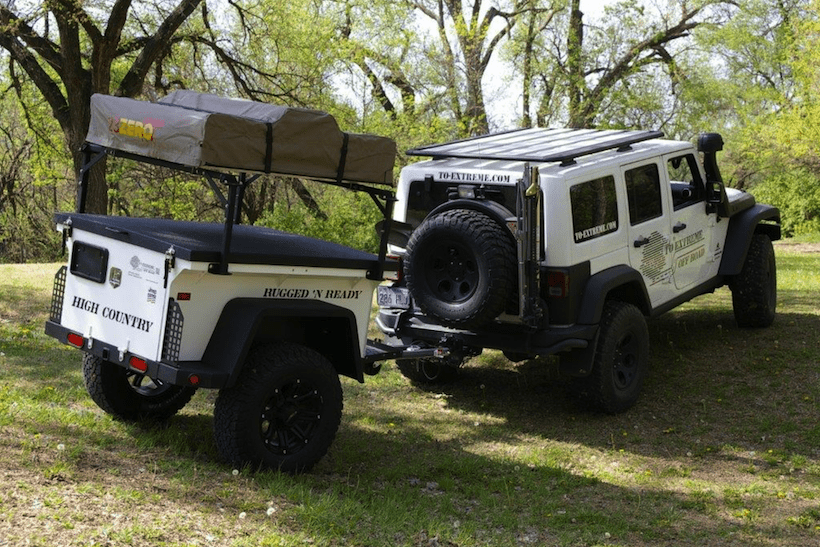 The standard features of the TO Extreme Off-Road Trailers makes them perfect for all overland camping adventures! Our trailers are manufactured in the USA using CNC laser cut and formed 11 gauge steel, yet light enough to pull with nearly any SUV or truck. Each unit comes equipped with UL-lined fenders and frame, Powder coated body panels, a Timbren axle-less suspension package, over 20 inches of ground clearance, premium BF Goodrich off-road tires, an adjustable cargo management system, a forward cargo rack, a lockable tailgate, and a 2" rear receiver. With two available sizes, 60" or 72", you can pick the trailer that best meets your needs. Along with lockable lid options, multiple roof top tent and awning varieties are available also. We have provided you with the necessities and there is plenty of room for additional options to be added. Affordable, high quality, and designed to go anywhere you would like to go.
TEL: 785-827 4839 xt 236 [email protected]
____________________________________________________________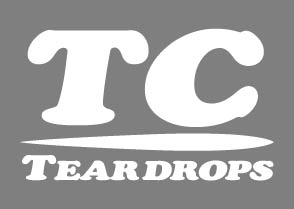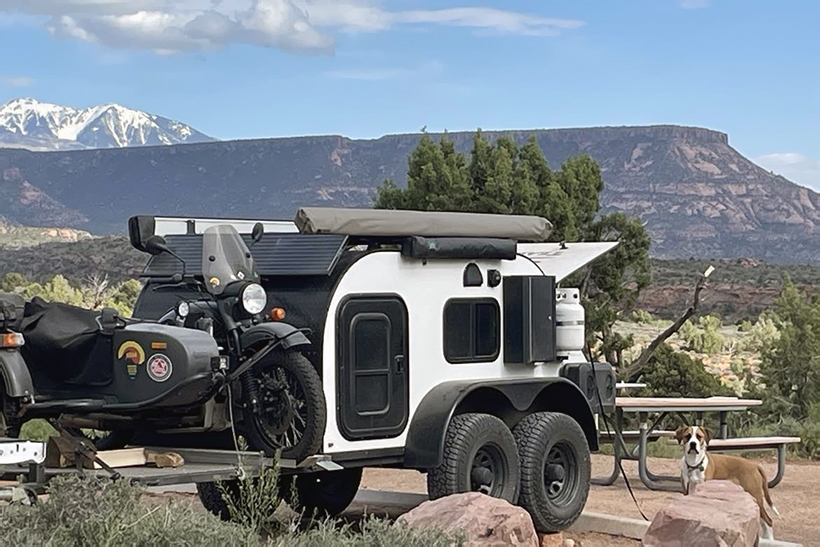 TCTeardrops LLC Custom Camping Trailers are built, one at a time, by our family for yours! Whether you travel on road or off, our trailers are up to the task. Manufactured using only quality materials and skilled craftsmanship, TCTeardrop campers can haul your boats, bikes, bed AND breakfast all in one eye-catching, affordable package!
Tel: 715 842 0920 [email protected]
______________________________________________________________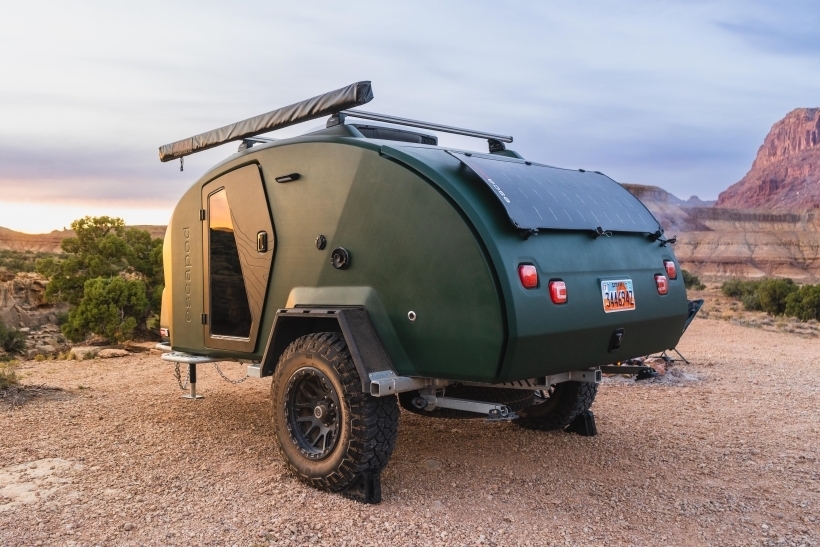 Escapod Trailers builds premium teardrop campers that prove beautiful and capable aren't mutually exclusive. With a galvanized steel frame and single-piece structural composite body, the TOPO2 delivers a feature-set with an unmatched strength-to-weight ratio weighing in at 1920 lbs dry. The vacuum-infused monocoque design means that roofline leaks are a thing of the past and the wood-free structure guarantees that mold & rot are of no concern. The core, made of recycled milk cartons, not only provides the structural integrity of the trailer but also its insulation, with an R-value of 10.
The TOPO2 is the first utility camper to nest all mechanical systems inside of the insulated & heated trailer. The Utility Closet protects all systems from the elements and hazards of the road. This not only extends the life of the trailer & its components but also makes the TOPO2 the first true 4-season teardrop camper on the market.
Every TOPO2 off-road trailer comes standard with our Freeride Suspension System offering 5″ of independent travel and 23" of ground clearance, a galley kitchen with a rackout two-burner stove, 75L YETI Tundra cooler, TRUMA Combi Eco-Plus heater (providing cabin heat and hot water to the sink & shower), 100-amphour Expion360 LiFePO4 battery, 140W portableable solar panel, LED lighting throughout the cabin and galley, MaxxAir 4-speed fan, battery & water systems monitor, integrated tongue box, 2.5' x 5' stargazer window, 6" queen-sized memory foam mattress, spacious cabin with a heated mudroom, and more!
With an Escapod TOPO2, you are guaranteed to receive premium craftsmanship, intuitive design, and a trailer ready for adventure in any season. Offering a 5-year manufacturer's warranty, you can focus on what matters most. Start your adventures now. Use our interactive custom camper builder to bring your dream trailer to life today!
Tel: 435 625 0586 [email protected]
________________________________________________________________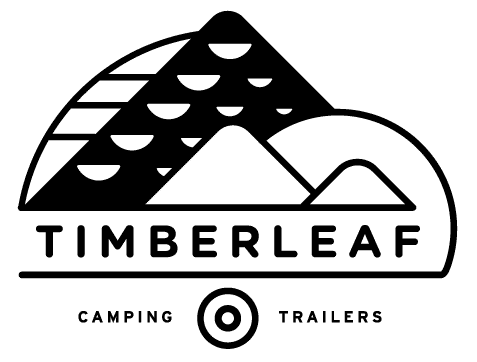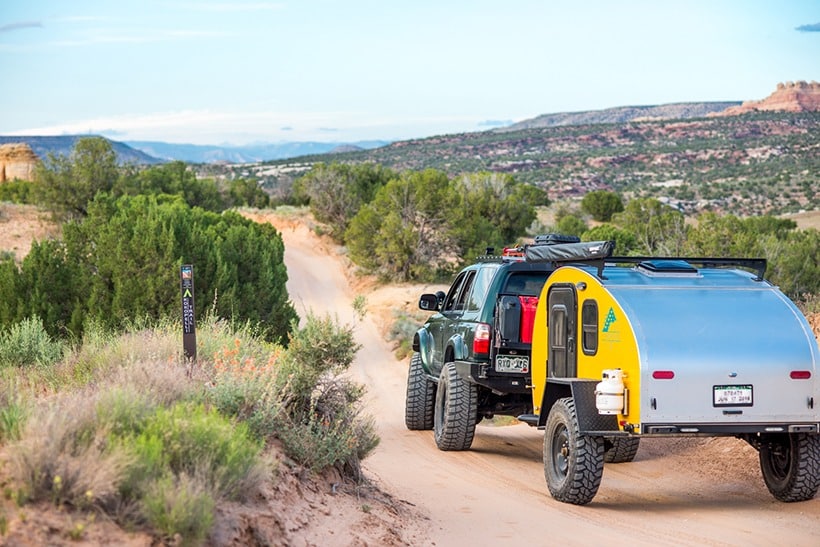 What started as a conversation in 2015 between founder Kevin Molick and his wife, Paula, has since skyrocketed into one of the top names in the world of Teardrop Trailers. Kevin and Paula were discussing their desire to get back out to camping and traveling their back yard of Colorado and the neighboring states but wanted to get away from the cold and discomfort of tent camping. Large pull-behind RVs or motor-homes just weren't their style and after some searching, Kevin discovered the teardrop trailer and was instantly intrigued.

The teardrop trailer seemed the perfect fit, it checked all of the boxes: light enough to pull with their Subaru Outback, the ability to park it as a base camp, comfort and warmth for sleeping, ample cooking space, and visually appealing.

Our Handcrafted trailers are exceptionally easy to tow and built with quality craftsmanship which is evident in every detail from start to finish. Teardrop Trailers are quietly taking the RV world by storm. Our custom teardrop trailers offer overlanders comfortable sleeping quarters, as well as a functional, and beautiful rear galley kitchen. We offer a multitude of custom options for our lightweight teardrop trailers, including different off-road versions of the Classic and the Pika. Available in an array of colors, from vibrant to subdued, every trailer is hand built to order in our shop in Grand Junction, Colorado.
___________________________________________________________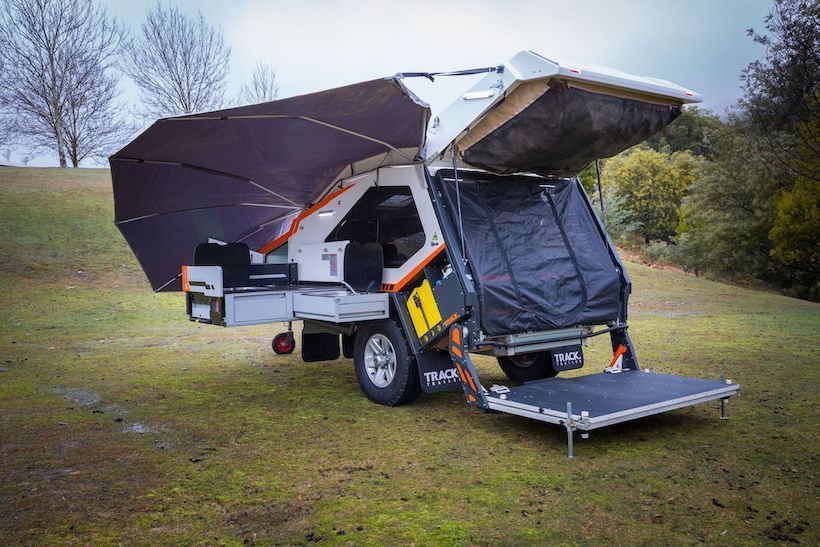 The Australian-based Tvan Camper Trailer, launched in 2000, has become well-known for its distinct rugged design, strength, and industry-leading off-road capabilities. Widely acclaimed by owners and the media, the Track Trailer Tvan has earned accolades for their continual design improvements and option development, evolving to meet and exceed expectations.
Key features of the Track Trailer Tvan include a proprietary, military grade, MC2 suspension which has been tested in the harshest conditions the outback has to offer. The living space on the Tvan is unlike anything on the market with a rear annex room that sits on an elevated deck, providing massive interior space for sleeping, protection from inclement weather, and an enclosed ensuite. The custom Quick Cover awning fully engulfs the premium kitchen which provides a large prep area for the outdoor chef. Standard components like the REDARC RedVision, diesel furnace, lithium batteries, and roof-mounted solar enables you to get off the grid and stay out longer.
With 37 years of manufacturing experience, Track Trailers, has partnered with XGRiD Campers to bring the award-winning Tvan Camper Trailer, to the United States.
XGRiD Campers is dedicated to helping customers experience the off-grid lifestyle. Through partnerships with the world's leading overland camper manufacturers and an in-house team of dedicated outdoor enthusiasts, they help the wanderlust adventurer find and configure the right rig for their journey. XGRiD Campers serve customers across the United States, with locations in Las Vegas, NV and Knoxville, TN.
Tel: 702 779 3397 and 865 353 8880
___________________________________________________________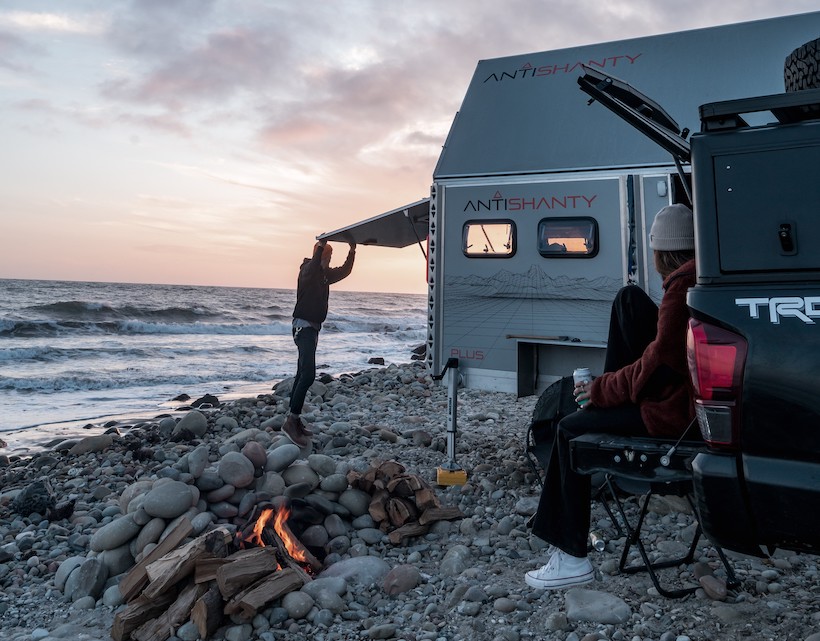 We are AntiShanty. We build ultra-lightweight, insulated, four-season, modular adventure dwellings. Built for off-road. Aircraft-grade aluminum construction means lifetime durability and no wood to rot or mold. Our dwellings can adapt to your needs, whether you want to sleep six people or haul motorcycles and mountain bikes. We are proud to do all of our manufacturing right here in Logan, UT, USA. We are a team of outdoor enthusiasts with different passions of mountain biking, skiing, snowmobiling, dirt biking, hiking, hunting, and fishing.
The AS-1 is an A-Frame pop-up camper that has 9+ feet of headroom, with two queen bunks when in Camp Mode. The queen beds are completely modular for hauling mountain bikes, motorcycles, and quads. Perfect for a basecamp with the space and refuge you need.
The RR-1 is a Rigid Roof trailer that is camp-ready the moment you park it. Over 6 feet of headroom gives you space to stand and haul toys underneath the adjustable queen bed. Zero setup time enables folks to get the most out of their trip.
The AS and the RR models are available in 4 trims that deliver complete packages from the bare-bones shells to super high-tech off-grid ready. Designed for folks who love the outdoors and want to experience the most from their time outside.
We also offer the RTD (Roof Top Dwelling), like a tent, but all hard-sided. It makes for a great addition to any overland trailer with roof top tent mounting capabilities. The RTD is insulated and doubles as a cargo space. Keep your mattress, sleepings bags, skis, fishing poles, and other gear with you, but without crowding your vehicle.
Tel: 435 774 2945 [email protected]
___________________________________________________________________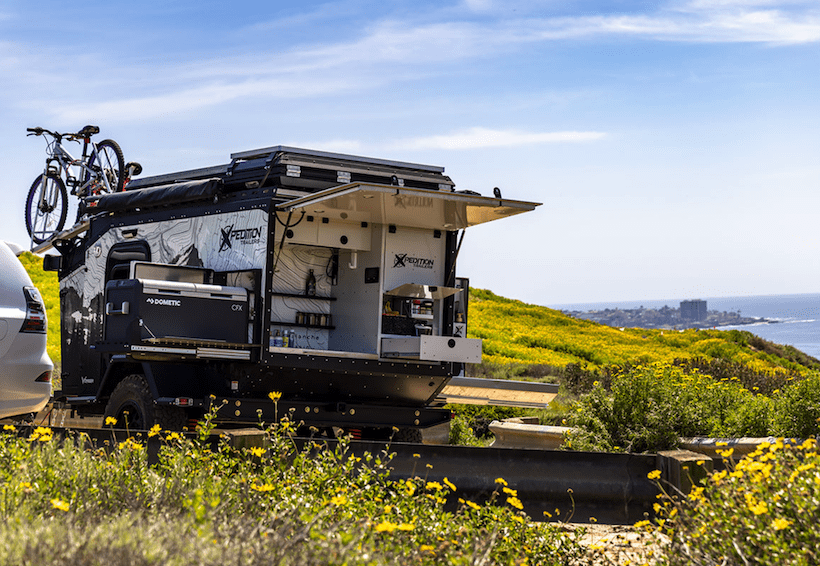 Rethinking the camping experience! The Voyager Trailer from Xpedition Trailers was born from decades of exploration in the most extreme off-road environments in nearly every corner of the Rockies. Are you looking to traverse continents, explore where others would consider impossible, with a new level of comfort and enjoyment in the outdoors? The Voyager Trailer will help you find YOUR WAY OUT! Enjoy the convenience of a 11½ ft kitchen, the comfort of a climate-controlled interior, with the ability to get hot water, and enough power to keep going for weeks, no matter how remote your adventures take you.
Proudly made in the USA, our trailers are made with all-aluminum construction, house a 36-gallon water tank, and check out our 2023 model with independent A-arm suspension and added 4-season protection. The Voyager is equipped with the state-of-the-art REDARC vehicle management system, which sets an unprecedented level of control and automation for your trailer by bringing information right to your fingertips. Elevate your adventures with the contemporary outdoor living experience of The Voyager by Xpedition Trailers!
Tel: 801 335 5375 https://www.instagram.com/xpeditiontrailers/
_____________________________________________________________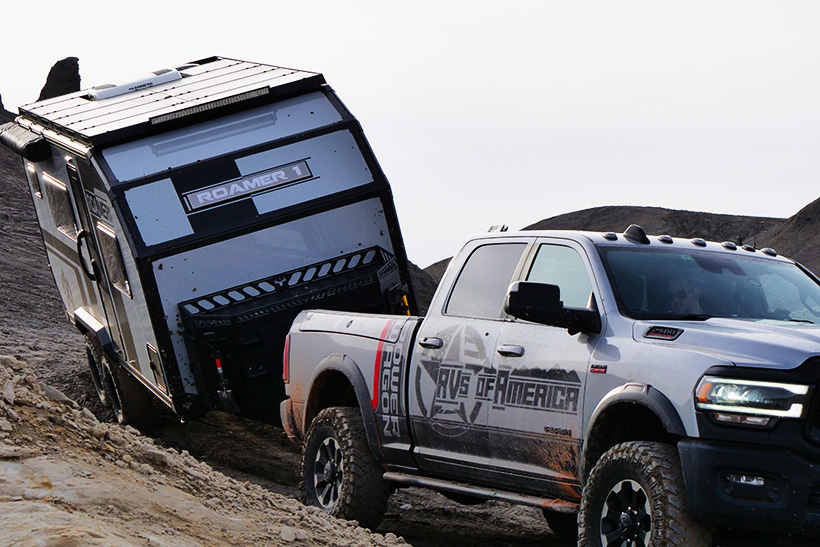 RVs of America, or ROA OFF-ROAD, stands as a prominent authority in the off-road trailer world. Our journey began with the importation of exceptional off-road caravans from Australia. Inspired by Australia's offerings, we sought an American manufacturer capable of crafting a trailer to rival those conquering the outback. Our quest led us to the collaboration with Imperial Outdoors, resulting in the exclusive ROA OFF-ROAD model: the ROAMER 1.
A remarkable fusion of American and Australian design, the ROAMER 1 boasts unparalleled uniqueness. Beyond its off-road and off-grid camping prowess, this trailer goes above expectations as a suitable abode for touring the country or even full-time living. Inside, it exudes luxury and comfort. The exterior of the Roamer 1 embraces a rugged and robust build, striking the perfect "his and hers" balance.
The ROAMER 1 effortlessly ventures off the beaten path, courtesy of its exceptional off-road suspension and clearance. Embracing a life off-grid, you'll bask in comfort, enjoying the A/C running for days or the heat sustaining you for weeks. With excellent insulation, it remains cozy even in below freezing temps down to -40 degrees or scorching summers above 110 degrees. Moreover, equipped with over 60 gallons of water and the ability to carry additional water onboard, you can embark on extended explorations like never before. Lastly, it boasts one of the best off-grid electrical systems in the market with 1080 Ah of lithium battery and over 1000w of solar.
Tel: 801 860 0035
_______________________________________________________________________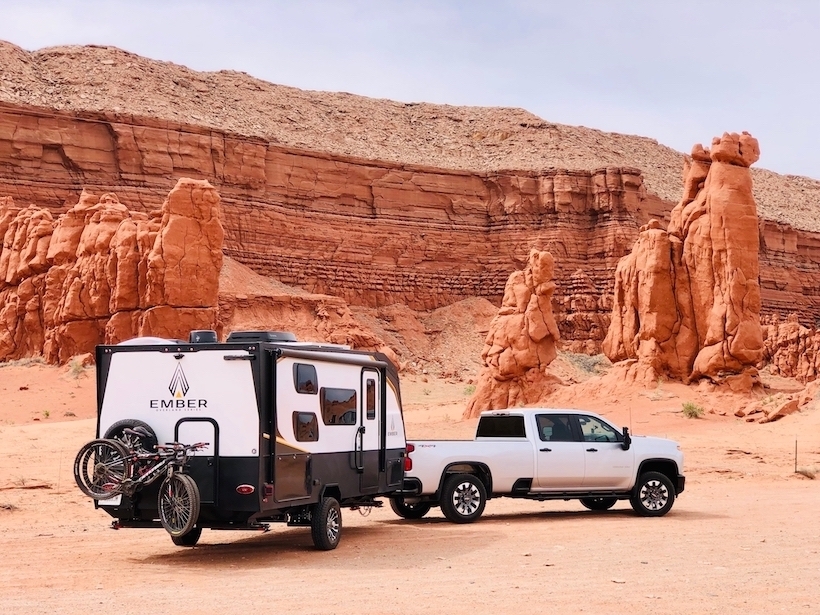 Ember was formed out of a desire to build a better RV by building a better RV company. To us, that means we'll blaze an uncharted path by crafting innovative products backed by an unparalleled warranty, all with the experience and expertise that customers deserve. The Overland Series construction starts with a stronger foundation, our exclusive Trailblazer™ Off-Road Chassis, featuring the all-new CURT® Independent Suspension System for improved off-road performance and durability. Then we pair it with ample holding tank and LP capacities, standard solar power, and plenty of space for batteries to help you stay off-grid longer. With all these standard features built right in, your options for where to camp are limitless. Find your local dealer at www.emberrv.com/dealers.
Tel: 844 732 4204 [email protected]
_______________________________________________________________________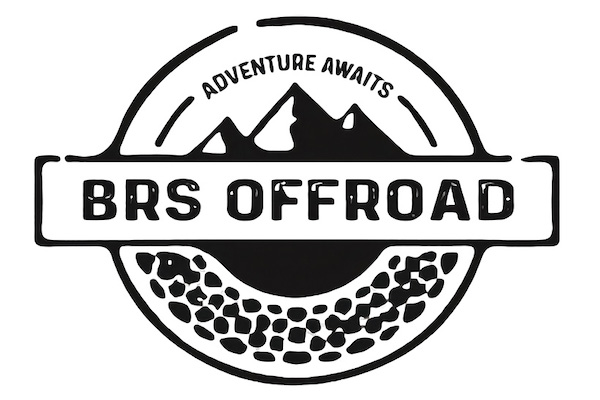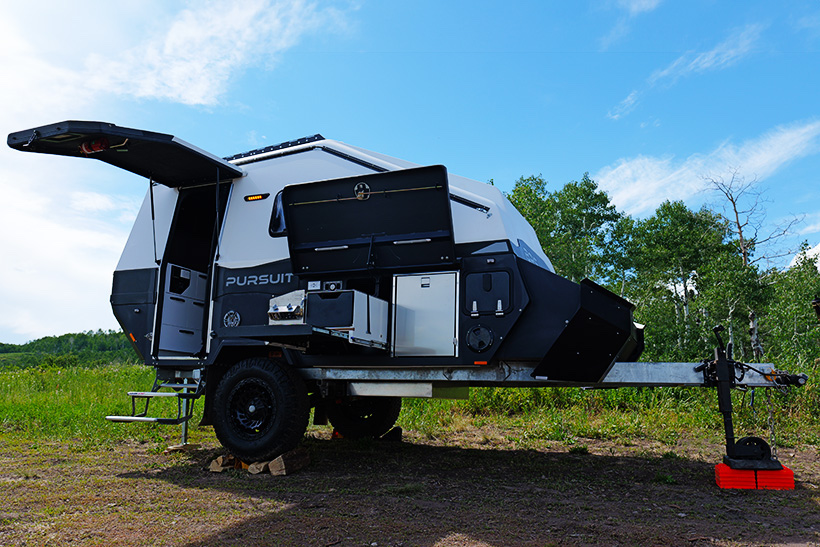 Are you ready for an adrenaline-fueled adventure like no other? Say hello to The Pursuit, the ultimate off-road trailer from BRS Off-Road that promises to elevate your camping experience to new heights. From its rugged exterior to its luxurious interior, The Pursuit is designed to tackle any terrain.
The Pursuit's performance on rough terrain is unparalleled. Equipped with a 2.6-tonne Independent Cruisemaster XT air suspension and 12-inch hubs with electric brakes, it handles any off-road challenge with ease. Its full-length chassis, hot dip galvanized for durability, ensures stability and longevity, making it a reliable companion on your wildest adventures. And let's not forget the convenience and protection offered by the aluminum stone guard and storage bay all carefully designed to enhance your journey.
Inside the trailer, you'll find a fully equipped kitchen with stylish cabinets, soft-close drawers, and your choice of benchtop color. The external slide-out kitchen, complete with a drawer, bench, and Sizzler BBQ, makes outdoor cooking a breeze. And when it's time to relax, the slide-out dining table and plush queen-size bed with Avista polyurethane flooring provide the perfect setting for shared meals and a restful night's sleep.
The Pursuit from BRS Off-Road is the epitome of adventure and luxury in one extraordinary package. It's designed to be your reliable companion on any off-road journey. Prepare yourself for the adventure of a lifetime and start creating unforgettable memories with The Pursuit only available in North America at ROA Off-Road!
Tel: 801 860 0035
_______________________________________________________________________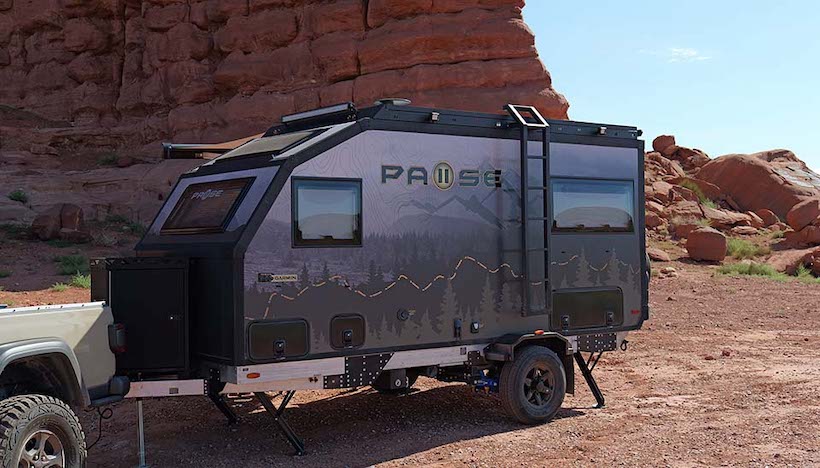 Introducing Palomino RV's Pause, an American-made off-road trailer that sets a new standard for durability, performance, and innovation. Built with an aluminum frame and zero wood, Pause is designed to withstand the toughest terrains and provide a reliable and long-lasting adventure vehicle.
One of the standout features of Pause is its advanced electrical system, managed by industry-leading Victron systems. Designed and trusted by multi-million dollar yachts, Victron systems offer unparalleled reliability and performance. Equipped with Battle Born battery banks, Pause ensures an extended off-grid experience with Victron's power management and Garmin monitoring and operating system.
Pause also boasts an innovative and durable construction. The aluminum frame and composite walls make it resistant to rust and corrosion, while eliminating the risk of wood rot. This ensures a long-lasting and low-maintenance trailer that can withstand the rigors of off-road adventures.
When it comes to off-road performance, Pause shines with its heavy-duty off-road tires, MorRyde independent suspension with air bags and Bilstein shocks, and insane ground clearance and 12 inches of travel. These features allow for smooth and stable towing, minimizing bumps and vibrations, and ensuring a comfortable and safe experience for your off-road adventures.
Pause is a true masterpiece in the world of off-road trailers, offering unparalleled durability, performance, and reliability. Proudly made in America and backed by good people, Pause is the ultimate choice for adventurers who demand the best from their off-road trailer. Whether you're exploring the final frontier of Alaska or tackling rugged terrains elsewhere. Pause now has 5 floor plans, including the XC16.4 which sleeps 4 adults, has a smaller footprint but keeps all the amazing components mentioned above, including up to 1080Ah of Battle Born lithium batteries. No matter what type of camper you are, there is a Pause for you.
Tel: 801 860 0035
_______________________________________________________________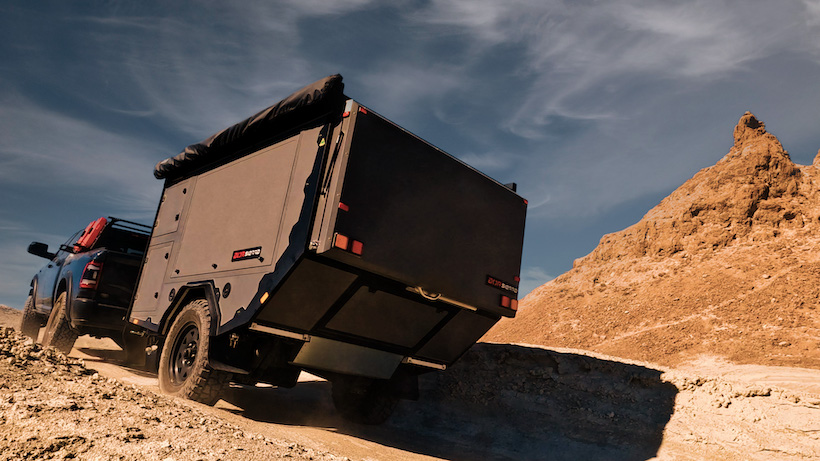 Australian Off Road, a recognized leader in Australia for building strong, reliable off-road camper trailers and caravans for over 20 years, has expanded it's distribution to the US with the AOR Sierra. With every concept designed, AOR has pushed the boundaries of innovation to provide customers with the best off-grid camping experience. AOR is 100% locally owned and operated on the Sunshine Coast, Queensland. The AOR Sierra is one of six US models being imported to the United States exclusively by XGRiD Campers.
Being lightweight, durable and 100% dustproof are just a few of the key features that make the Sierra unique. The AOR Sierra has an internal sleeping cabin with a double bed and an expansive side galley for cooking. The fully enclosed and attached rear pod opens up quickly for a changing room, sleeping annex, or dining area away from the elements. The Sierra boasts up to 52 gal fresh water capacity and is powered by up to 300Ah lithium batteries, 2000W inverter, and the REDARC Redvision system providing shore, solar, and dc to dc charging. Equipped with the Bush Company 180 XT Max awning, Cook Partner 18" cooktop, and multiple options for roof-top tents, this rig is capable of any configuration for families big and small. Sitting at just under 2200lbs dry, along with the proprietary dual shock trailing arm suspension, Cruisemaster DO35 hitch, and an extreme 41 degree departure angle, the AOR Sierra is tough enough to handle not only the Australian Outback, but any terrain you throw at it.
AOR began its partnership with XGRiD Campers as the exclusive importer and US dealership in January 2022. XGRiD Campers is dedicated to helping customers experience the off-grid lifestyle. Through partnerships with the world's leading overland camper manufacturers and an in-house team of dedicated outdoor enthusiasts, they help the wanderlust adventurer find and configure the right rig for their journey. XGRiD Campers serve customers across the United States, with locations in Las Vegas, NV and Knoxville, TN.
TEL: 702 779 3397 [email protected]
______________________________________________________________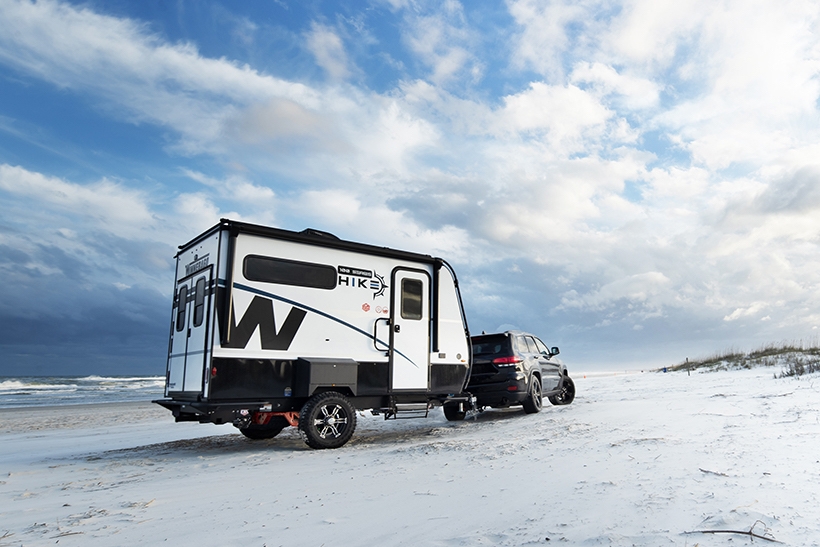 For decades, the name Winnebago has been virtually synonymous with traditional RVing. But the company has also made inroads into the off-road market, both with adventure vans and with trailers like the HIKE 100.
Light enough to be towed by smaller SUVs and trucks, the award-winning HIKE 100 offers plenty of gear-hauling capacity and comes loaded with features that make it easy to stay off-grid, even when the weather turns ugly.
Built on an NXG-engineered frame, the HIKE 100 rides on 16" Goodyear® Wrangler® off-road tires with upgraded suspension and aluminum wheels. It features a fully enclosed underbelly with radiant foil insulation and 2″ composite fiberglass sidewalls, as well as enclosed holding tanks with 12-volt pad heaters to protect against freezing.
The patented exoskeleton accepts Thule® and Yakima® accessories for paddleboards, kayaks or other gear, while the 2-inch receiver easily accommodates your favorite bike rack.
Camp setup is easy, with powered stabilizing jacks, powered patio awning and a batwing awning with drop-down panels for the exterior shower. Standard features include a 200-watt solar panel with 30-amp controller, prep for an additional solar panel, 31-gallon freshwater tank and 6-gallon water heater.
The USA-built HIKE 100 is available in 5 different floorplans — each with a 6'5″ceiling throughout — that sleep up to 4. All include a full galley (portable induction cooktop, microwave, sink, and 12V refrigerator) as well as a wet bath with cassette-style toilet and a full shower with power vent that can also serve as a gear drying area.
_______________________________________________________________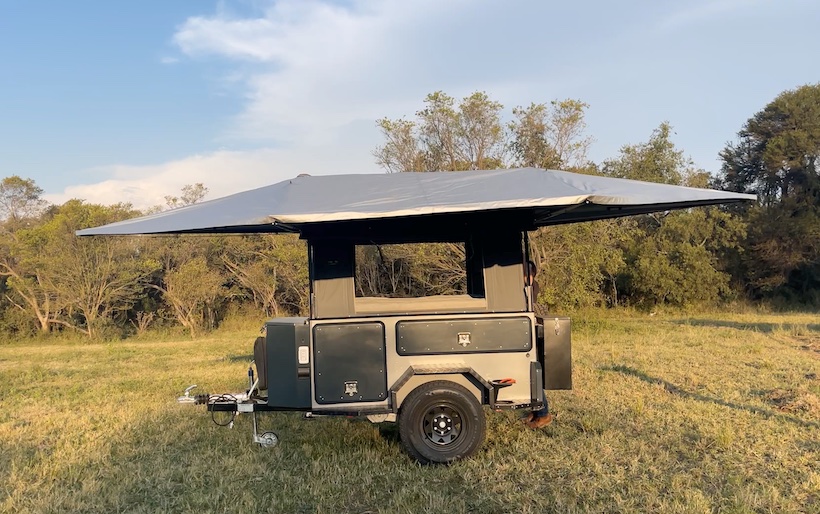 Introducing the new BunduTrail from South Africa, the ultimate camping trailer to revolutionize outdoor adventures. With the BunduTrail, setting up camp has never been easier; taking just under 5 minutes, you get into the great outdoors fast and easily.
Designed conveniently, the BunduTrail is lightweight and effortless to tow, making it a breeze to transport to your favorite camping destinations. There are two axle choices: the 1,650 LBS springs or the 1.1T 2,200 LBS air ride. Both are equipped with 16" tires and surge brakes with articulating coupler for added safety.
The BunduTrail package includes a 12V electrically operated Roof Top Tent, offering comfort and convenience at your fingertips. The tent features a big 81 x 49-inch bed, four huge zippered screened windows, 2 LED lights, four fans, side mesh pockets, 12V, and USB outlets. With a Lithium battery, DC-DC charger, and solar controller powered by a 380-watt roof solar,
BunduTrail comes with a range of accessories to enhance your camping experience. The package includes a 360 BunduAwn with 2 LED lights over the fully equipped pullout kitchen and the pullout dual zone fridge/freezer. The 18-gal water tank & on-demand water pump supplies the front fold-away sink and counter. Plus, a huge pullout storage drawer and swing-away spare in the rear
The EnSuite enclosure with roof cover provides a changing room, private entry into the tent, and access to the pullout drawer with four gear bags.
Experience the ultimate convenience and comfort of camping with the BunduTrail. It's time to embark on unforgettable outdoor adventures without the hassle.
Tel: 319 234 0071 [email protected]
_______________________________________________________________________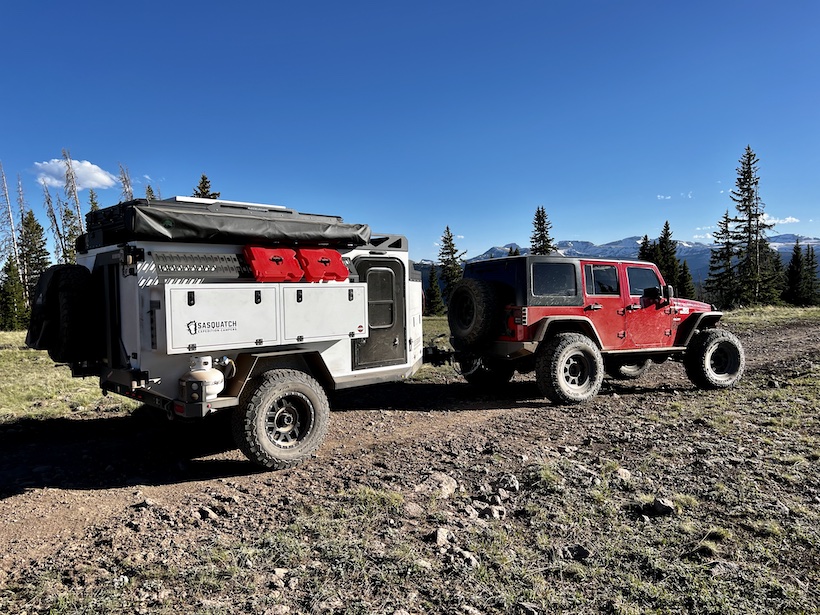 The Highland 60 and Smuggler by Sasquatch Expedition Campers are true game-changers in the world of off-road campers. With their rugged design, superior craftsmanship, and unbeatable functionality, these lightweight, aluminum camp trailers are a dream come true for adventure enthusiasts.
Both models are built with a lightweight aluminum frame and an in-house designed steel suspension system with independent trailing arms featuring FOX coil overs making them the perfect sidekicks through rugged terrain. All Sasquatch models also come with a fully integrated kitchen, on-demand hot water, and plenty of counter space.
The Highland 60 weighs in under 2300 lbs dry and offers sleeping quarters with a queen mattress, LP forced heat and ventilation, interior cabinet storage and a variety of power sources. The Smuggler is the ultimate cargo trailer, weighing in under 1400lbs dry, and designed with industry leading interior and exterior storage so you can remove gear from your vehicle and explore safely. Both models come with heavy duty aluminum roof racks for all your accessories like a rooftop tent, awning, shower, and an optional custom-made box for two solar panels and an additional camp table.
Sasquatch Expedition Campers are remarkable off-road camp trailers made for those that believe luxury and ruggedness can coexist in the great outdoors. Their toughness, comfort, and functionality make them a perfect choice for outdoor enthusiasts looking to embark on unforgettable adventures. Whether you're exploring remote trails or camping deep in the backcountry, Sasquatch will serve as a reliable companion that will elevate your outdoor experience. [email protected]
_______________________________________________________________________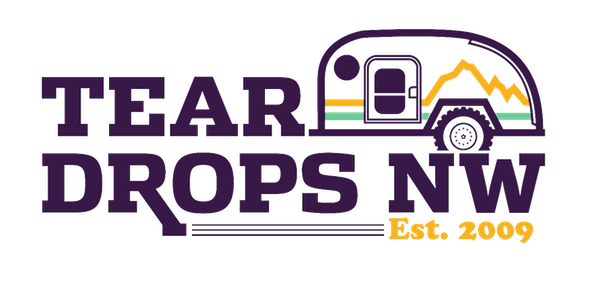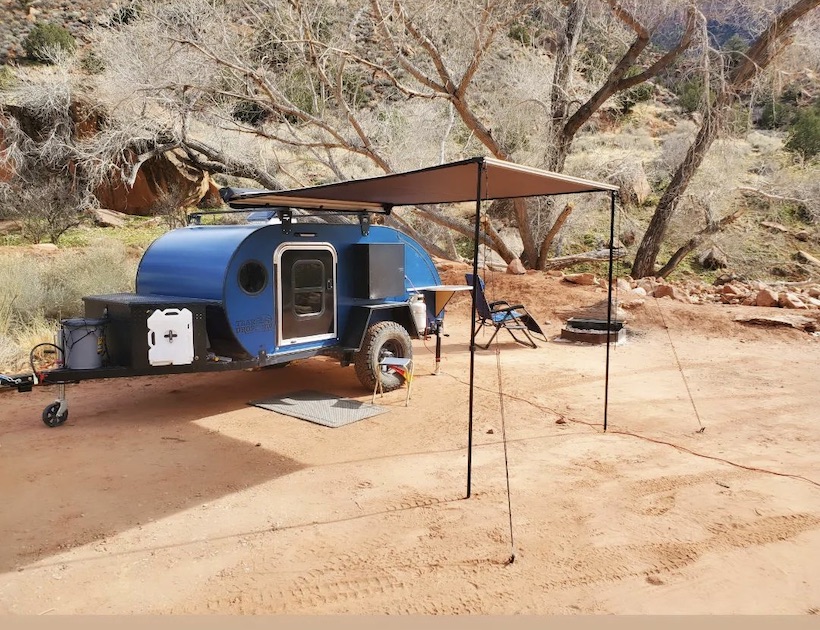 WE BUILD RUGGED, CUSTOM TEARDROP TRAILERS THAT GO WHEREVER ADVENTURE AWAITS. ENJOY THE OUTDOORS AND STAY COZY.
OUR TRAILERS OFFER A SMOOTH RIDE ON THE HIGHWAY OR IN THE WILD. WE CAN CUSTOMIZE A TEARDROP JUST FOR YOU, WHETHER YOU WANT A SLEEK TRAILER WITH MODERN OR RETRO APPEAL — OR A TOUGH TRAILER THAT CAN TAKE WHATEVER'S AROUND THE NEXT CURVE IN THE ROAD. OUR HIGH-GRADE COMPONENTS AND RIGOROUS QUALITY CONTROL ENSURE YOUR TRAVELS ARE ALWAYS SAFE AND FUN.
WE ALSO OFFER LOTS OF ACCESSORIES TO MAKE YOUR CAMPSITE THE PERFECT HOME BASE FOR EXPLORATION.
Tel: 503 385 1227 [email protected]
_______________________________________________________________________
ALTERNATIVE OFF ROAD TRAILERS
_______________________________________________________________________
Check out TAP's Adventure Van – Ultimate Resource Guide HERE
Sponsored Content: