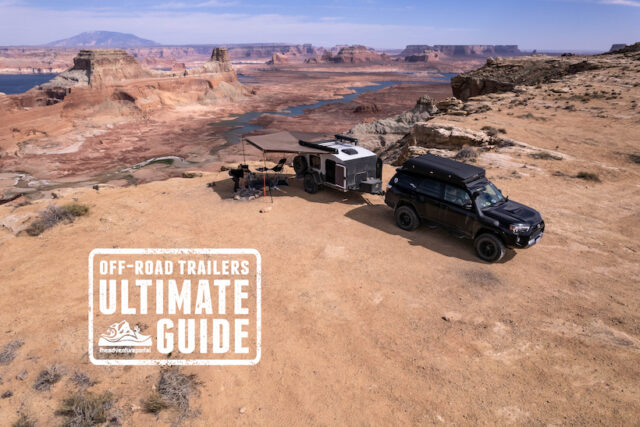 Off-Road Trailers : Styles to look for:
Teardrop Off-Road Trailers (Enclosed living space with kitchen usually at the rear)
Expedition Style Off-Road Trailers (Multi functional tub style trailer with internal carrying space and kitchen. Usually features an additional Roof Top Tent)
Cargo Style Off-Road Trailers (Large storage based trailer)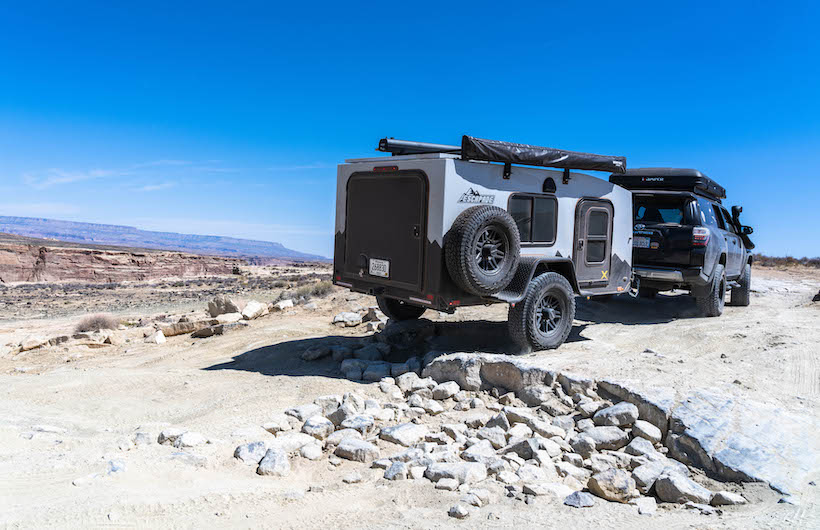 Contact: Phone: 320-552-3070 email:

[email protected]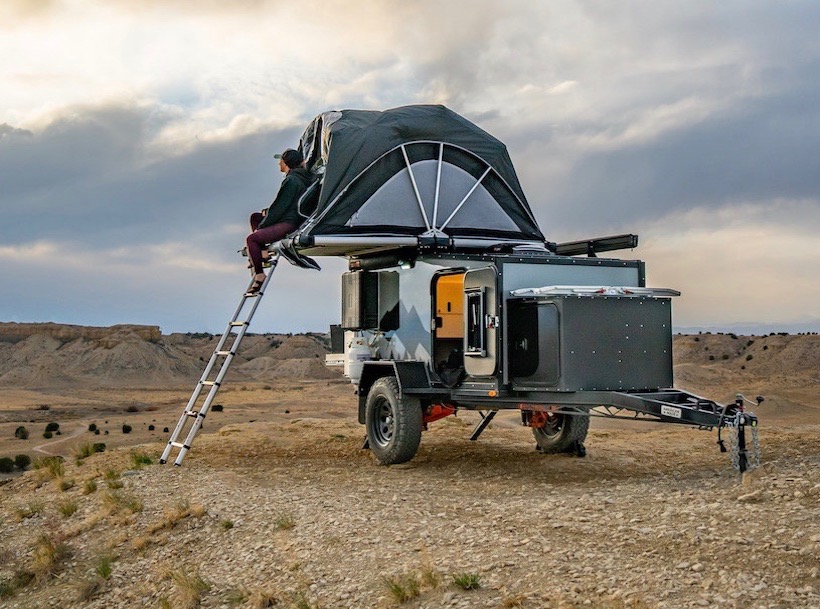 Boreas Campers builds offroad and offgrid camper trailers designed and manufactured in Pueblo, Colorado. With a heavy duty powder coated steel frame and aluminum exoskeleton our campers are purpose-built to withstand the most rugged conditions and terrain. All Boreas models come equipped with Cruisemaster axel-less suspension and are constructed using no wood.
The XT model is our nimble square-drop option ready for any adventure. It boasts a full galley kitchen with a 2-burner stove, sink and Truma cooler, instant hot water shower, 8' awning, Propex furnace, 100w Zamp solar panel and AGM battery, Maxxair fan and LED lighting in the cabin and kitchen. At 6'8.5" tall it can fit in a standard garage stall and easily slips down tight trails making it the perfect adventure basecamp. The chassis is designed to hold a 400 lb moto on the tongue, or use the front hitch receiver to carry up to 3 bikes. And with 38 sqft of storage space between the cabinets and oversized toolbox all of the toys will fit!
Our new hybrid model, the EOS-12, features a Truma Combi furnace and water heater, Cruisemaster Air suspension, LED lighting and a speaker system all controlled by the Garmin control tablet. The large outdoor kitchen includes a 3-burner Furion stove, Truma C96 dual-zone fridge/freezer and a pass-through pantry to the cabin, all covered by a 270 degree awning. With sleeping for up to 5, a cassette toilet and indoor/outdoor shower this unit redefines luxury in the backcountry. And heated tanks and lines for 4-season camping mean adventures happen any time of the year.
All Boreas Campers models come with a lifetime +2 warranty. With heavy duty, built in the US construction, the only thing limiting a Boreas camper is the tow vehicle pulling it. As we like to say, camp is where you tow it!
___________________________________________________________________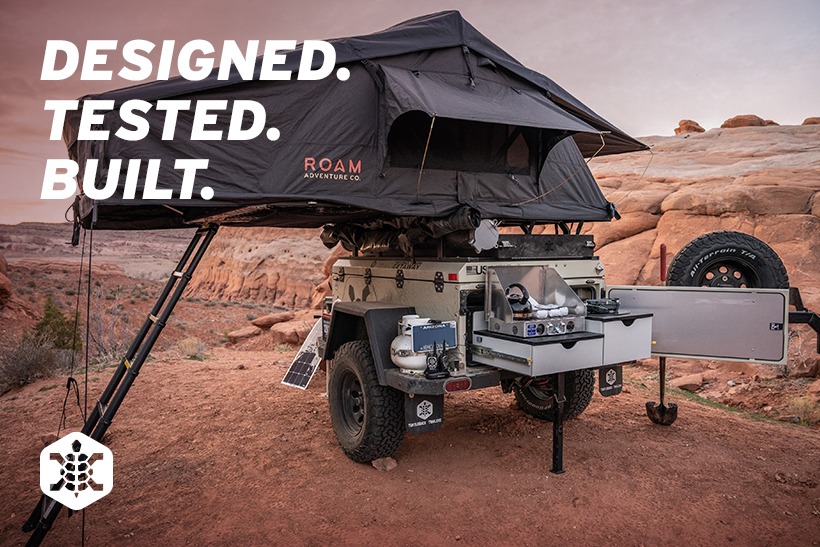 TAKE LIFE OUTSIDE
Our trailers are designed, tested, and built in the USA with an arduous attention to detail that makes our trailers truly stand out from the pack and withstand the tests of time and mileage. Drive forth with complete confidence that your trailing companion will always be right with you through any adventure you can dream up.
Tel: 855 732 2382
_______________________________________________________________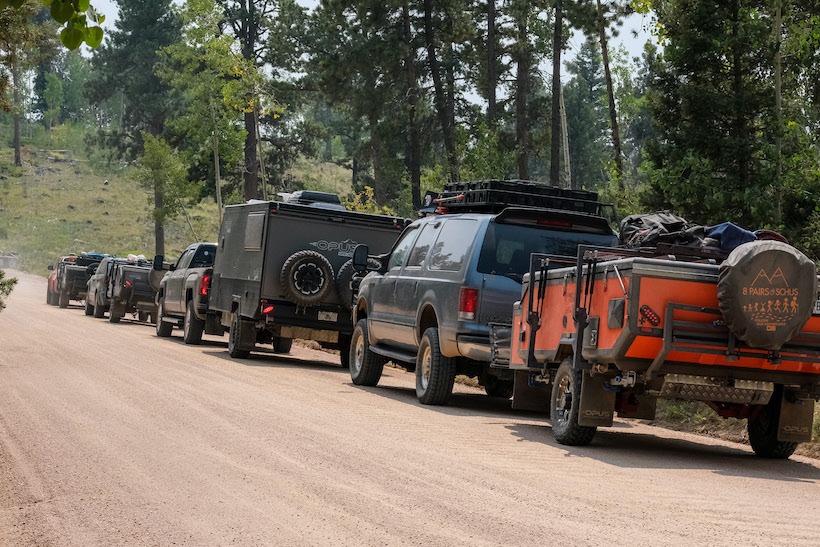 OPUS® is built on the theory of tough luxury and designed for low-profile towing across the toughest terrains. Our AIR Tent Inflation technology and hybrid designs make it easy to quickly expand your OPUS into a much larger and functional off-grid living space. Each off-road model comes fitted with an articulating hitch that sits at the end of a galvanized steel chassis to tackle the roughest roads with ease. Underneath there are twin shock absorbers and trailing arm independent suspension for each wheel. It is small enough for any road when packed down, and large enough for any family when parked at camp.
________________________________________________________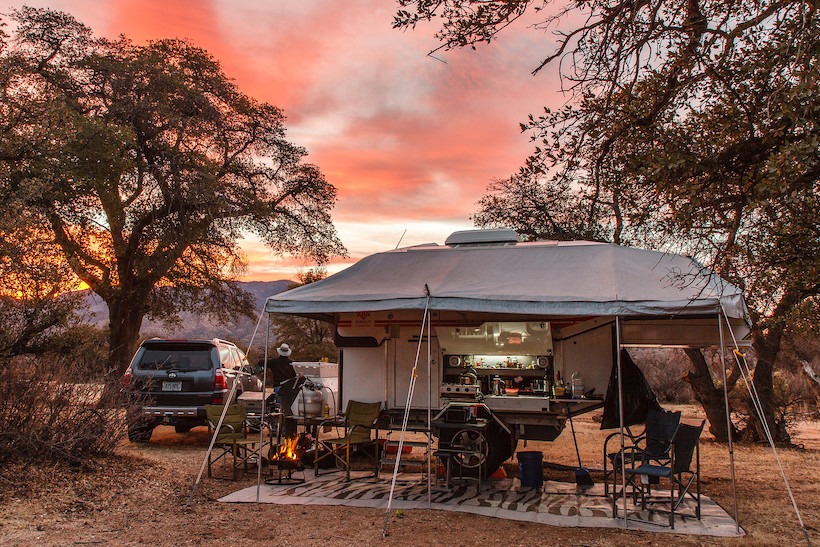 Ever since the first Kimberly was built in 1994 we have built off grid recreational vehicles that challenge the harsh Australian Outback to try to break them. This in turn has allowed our customers to get further and more remote off the beaten track with the confidence that allows you to enjoy the journey not just the destination.
Kimberley Kampers goal is to help families experience the great outdoors, in an Australian-designed and built camper. Established in 1994 in Ballina, NSW where we started out building only one camper model. We now have 6 models and more on the way. Our award-winning campers include world first engineering breakthroughs, and specialized parts that are exclusive to our campers. Not only do we build our campers to every customer specified needs, we are also the most economical camper trailer on the market. What do we mean by that? If you compare the materials, parts and specs in our campers to that of any other brand of camper, you will not find anything that compares to our value.
Kamper https://kimberleykampersusa.com/campers/
Karavan https://kimberleykampersusa.com/hybrids/
Kruisers https://kimberleykampersusa.com/luxury-caravans/
____________________________________________________________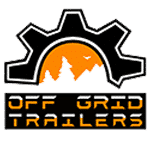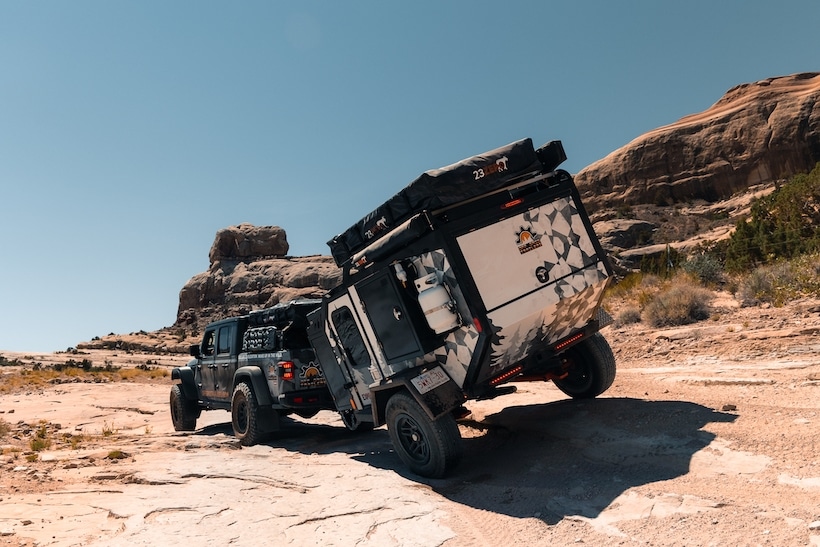 Off Grid Trailers builds camper trailers for traversing the backwoods, venturing off the beaten path, and outside campgrounds to truly experience the wild.
We now have three models to choose from! The Expedition 2.0 – our rugged off-road camper, the Pando 2.0 – Classic teardrop camper trailer shape that is all-metal, heavy-duty and built to last, as well as the Switchback – off-road trailer with two galley configurations to choose from.
Our trailers improve year after year by feedback from our family of customers and the Overlanding community. We are proud to announce the launch of our all new OGT Evolution Series by Fabtech Motorsports independent trailing arm suspension. This new suspension will be an upgraded option to the standard Timbren 3500 HD Axle-less Suspension. The OGT Evolution Series Suspension is an independent trailing arm suspension. Complete with a full 8 inches of suspension travel, powder coated coil springs and 2.25″ Dirt Logic Shocks. Built with 0.250″ wall tubing with center gussets for maximum strength, as well as 2.25" axel snub that is heat treated for maximum bend resistance. Take advantage of a smoother ride and longer travel to ensure longevity of your trailer and its components. Increased strength within your suspension while loaded or unloaded. You will get a smooth and comfortable ride while dealing with rough terrain.
We only make true all-metal trailers! 100% wood-free! No mold, mildew, and will not rot.
Escape Civilization, Wake up in the Wild.
Subscribe to us on YouTube: https://www.youtube.com/c/OffGridTrailers
Follow us on Instagram: Off Grid Trailers (@offgridtrailers) • Instagram photos and videos
Manufactured in Canada: Camper Trailers Built for Off Road – Off Grid Trailers
Contact:
Marketing: Kory Davis [email protected]
Sales: Denny Sexsmith [email protected]
Telephone: 1-800-786-3221
_____________________________________________________________________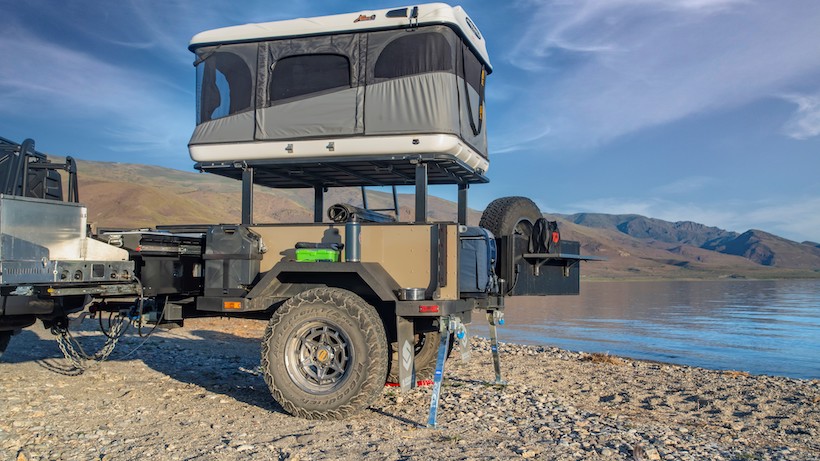 Schutt Industries is Americas leading manufacturer of industrial and military grade cargo handling equipment. It's long history of engineering high-quality sophisticated solutions for the most demanding military implementation has earned Schutt Industries a prestigious brand name as the go-to source for its world-class products used by every military branch. Xventure was born from our Military heritage and constructed with the same proven huck-bolt fasteners as the Military's Light Tactical Trailers. The all-aluminum construction allows for incredible strength while staying light weight. From the base cargo trailer you can either choose packaged options or ala carte to suit your needs.
Standard equipment includes: 10-year chassis warranty, Line-X coated front tool box, steps, fenders and cargo bed, all LED FMVSS lighting, electric brakes, manual independent parking brakes, Max-coupler multi access hitch, 2" rear receiver (100lb. or 300lb. capacity XV-3 and XV-2 respectively), elevating rack (XV-2), 12V power system with (single battery, 6 switch control panel, fused circuits, shore charge battery charger, solar charge controller), white painted sides and lockable tailgate.
The XV-2 and XV-3 are available with water system (25-gallon tank) and plumbing run through the frame for protection, 20 lb. propane tank with mounting bracket, Truxedo Hard rolling tonneau cover, spare tire carrier, lighting systems with rock, bed, reverse and rack lights, 2nd battery option, Fridge options, custom vinyl wraps.
WE PROVIDE OPTIONS, BUT THE HIGHEST QUALITY IN THE INDUSTRY COMES STANDARD.
Every single XVENTURE trailer is: Made in America, All-Aluminum Construction, Designed for Maximum Functionality, Backed by a 10-year Warranty, Assembled with Huck Bolt Technology
Contact: Tim Kenfield @

[email protected]

or 715-823-8025
_____________________________________________________________________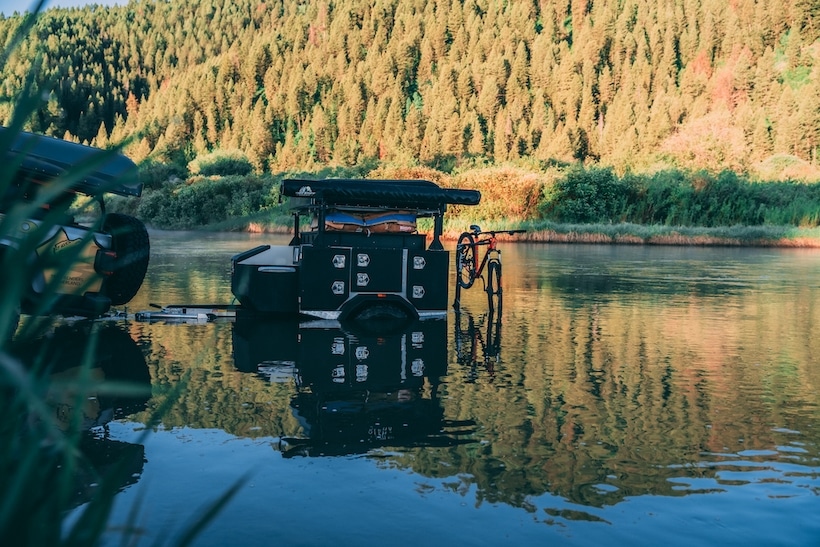 Tribe Trailers BASECAMP is one of the most exciting new trailers on the market. This trailer offers all the best features without breaking the bank: Tuff Stuff Alpha roof top tent, 360 basecamp lighting, pull out awning, full battery system with built in solar controller, 17 gallons on board water, slide out kitchen system, full fridge slide out and much more. Tribe is built tough with independent suspension, double steel wrapped A arms; built in shocks, springs, bump stops and limiter straps; all this sitting on BF Goodrich all terrain tires. For a trailer that only weighs two thousand pounds with built in electronic breaks, there is nothing on the market that is more capable and allows virtually any car to seek their nearest trail. Manufactured in Phoenix, Arizona and tested throughout the U.S, Tribe is dedicated to the best possible customer service from a team of avid Overlanders and campers. If you are looking for a trailer that will never restrict your access to the adventures that wait, look no further.
____________________________________________________________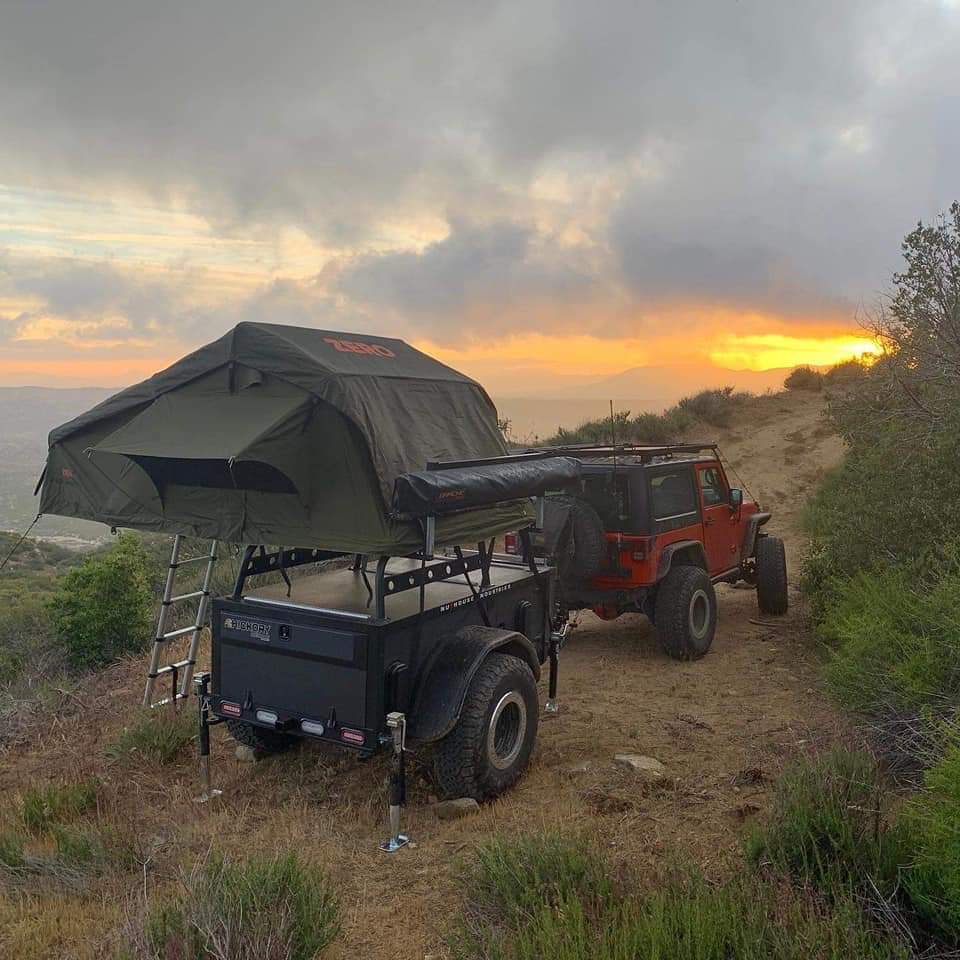 Our Off-Road trailers are hand built in Ohio, USA. With many trailer options for the weekend warrior up to the veteran overlander. We build each trailer to order and offer many options that can be added over time or bought as a complete package. Our trailers are constructed from our custom extruded, fully welded aluminum materials, providing light weight, superb strength that will last a lifetime
Our small expedition trailers use Timbren 3500# HD Axle-less suspension with the ability to match the trailer hub pattern to any vehicle and certain models run up to a 37" tire. We use a fully adjustable height coupler with the option to use ball (Standard), Pintle or Lock N Roll hitch. 7-way RV style plug and electric brakes are standard. Back up light is standard and we use LED lighting throughout. Extended tongue and aluminum tongue box is included. Gas struts are used for the lid and lockable compression latches provide a weatherproof seal. The latches and tailgates are keyed alike. All hinges, vents and hardware are stainless steel.
Options include: Solar, deep cycle or Lithium batteries, 110v inverter, propane, cooking and shower modules, heat & AC, Fridge/Freezer, electric tent height adjustment, RTT, awning and slide out trays. Many color options available.
_________________________________________________________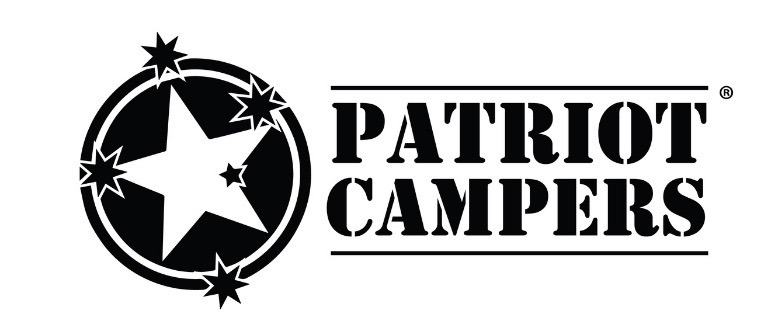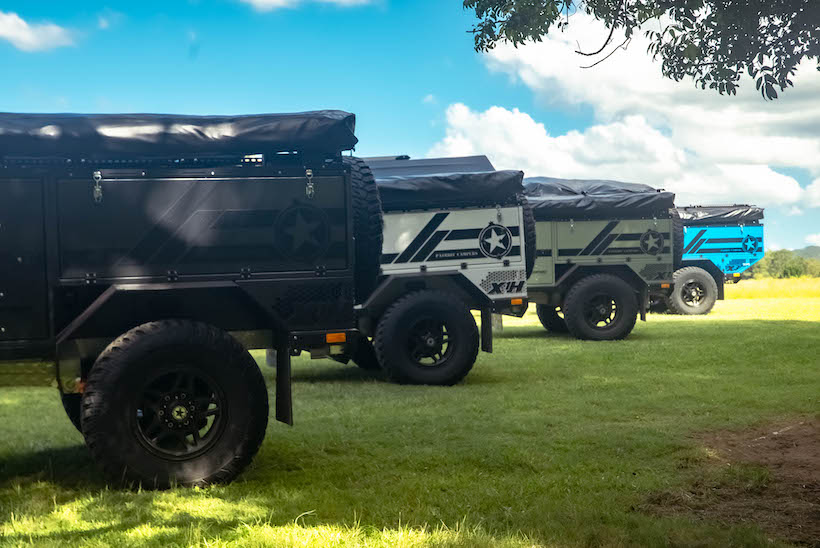 Patriot Campers has a reputation for quality, Australian made off-road products and a thirst for award-winning innovation. When we're not testing our products over harsh terrain both at home in Australia and Internationally, we're at HQ on the Gold Coast refining our world class camper trailers, camping products and off road accessories.
The new 2022 Patriot Campers X-Range sets the standard for high-quality, Australian-made, tough-as-nails camper trailers.
See our award-winning camper trailers online at: https://www.patriotcampers.com.au/
Subscribe to our Youtube: https://www.youtube.com/user/patriotcampers
Follow us on Instagram: https://www.instagram.com/patriot.campers/
Follow us on Facebook: https://www.facebook.com/patriotcampers
________________________________________________________________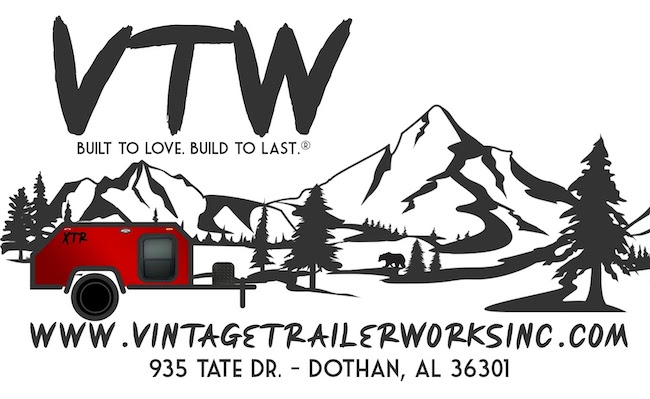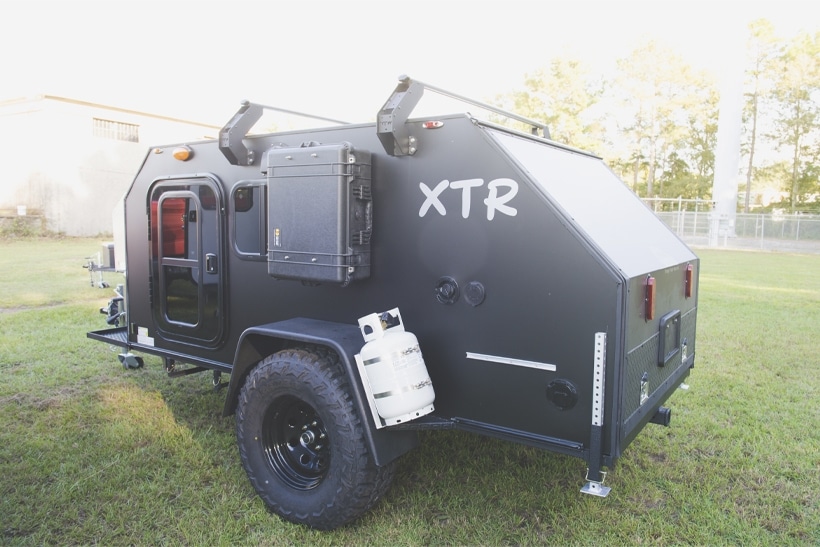 Vintage Trailer Works, Inc. is home of 7 different off-road mini camper models including our best selling unitl, the XTR Off-Road Teardrop Trailer. This model is undoubtedly one of the hottest adventure trailers on the market. Fully customizable, this camper offers simplicity or luxury while you explore the serenity of the great outdoors. We are also proud to design and build custom On-Road Teardrop Trailers, Retro Campers, and Toy Haulers in Dothan, Alabama. Built from the frame up right here in the USA, we are a family owned and operated company with a Built to Love. Built to Last.® motto. In addition to building campers, we also offer a wide array of parts to the DIY community. Our 30,000 square foot production facility and showroom is located at 935 Tate Drive, Dothan, AL, 36301 and we encourage you to come see us. We have dealer reps and stocking dealers spread across the United States and look forward to making you part of the VTW family. Camp where the adventure is at!
____________________________________________________________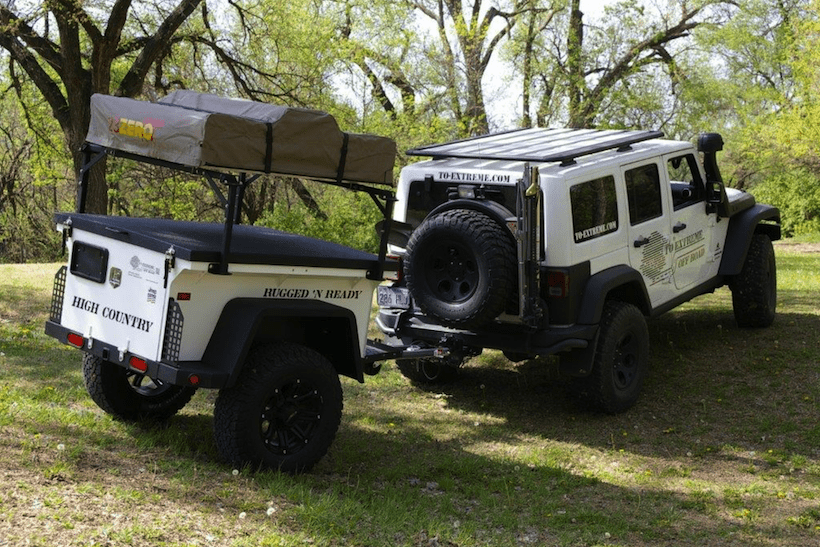 The standard features of the TO Extreme Off-Road Trailers makes them perfect for all overland camping adventures! Our trailers are manufactured in the USA using CNC laser cut and formed 11 gauge steel, yet light enough to pull with nearly any SUV or truck. Each unit comes equipped with UL-lined fenders and frame, Powder coated body panels, a Timbren axle-less suspension package, over 20 inches of ground clearance, premium BF Goodrich off-road tires, an adjustable cargo management system, a forward cargo rack, a lockable tailgate, and a 2" rear receiver. With two available sizes, 60" or 72", you can pick the trailer that best meets your needs. Along with lockable lid options, multiple roof top tent and awning varieties are available also. We have provided you with the necessities and there is plenty of room for additional options to be added. Affordable, high quality, and designed to go anywhere you would like to go.
____________________________________________________________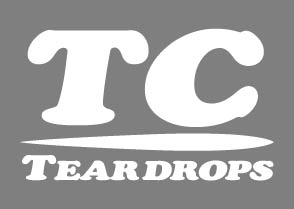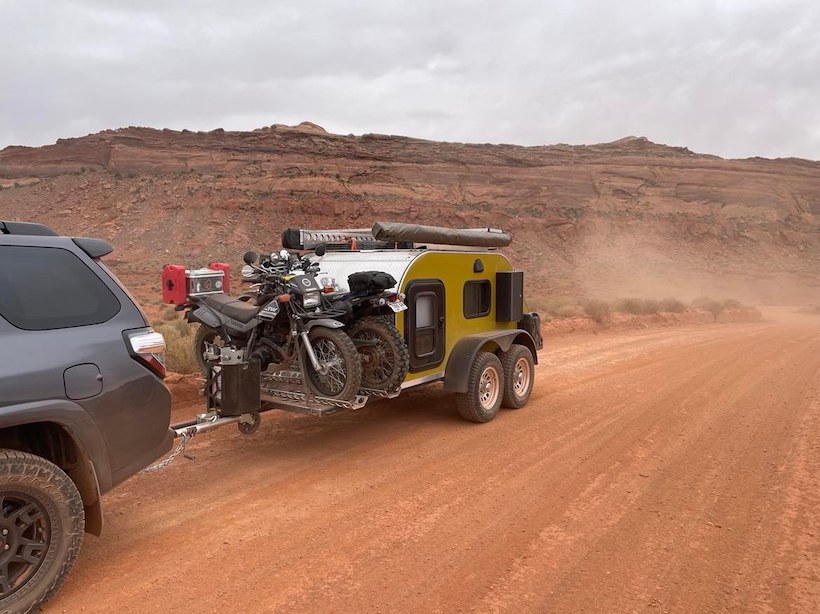 TCTeardrops LLC Custom Camping Trailers are built, one at a time, by our family for yours! Whether you travel on road or off, our trailers are up to the task. Manufactured using only quality materials and skilled craftsmanship, TCTeardrop campers can haul your boats, bikes, bed AND breakfast all in one eye-catching, affordable package! Build your own custom quote on our website to secure your build slot today!
______________________________________________________________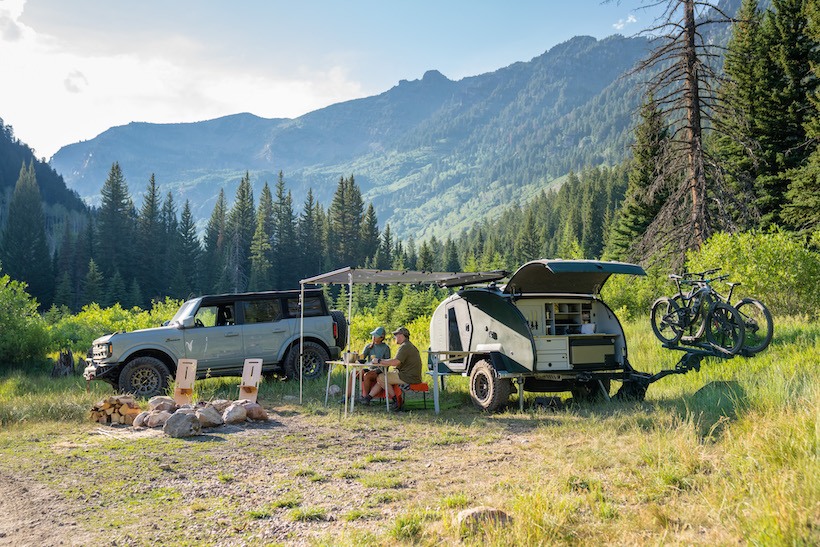 Escapod Trailers builds premium off-road camping trailers that prove beautiful and capable aren't mutually exclusive. With a galvanized steel frame and single-piece structural composite body, the TOPO2 delivers a feature-set with an unmatched strength-to-weight ratio weighing in at 2000 lbs dry. The monocoque design means that roofline leaks are a thing of the past and the lack of interior structural wood guarantees that mold & rot are of no concern.
The patent-pending design of the TOPO2 is the first off-road camping trailer to nest all mechanical systems inside of the heated trailer. This extends the life of the trailer & its components and allows for year-round use of the water system.
Every TOPO2 comes standard with our Freeride Suspension System offering 23" of ground clearance and 5″ of independent travel, a galley kitchen with a rackout two-burner stove, 75L YETI Tundra cooler, TRUMA Combi Eco-Plus heater (providing cabin heat and hot water to the sink & shower), 100 amphour Expion360 lithium battery, 140W removable solar panel, LED lighting throughout the cabin and galley, MaxxAir 4-speed fan, a battery & water systems monitor, integrated tongue box, a 2.5' x 5' stargazer window, 6" queen-sized memory foam mattress, and a spacious cabin with a heated mudroom!
With an Escapod TOPO2, you are guaranteed to receive premium craftsmanship, intuitive design, and a trailer ready for adventure in any season. Offering a 5-year manufacturer's warranty, you can focus on what matters most. Start your adventure today. It's time to find your wild.
__________________________________________________________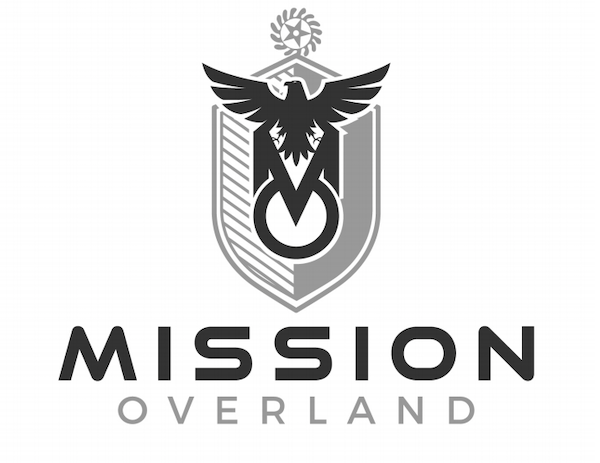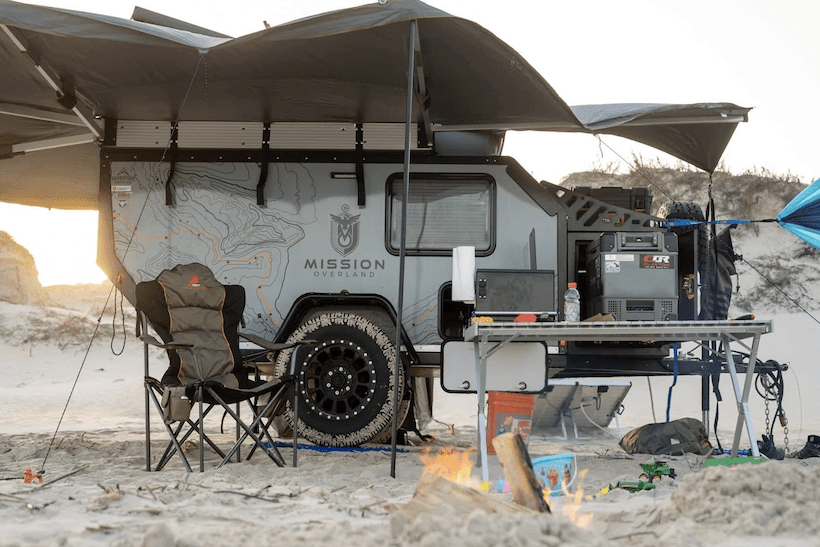 Mission Overland operates on the principle that bigger isn't better. We focus on thoughtful design and create rugged products with quality features we believe will enhance your camping experience and allow you to further connect with nature and those you adventure with. Whether you're camping in a state park or pushing the boundaries in the backcountry, our trailers are designed and built by camping enthusiasts for camping enthusiasts. Each Mission Overland camper has undergone the rigorous RVIA certification process and will provide the highest level of performance, safety, and comfort for years to come. When you join the Mission Overland family, you join a community of people who hold a life of adventure as their top priority. We feel privileged to manufacture adventure trailers for our customers and see it as our responsibility to ensure every trailer delivered is one we would want to own.
________________________________________________________________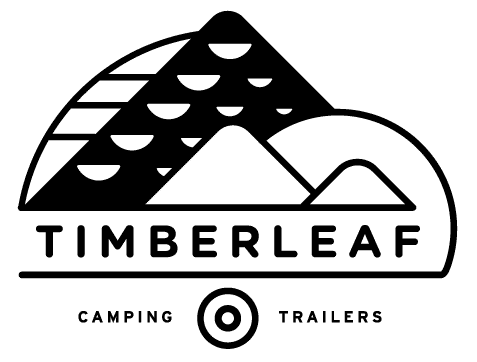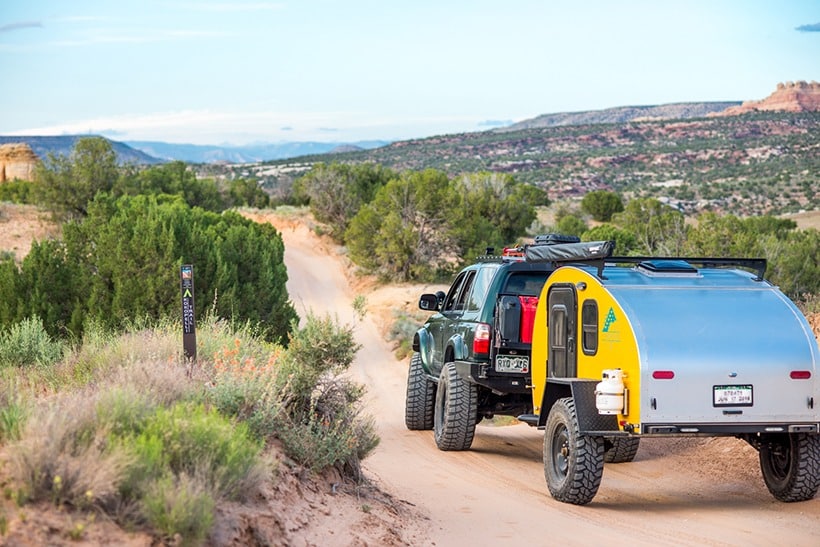 What started as a conversation in 2015 between founder Kevin Molick and his wife, Paula, has since skyrocketed into one of the top names in the world of Teardrop Trailers. Kevin and Paula were discussing their desire to get back out to camping and traveling their back yard of Colorado and the neighboring states but wanted to get away from the cold and discomfort of tent camping. Large pull-behind RVs or motor-homes just weren't their style and after some searching, Kevin discovered the teardrop trailer and was instantly intrigued.

The teardrop trailer seemed the perfect fit, it checked all of the boxes: light enough to pull with their Subaru Outback, the ability to park it as a base camp, comfort and warmth for sleeping, ample cooking space, and visually appealing.

Our Handcrafted trailers are exceptionally easy to tow and built with quality craftsmanship which is evident in every detail from start to finish. Teardrop Trailers are quietly taking the RV world by storm. Our custom teardrop trailers offer overlanders comfortable sleeping quarters, as well as a functional, and beautiful rear galley kitchen. We offer a multitude of custom options for our lightweight teardrop trailers, including different off-road versions of the Classic and the Pika. Available in an array of colors, from vibrant to subdued, every trailer is hand built to order in our shop in Grand Junction, Colorado.
___________________________________________________________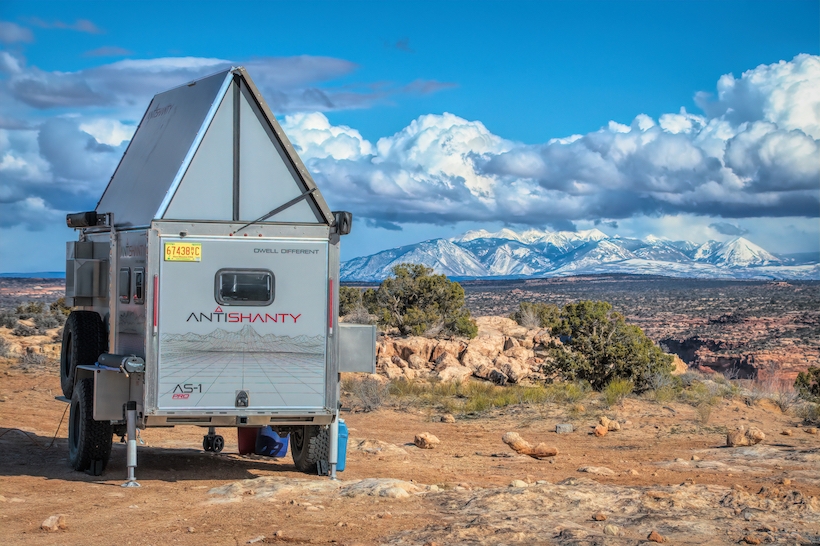 AntiShanty Adventure Trailers – American Made, Aircraft Grade. Comfort and convenience, without excess. Less, but better. Purpose-built from the ground up, AntiShanty Adventure Trailers are designed to be ultralight, spacious, and towable by most vehicles with a hitch. Somewhere between a teardrop and a toy hauler, with space to stretch out and store the tools of your trade. Mountain bikes, motos, surfboards, you name it, the AntiShanty delivers lots of space and mounting options to bring the gear you need to have a great time outdoors.
Two Models provide options for folks who enjoy getting outside and enhancing experiences.
The AS-1 is an A-Frame pop-up camper that has a queen bed when in tow mode, with an additional queen bed that appears when you pop the top. In camp mode, you have 9+ feet of headroom, with two queen bunks. Perfect for families, or folks who want a spacious shelter from the elements.
The RR-1 is a Rigid Roof camper that is camp ready the moment you park it. Over 6 feet of headroom gives you space to stand, and you can store full-size bikes underneath the adjustable queen bed. Zero setup time enables folks to get the most out of their trip.
All AntiShanty trailers are built with steel spine technology that provides a strong and smooth tow point. A ribbed aluminum subframe and fully insulated and hard-sided walls and roofs deliver a quiet and cozy space to find refuge from the elements.
The AS and the RR models are available in 4 trims that deliver complete packages from the bare-bones shells to super high-tech off-grid ready. Designed for folks who love the outdoors and want to experience the most from their time outside.
___________________________________________________________________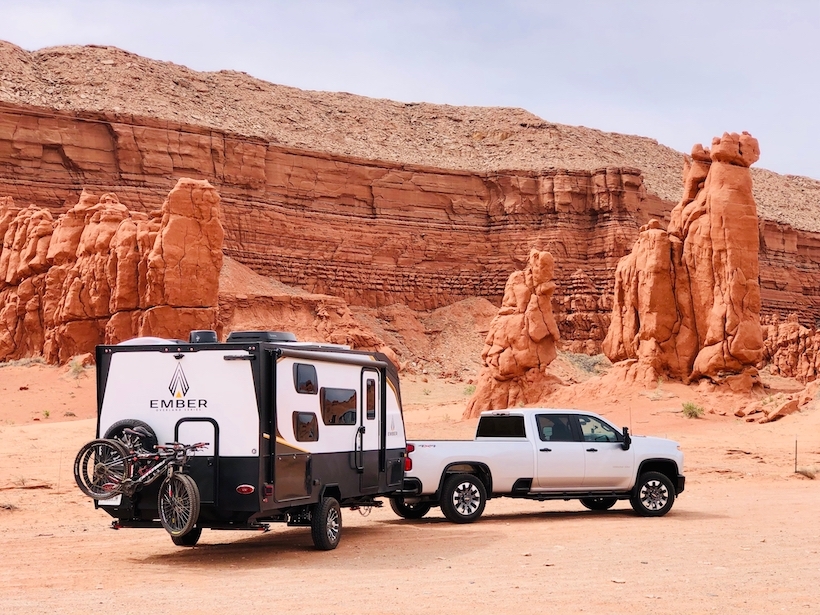 Ember was formed out of a desire to build a better RV by building a better RV company. To us, that means we'll blaze an uncharted path by crafting innovative products backed by an unparalleled warranty, all with the experience and expertise that customers deserve. The Overland Series construction starts with a stronger foundation, our exclusive Trailblazer™ Off-Road Chassis, featuring the all-new CURT® Independent Suspension System for improved off-road performance and durability. Then we pair it with ample holding tank and LP capacities, standard solar power, and plenty of space for batteries to help you stay off-grid longer. With all these standard features built right in, your options for where to camp are limitless. Find your local dealer at www.emberrv.com/dealers.
______________________________________________________________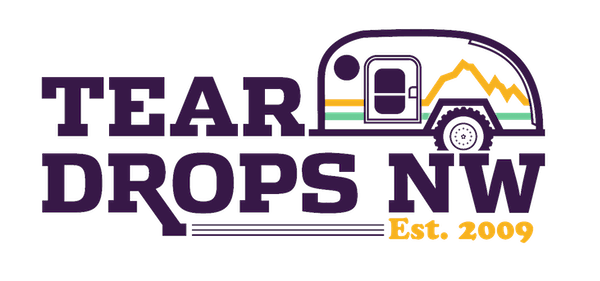 WE BUILD RUGGED, CUSTOM TEARDROP TRAILERS THAT GO WHEREVER ADVENTURE AWAITS. ENJOY THE OUTDOORS AND STAY COZY.
OUR TRAILERS OFFER A SMOOTH RIDE ON THE HIGHWAY OR IN THE WILD. WE CAN CUSTOMIZE A TEARDROP JUST FOR YOU, WHETHER YOU WANT A SLEEK TRAILER WITH MODERN OR RETRO APPEAL — OR A TOUGH TRAILER THAT CAN TAKE WHATEVER'S AROUND THE NEXT CURVE IN THE ROAD. OUR HIGH-GRADE COMPONENTS AND RIGOROUS QUALITY CONTROL ENSURE YOUR TRAVELS ARE ALWAYS SAFE AND FUN.
WE ALSO OFFER LOTS OF ACCESSORIES TO MAKE YOUR CAMPSITE THE PERFECT HOME BASE FOR EXPLORATION.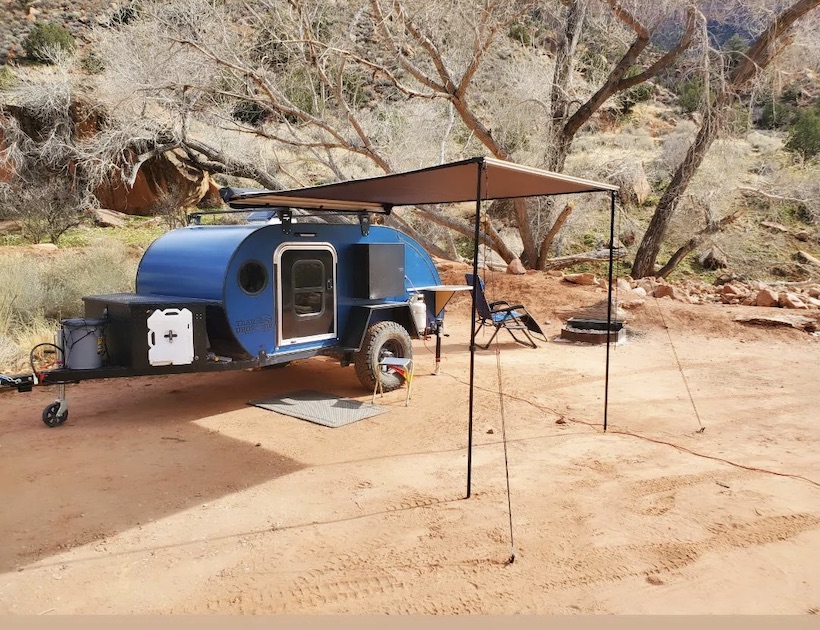 Tel: 503.385.1227
__________________________________________________________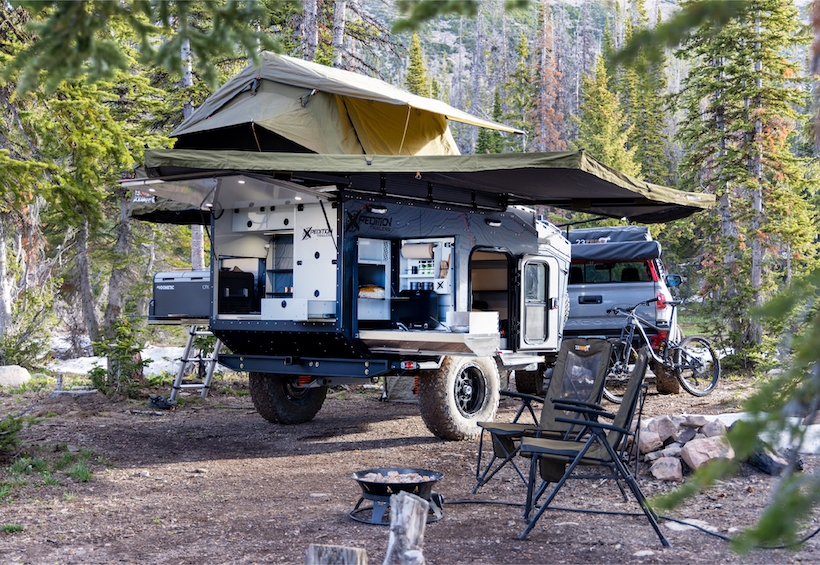 Rethinking the camping experience! The Voyager Trailer from Xpedition Trailers was born from decades of exploration in the most extreme off-road environments in nearly every corner of the Rockies. Are you looking to traverse continents, explore where others would consider impossible, with a new level of comfort and enjoyment in the outdoors? The Voyager Trailer is THE BEST WAY OUT! Enjoy the convenience of a 11½ ft kitchen, the comfort of a climate-controlled interior, with the ability to get instant hot water, and enough power to keep going for weeks, no matter how remote your adventures take you.
Proudly made in the USA, our trailers are made with all-aluminum construction, house a 36-gallon water tank, and check out our 2023 model with independent A-arm suspension and added 4-season protection. The Voyager is equipped with the state-of-the-art REDARC vehicle management system, which sets an unprecedented level of control and automation for your trailer by bringing information right to your fingertips. Elevate your adventures with the contemporary outdoor living experience of The Voyager by Xpedition Trailers!
Follow us at https://www.instagram.com/xpeditiontrailers/
Available through our dealer https://www.xgridcampers.com/
__________________________________________________________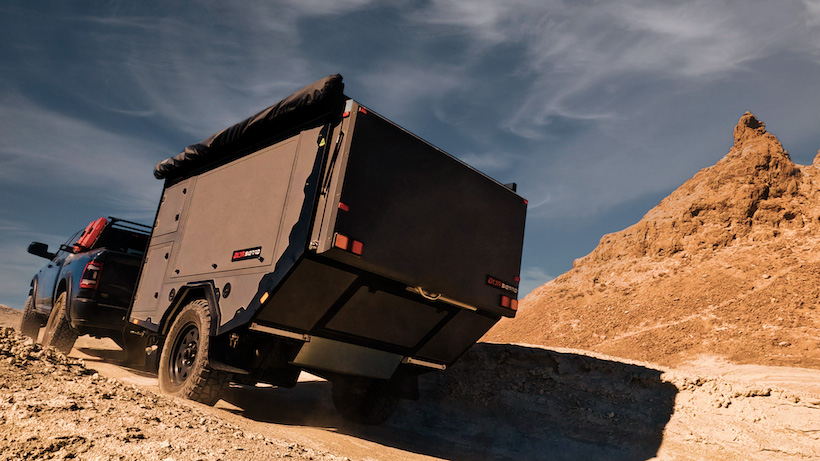 XGRiD Campers, located in Las Vegas, NV is a boutique off-grid camping dealership that opened its doors in 2020. Loren Walker, owner, and CEO, wanted to create a place where the off-grid camping industry could come whether you were new to the lifestyle looking for your first trailer, or a seasoned Boondocker looking to upgrade – XGRiD campers has something for everyone. Carrying the top brands of trailers matched with the know-how, training, and industry knowledge customers can expect the highest quality service from Loren Walker and the team.
Australian Off Road has been building strong, reliable camper trailers and caravans since 2000. With every concept designed, they have pushed the boundaries of innovation to provide customers with the best off-grid camping experience. AOR is 100% locally owned and operated on the Sunshine Coast, Queensland.
In January 2022, XGRiD imported the first two AOR Sierra and Sierra ZR models into the United States. Designed with an ultra-lightweight narrow body, the trailers are built to follow your rig down tight off-grid tracks. The Sierra is adventure-ready, with a steel chassis, proprietary independent trailing arm suspension, and lithium batteries standard, also equipped with two water tanks that hold up to 52 gallons of water. Paired with extreme exit and entry angles, you can get to your favorite off-the-grid locations with ease.
The Sierra features an internal sleeping cabin with a double bed and a full kitchen. For additional space drop down the annex room or add a rooftop tent. Equipped with the Bush Company 180 XT Max awning – free standing, no poles, and capable of taking the toughest winds.
_____________________________________________________________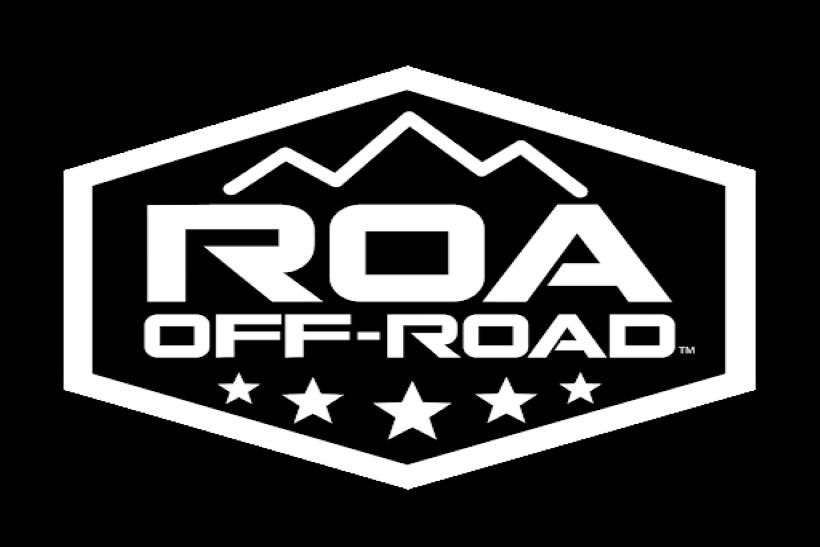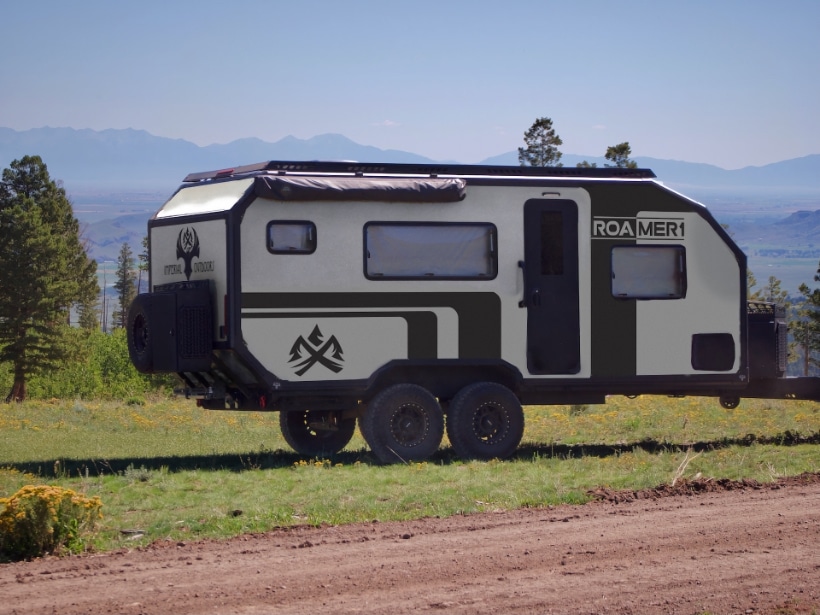 RVs of America, or ROA OFF-ROAD, is a well known authority in the off road trailer world. We started by importing some incredible off road caravans from Australia. After seeing what Australia had to offer, ROA decided to look for an American manufacturer that could create an American made trailer to compete with the outback. We found Imperial Outdoors and they made an exclusive model for ROA OFF-ROAD called the ROAMER 1.
The ROAMER 1 brings together the best of American and Australian design, resulting in something truly unique. The ROAMER 1 is not just made for off road and off grid camping but something you could tour the country in or even live in full time. It is beautiful and luxurious on the inside and rugged and robust on the outside. The perfect combination of "his and hers".
The ROAMER 1 will get you off the beaten path with incredible off road suspension and clearance. While off grid you will be able to stay in comfort, running the A/C for days or the heat for weeks. This is true at any time of the year because of the insulation. You can stay warm below zero degrees in the winter and cool above 110 degrees in the summer, but that's not all. With over 60 gallons of water and the ability to pump more water onboard you can truly explore longer than ever.
Contact: 801 860 0035
____________________________________________________________________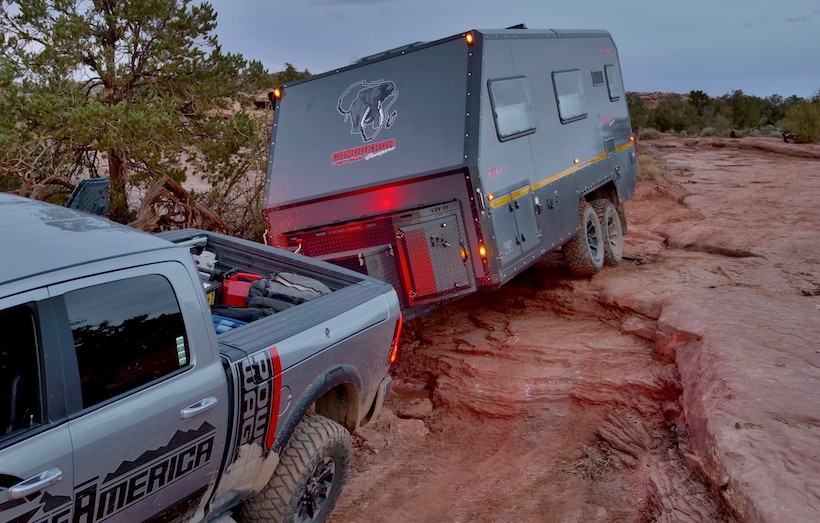 Truly iconic in the off-road trailer world, Conqueror originally from South Africa, they started 30 years ago building for the military before moving into the civilian market to make campers for recreation.
Now, The UEV-19 just came to North America and is exclusive to ROA OFF-ROAD in Utah and South Carolina. If you are looking for freedom to roam where most trailers of this size simply could not go, then the UEV-19 is for you. ROA OFF-ROAD took the UEV-19 actually on a Jeep trail rated at 7 of 10 to test! It lived up to its military tough moto.
You can live full time in this all new Conqueror. it is a true "his and hers" trailer. The bathroom is massive and you will find plenty of storage throughout the trailer. Full inside and outside kitchens. The table that is so often cramped, can easily fit 4 people with space to spare. To top it off, there is a king size bed, which is unheard of in trailers of this class.
If you are looking for the freedom to blaze new trails or get off the beaten path and do it in comfort, then you want to see the UEV-19
Contact: 801 860 0035
_______________________________________________________________________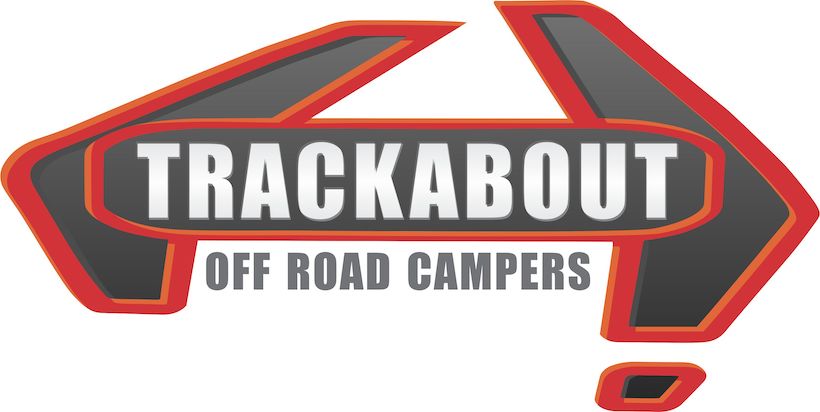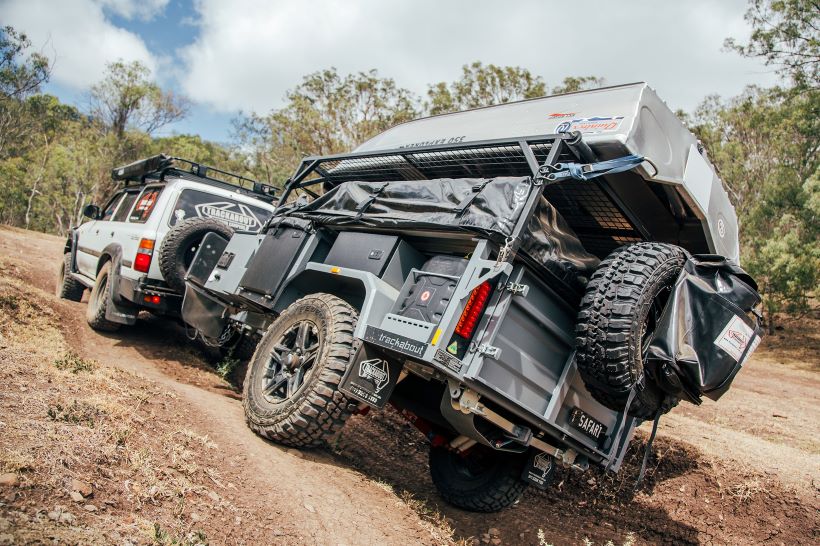 Camping and off-roading are a way of life in Australia and being spoilt for choice with destinations, it is only natural to want to build what you love and chase that feeling as often as possible! Trackabout Off Road Campers has a long-established history and what once started back in 1998 is now supported with over 20 years of research and development in the most extreme environments of Australia's outback. Trackabout has continued to prove itself as one of the best Australian made camper trailer manufacturers forging a reputation based on innovation, quality and comfort. We use only the best componentry and brands, we manufacture in house, and are proudly Australian made and owned. This combined makes a huge difference when you tackle your adventures – you can trust what you're towing can handle the challenges you throw at it!
Trackabout offers two models, the Extenda and Explorer, both campers are perfectly suited for off-road touring! The Extenda is targeted more as a family-based camper due to its larger size, storage and tent space, with the Explorer model suited for our couples or small families looking for a more compact and lightweight option, however either are suited for the toy storage capabilities Trackabout are known for.
Our customers value a modern design, quality made product and enough toy storage for any adventure. We understand there is no one size fits all, so we work with our customers to customize their camper of their dreams suited to their needs – Trackabout's really do tick all the boxes.
Build your camper trailer today and become part of the Trackabout family – https://trackaboutusa.com/build-your-trailer
Subscribe to our Youtube: https://www.youtube.com/@TrackaboutOffRoadCampersAus/featured
Follow us on Instagram: https://www.instagram.com/trackabout.campers
Follow us on Facebook: https://www.facebook.com/trackaboutoffroadcampers/
Contact: Tel: 202 517 3626
_______________________________________________________________________
ALTERNATIVE OFF ROAD TRAILERS
_______________________________________________________________________
Check out TAP's Adventure Van – Ultimate Resource Guide HERE
Sponsored Content: