Getting a good night sleep when camping can frankly be hit or miss. This said, I was eager to try out the Luno Air Mattress 2.0 to see if it lived up to its reputation for ease of set up and comfort. This test trip took place in the Anza Borrego Desert State Park and was a late night star trails shoot of the Ricardo Bressi Sculptures. My normal set up is a roof top tent and setting up camp in the wee hours after the shoot is not ideal. The Luno Air Mattress positioned inside the TAP rig could be just what I was looking for?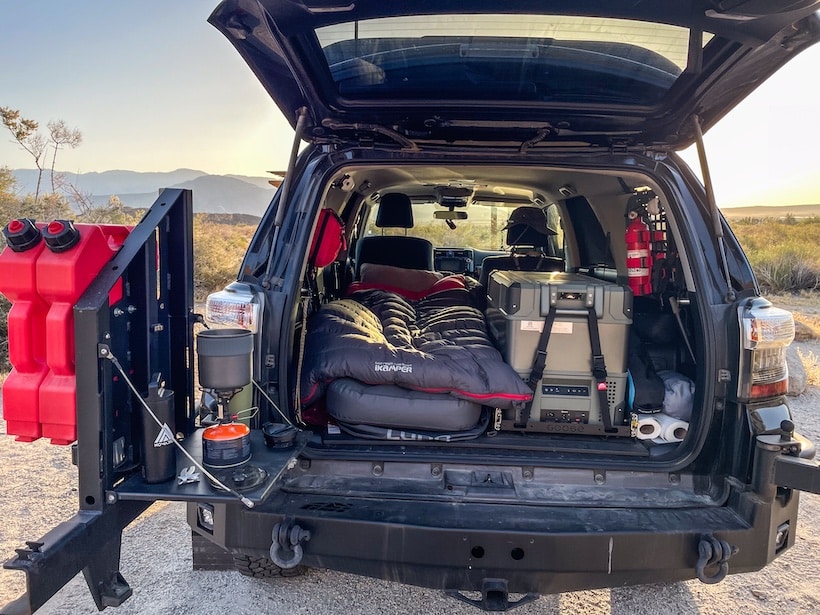 Specs and Features:
Material 300D OXFORD FABRIC
Packed Size 16.5″ X 29″ BAG
Persons Height UP TO 6'2″
Weight Limit 300 LBS / SIDE
Features:
Fits more than 1,800 vehicles (Subaru, Toyota, Jeep & more)
Comfortably sleeps two people up to 6'2" tall
Durable, 300-denier Oxford fabric is made for years of use
Packs down small so you can take it anywhere and keep it in the car
Dual-sided mattress allows you to adjust the firmness to each camper's preference
Just one side of the mattress can be inflated for solo camping
Base Extenders™ provide extra platform length (12″) for maximum sleeping space
Inflates in just a few minutes with the included electric air pump and packs down quickly
Includes a one-year manufacturer's warranty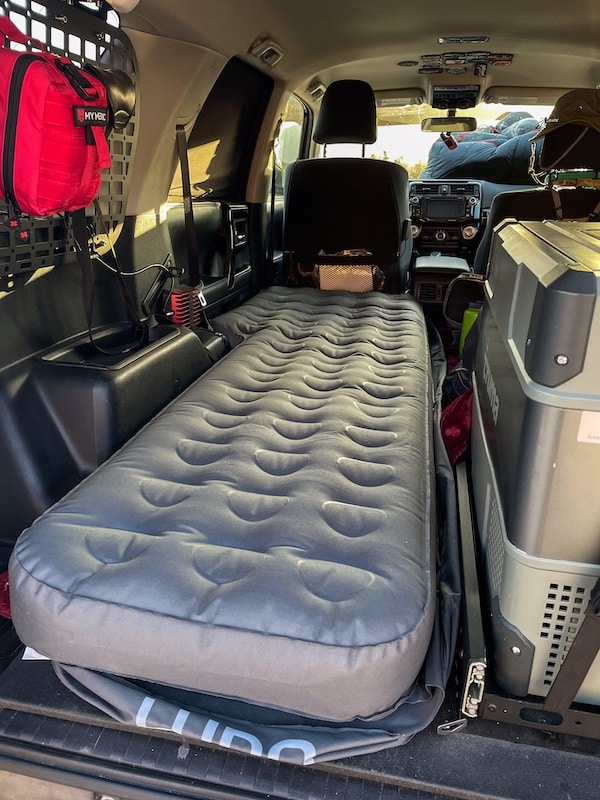 First thoughts:
The Luno Air mattress 2.0 is built with durable, 300-denier Oxford fabric that certainly feels like it will handle the wear and tear of vehicle camping.
The air valves are easy to use when inflating and didn't leak or come open while sleeping. They are also large enough that inflation is fast with the supplied 12V pump and deflation takes no time when rolling the mattress flat again for packing away.
I loved the fact the mattress has two separate chambers and therefore could be a single or a double. For me, this allowed the single mattress option to easily fit in the space alongside my fridge slide.
The mattress comes with base extenders that fill the space between the front seats and the folded down rear ones. I didn't need these in the TAP 4Runner as I have a Goose Gear Rear Stealth Sleep platform. When I use it in the TAP Subaru Outback, they will be essential.
Overall, the Luno Air Mattress 2.0 was easy to use and comfortable to sleep on. It also stowed away to a size that doesn't put me off bringing it. Will it replace my RTT? Probably not, but it will be a comfortable game changer for my quick stealth or late night astro photography sessions. Obviously this is not a long term review and only represents first use thoughts, so I will update later in the year for a longer term viewpoint.
Here's the results of the astro shoot: