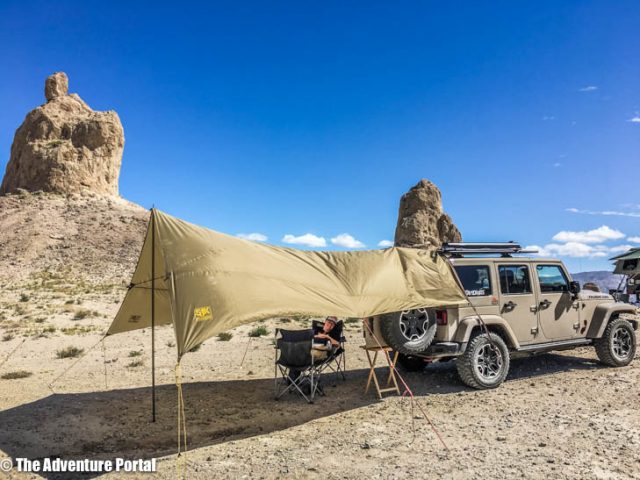 I enjoy spending time overlanding in the deserts, but one of the challenges I face is the bi-polar weather. Since I never know what the weather will be like, I prepare for everything. In March of this year I did a weeklong trip through the California and Nevada deserts. I thought this would be a good time of year to go, allowing me to avoid the summer heat. Unfortunately, it was already getting too hot. During the day I would drive up to higher elevations for relief from the heat, but when stopped for lunch or a rest, I would find myself seeking out shade to keep out of the UV rays. I can handle warm nights in the hot valleys, but not the higher elevation sunlight pounding on me all day on the trails.
I started researching awnings during this trip knowing that if I was going to keep doing multi-day or week-long trips , a sun shade was going to be a requirement. I researched your typical roof mounted awnings and found that they wouldn't fit the area I have left available on Jess's (my 2016 JKU Hard Rock) roof. My rack was installed to carry a roof top tent and a water/shower system, so purchasing and permanently installing a typical style awning wasn't going to work for me. Not only do I not have the room, but I also can't afford to add any more weight. Thankfully, I found the perfect alternative, the Slumberjack Roadhouse Tarp.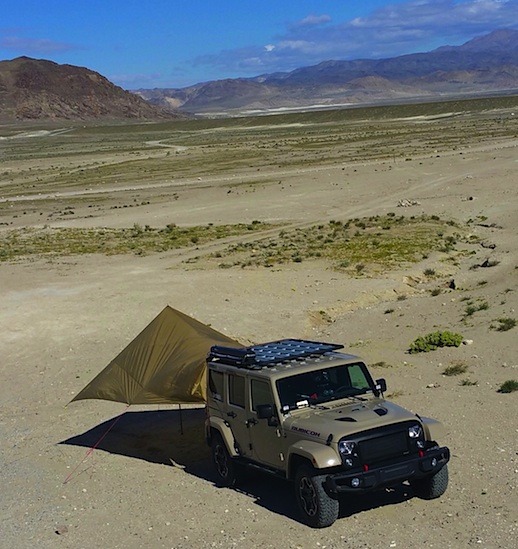 Slumberjack recently came out with the Roadhouse Tarp and it is awesome. It's easy to manage and set up. It's lightweight, compact (not a lot of cargo space in my Jeep), and it's design allows several different set up configurations from almost anywhere on your rig.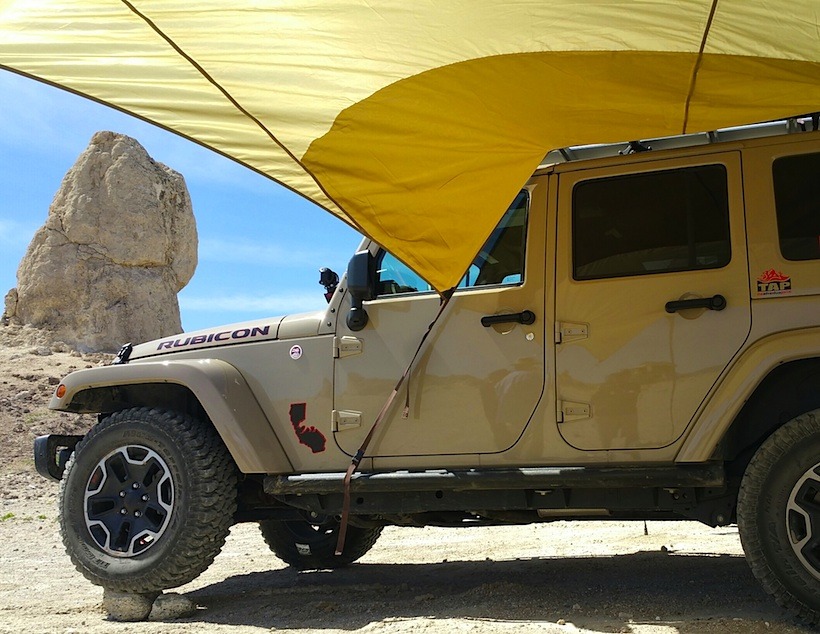 The first day I had the Roadhouse Tarp, I set it up on the side of my Jeep. The wind came up and I wanted to use my Jeep to block some of it out. The tarp comes with 2 poles. Each pole can be made up of 2-5 smaller pole pieces that connect quickly and securely making its height not only adjustable, but also keeping the poles strength stronger than a 1 or 2 piece set that can lose its strength and collapse or bend under pressure. The tarp stakes are tough and were easily banged into the hard dirt with my little hammer. The best part, I think, are the tie down line tightners. These little triangular grabbers have teeth that lock the lines in place and are easily adjusted when necessary. I was amazed at how much wind this tarp withstood. It's not small, so there's a lot of surface area to catch the wind. This tarp stayed in place really well.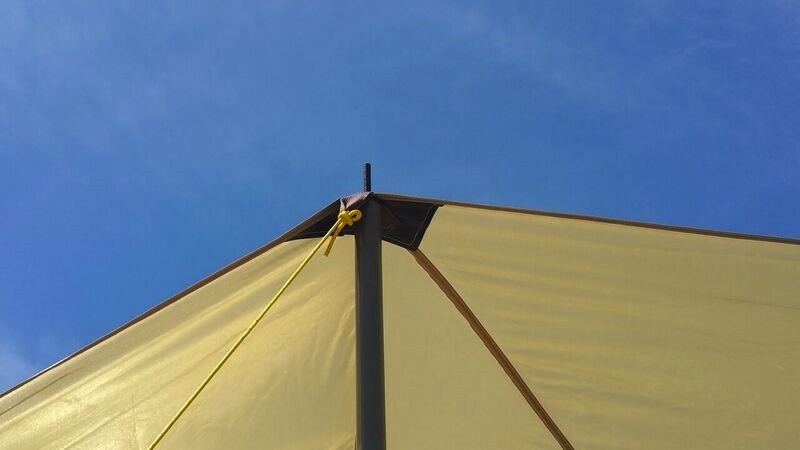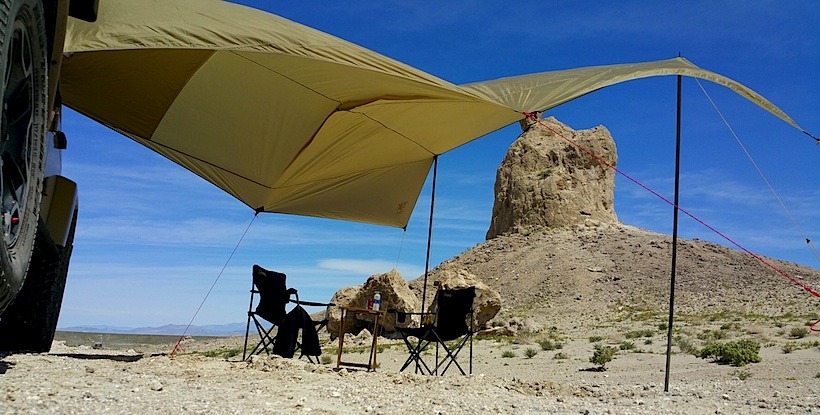 Attaching the tarp is easy. You can attach it to any side of your rig making it way more universal than your typical awning that is permanently fixed to one side of your roof rack. It's got adjustable, long, easy straps with a quick-snap that can be attached anywhere and easily tightened or loosened. I tried attaching it to the roof rack, a tire, one of my hood latches and my rock rails. You can attach it to anything really. Set up and take down only took a few minutes, and everything stuffs easily back quickly into its bag.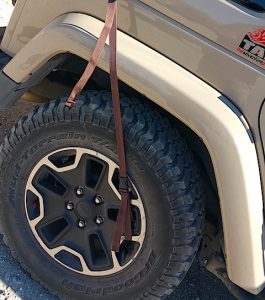 What I was most impressed with was the size of shadow the tarp cast in my set-up area. I thought I would just set up a chair and have enough shade to enjoy a sandwich, but the area was so nice and big that I pulled out a second chair for a friend and a little table for drinks, my camera and laptop equipment. I just settled in and relaxed. I even watched a movie on my tablet. No need to pack up and keep moving to enjoy the in-cab AC, it was nice out here.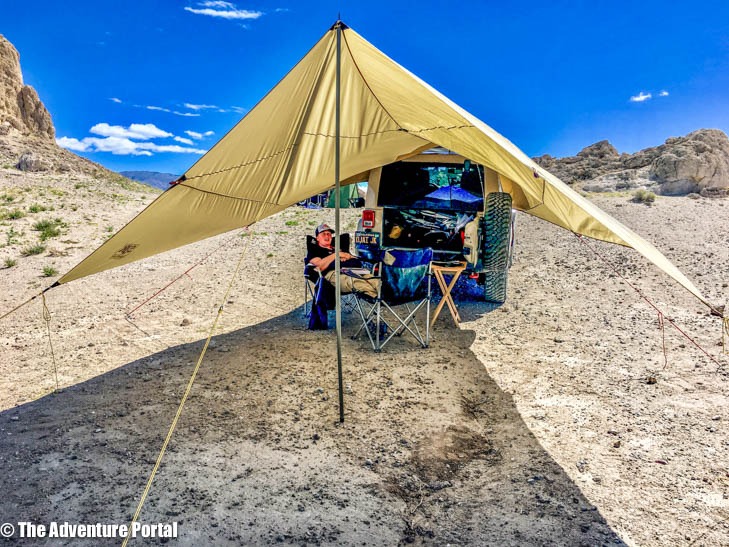 Day 2 was also nice. I reset up the tarp only using 1 pole making a little Teepee style area to enjoy from the back of the Jeep.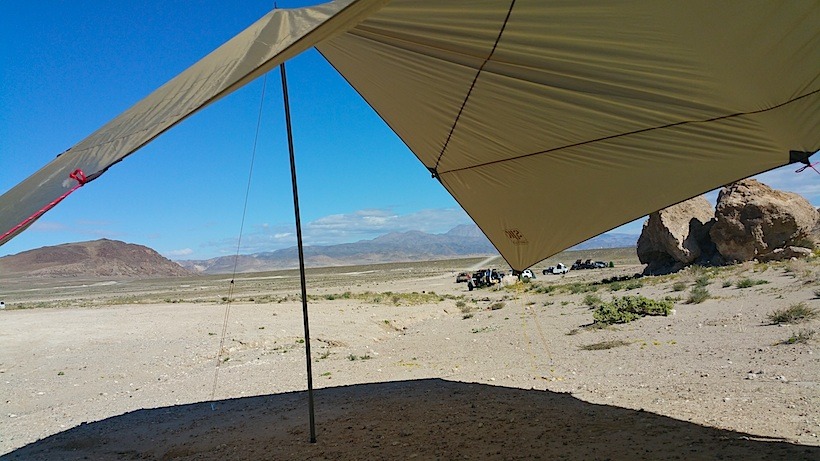 We had stronger winds this day and there was quite a bit of downward wind pressure, but all I needed to do was adjust the little triangle grabbers down the line allowing the wind to skirt over the top of the tarp. Not allowing the tarp to have a lot of play or flap keeps everything in a nice secure spot. Once again, with a different configuration, The Slumberjack Roadhouse Tarp managed the wind easily.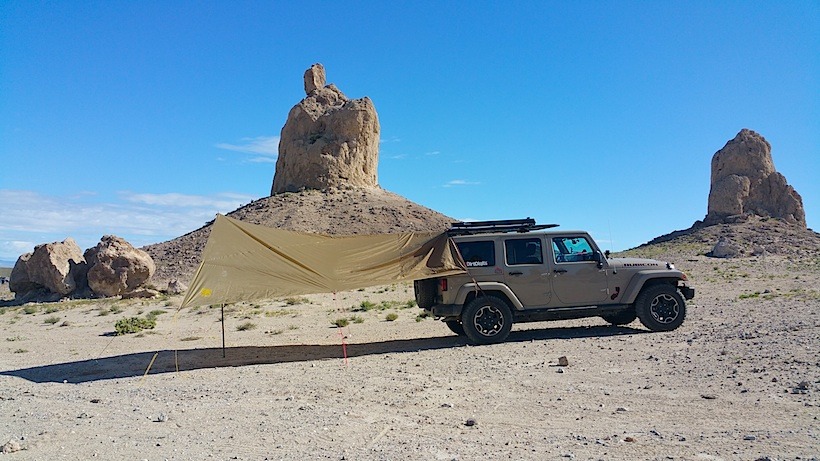 I have to stress again that this tarp provides so much shade! I loved sitting and enjoying the weather out of direct sunlight. It will allow me more time to enjoy the trails in both high and low elevations with respite from the heat and sun. I quickly started imagining other ways to set it up when I go on some of my favorite Eastern Sierra trails. I have plans to incorporate my hammock so I can stop anywhere to rest and relax when needed. The Roadhouse Tarp is a welcome addition to my camp kit!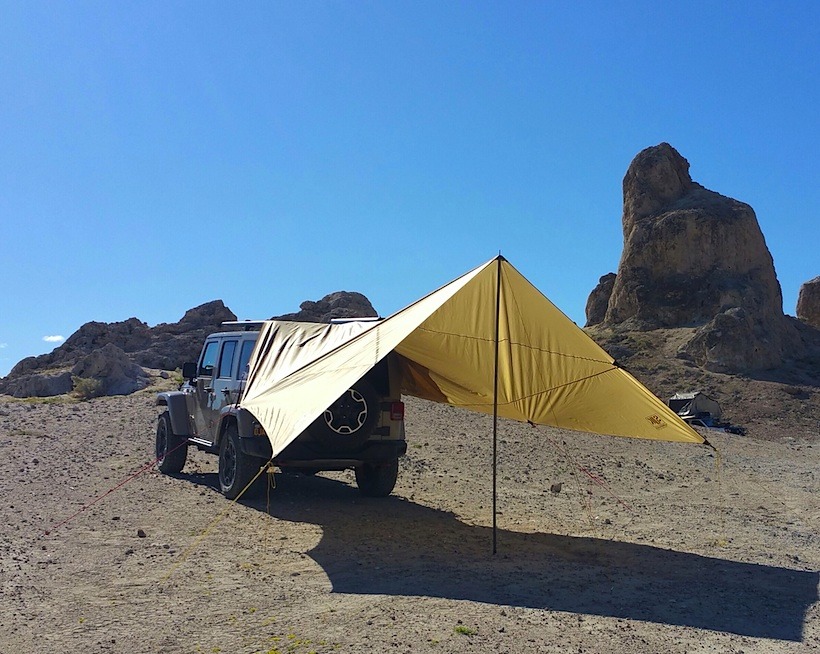 Roadhouse Tarp Specs:
Packaged Weight: 12 lbs 6 oz
Dimensions: 124″ x 103″
Packed Size: 25″ x 7″ x 7″
Peak Height: 96″
Poles: 2 steel poles (96″ tall, 5 segments each)
Fly Material: 68D polyester / 1200mm
Details from the Slumberjack site:
3-in-1 tarp provides shelter for hunting, camping & offroad adventures
Unique attachment system easily connects to most Jeeps, SUV's or trucks
Option 1/3: Single pole "A-frame" set up with vehicle
Option 2/3: Dual pole "awning" set up with vehicle
Option 3/3: Dual pole "A-frame" without vehicle
Includes two heavy duty, 96″ tall steel poles
Includes 8 super-duty 10″ steel stakes
Includes heavy duty reflective guy lines
Carry bag included
Best served with cold beer, huge views & good friends
Check out the Slumberjack Roadhouse Tarp HERE
See the Slumberjack Tarp in Canyonlands HERE.
Written by: Lisa Van Rijnsoever – TAP In-Field Contributor.
Photos by: Lisa Van Rijnsoever, The Adventure Portal