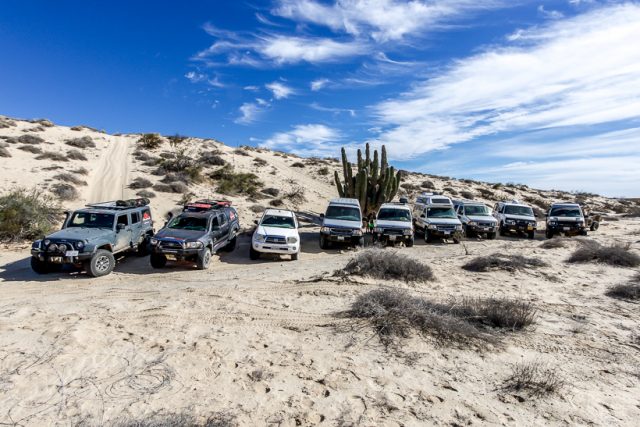 It was 4am and suddenly my peaceful slumber was assaulted by the angry and obnoxious siren of our bedside alarm. Today we were meeting the guys from Agile Offroad Vans at the Tecate border at 7am to cross into Baja, and head down to San Felipe. It was our first overland trip in Baja and I won't lie, my groggy mind was filled with excitement and a little trepidation as I poured the legalized drug, we call fresh ground coffee.
The previous week of vehicle prep had been a disaster and my nerves were a concoction of "what else can go wrong" coupled with, "Don't lose your head down south!" comments from non-overlanding friends. Preparation had included installation of ARB onboard compressors to each vehicle, two new CB radios, the addition of a RTT on the Jeep's AEV roof rack (which ended up not fitting and getting left at home) and the installation of a Goose Gear drawer and AT fridge and stove combo slide. I had mistakenly given myself a week to get all this done, along with the usual packing of all our essential camping gear. Clearly, this was too short a time window, and my nerves were frayed by the end of the week.
Anyway, back to the trip.
We arrived at the designated gas station close to the Tecate border in plenty of time. In fact, we were the first to arrive as I hate being late and since we had been invited on the trip, I didn't want to be "those people" that hold everyone up. With these thoughts, clearly I wasn't on relaxed Baja time yet.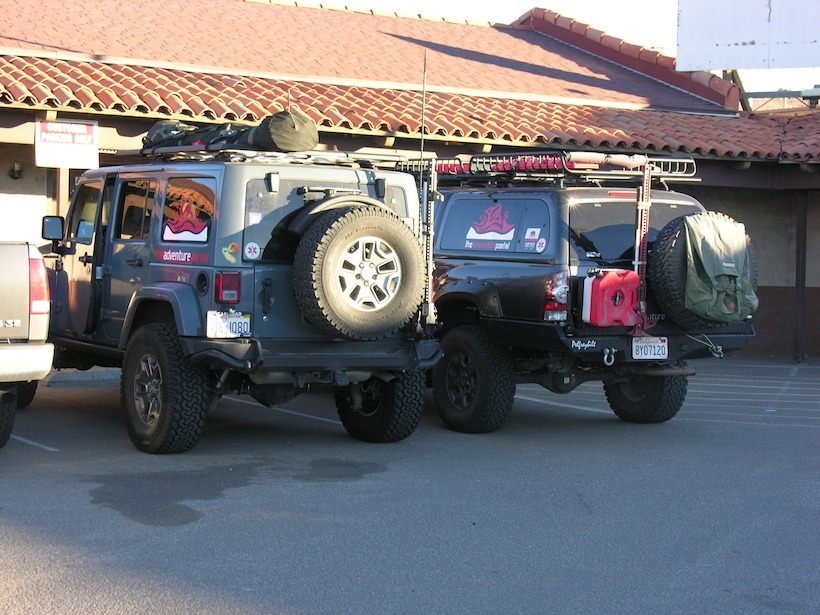 Crossing the Mexican border into Tecate with 6 other rigs was relatively painless. Only a few in the group were inspected. I was only asked if I was bringing beer into Baja. We headed out in convoy along the Libre Mex -1 Highway to the "usual spot" to air down, about 15 minutes east of Tecate. The plan was to travel along The Compadre Trail for about 60 miles before hitting black top again at the small town of Ojos Negros. Conditions on The Compadre Trail can vary greatly due to weather and time of year. This trip, the trail was in pristine condition and it was smooth sailing.
The convoy included 6 E-350's camper vans, all built with Agile Van TTB (Twin Traction Beam) suspension systems, two Tacoma's (including TAP's Taco) and the TAP Jeep Rubicon. We were quite the procession. I'm going to be honest, I'm generally uncomfortable with a group greater than 4 vehicles, so I was hoping that potential group frustrations wouldn't raise their ugly heads. In my experience, group dynamics can deteriorate quickly due to varying abilities, trip desires, schedules etc. However, the group seemed mellow and, of course, we were the new comers in a group that had traveled together in Baja mainly times. So I reminded myself to simply "go with the flow" and that this time I wasn't the group guide.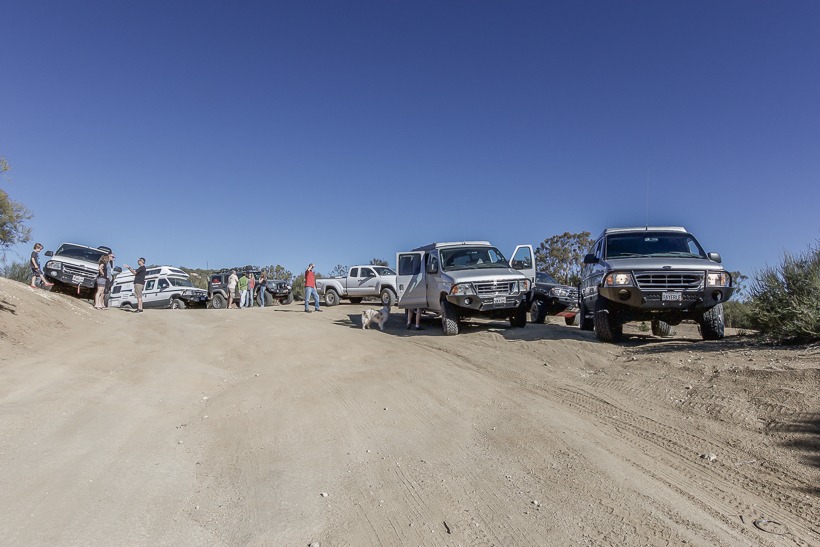 Our first day's schedule was to head south to San Felipe where we planned to camp primitively on the bluff for two days, overlooking The Sea of Cortez. The day was to be long, traveling significant miles south and spending some time watching The Baja 1000 race along the way.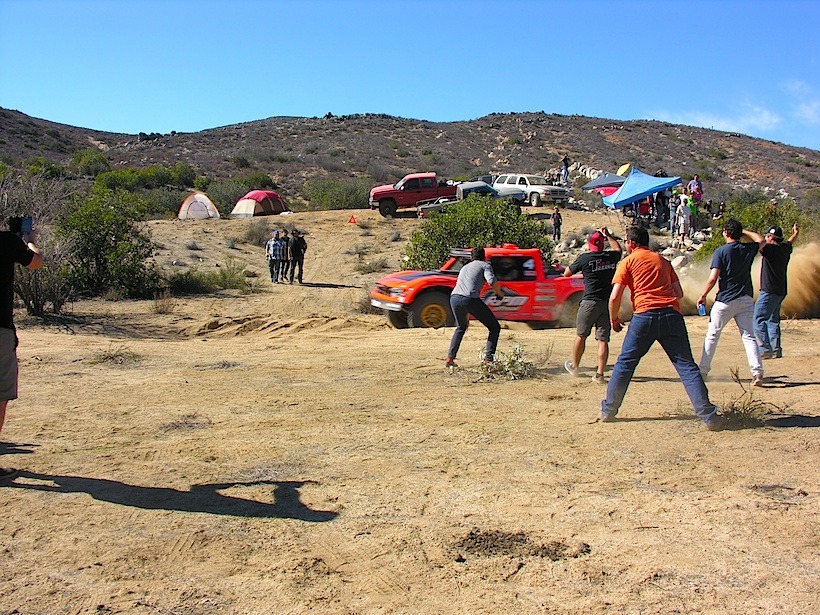 After completing The Compadre Trail, we pulled off the road onto private property at race mile 40, where Ramsey from Agile, negotiated a group rate with the land owner to allow us to park and watch the race. The scene in front of us was crowded with spectators, all anxiously waiting for the Baja racers to blast by. The atmosphere was electric and friendly, with groups partying/camping and generally having an inebriated blast.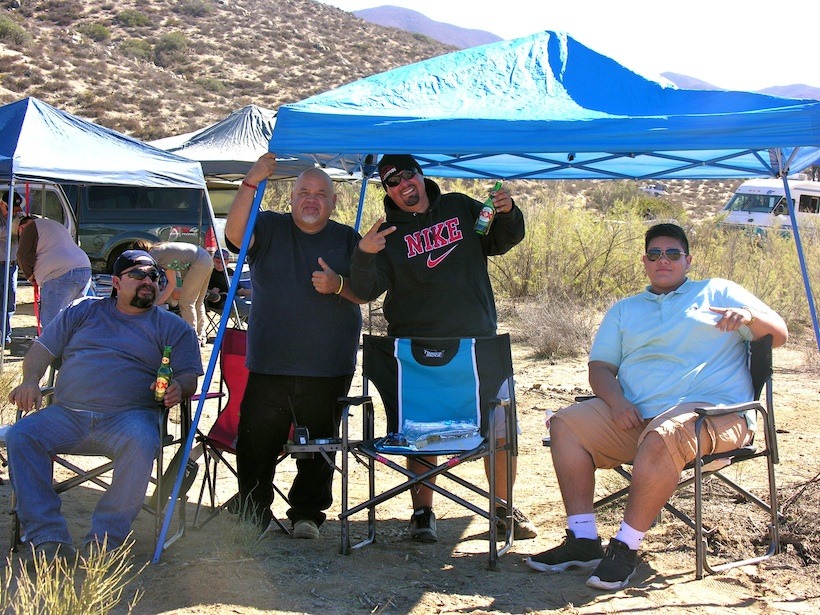 With race choppers circling, the Baja 1000 started roaring past us and we managed to find safe and elevated positions to watch the race and cheer the drivers on. All I can say is, race rigs don't really worry about terrain conditions, with Trophy Trucks and Class 1's traveling at 60-75 miles an hour across terrain that would have us picking our line! Amazing stuff and The Agile Van guys we were traveling with, had some cool stories of personally racing in the event.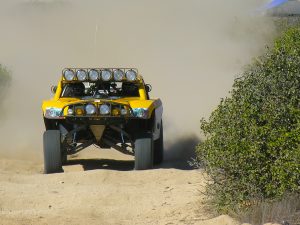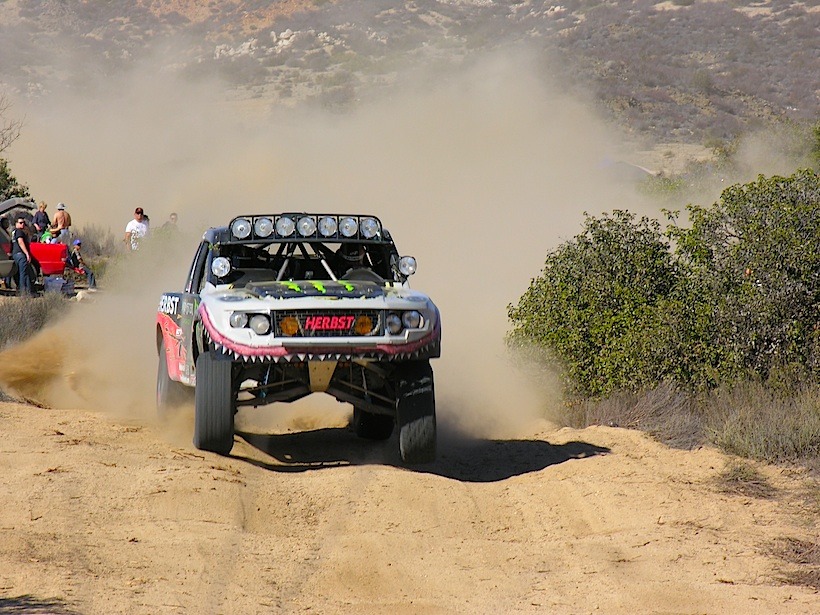 The day was moving along, and it was time to get back on the road and continue east. After stopping at Valle La Trinidad for gas and tacos and dropping down from San Matias, we eventually get off the highway again and head south to Diablo Dry Lake Bed. Twenty miles later, at the end of the flats, we arrived at Jose's, an old shack in the middle of nowhere.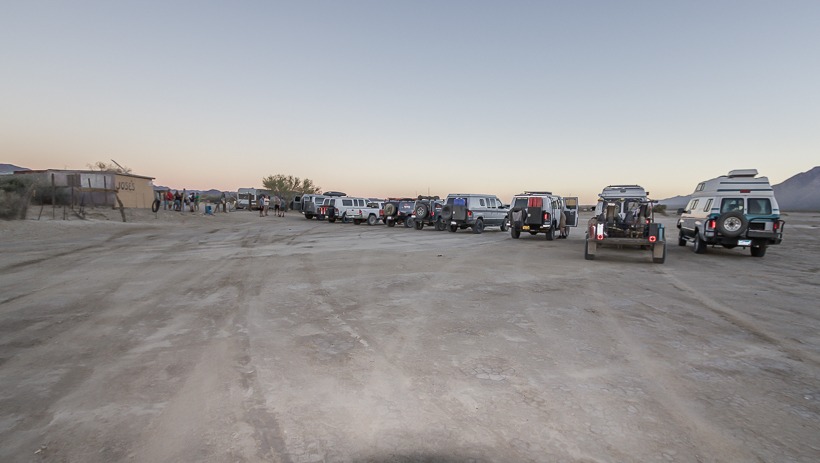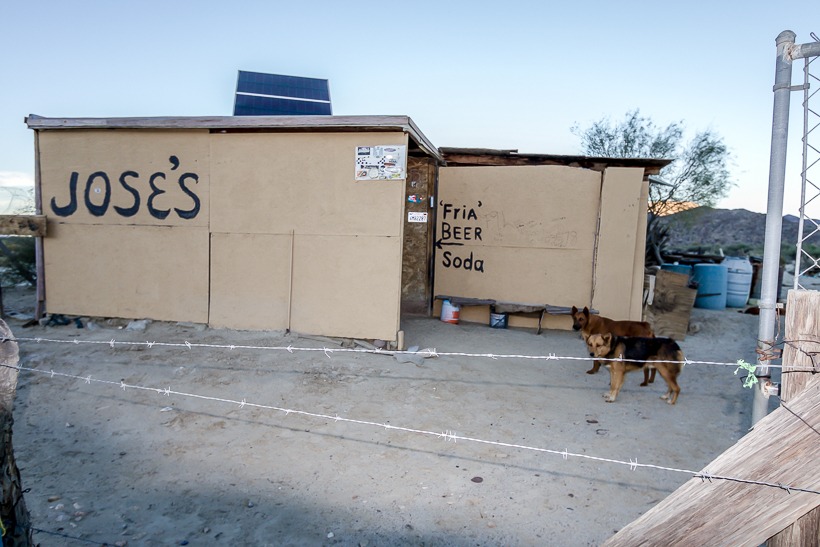 Here lives Jose, believed to be 95 years old this year. He survives alone by selling beer and sodas to travelers like us, from an underground dug-out cellar. Our crew have known Jose throughout their many years of Baja travel and always stop in to make sure he's doing okay. This time Jose needs a splinter pulled from his hand, which we successfully extricate. If you're on this path, please make sure you buy a beer, bring some dog food for Jose's army of strays and generally keep his life and tradition alive. Also, feel free to plant a sticker on his "wall of fame".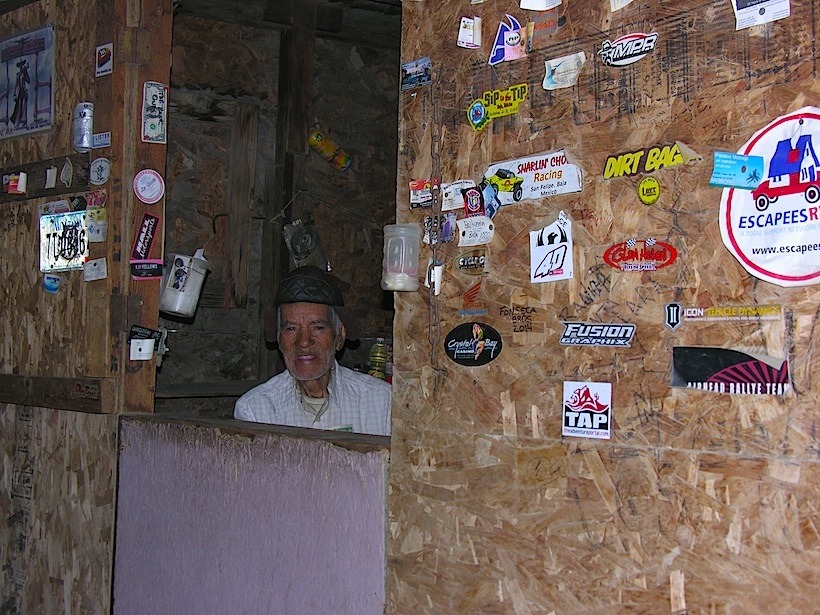 So, we left Jose's and continued on, now in the dark, through abandoned alfalfa fields, heading east to Morelia Junction and then Zoo Road. Zoo Road intersects the race course at RM640, but as we cross, only a few of the lead bikes have come through. It was too late to attempt the deep sand entrance of a favorite coastal bluff site further down the coast. That night we ended up camping on the coast at Campo El Pescador, a bluff on private land known to the group. As we set up camp and prepared food, all of a sudden the reality of being in a third-world country hit. Two pick-ups loaded with heavily-armed individuals approached. These guys weren't the Federales, these were the real deal; definitely intimidating. Lori approached them, conversed in Spanglish and all was good. Not speaking any Spanish, the word "tranquile" was all I could understand. I was very glad BlueDog was not with us, as he's always extremely protective of our camp site. I believe he would have attacked with consequences that probably wouldn't have ended well for him. Something to think about, if you're planning on bringing your dog across the border.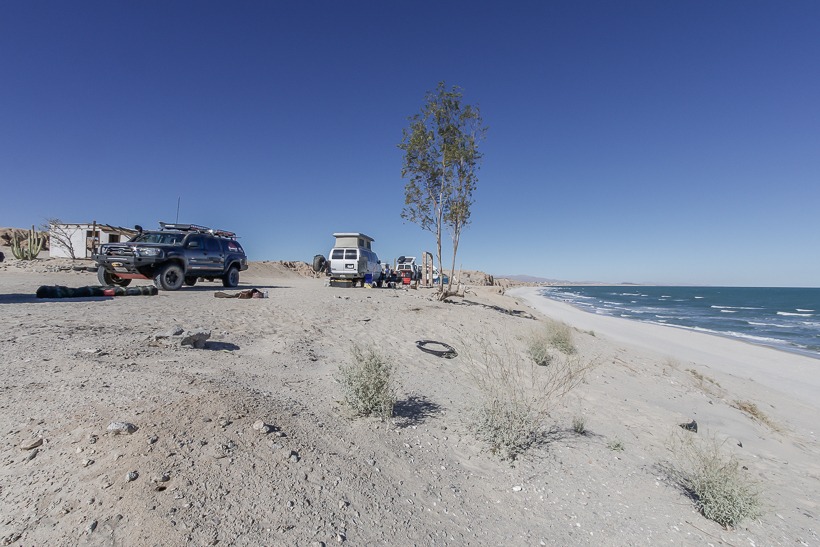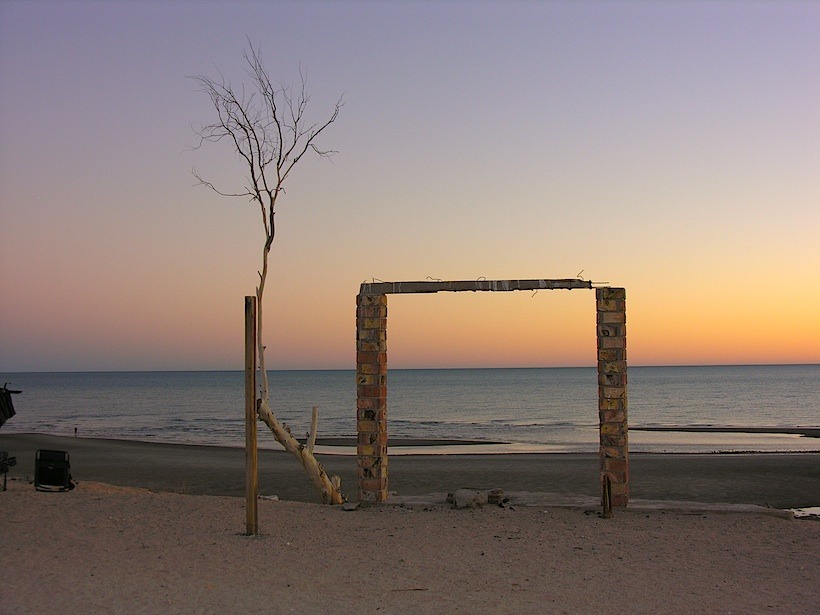 We awoke after a peaceful and uneventful night's sleep, to a beautiful view of the Sea of Cortez, a fantastic group breakfast and a decision to break camp and move just down the coast to a quiet and beautiful bluff, that the crew had discovered many years ago. The drive into the bluff was indeed sandy and a couple of the vans got weighed down and stuck.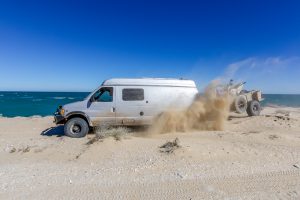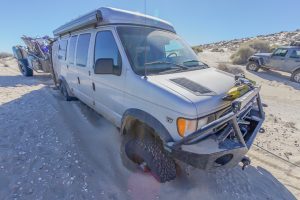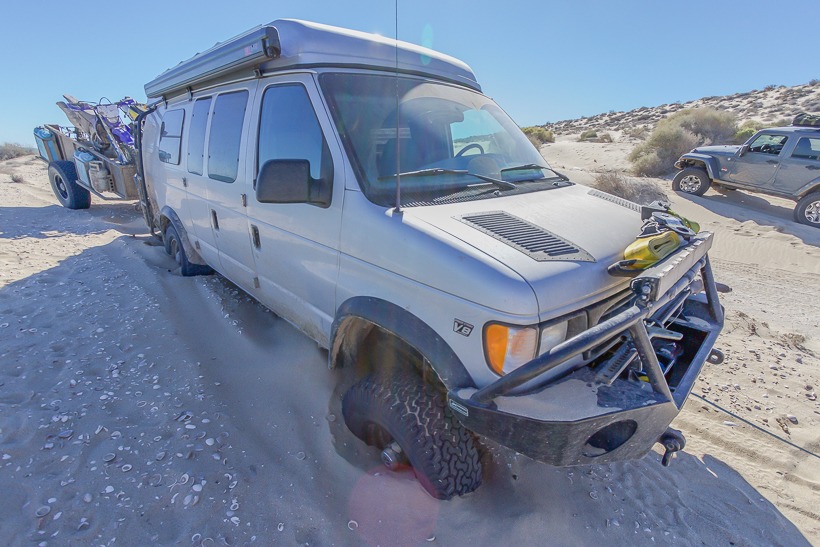 A good decision to avoid coming in the dark the previous night. In the daylight, it was easy to extricate the vans and all part of the adventure. We spent the next 24 hrs at this location, walking the empty beach, collecting sand dollars, sleeping, eating and drinking. We were now truly on Baja time and our world had finally slowed down!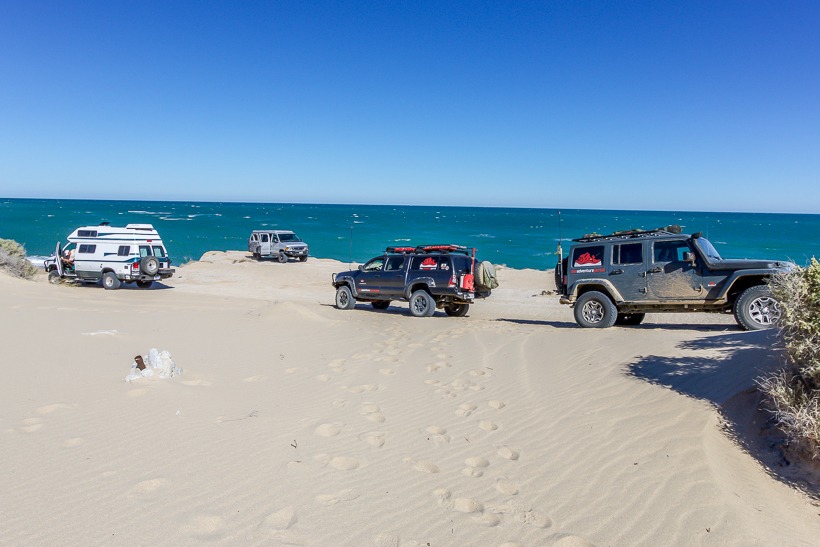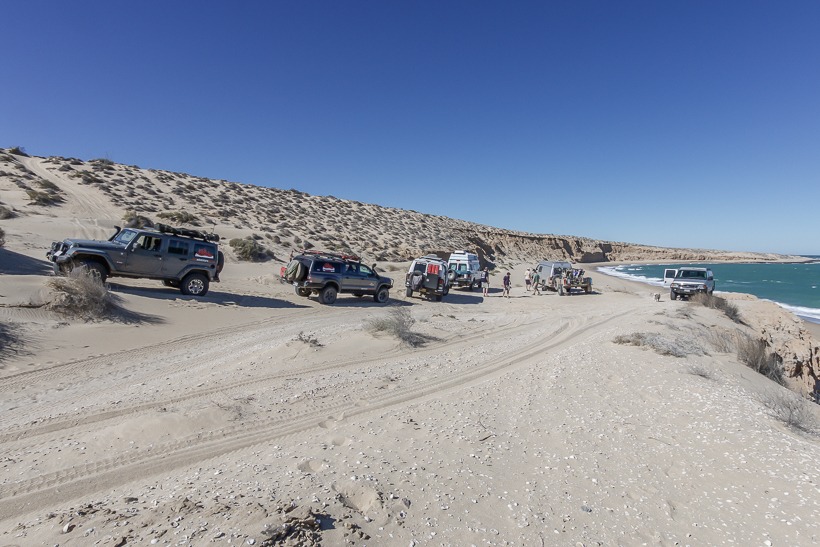 The original plan was to spend two nights at this location. However, as I learnt early on with any overlanding adventure, plans change. Despite the amazing beach location, the Baja wind had kicked up significantly and like a stubborn pit-bull, wouldn't let hold of its grip on us. The group decision was to go back in-land, cross the salt flats and head west. We would camp amongst the trees and cactus gardens that were filled with saguaro, cardon, prickly pear, barrel cactus and more, and were situated at the base of 10,00 ft Picacho Del Diablo.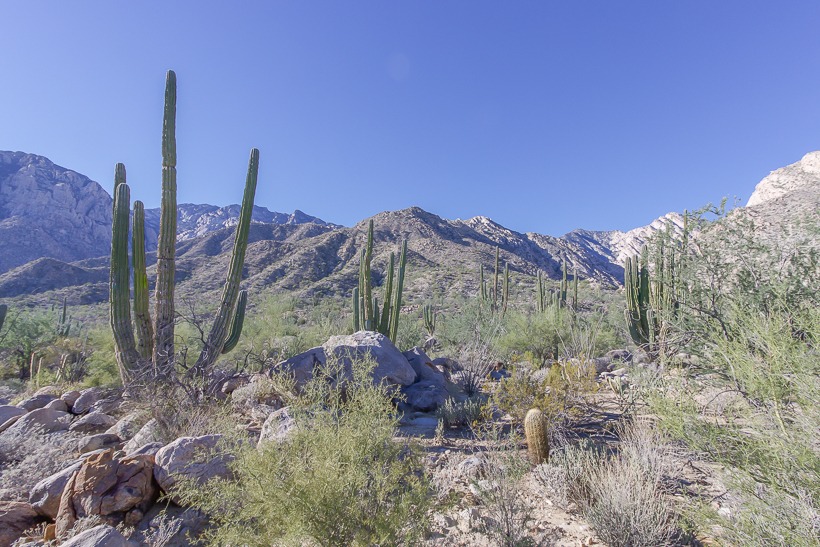 Again we cross private ranch land and had to negotiate a group rate to camp primitively. Fifty-six bucks for eight rigs, seemed like a deal. The Agile Van guys had been here many times and knew the ropes. In the mid afternoon, having reached the camp area and set up, most of the group hiked to the water falls in the natural granite cliffs. An amazing area and known to climbers who have bolted certain routes.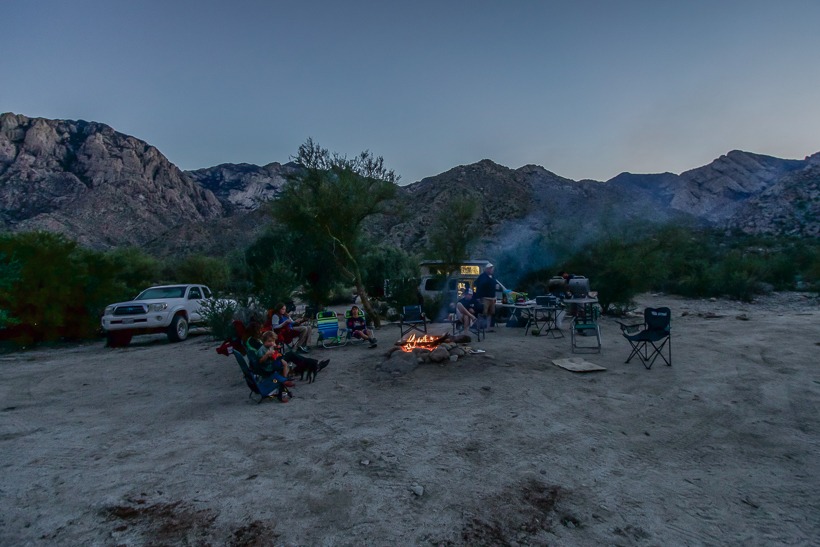 After another group dinner (Thanks John), with stories and conversation around the fire pit, we finally hit our cots and sleeping bags. Us in our RV-5 Oz-Tent, the rest of the crew, in their vans. I'm not going to deny, I was jealous of their "Van Life"! Anyway, no wind this night and sleep comes fast in Baja, so no worries!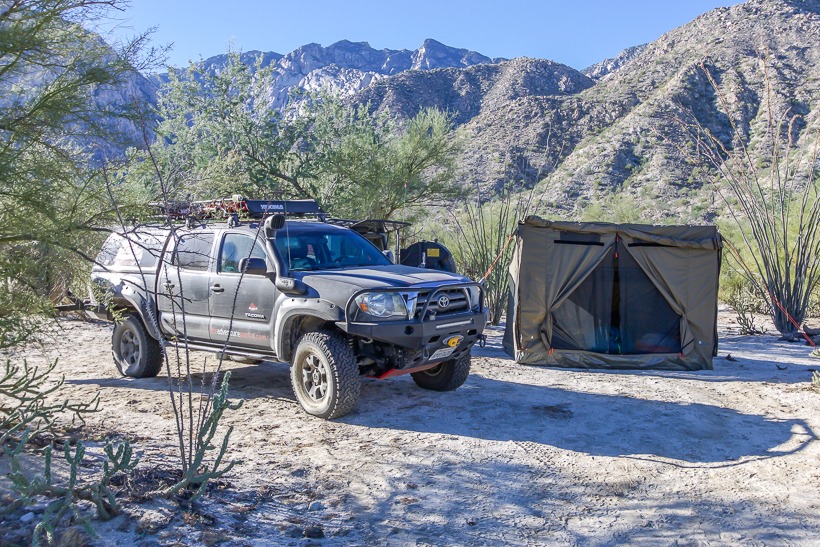 The trip to Baja was our first overlanding experience across the border and something we've wanted to do for years. A big shout out to Ramsey and John from Agile Vans for inviting us and to the whole crew for showing us the ropes and sharing their knowledge of Baja with "south of the border newbies"! We had an amazing time and hope to go again soon.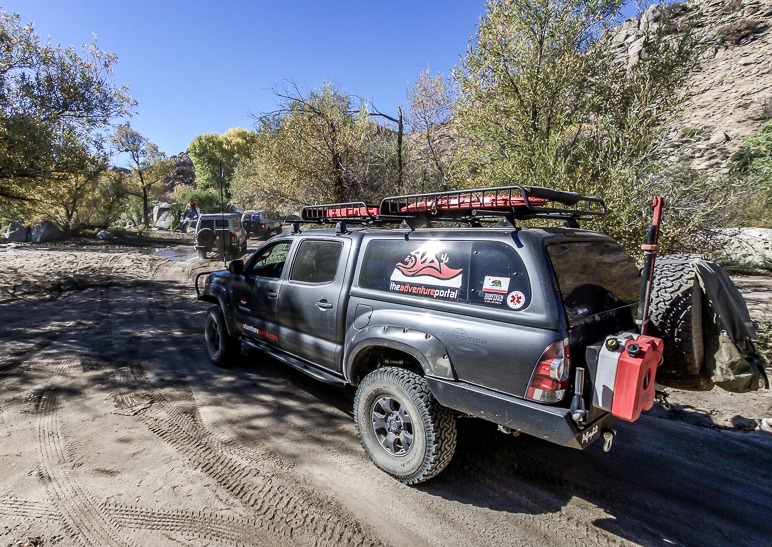 If you are interested in the Agile Van's TTB (Twin Traction Beam) suspension systems, and their 4×4 van conversions then check out agileoffroad.com
TAP into Adventure!
Author/Photographer: Andy Palmer, TAP Publisher
Contributing Photographer: Lori Palmer, TAP Editor