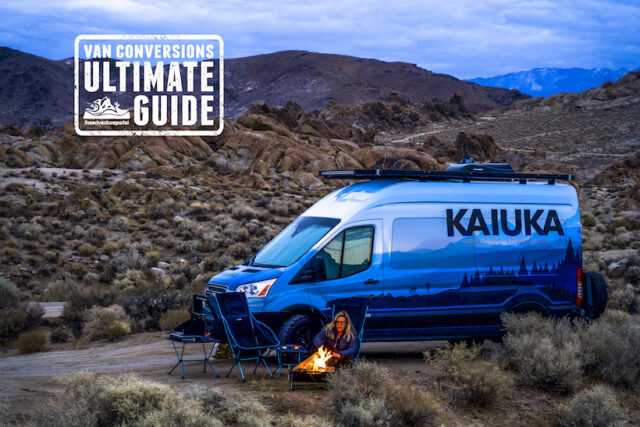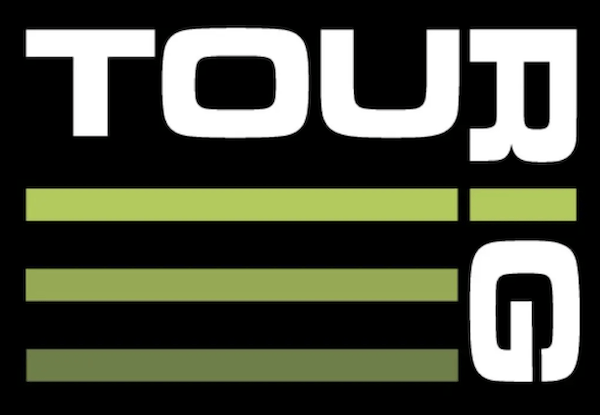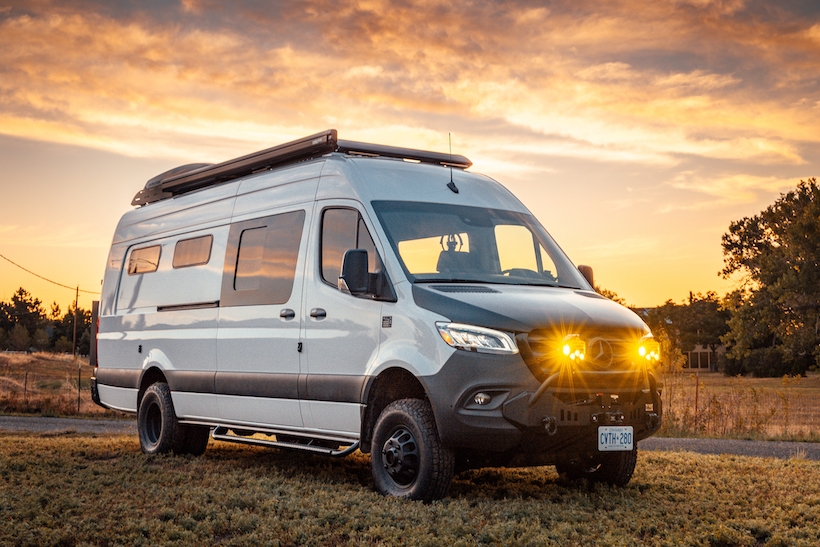 www.mytourig.com Tel: 303 710 2914 [email protected]
____________________________________________________________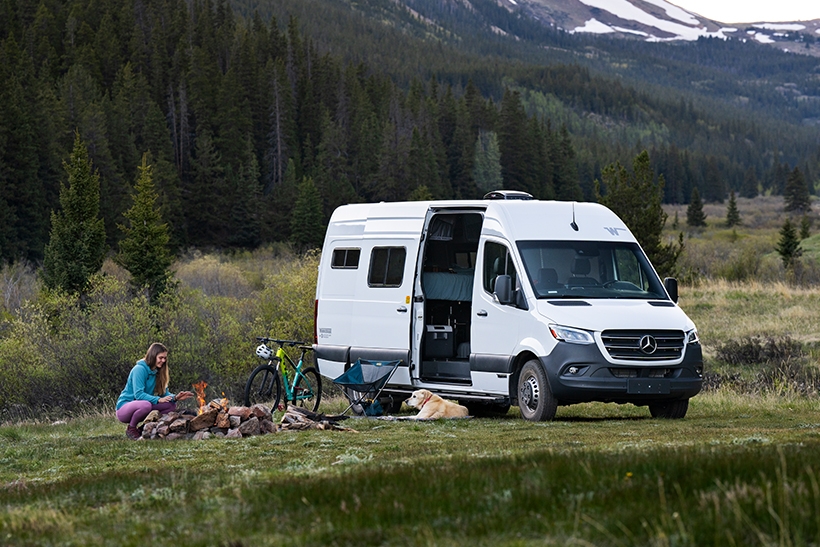 While it may be better-known for its full-sized RVs, Winnebago® has a long history building compact campers. In fact, the company almost single-handedly created the Sprinter phenomenon as America's first manufacturer to build RVs on that chassis in 2006. Recently, Winnebago partnered with Portland-based Adventure Wagon® to bring a new level of flexibility to production campervans.
The result —Winnebago + Adventure Wagon—is a Sprinter-based chameleon that can serve as a work van one day and fully outfitted camper the next. Two floorplansare available, both powered by Mercedes-Benz®'s proven 6-cylinder turbo diesel. The 44M, built on the 144″ wheelbase chassis, features on-demand 4WD. The 70SE, on the 170″ wheelbase, offers more room and carrying capacity. For each, Winnebago starts by building in all the comforts of home —including a potable water system, refrigerator/freezer, self-contained toilet and separate ac power supply—then adds an L-track grid system that allows owners to customize their floor plan using Adventure Wagon's modular interior kit.
Seats, cabinets and appliances bolt to the L-track system, and can be configured to suit your next adventure, task or job. Similarly, the MOAB bed with WinnSleep® mattress technology can be raised, lowered or removed as desired. Other standard features include a 3.6kWh EcoFlow®Lithium Generator that delivers clean reliable off-grid power, and 3M™ Thinsulate™ insulation to keep you comfortable when the weather turns. The Winnebago + Adventure Wagon is a unique —and uniquely capable —vehicle for work or play.
____________________________________________________________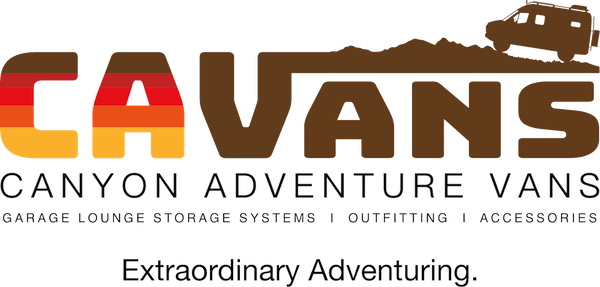 Experience the ultimate in luxurious adventuring with Canyon Adventure Vans. Our innovative modular systems and custom fit mobile interiors are designed to optimize your exploration in style. Get ready to take your adventuring to a whole new level of luxury.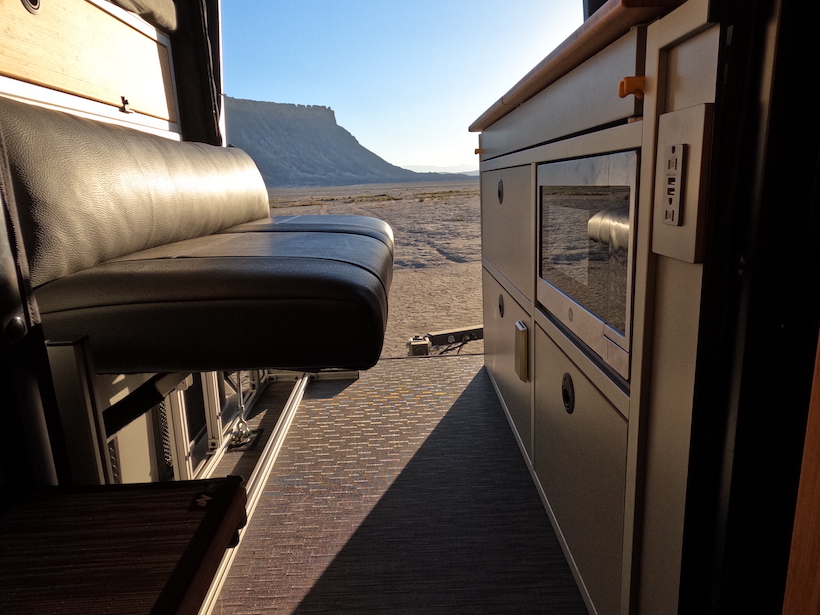 ____________________________________________________________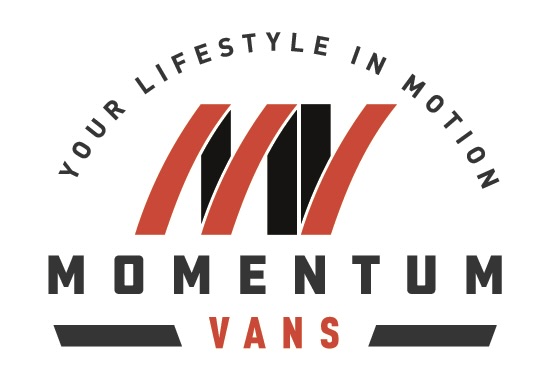 Every single van we design and build at MV is truly custom and always one-of-a-kind. We mean it… we have never created the same exact van twice! Our vans are tailor-made to suit your unique needs, and we are passionate about engineering a head-turning vehicle that not only meets those needs, but exceeds them.
Our van conversions stand out because we focus on each individual's personal lifestyle, hobbies, and taste, and include those qualities into every aspect of the project. Building out self-sufficient vans from start to finish is our specialty at Momentum Vans, and we maintain a strong emphasis on this artistry by only performing full builds on empty Mercedes-Benz Sprinter vans. We are constantly perfecting our craft on the MB platform and are very proud of the meticulous fit and finish our entire team dedicates to every project. In the end, it is our goal is to not only give you a tough and durable off-road vehicle, but to also provide you a luxurious and comfortable home-on-wheels.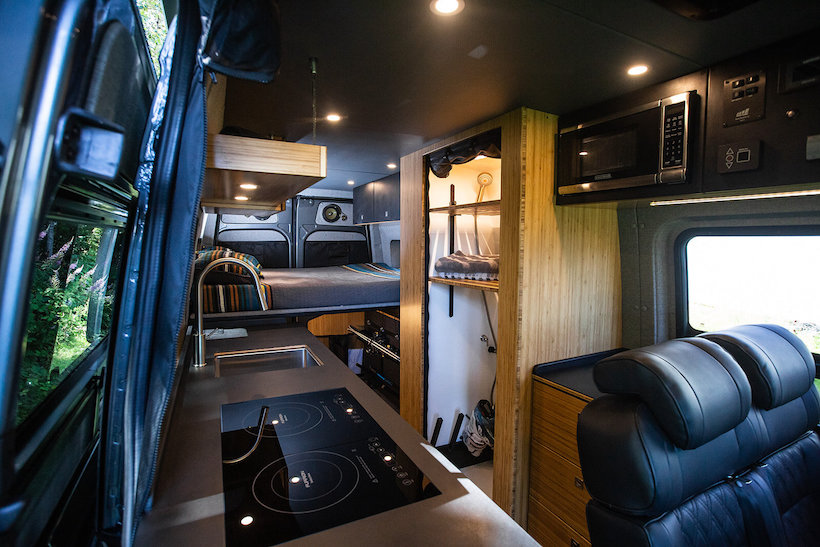 ____________________________________________________________
.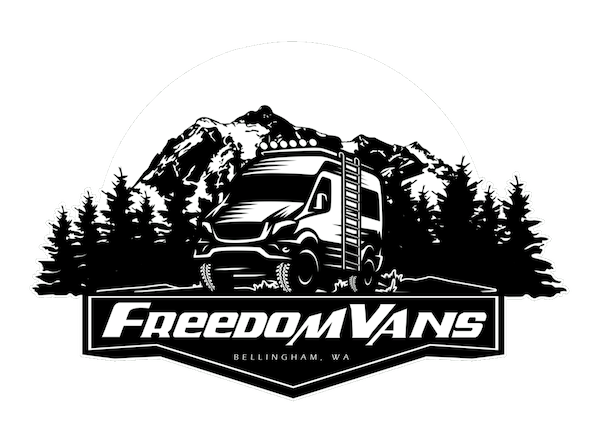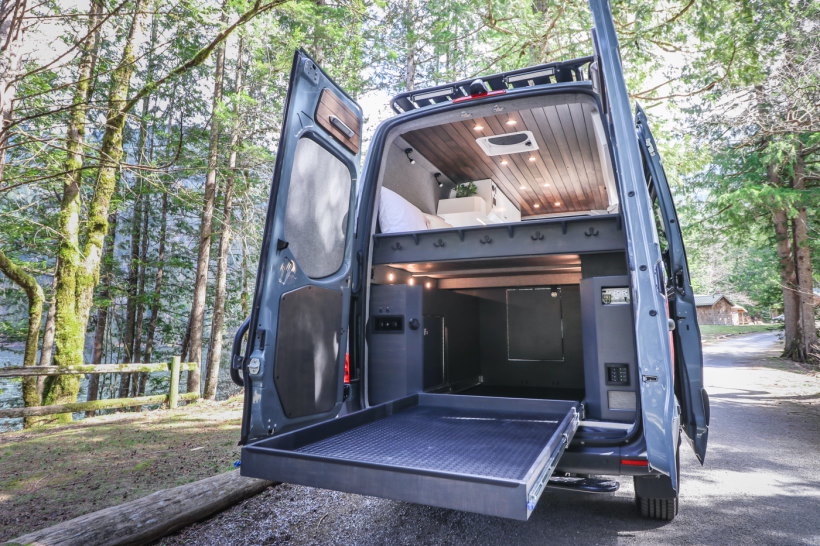 Freedom Vans is a van conversion company in Bellingham Washington, dedicated to enabling the off-grid lifestyle for our clients. We provide a foundation for unforgettable adventures in off-grid homes on wheels, be it permanent or secondary. Our high-quality vans boast high-performance specs, systems, and materials, wrapped in a complete, cohesive, and creative design that feels like home. Our goal is to maximize space, prioritize functionality, and obsess over details, ensuring a design that enhances your on-the-go experience. We offer a variety of services, including single services, spec layouts, and custom builds, to cater to your unique needs. With years of experience living in our van and delivering over 90+ custom conversions for clients, we've perfected spec van layouts. These layouts strike a perfect balance between the comforts of home and the ruggedness required for your adventures. These layouts offer additional componentry options and material selections without incurring the cost of a totally custom conversion. Whatever route you take, let us be your partner in crafting the perfect van that aligns with your desires and style, making your off-grid dreams a reality!
______________________________________________________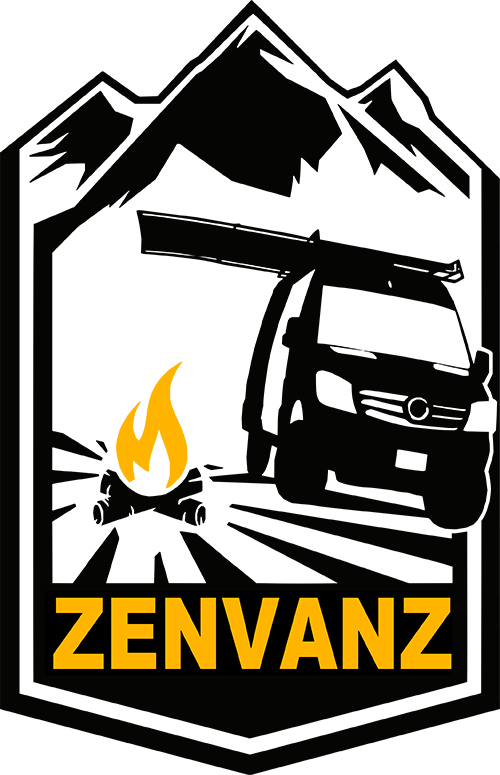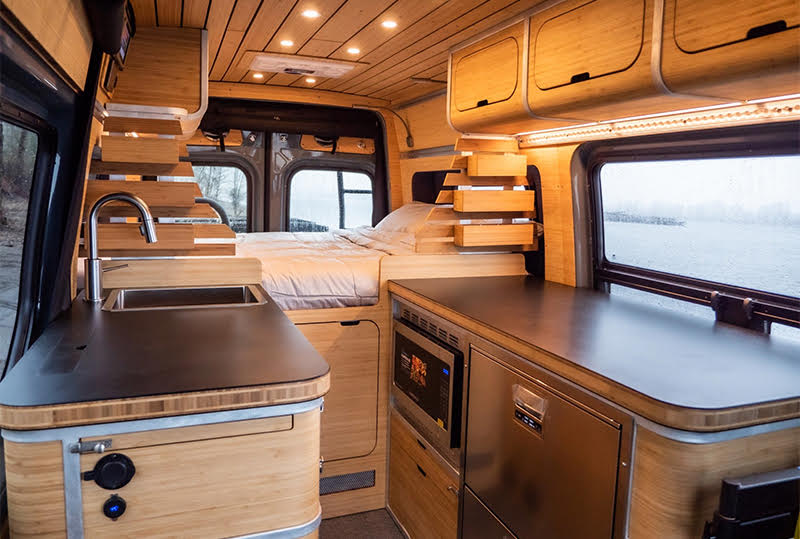 ZENVANZ is the premier designer and builder of custom adventure vans, offering only the highest quality craftsmanship and components in every build. ZENVANZ combines the skills of an award-winning small space designer (who also lived/travelled in vans full-time for 8 years) plus a licensed General Contractor bringing 25 years of experience. We have now added a team of the most talented techs and fabricators who thrive on a challenge and are focused on building the most beautiful, functional and longest lasting vans on the planet.
All of our builds are custom to our clients' specific chassis, layout and needs – whether that's the perfect family van, a true 4-season van for chasing snow and sleeping in negative digit temps, a truly off-grid and offroad overlander build or maybe you'd prefer us to design/fabricate a ZENVANZ DIY cabinetry kit for your own DIY build.
Our quality of construction, top notch eco-friendly components and exacting processes are outmatched in the industry. There's a reason we've now been voted "Adventure van Designer & Builder of the Year" 3 years straight (LuxLife magazine), a reason our team calls "industry standard" a bad word and a reason that our clients come to us looking for their "forever van" – typically after owning a couple other vans that gave them the experience to know and understand why build quality truly matters.
The architectural elegance of our builds are focused on maximized livability using minimal space. The ZENVANZ streamlined curves promote a comfortable and beautiful small-space living. If you're looking for rugged luxury, you've found it at ZENVANZ.
Tel: 503 208 4265
__________________________________________________________

Field Van specializes in building fully custom vans. While we can build your van however you like, we have some classic plans that have been designed to perfection over many years of building and refining these floor plans.
Discover our Summit S1 series floor plan – a best-selling interior design that adapts perfectly to short wheelbase vans. Boasting an open layout, ample storage, comfortable sleeping, and seating for 4-6, it's tailor-made for families. Often paired with a pop top, the S1 plan unlocks your family's adventure potential.
This model is built on a Mercedes 4×4 Chassis, featuring factory Mercedes amenities like adaptive cruise control, blind spot avoidance, and a 360-degree camera setup.However, all our series are fully customizable to your needs and can be built on a variety of chassis including the Ford and GMC vans.
Inside this Summit S1, you'll find deep blue sea cabinets, a charming butcher block counter, and a convenient built-in refrigerator. We've thoughtfully included an outdoor shower, the reliable Elwell Timberline heating system, a cutting-edge lithium battery setup, a powerful Xantrex inverter, efficient Zamp Obsidian solar panels, and the signature Field Van Pop Top – all dedicated to ensuring a journey that's both comfortable and rugged for heavy use and abuse.
Van enthusiasts appreciate the Owl Vans Tire Carrier, Sherpa Rack, Fiamma Awning, CATuned Off-Road bumper, Warn winch, Baja Designs LP6 lights, Method wheels, and BFGoodrich KO2 tires, combined with the Agile Off-Road RIP kit for a smooth ride.
With over 30 years of custom van expertise, we're excited to design your dream Field Van.
[email protected] or (559) 233-8267
__________________________________________________________
Adventure Van Outfitters:
_______________________________________________________________
For other Resource Guides check out:
The Ultimate Resource Guide to Vehicle Supported Adventure
The Ultimate Guide to Off-Road and Overland Trailers
The Ultimate Guide to Roof Top Tents
Not ready to buy yet, then maybe rent instead
______________________________________________________________