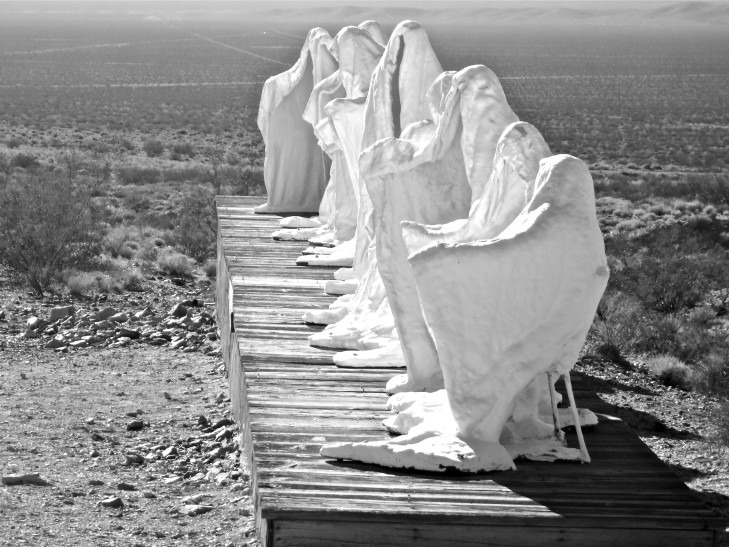 GPS
N36.890223 W116.833672
Elevation
3,819 ft
Season
Year round: best Oct.-May
Terrain
Packed dirt
Difficulty
Easy
Hours of operation
24/7 no admission fee
Established
2000
Contact Information
1 Golden Street, Rhyolite, NV 89003
702-870-9946
goldwellmuseum.org
Directions: From Beatty, on the 374 approximately 5 miles east of Death Valley National Park.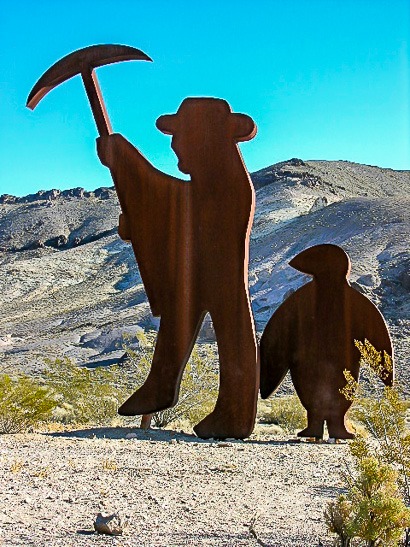 Site Description and History: Goldwell is an outdoor sculpture park created in 2000 by a group of prominent Belgian artists, led by the late Albert Szukalski, who decided he was going to create a self-described "art situation"in a unique area that would give him freedom of expression and scope. A place vastly different than their practice spaces in Europe. The installment is made up of seven outdoor sculptures that are amazing. They are large, some colorful, thought provoking, and randomly beautiful. You will see the sculpture, The Last Supper modeled after Leonardo De Vinci's painting The Last Supper and Ghost Rider, both created in 2000 by Szukalski by draping plaster-soaked burlap over live models until it dried and stood up on it's own. Other works of art include Tribute to Shorty Harris made by Fred Bervoets in tribute to one of the miners whose gold discovery led to the goldrush of 1904. Dre Peters created a hand-carved female version of Icarus, the boy who flew too close to the sun in Icara….an appropriate sculpture for the desert! A fun installment is a colorful tile mosaic covered couch originally made for the Children's Discovery Museum in Las Vegas by Sofie Siegmann. It was restored and brough to Goldwell Museum in 2007. Another fun piece out here is The Venus of Nevada, a sculpture made of cinder block based partially on the concept of a pixel (we thought it was Legos). For more information about the sculptures, contact the museum with the info in the box above. Ask about the arts festival in October and let us know how you liked it.
This is a truly unique find out in the upper Mohave desert and a nice stop on your way into Death Valley National Park. The Goldwell open air museum also has a new artist residentcy and artist workspace program in the nearby Red Barn Art Center that houses a feature artist for a month. (The Adventure Portal called and asked for permission to display photos of the works on this site. They graciously gave it to us.)