The Light Weight Shell Campers category has deservedly received a lot of attention in the overlanding world these past couple of years. The brands below show that today the consumer has a solid selection of quality built and designed brands to choose from. The lightweight shell camper category fills the middle ground between simple Shell and Roof Top Tent set ups and traditional bigger and heavier Slide-in style truck campers.
Elevated sleeping area, comfortable Roof Top Tent style bed, standing room, plenty of storage space and the ability to carry adventure toys on the roof provide an efficient and comfortable adventure platform for most off-road or vehicle support supported adventures.
____________________________________________________________________

Unmatched Build Quality. All Camp King Outback Series units are 100% Australian Made at their factory in Brisbane, QLD.
Built Tough. Camp King's one-piece roof design is exclusive to Camp King Industries. Their one-piece tent roofs are fully TIG welded and secured with a specialized Orlock riveting system making it one of the most structurally solid units on the market.
Weight 147kg / 340 lbs – combining a canopy and a rooftop tent all within one unit keeps the weight down. This is huge!
Each unit is built specifically for the vehicle, meaning, no one size fits all, no fit kits or "universal" packages, and no dead space. This ensures tight tolerances, clean mating, efficient usage of space, and a super clean appearance. No wasted space ensures you maximize your precious storage capacity.
Laser cut 3mm fully TIG welded construction with a 2mm top.
A high-quality 4-inch high-density two-piece mattress comes standard.
Prewired Tent Light and Tent Power come standard.
A 10mm thick Closed Cell foam is used on the internal roof of the tent to provide high-level thermal insulation against climate extremes.
The full tent body is made from Australian Made Wax Convertor Coolabah Tear Stop Canvas – AS2001.2.18.1987 (Military Grade).
Retain your factory tailgate. Don't underestimate the utility of your tailgate! Flat space is a premium, and nothing serves that better than your factory tailgate.
Goose Gear Camp System compatible. We worked with our friends at Goose Gear to produce the Goose Gear Full Interior System, specifically compatible for the Gladiator and Tacoma Camp King Outback Series.
Toyota Tundra 2nd Gen 5.5ft units coming soon!
Ford F-150 5.5ft units coming soon!
World Class Warranty. 5 Years on Camp King workmanship, 5 years on the Canvas (deterioration and fading), and 1 year on incidentals such as latches, handles, and struts.
rhinoadventuregear.com Tel: 833 744 6624
____________________________________________________________________

The Project M by Four Wheel Campers is an ultra-light, super rugged canopy-style pop-up truck topper with a cab-over bed platform. The Project M mounts to the bed rails of your truck and retains the factory OEM tailgate. This allows you full use of your truck bed while still having the benefit of a pop-up canopy-style camper when you need it. Tel: 530 666 1442
___________________________________________________________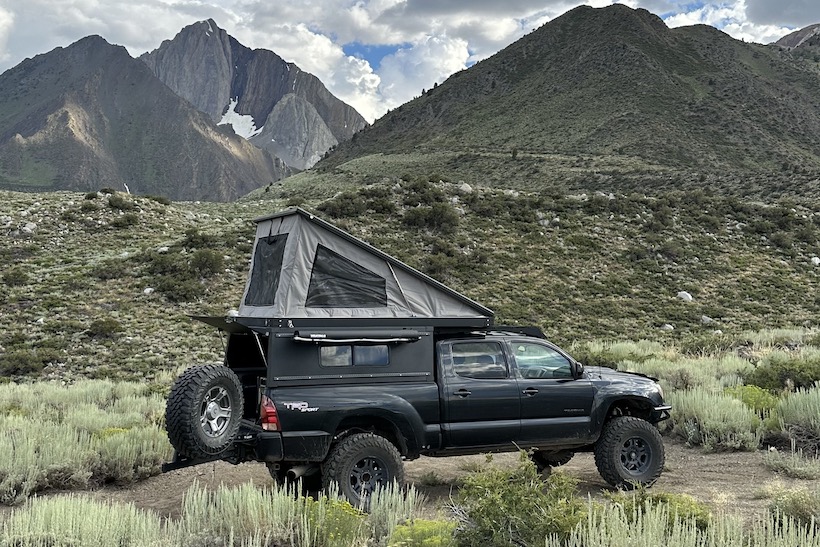 The Launch camper is a rugged 4 season wedge camper that is built to withstand the rigors of overland travel.
Our camper combines a sturdy, minimal aesthetic with progressive features such as front LED marker lights, rear Baja Designs light pods, and L track mounting points. The interior features 30" of stand up space with the bed down, or raise the bed panel and have the entire length of the truck bed as living space. The super plush Nemo Roamer 4" mattress comes standard.
What truly sets the Launch apart is the patent pending 3 layer insulated tent material. Paired with our anti condensation insulated roof construction, the Launch camper provides year round comfort.
Want a turn key truck camper system? We manufacture aluminum L track based floor plate systems, and all aluminum wheel well storage boxes. Our system easily integrates, you can go from empty truck bed to adventure camper in minutes.
See you out on the trail…
______________________________________________________________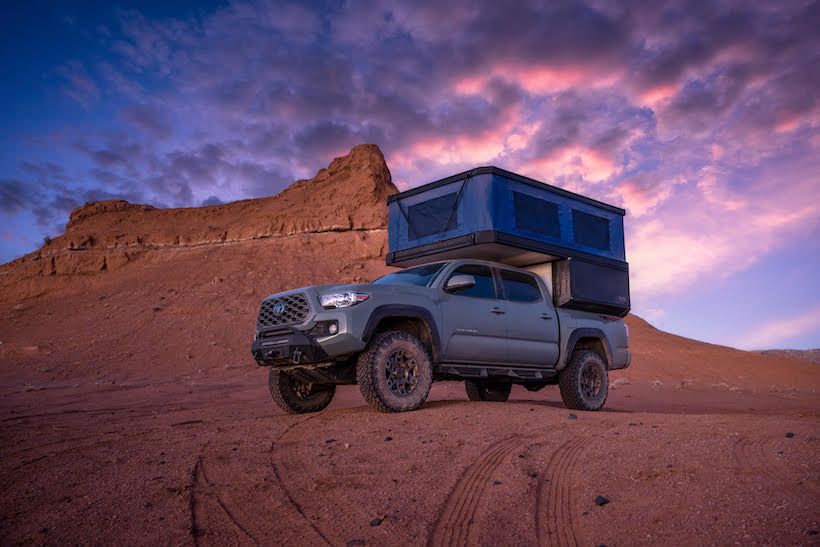 Denver, CO-based Tune Outdoor has launched the M1, a highly innovative and functional backcountry pop-up pickup camper starting under 400 pounds in a mid-size truck. The highest space-to-weight ratio in the class offers queen size beds (east to west sleeping) and unparalleled visibility and spaciousness, including headroom over 6'5″ in the bed.
Tune's industrial design allows for 45-75 day lead times, custom fitting to all trucks and modularity in build outs. All of the custom aluminum extrusions including the flared truck bed-rails, feature T-track inside and out, providing 500 feet of DIY play space for interior additions, gear racks, solar and other inspirations.
While aluminum body panels are stock, the full-panel 1/4 inch architectural, smoked, tempered glass body awnings are a must-see and a favorite of our early adopters. Queen mattresses and full-perimeter interior halo LED lighting come with the base unit.
Check out the Tune M1 at tuneoutdoor.com to learn more about the value the Tune M1 delivers!
______________________________________________________
Alternative Light Weight Campers:
Go Fast Campers Tel: 406 303 5181 [email protected]
AT Overland – Tel: 877 661 8097
Snap! Outfitters – [email protected]
Vagabond Outdoors – Tel: 707 750 5236 inf[email protected]
Ovrlnd Campers – Tel: 307 314 4456 inf[email protected]
Ursa Minor Vehicles – Tel:619-424-9030 [email protected]
Alu-Cab – Tel: 908 454 6973
Topo Toppers – Tel: 805 319 1107 [email protected]
Skinny Guy Campers – Tel: 574 891 0200 [email protected]
Lone Peak Overland – Tel: 509 413 0107 [email protected]
Hiatus Campers – [email protected]
__________________________________________________________________________