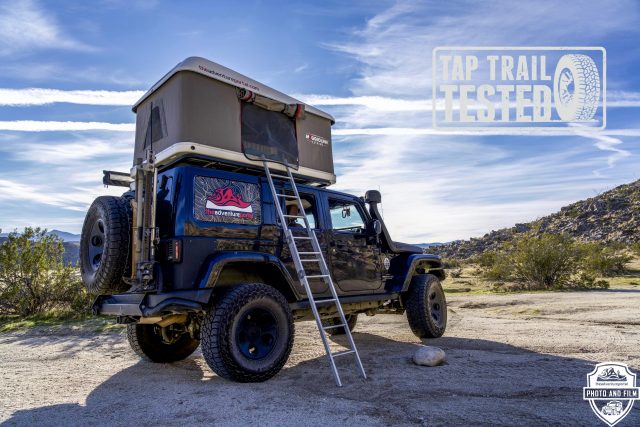 Here at TAP, we spend a significant amount of nights under the stars, in a variety of weather conditions across all seasons. Over the last decade, we've used off road trailers, ground tents, soft roof top tents, pop up truck bed campers and even slept in our rigs on a blow-up mattress. However, the past two years we've been using an Autohome Maggiolina Extreme hard shell RTT on each of our rigs. This model was originally designed and built for pre running the grueling Paris Dakar Rally so since we typically camp in all conditions, this model seemed a no brainer.
Roof top tents (RTT's) have always been a staple of core overlanding and off-road adventure travel, however for years have been fairly unknown with mainstream campers. With the exponential growth of Vehicle Supported Adventure in the past few years, this is changing rapidly and we've seen a major growth of RTT brands on the market. Autohome is one of the originals: designed and built in Italy and remains one of the leaders.
MAGGIOLINA EXTREME SPECIFICATIONS:
Size: Small
Color: White/Light Grey (also comes in White/Carbon or Black Storm)
Exterior: 51"x83"x13"
Height: 34" mattress to ceiling.
Mattress: 48"x72"x3.2"
Weight: 143 lbs
Price: $3299
AESTHETICS, SIZE AND WEIGHT:
We chose the Small version of the Maggiolina Extreme as it fits perfectly on the Jeeps AEV roof rack and doesn't hang out the rack and overwhelm the vehicle. It also proportions the size and weight across the whole rack, which helps with off road stability.
The Small is quoted as a two-person tent, but in our opinion, it fits one person very comfortably, but two people is somewhat of a squeeze. If you truly want/need a two person, we'd recommend moving up to the Medium version.
The overall shape is well thought out and is relatively aerodynamic. That being said, be prepared that putting any roof rack and RTT system on your roof, will create wind noise and lower your MPG's. It also raises your center of gravity, lowering stability, so be cognizant of this when driving off road.
Regarding weight, the Small is 143 lbs (standard for most hard shell RTT's) and at that weight, it's likely to stay on your roof full time.
On the advice of the guys at Autohome, we went with the white shell with the grey fabric version. Their rational, which made perfect sense, was that with the amount of desert camping we do, we'd be significantly cooler with the sun reflecting white version. Personally, from a purely aesthetic point of view, I still prefer the darker stealthier grey or black shell colors. Not really a big deal, but when you're paying over $3k, aesthetics definitely count in the decision process.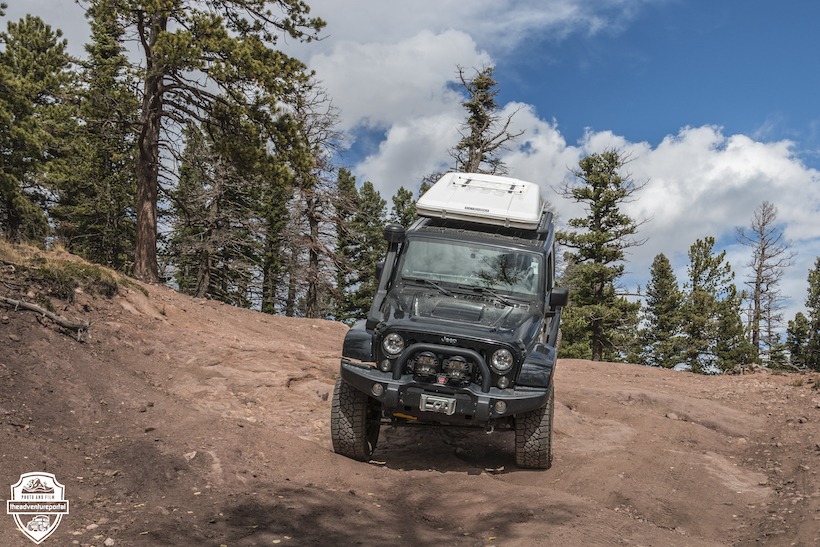 SET UP/TAKE DOWN:
This is where hard shell RTT's really shine and the Maggiolina Extreme can be set up within a minute. After a long day on the trail, this is a true luxury and creates a certain smugness as you sip your first beer watching others deploy their ground tents or other energy sapping camp choices.
The Extreme uses a hand crank that raises the tent structure vertically by employing two sturdy scissor arms in the front and back. It's definitely slower than the simple push up gas struts featured on many competitors, however there's a real sense of rigidity and lack of potential sag. In our two years of use and hundreds of deployments, we've never had an issue.
The hand crank mechanism also helps significantly when stowing the tent. We find that stopping stowing with about 6 inches to go, allows us to easily tuck in all fabric that otherwise would become caught between the shells top and bottom.
We've never lost a crank, however have certainly driven off with it still located in the side of the shell (much to our horror!) Losing the crank would disable the ability to use the tent and because of this, we always carry a spare. A lost crank on a multi-day trip would be unthinkable!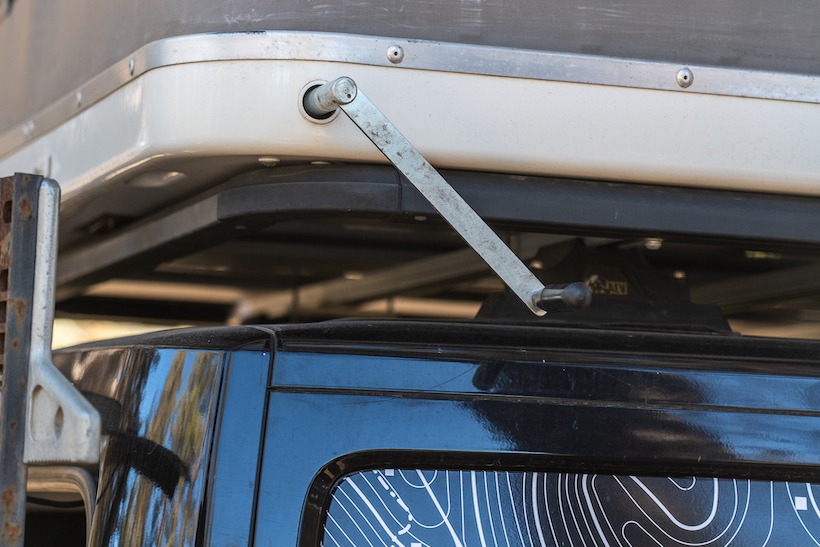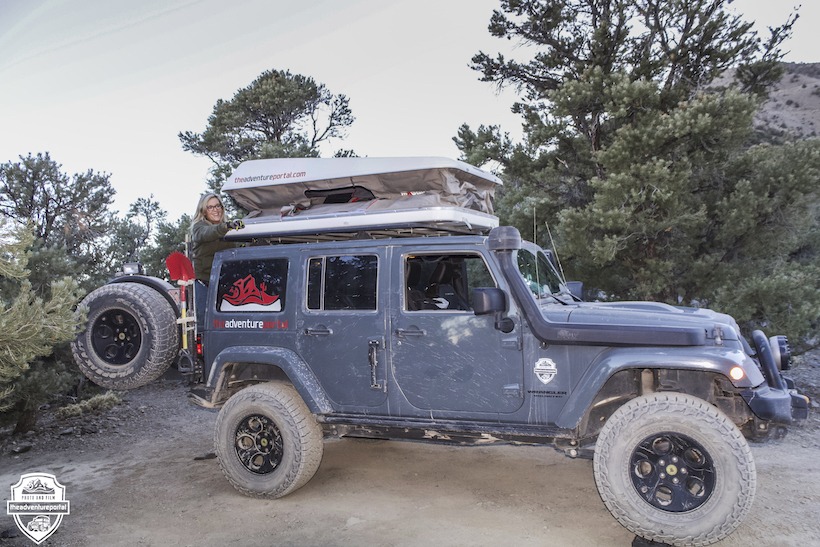 STORAGE – INSIDE AND OUT:
Storage within the Maggiolina Extreme is excellent. It comes with hanging mesh side pockets each side, that have ample room for storing keys, flashlight, pee bottle, ear plugs and everything else you may need. (I permanently leave ear plugs in them, guaranteeing a peaceful night when camping with fellow campers)
In addition to the side pockets comes a roof net that is perfect for larger items like shoes or camp sandals.
When closed and traveling on the trail the Maggiolina Extreme has room for a sleeping bag, under blanket, pillow and RTT ladder. As we travel in Jeeps with their compromised storage space, this has been an important feature. It also means that we never forget bedding (something that we've actually done in the past)
The Extreme's roof is reinforced and the heavy duty scissor supports, allow the use of an integrated roof rack. When we got the RTT'S we thought this was a great idea, but honestly we've never used them. Probably because we're on 35's with 4.5" lifts, so maybe if we were on a lower vehicle they'd be more relevant.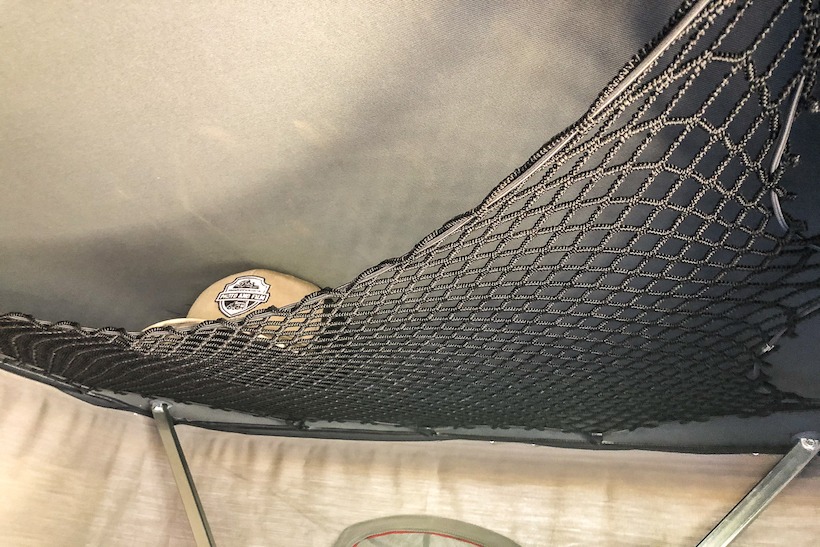 COMFORT:
With the 3.5" memory foam mattress I generally find the Maggiolina Extreme very comfortable. It's a relatively firm mattress which I like, even though I am a side sleeper. Others may want to add another layer of padding which honestly is common to all RTT's that I've slept in.
I am 5'10" tall and I find that the scissor arms and track are fairly close to my head and toes. This isn't a problem personally, but if you're 6ft and above it's worth checking out, especially if you sleep on your back.
Ventilation in a tent is essential in either warm or cold weather. The large roll up doors either side and windows each end, provide solid ventilation and I've never felt a lack of air flow. (It should be noted that other RTT designs do provide larger roll up and zip off mesh panels for potentially greater ventilation).
Condensation can be an issue with sleeping in any tent, however the combination of Dralon fabric and window vents seems to keep this at bay. In the two years of use, we've never had an issue.
Each door is equipped with a draft flap that tucks under the mattress to keep the wind out. This is something I didn't appreciate until my first night in a storm and is a considerable improvement over many standard entrances.
Weather resistance has proved fantastic. We've camped in extremely high winds and driving rain and have yet to experience any ingress of moisture.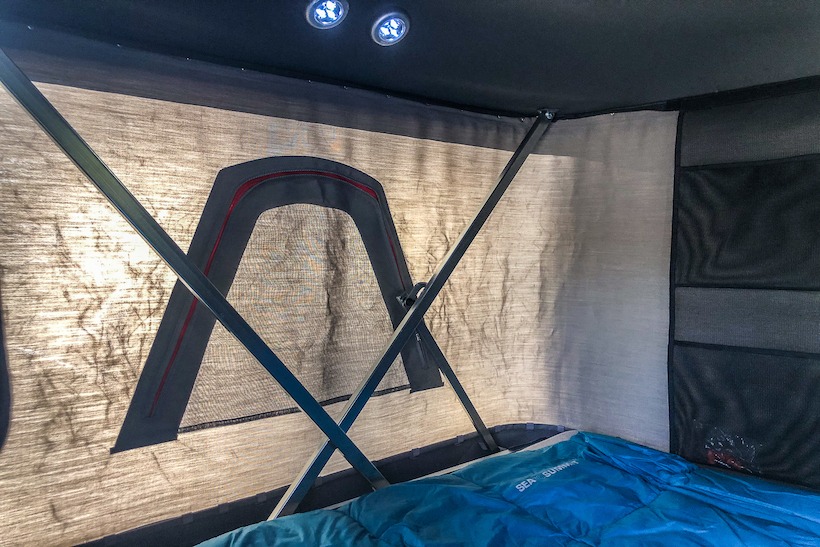 CONCLUSION:
Roof top tents are not inexpensive and without question a true investment into the Vehicle Supported Adventure lifestyle. At prices between $2500 and $4500 it's important to understand what you're paying for.
Our Autohome Maggiolina Extreme's have truly been TAP TRAIL TESTED and have probably 5 years of heavy use all rolled into 2. To date, the tents shows no major wear in their fabric, shells or mechanism's. A true testament to their build quality and design. No design or product is perfect, but we can genuinely recommend the Maggiolina Extreme (although I still wish we'd bought the Grey or Black versions).
What to look for when buying a Roof Top Tent, CHECK HERE
Ultimate Guide to Roof Top Tents, CHECK HERE